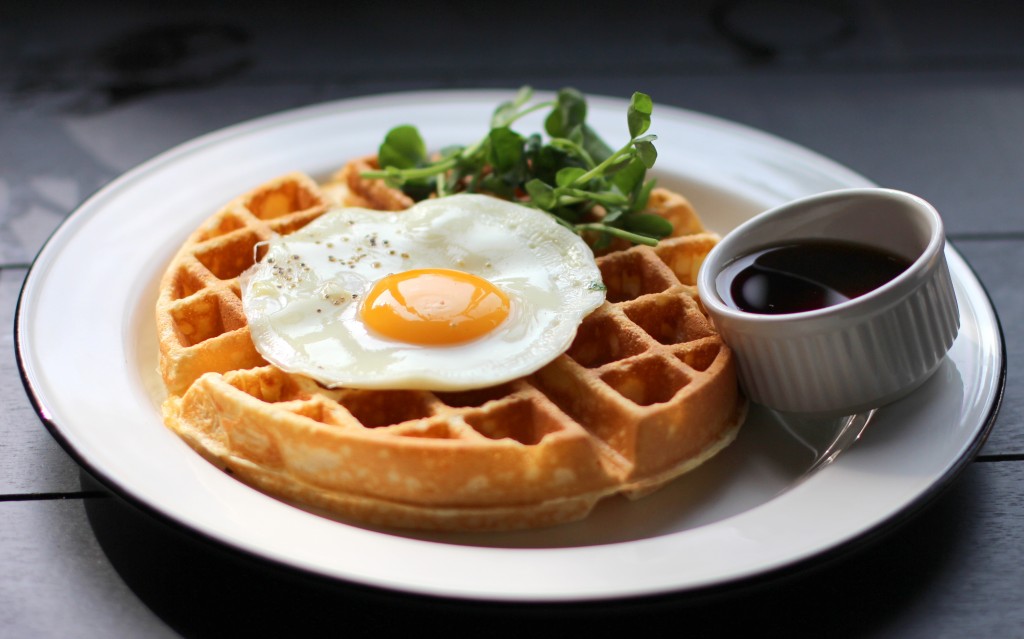 The Best Things To Eat In London
To celebrate the eve of my 5-year blogging anniversary, I thought I'd put together a list of the best things to eat in London! I had a lot of fun putting this list together :)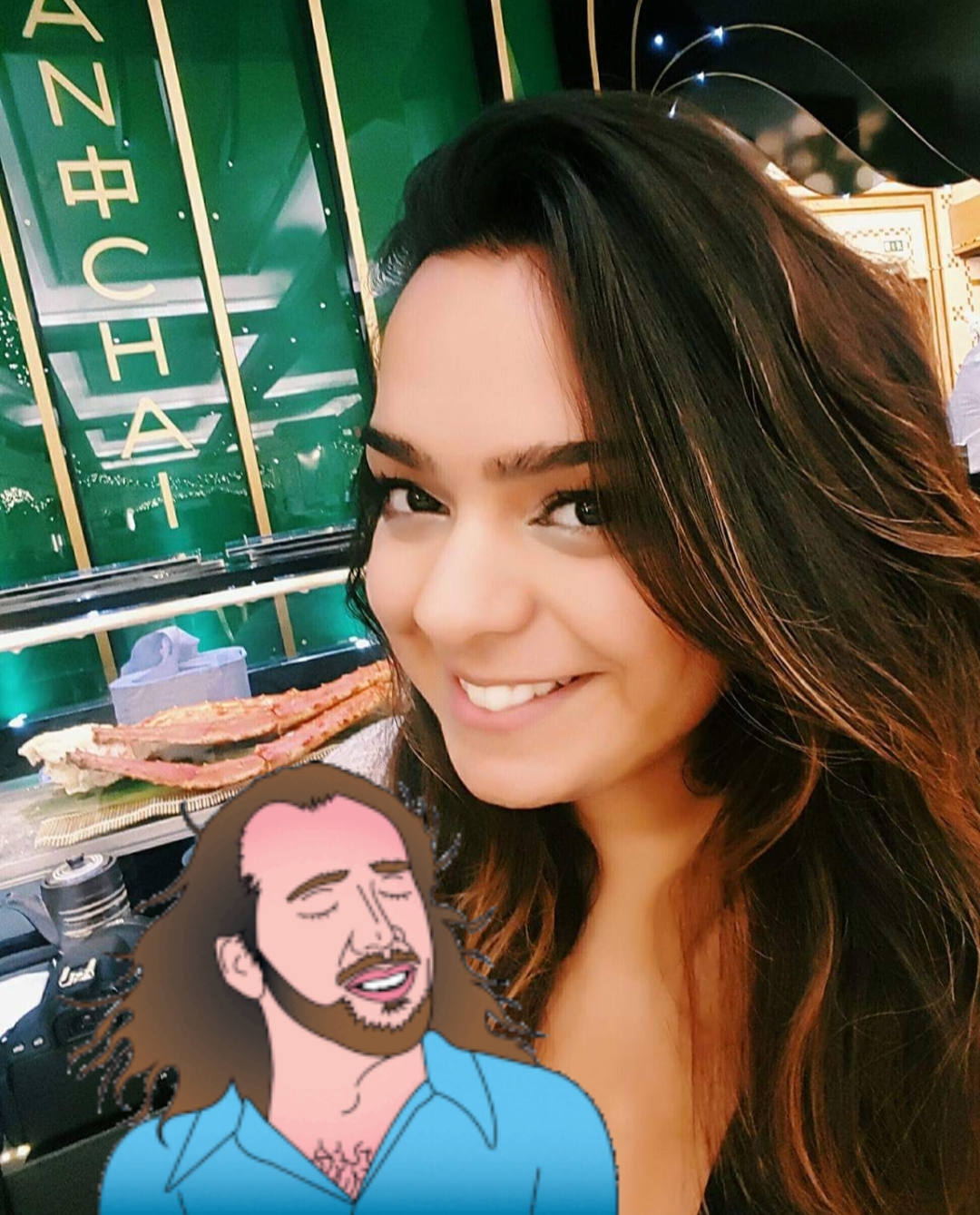 By no means exhaustive, here is my very personal list of the best things that I've eaten over the years in London.
Without further ado…
1. Peking Duck at Mei Ume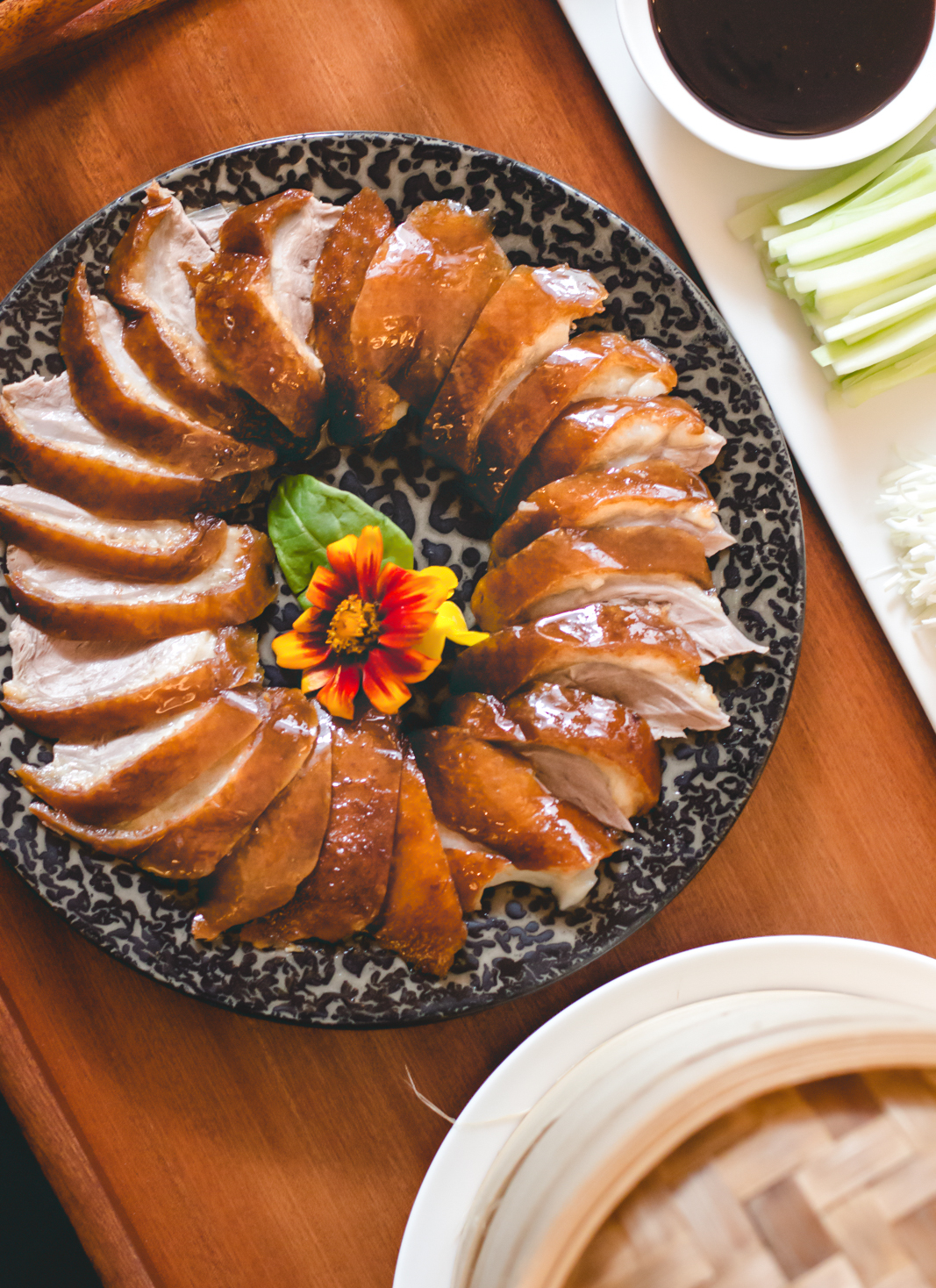 The signature Peking duck at Mei Ume is by far one of the best things to eat in London with its rounded, lacquer-skinned meatiness, and great nubs of bursting, flavour-filled fat. Yum.
READ MORE:
Sushi, Wagyu & Peking Duck at Mei Ume, London's newest Japanese restaurant
2. Sunday Roast at Hawksmoor Air Street
Apart from producing great steak, Hawksmoor are also known for their Sunday lunches. It's the puffy yorkshire puddings, whole roasted garlic, and blood-red meat that makes the Hawksmoor lunch one of the best things to eat in London.
3. Sashimi Ice Platter at Roka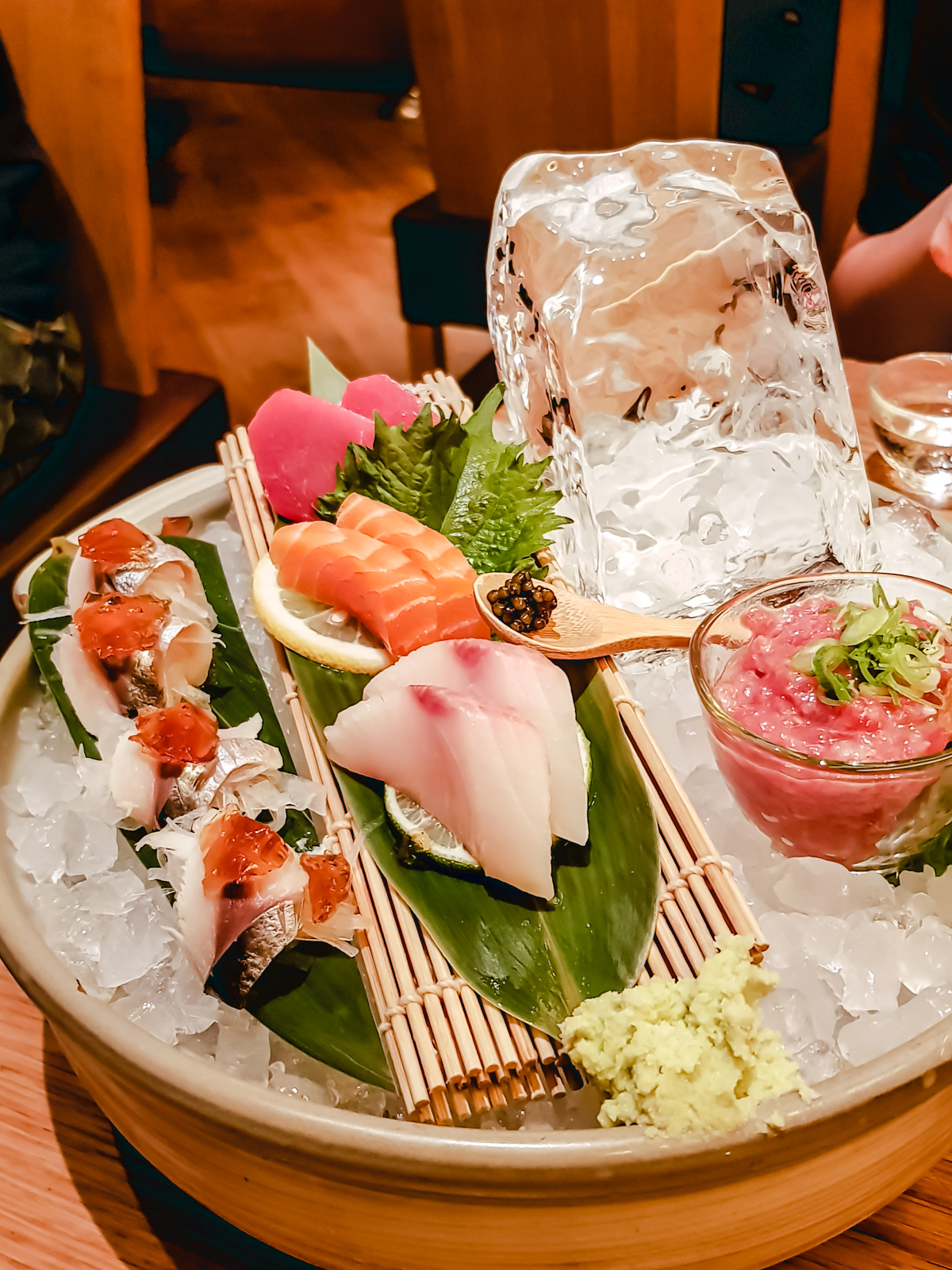 The iconic sashimi ice platter at Roka is a must-try dish, and easily one of the best things to eat in London. The platter is filled with precision-cut fish that is arranged on a mountain of ice, and served with freshly grated wasabi.
READ MORE:
Craving Japanese Food at Roka, Canary Wharf
4. Squab Pigeon at 108 Garage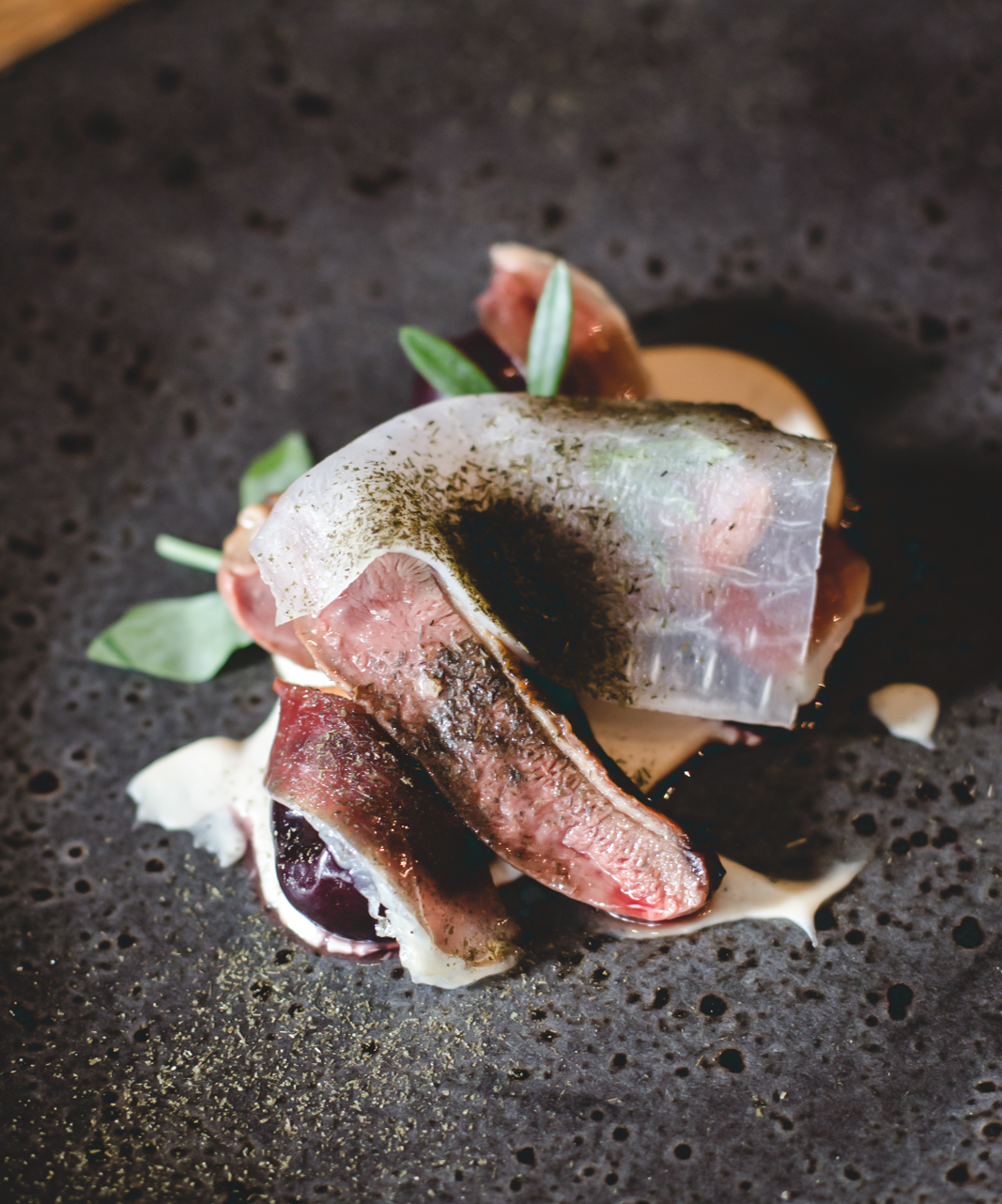 The flesh of the bird has been taken to that delicate stage, where its colour is that of raw rubies just dug from the earth. Paired with woodruff and cherries, this is a primal, fierce, much needed addition to this list of the best things to eat in London.
READ MORE:
108 Garage, Portobello – one of the best restaurants in London
5. Kinako French Toast & Matcha at Shackfuyu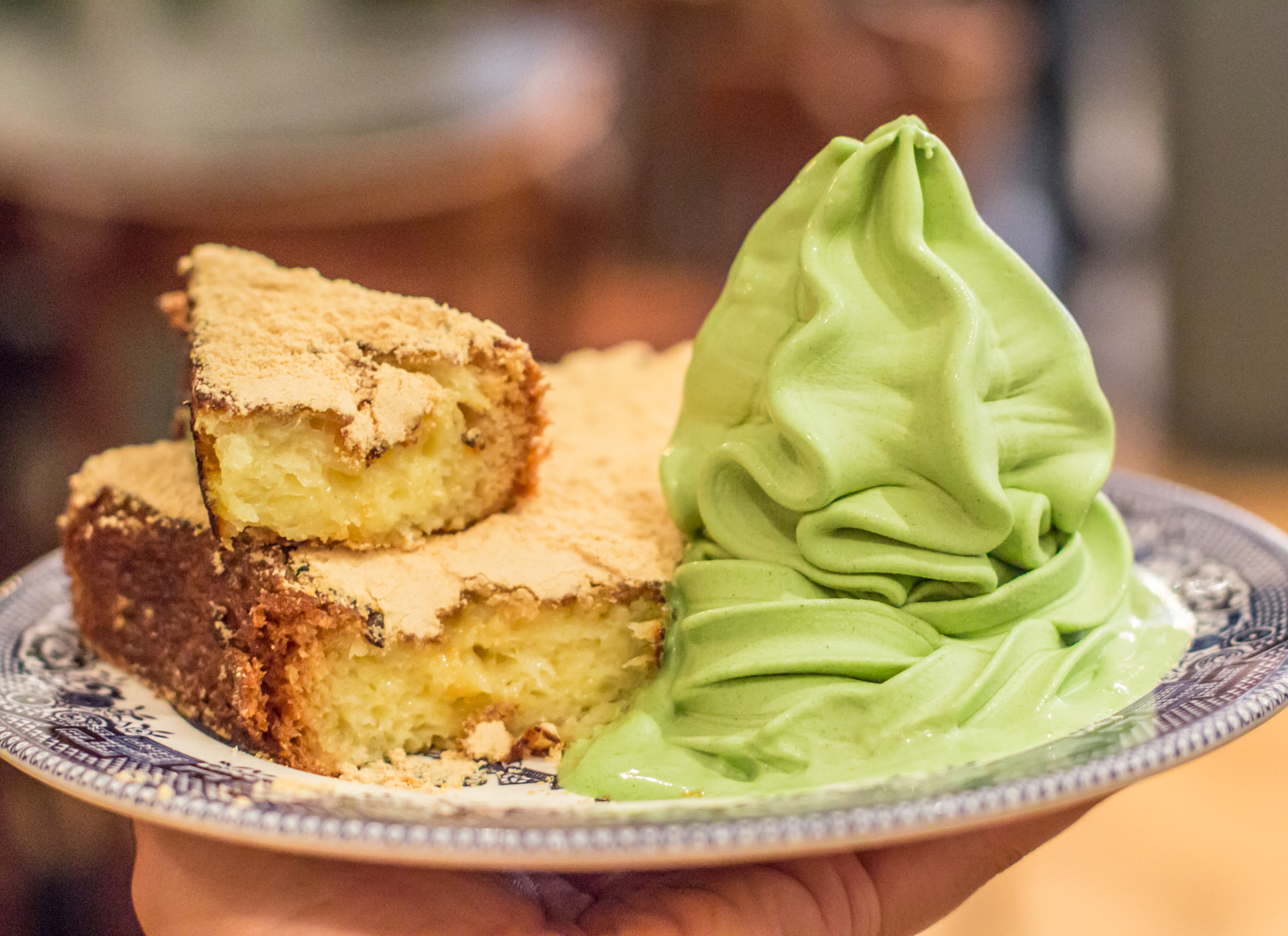 One of the London's most Instagrammable desserts, and therefore one of the best things to eat in London (obvi). This stunner is composed of Kinako french toast with matcha soft serve ice cream, and comes from Shackfuyu. Yum.
READ MORE:
The 10 Most Instagrammable Desserts in London
6. Whole Plaice at Charlottes W5
Although the entire menu at Charlottes W5 is gorgeous, it is the whole plaice, with it's buttery, rich sauce, that is one of the best things to eat in London.
READ MORE:
Anna Haugh's stunning 6-course supper-club menu at Charlottes W5, Ealing
7. T-Bone Steak at Mele E Pere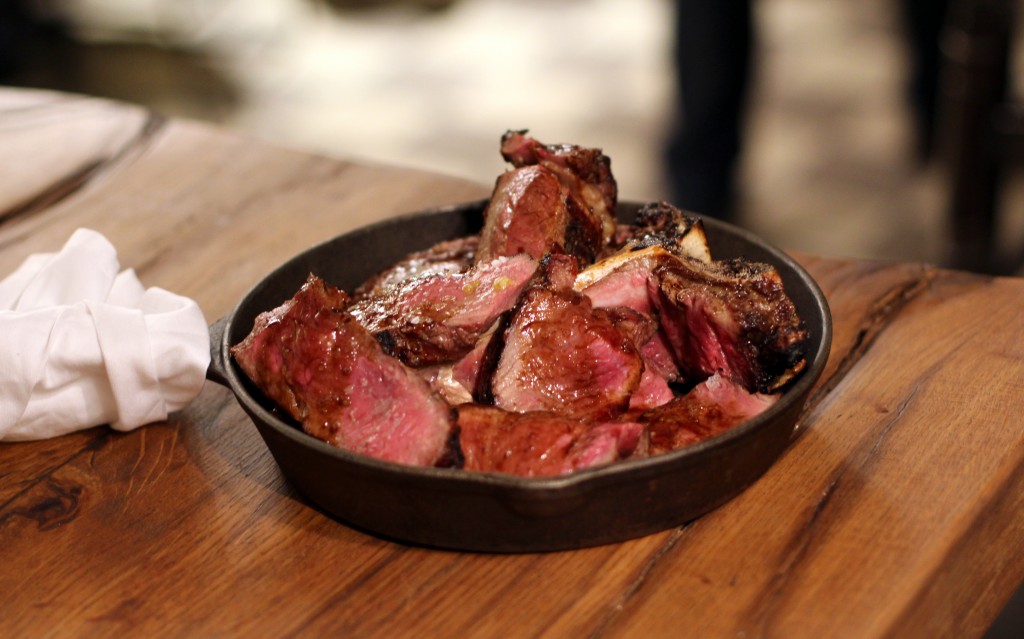 Previously of Arbutus and Wild Honey, head chef Andrea Mantovani now cooks his native Northern Italian dishes at Mele E Pere. The best of the menu is a 1.2kg portion of T-bone steak, kissed with charcoal and sliced to reveal blushing insides.
READ MORE:
Mele E Pere restaurant review
8. Cheeseburger Gyoza & Dirty Burgers at Dirty Bones
The Cheeseburger Gyoza are as delicious as they are surprising, and are definitely one of the best things to eat in London. Really, it could only have been Dirty Bones who thought of and created them.
So what are these mythical things? Imagine thin, perfectly crisp, fried gyoza, golden from a pan, filled with succulent 'burger' mince and mustardy yellow Cheeseburger sauce. Swoon.
READ MORE:
Cheeseburger Gyoza, Sugared Doughnuts & Cold Brew Coffee at Dirty Bones Soho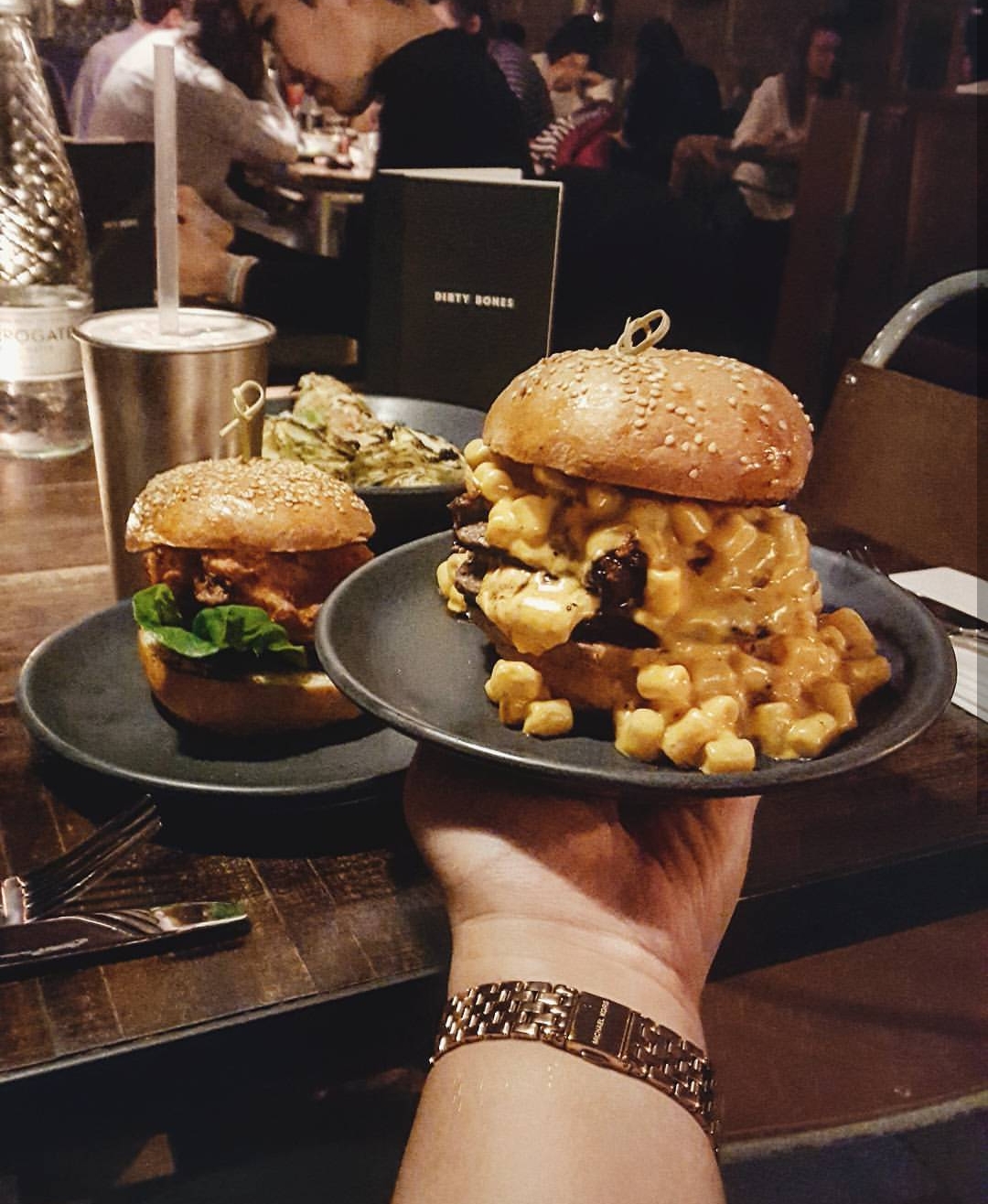 In addition, Dirty Bones also serve another one of the best things to eat in London, in the form of the Mac Daddy. Imagine a burger filled with brisket, cooked to medium and served dripping in its own delicious juices, and topped with a heap of lush mac & cheese.
READ MORE:
The Relaunch of Dirty Bones Kensington (& *those* cheeseburger gyoza)
9. Paneer Bab at Le Bab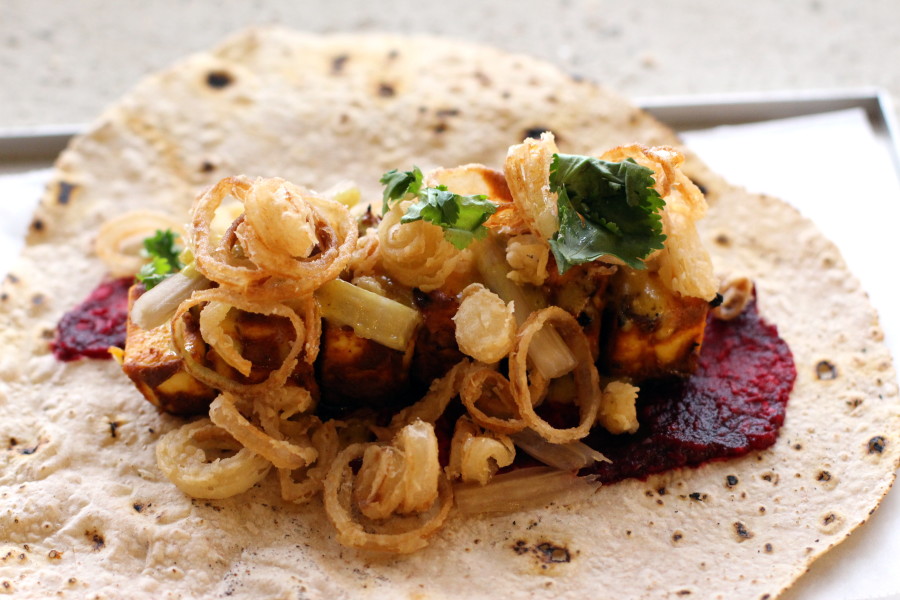 The paneer Bab has chunks of flame-mottled cheese arranged on a beetroot puree, scattered with crispy onion, pickled celery and curry mayo. Dutifully we roll the home made flatbread around it's unusual ingredients and marvel at their combination from the first bite to the last.
READ MORE:
More about those incredible babs at Le Bab
10. Sea-salted Caramel Truffles and Macarons at Plum + Spilt Milk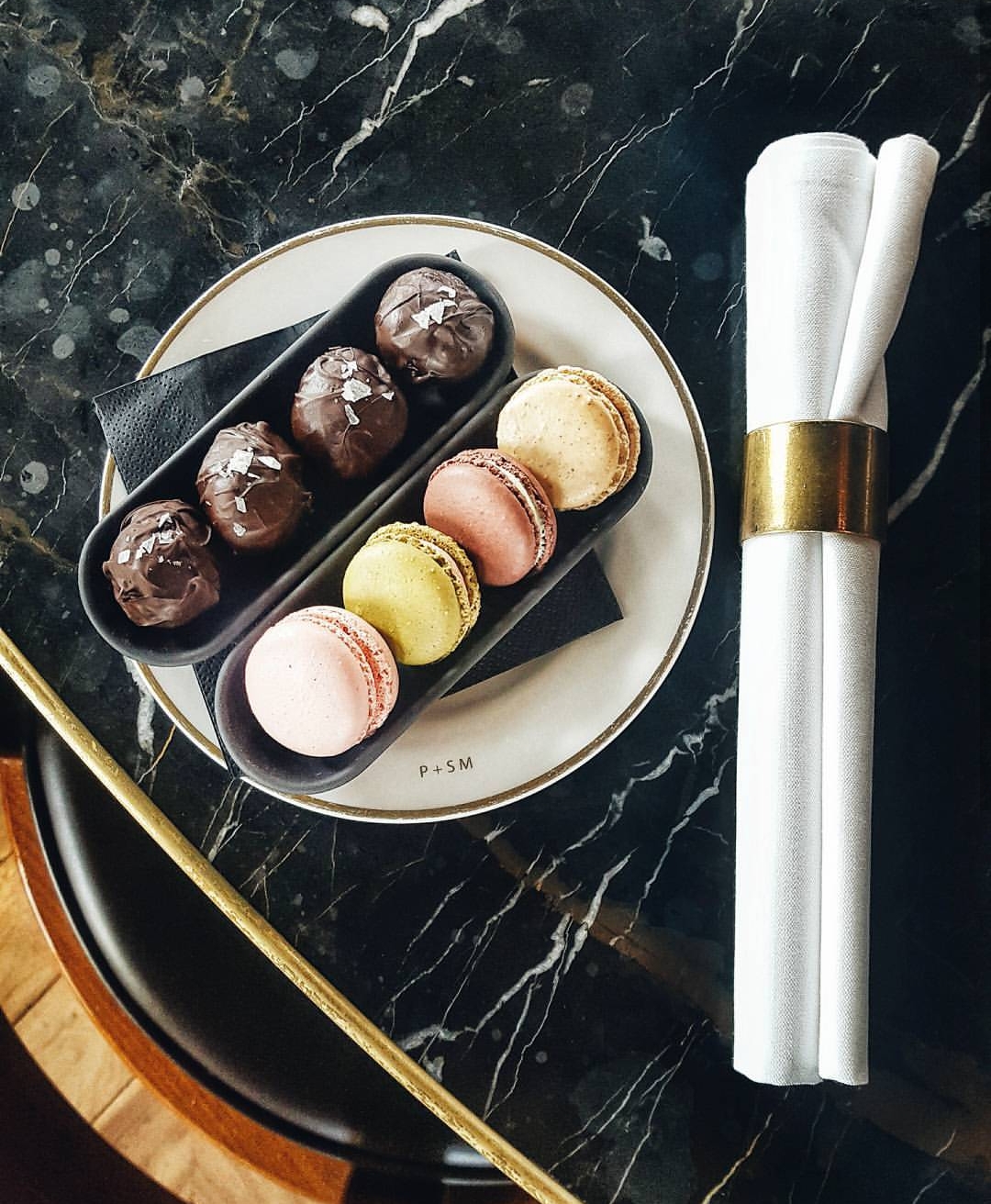 Dollops of smooth, dark chocolate ganache are ensconced in a fine chocolate shell, and on top rest fine flakes of salt. They're so good that I order two more portions to share with the rest of the family.
READ MORE:
From Kings Cross with Love – A Weekend Brunch at Plum & Spilt Milk
11. Alaskan King Crab at Fancy Crab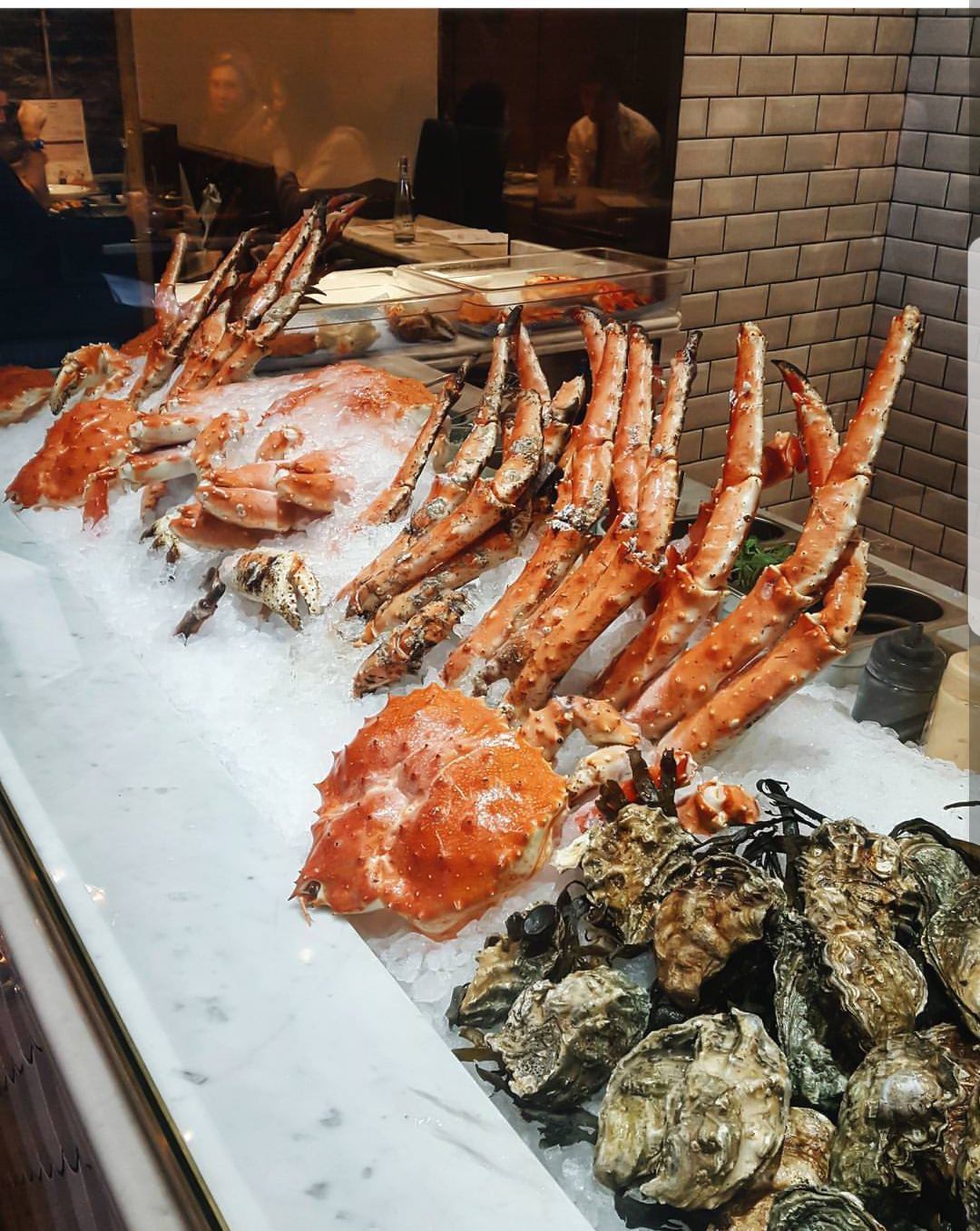 At Fancy Crab the crab is delicious – it is beautifully, skillfully, and intelligently handled. The resulting flesh is soft, sweet, and tender as a kiss. We try the whole leg and shoulder, which has benefited from being grilled with butter, and whose meat is, in a word, incredible.
READ MORE:
Fancy Crab, Marylebone – Can All Crab Be Like This Please?
12. Texas Slow-Smoked Brisket at Big Easy, Covent Garden
These sliced slabs of slow-smoked brisket are jeweled with sweet, melty lengths of fat. There are juicy red bits and crisp, meaty charred bits. They lay lasciviously on a hot stone plate, sizzling tantalizingly.
READ MORE:
Brisket & Burnt Ends – BBQ favourites at Big Easy Covent Garden
13. Crispy Duck Egg at Ting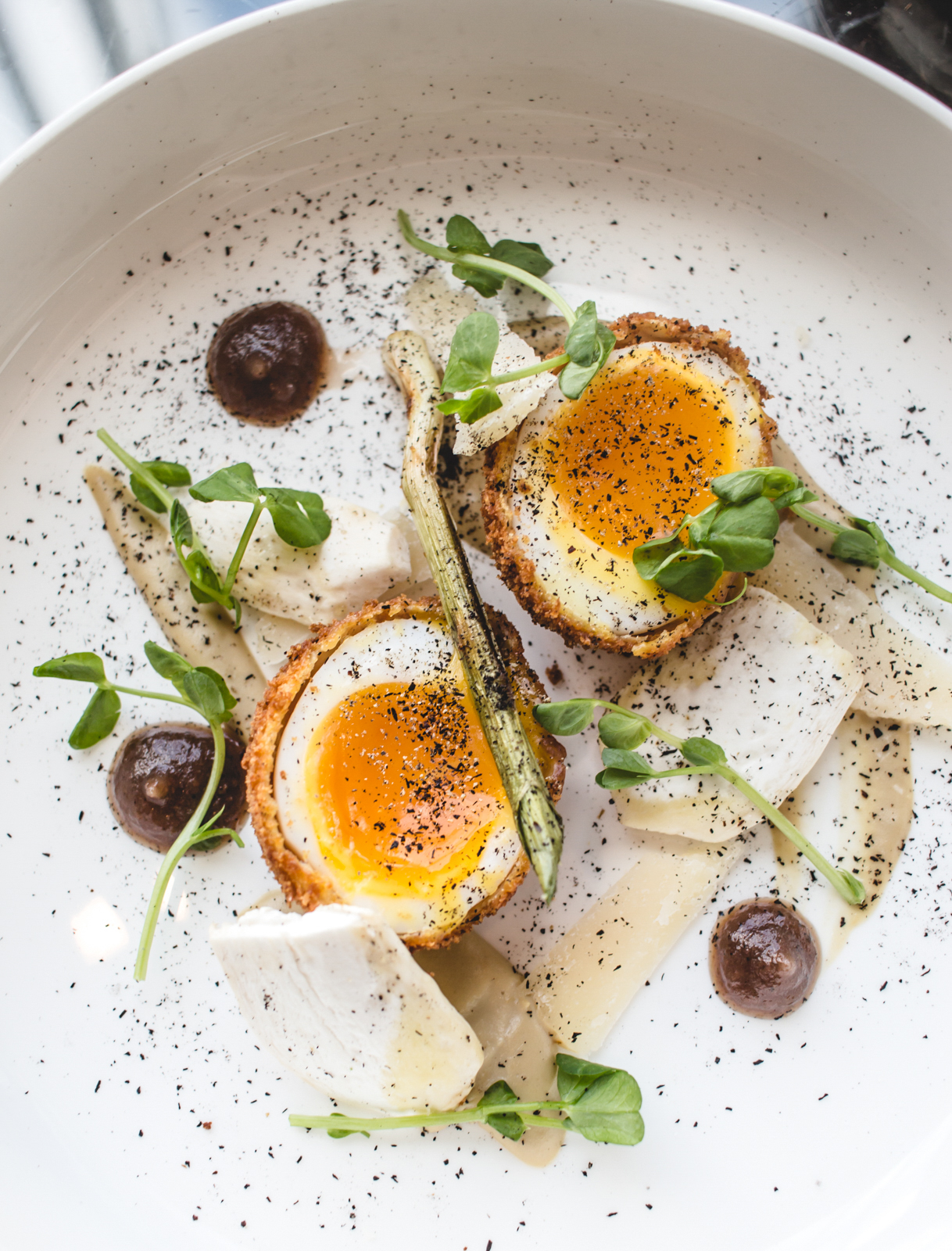 Who doesn't adore a velvety yolk, soft and molten and just waiting to be burst? At Ting you'll be amply rewarded in the form of a lush, crisp duck egg, halved and threatening to spill those rich, eggy insides.
READ MORE:
A Thrilling Lunch at Ting, The Shard
14. Molokheya at Alexandrie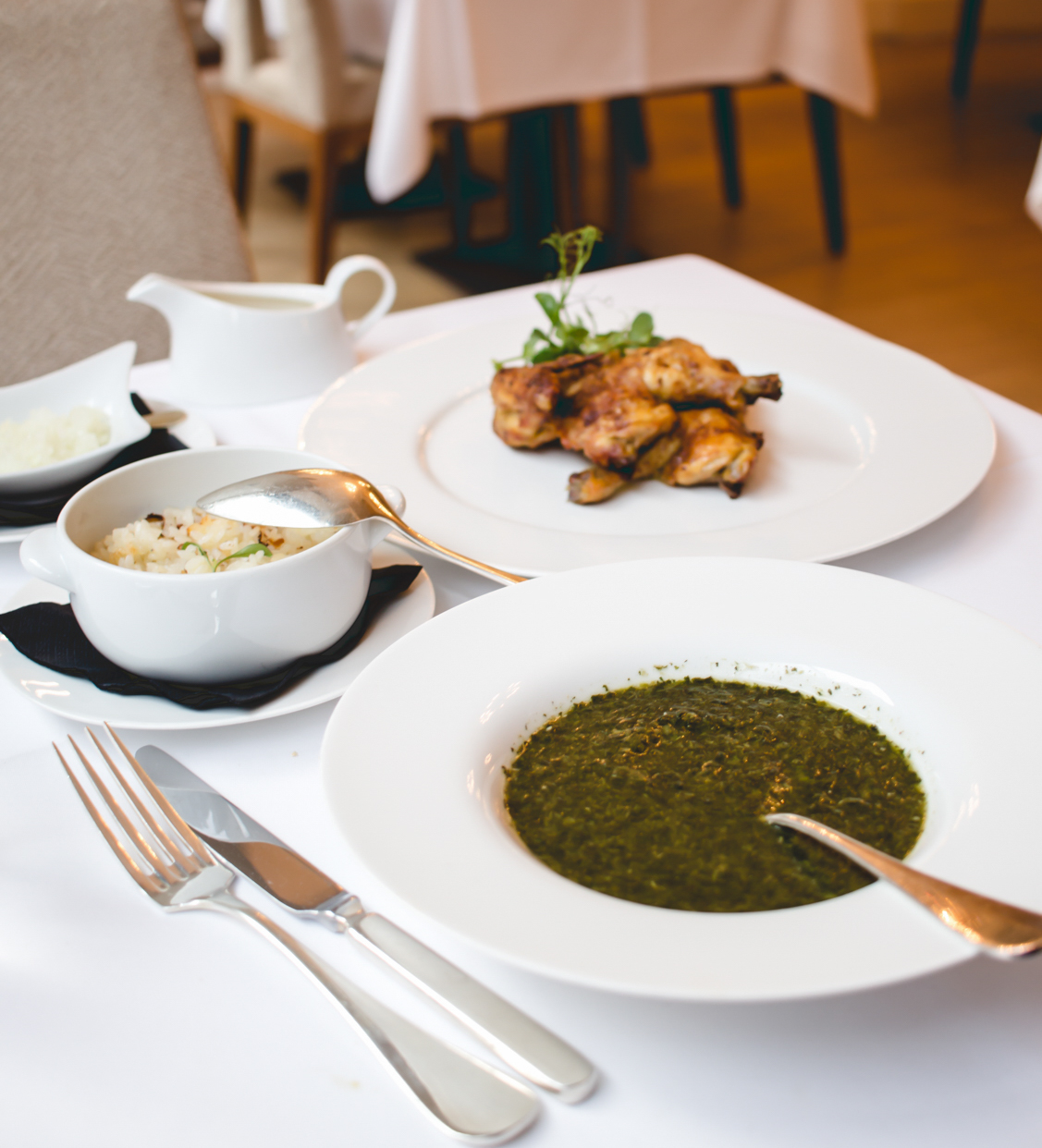 Alexandrie effortlessly merge the concept of fine-dining and Egyptian food, and especially so in their rendition of the tradition Molokheya. Here, it is served here with spicy grilled baby chicken, a pot of buttery rice, parts of which are golden and caramelized (nom), vinegar and chopped onions.
READ MORE:
Trying Egypt's most famous dish at Alexandrie, Kensington
15. Karwari Soft Shell Crab at Gunpowder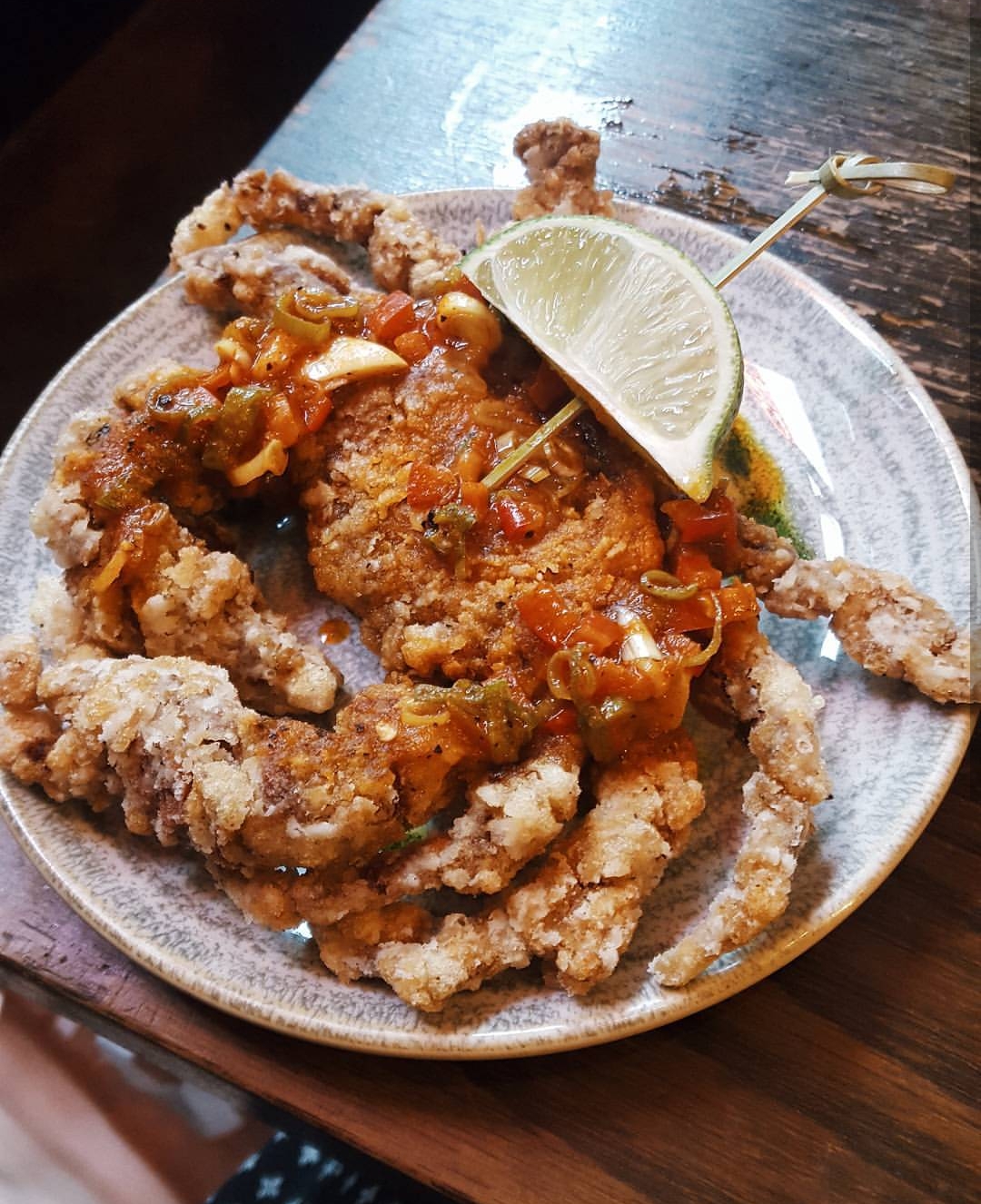 At Gunpowder, the soft shell crab comes skewered with a lemon that begs to be squeezed over its lentil-flour-fried body. The exterior provides a clean, non greasy foil to the sweet interior crab. Delish.
READ MORE:
Venison doughnuts, soft shell crabs and silky, spiced chocolate puddings at Gunpowder, Spitalfields
16. All the Patisserie at Laduree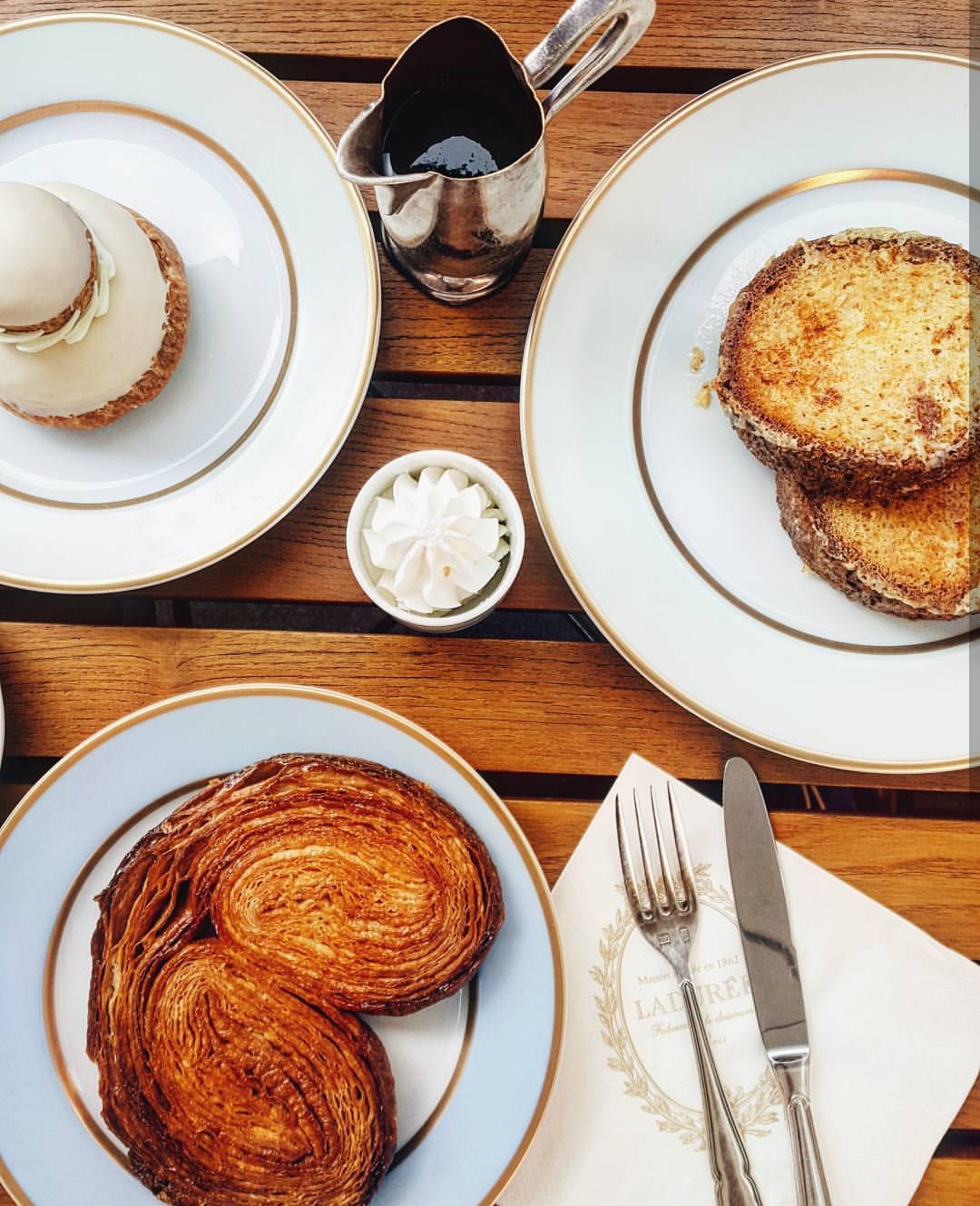 Reasons we love Laduree – pain perdu with maple syrup and chantilly cream, a choux pastry religieuse filled with orange blossom crème pat and a heart shaped palmier. Whichever patisserie you go for, it's almost certainly going to be one of the best things to eat in London!
READ MORE:
#FoodpornFridays at Laduree – French toast and Chantilly cream
17. Foie Gras Nigiri at Pan Chai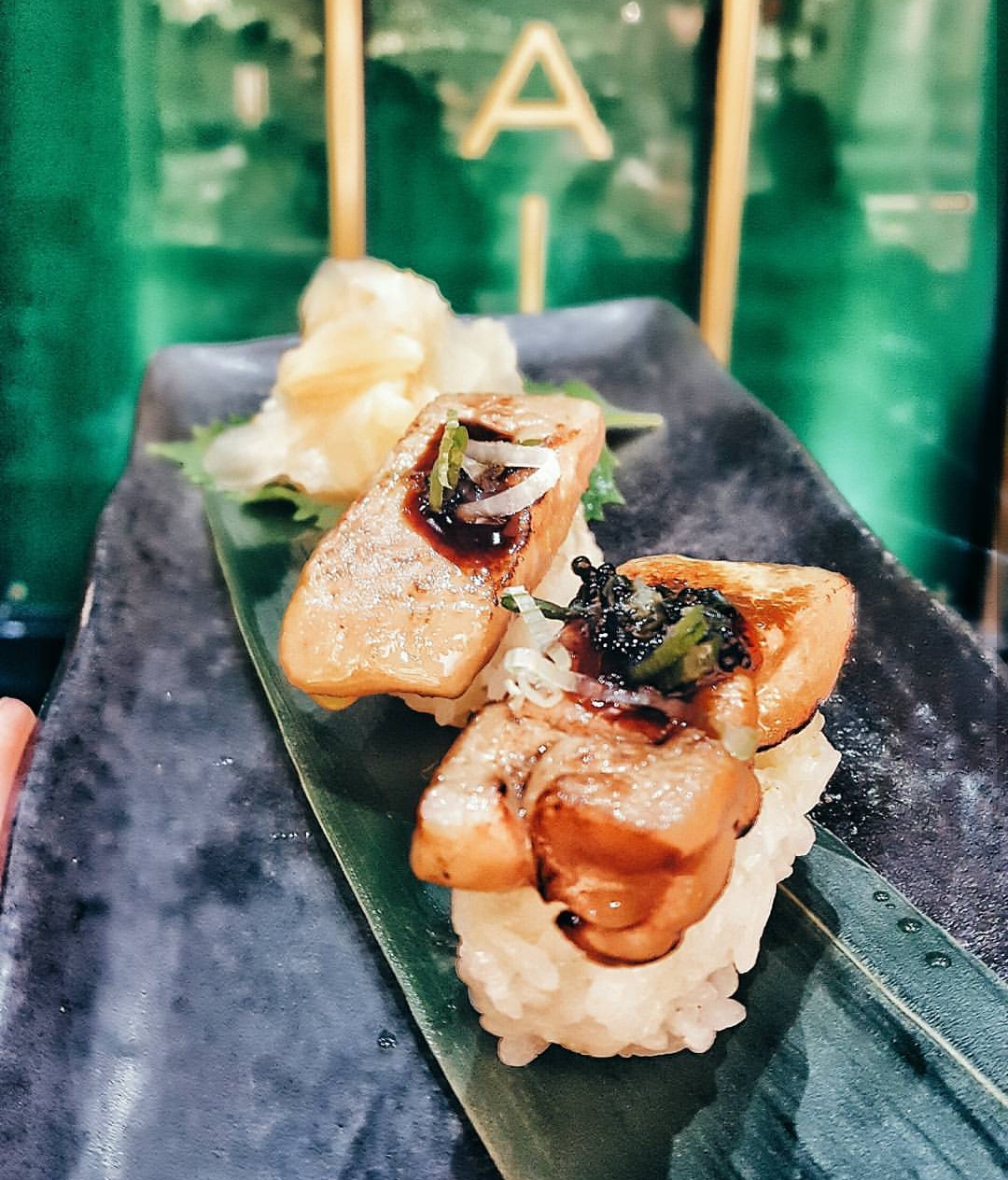 The decadent foie gras nigiri at Pan Chai are of course also some of the best things to eat in London. The seared strips of foie gras leak their fattiness through the grains of sushi rice, and I can't help but be just a little in love.
READ MORE:
Pan Chai review: a luxurious Christmas feast at Harrods
18. Ricotta & Courgette Pizza at Franco Manca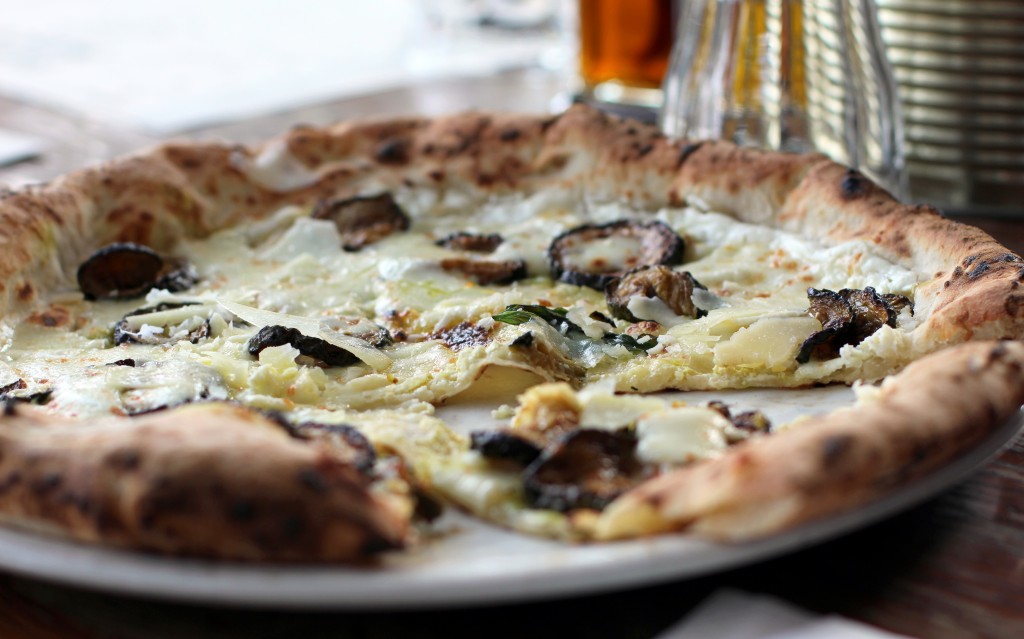 At Franco Manca we love the salty, brittle pecorino tossed onto a fleshy blanket of buffalo ricotta and roasted courgette. Underneath is the signature puffy, charred crust, with its delicate, paper-thin middle. The base is chewy and salty, with just the right hint of sourness for added dimension. One of the best pizzas in London.
19. Scallop Sashimi at Koji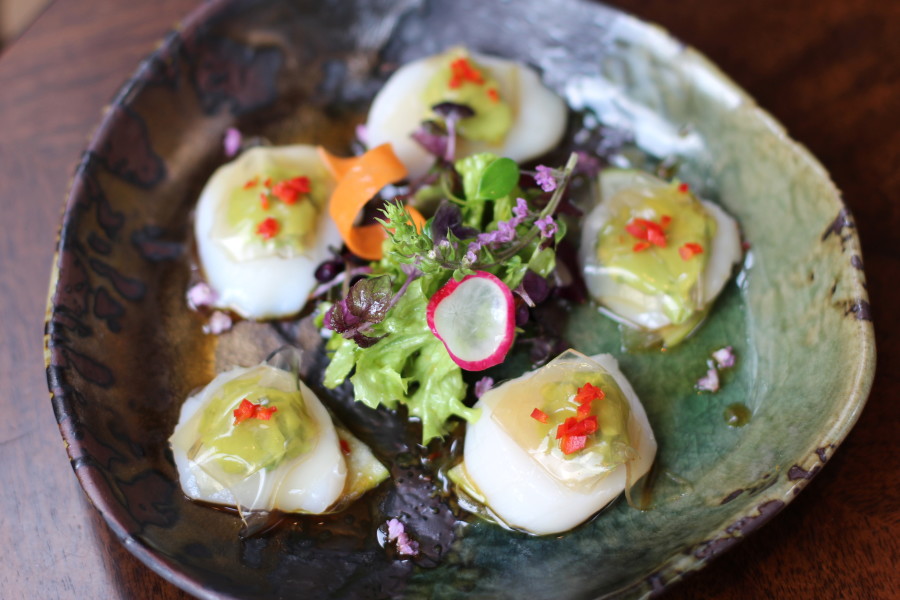 Come to Koji for this ring of scallops, raw and freshly plucked from the ocean, sliced and topped with transparent circles of apple jelly that look like the finest stained glass, and wasabi salsa.
READ MORE:
A Japanese wonderland at Koji, Fulham
20. Frozen S'mores at Dominique Ansel Bakery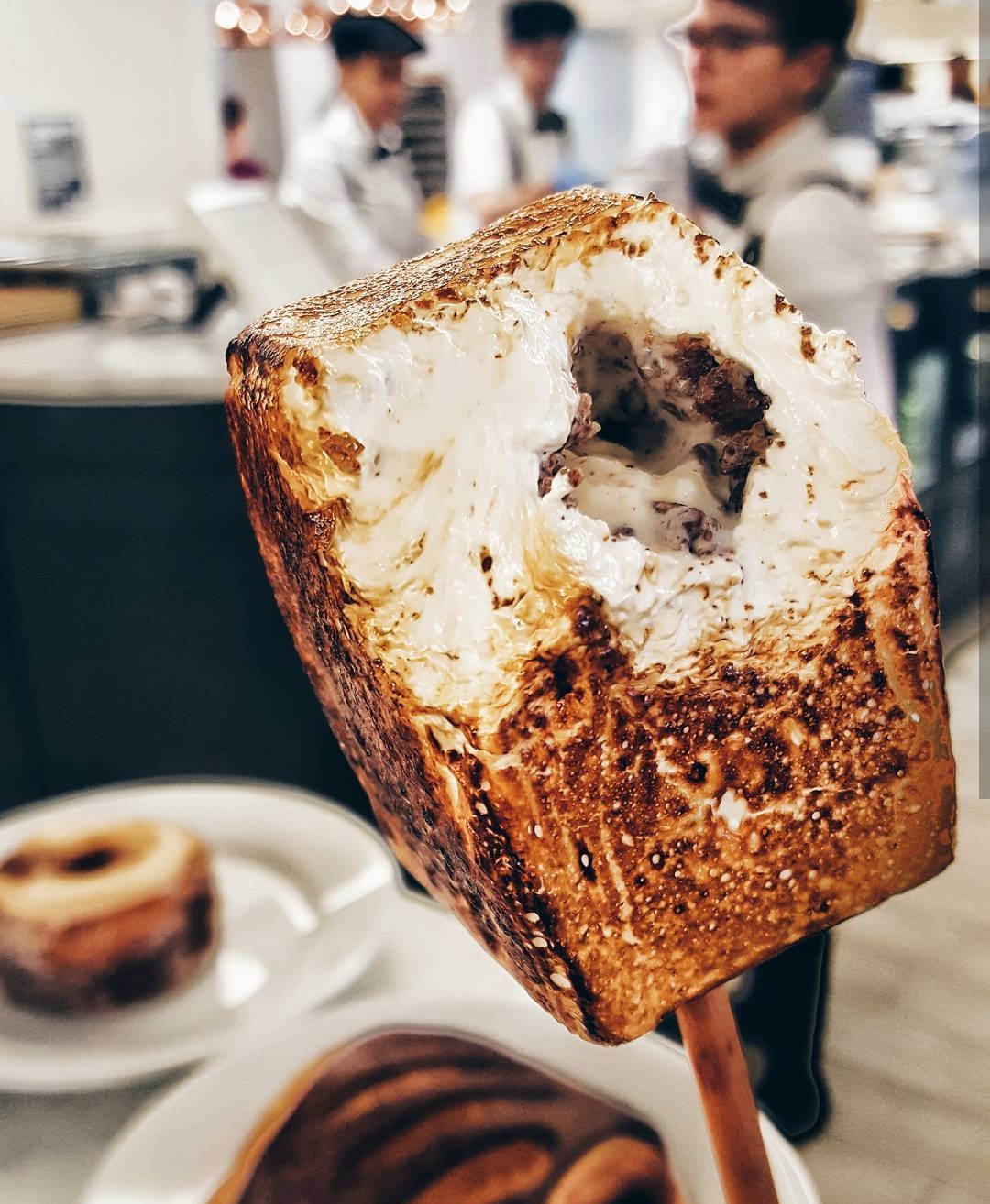 At Dominique Ansel London, the Frozen S'mores of honey marshmallow coated Tahitian vanilla ice cream are blowtorched to order. Nuff said.
READ MORE:
5 Things to Eat at Dominique Ansel London
21. Rubia Gallega Steak at Lurra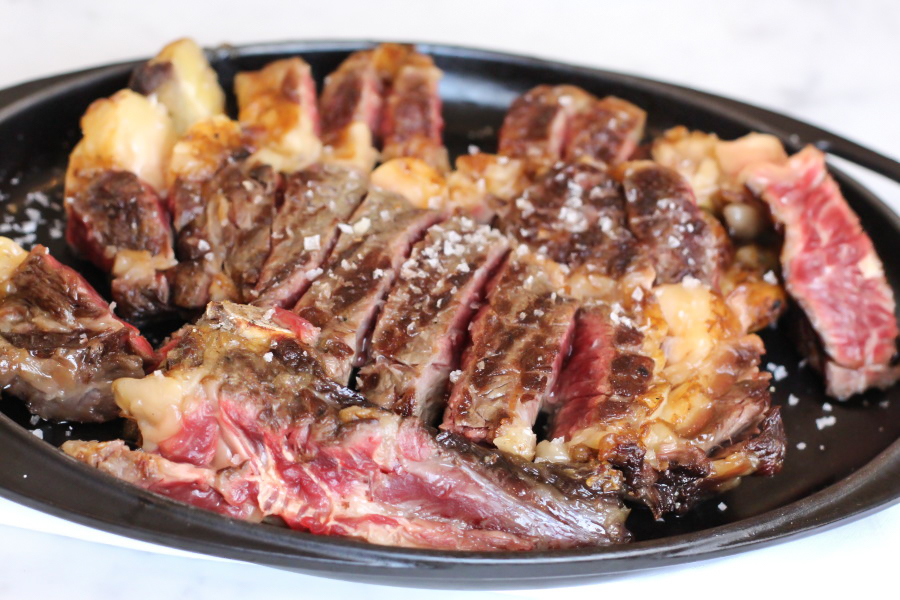 At Lurra the Rubia Gallega "Galician Blond" Prime Rib Grade 9 steak comes from a 14 year old Galician cow, and is aged for over a month before being cooked on the Basque grills. The 900g portion is punctuated with sweet, little nubs of fat that lubricate the flesh and render any other sauce unnecessary. A little sea salt speckled across the top of the char give another dimension, and is by far one of the best things to eat in London.
22. Matcha Soft Serve Ice Cream at Tombo
The matcha ice cream has a great depth of flavour, intensified even more by an extra dusting of matcha. It's a gorgeous little treat that costs just a few pounds, and is one our favourite pick ups in the city.
READ MORE:
#FoodpornFridays at Tombo – matcha soft serve ice cream!
23. Cornish Crab & English Muffins at Harwood Arms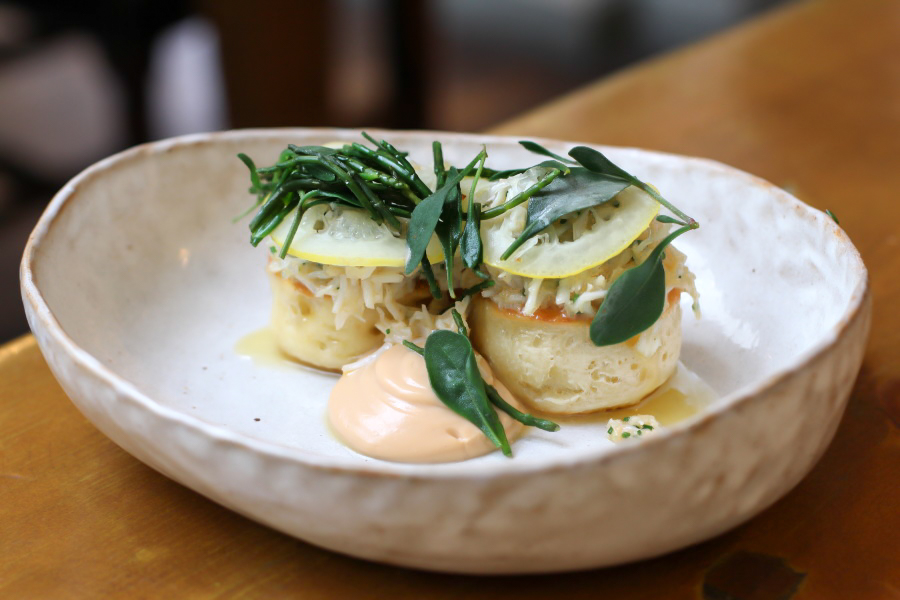 From the chalked up specials menu we also choose Cornish crab, flaked and buttered on English muffins with pickled lemon and coastal herbs, that is far and away the nicest crab dish I've had in a while.
READ MORE:
Michelin starred cuisine at The Harwood Arms
24. Afternoon Tea at Mandarin Oriental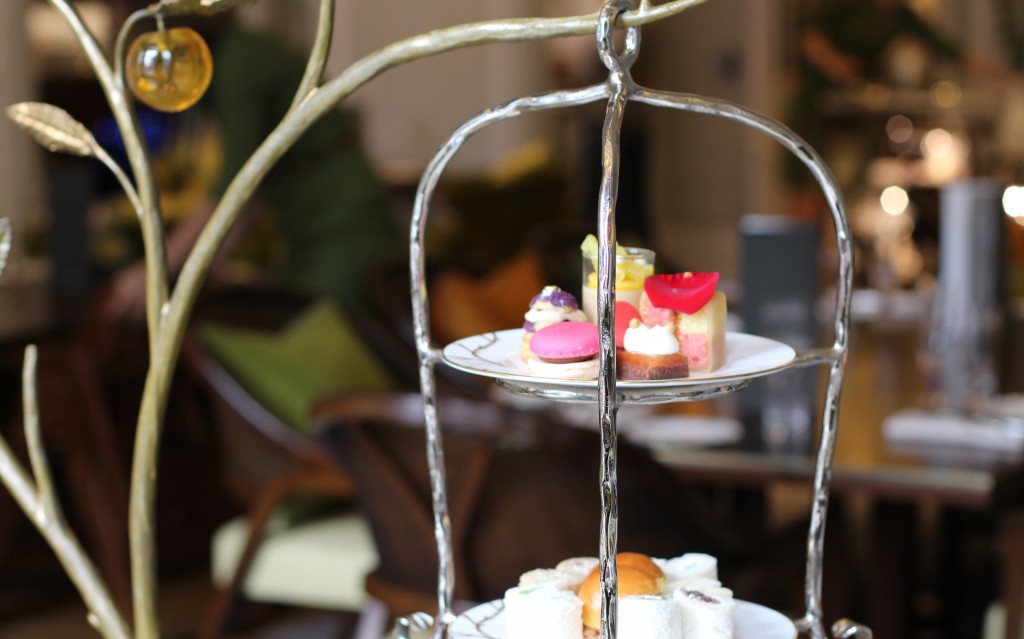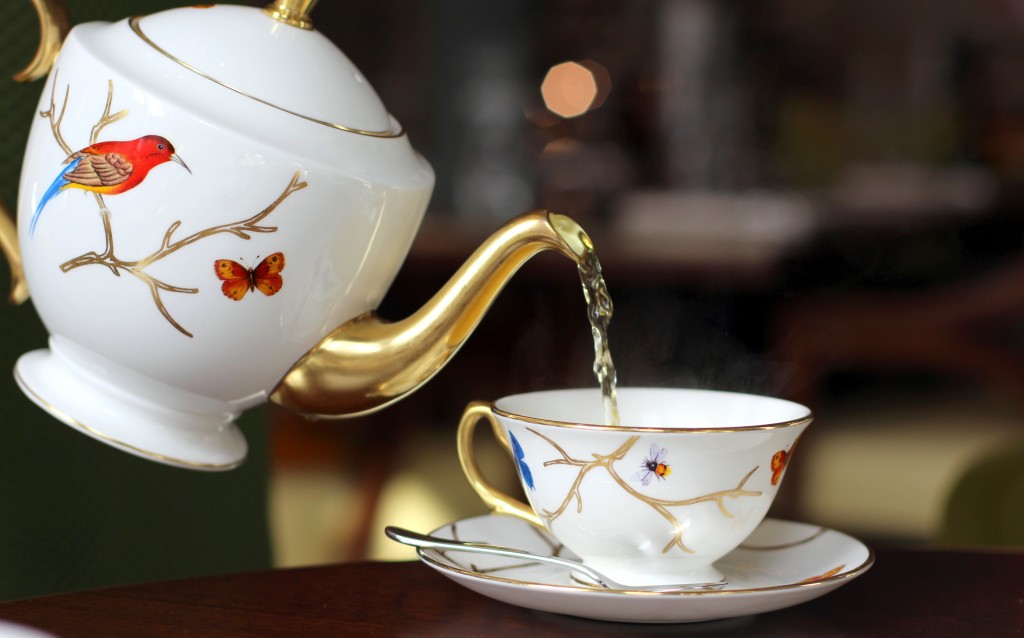 At Mandarin Oriental, the tiered tea stands are hung like birdcages on bronze branches, strengthening the feeling of being in a fairytale garden. This is so far the best afternoon tea I've been to and all aspects of it are lustrous, smooth and utterly without fault.
READ MORE:
16 of the most Luxurious Afternoon Tea experiences in London
25. Anchovy Toast & Eggs at St. John Bread and Wine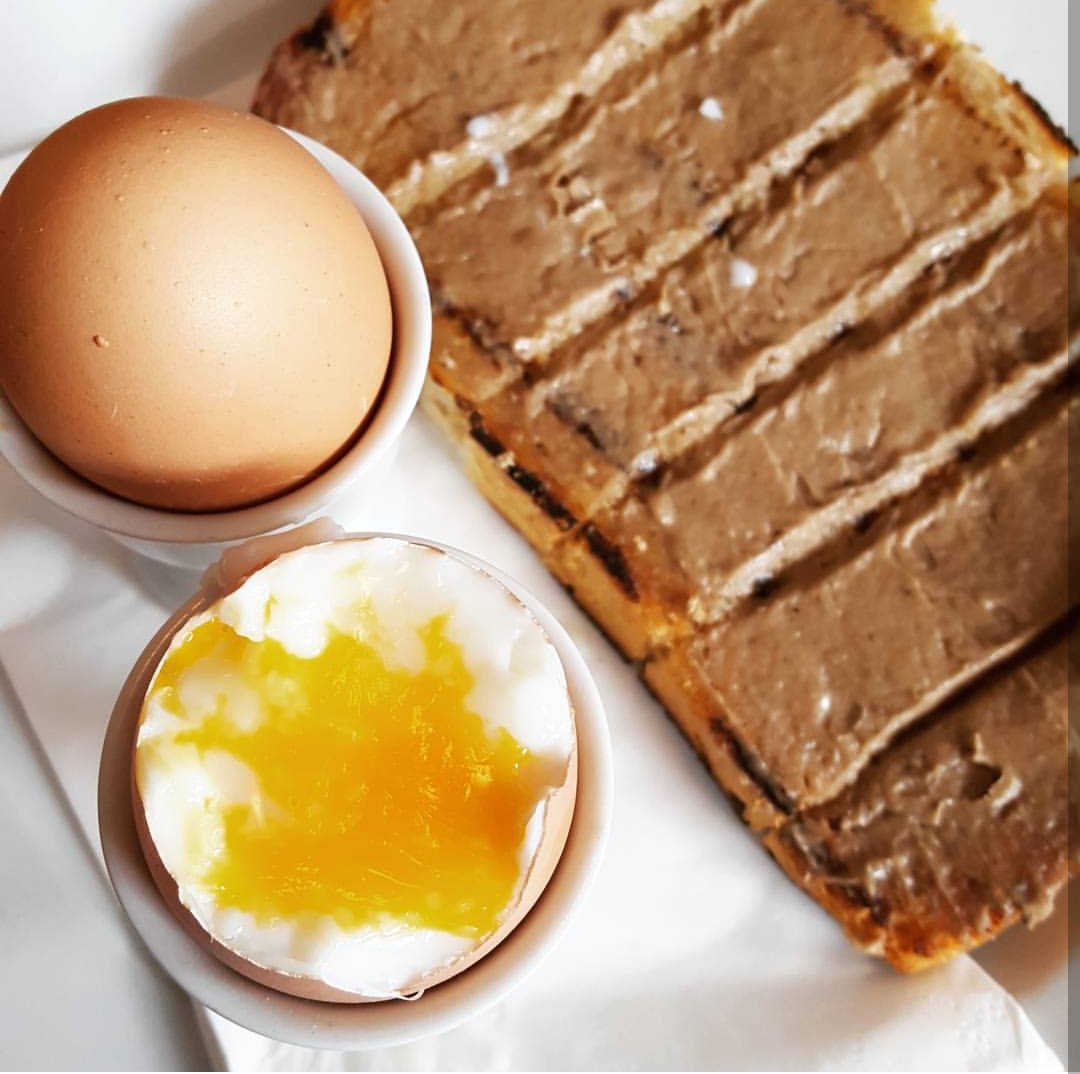 For a quirky breakfast you can't go wrong at St. John Bread and Wine, where everything is slightly strange, and wonderfully delicious.
26. Cod & Quinoa at Augustine Kitchen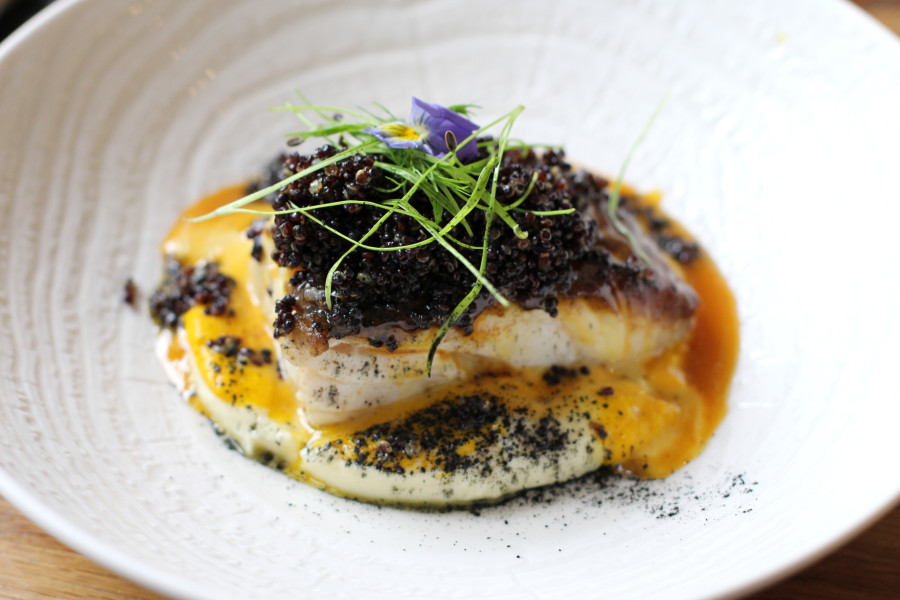 This plump parcel of cod, pearly white and opalescent, is also one of the best things to eat in London. Flowing down its back is an excess of gritty, black quinoa, and a fruity reduction. On the side there are shallow bowls of whipped potato, which have the sort of luxe sheen that only butter (and lots of it) can impart.
READ MORE:
Lunch in Battersea at the lovely Augustine Kitchen
27. Foie Gras, Apple Pie & Duck Egg at Smokehouse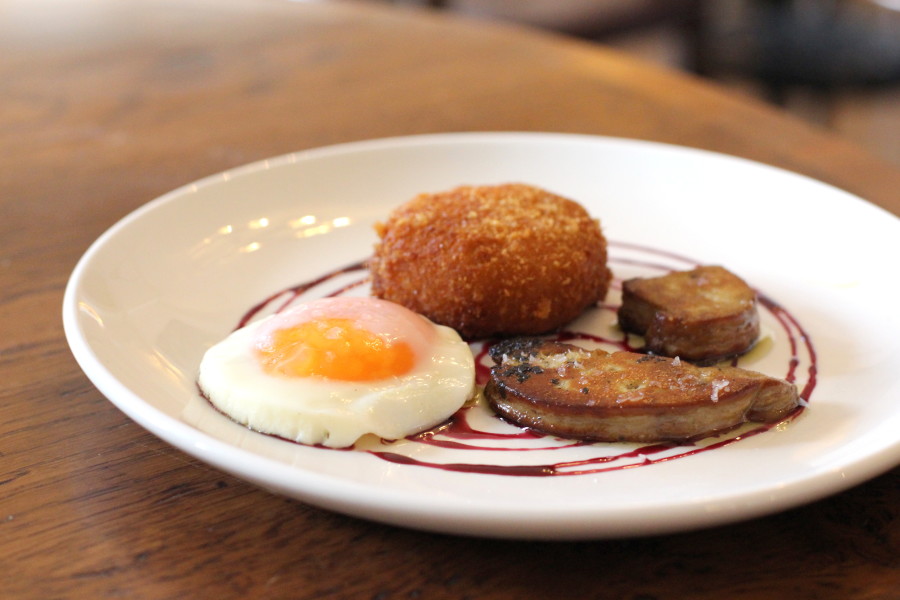 Neil Rankin's Smokehouse is a London favourite, not least of all for its egg-topped seared foie gras with apple pie. Yum.
READ MORE:
Foie Gras and more at Smokehouse, Chiswick
28. Foie Gras & Brioche Slider at Comptoir Gascon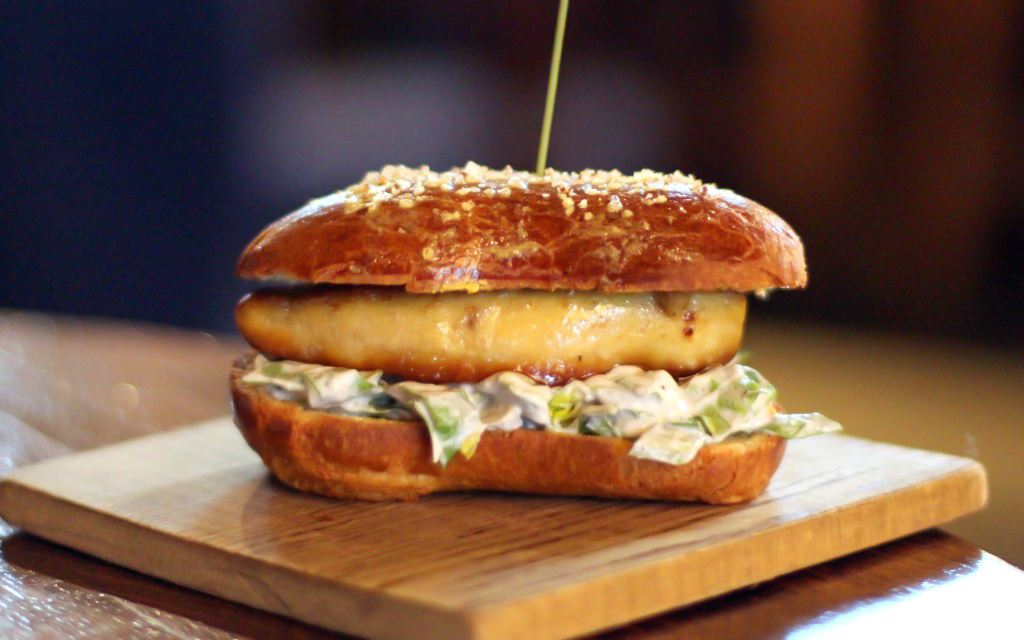 At Comptoir Gascon, the silken foie gras is cut into thick slices and seared with fierce blasts of heat, leaving them softened and buttery inside. Like any well treated foie gras, the texture is akin to bone marrow; slippery and lubricating, with a playfully gamey flavour.
READ MORE:
Signature Brioche & Foie Gras Sliders at Comptoir Gascon
29. Blowtorched Sushi at Kouzu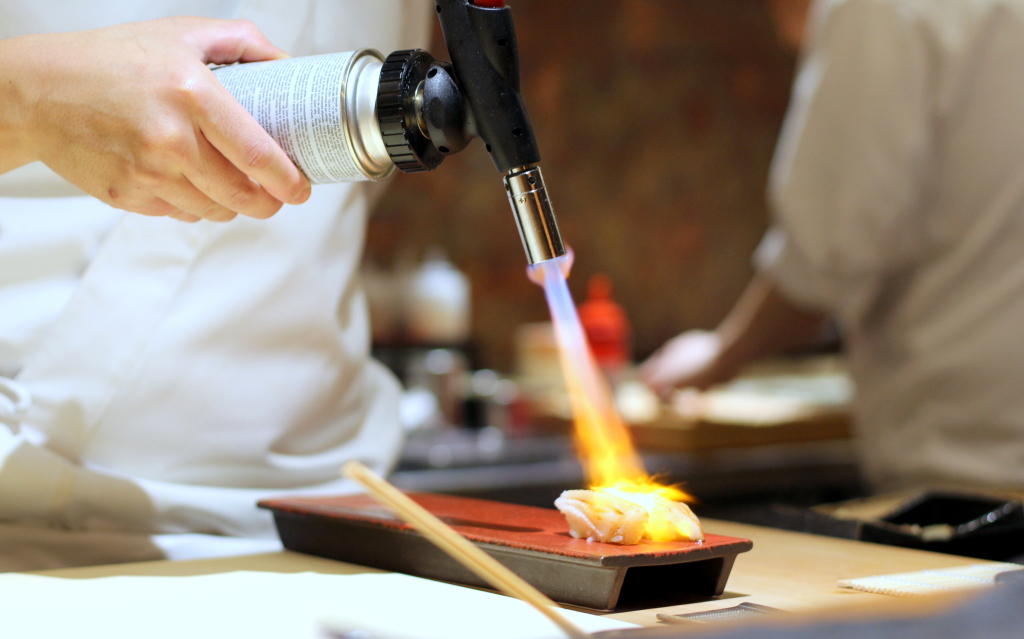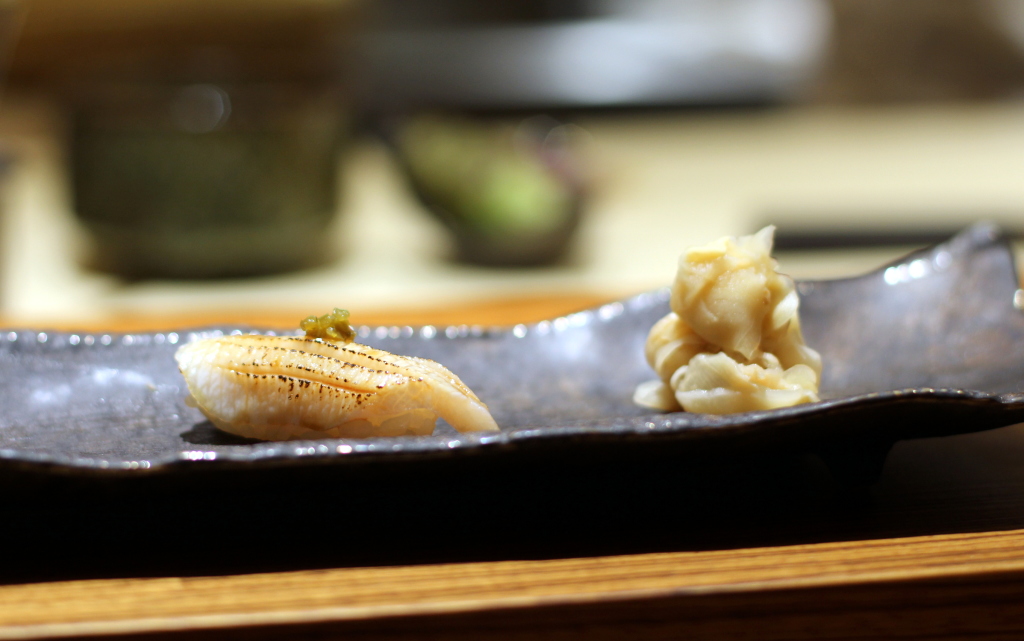 At the Kouzu sushi bar we are treated to an impeccable display of knife skills with precision-cut sashimi, deftly shaped nigiri, and the quiet-blistering of a blowtorch.
READ MORE:
Blowtorched sushi at Kouzu, Belgravia
30. 50-degree Salmon at Kiru
Located down the side alleys of pretty Mayfair, Kiru is often an overlooked Japanese restaurant. If you do seek it out then one of their must-try dishes is the 50-degree sous vide salmon with green tea miso and green tea ash.
31. Coconut-Creme Chocolate Fondant at Coya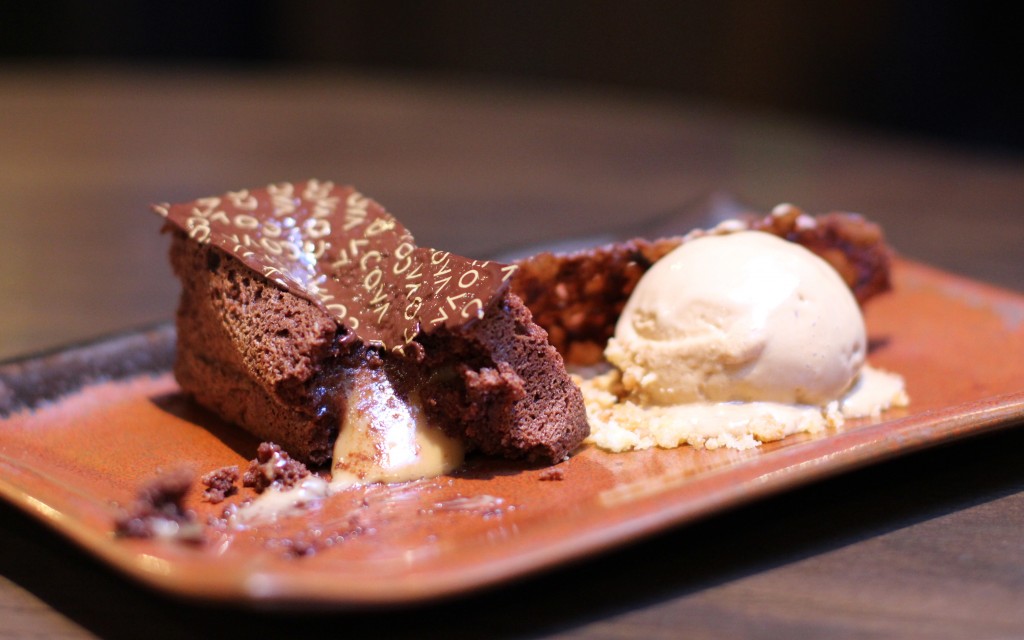 If you have a sweet tooth then this next one is for you – the coconut-crème filled chocolate fondant with roasted white chocolate ice cream at Coya is an absolute stunner. Silky smooth and bursting with both molten chocolate and coconut. Mmm.
READ MORE:
Stunning Eats at Coya, Mayfair
32. 'Jelly, Fruit and Ice Cream' from Arabica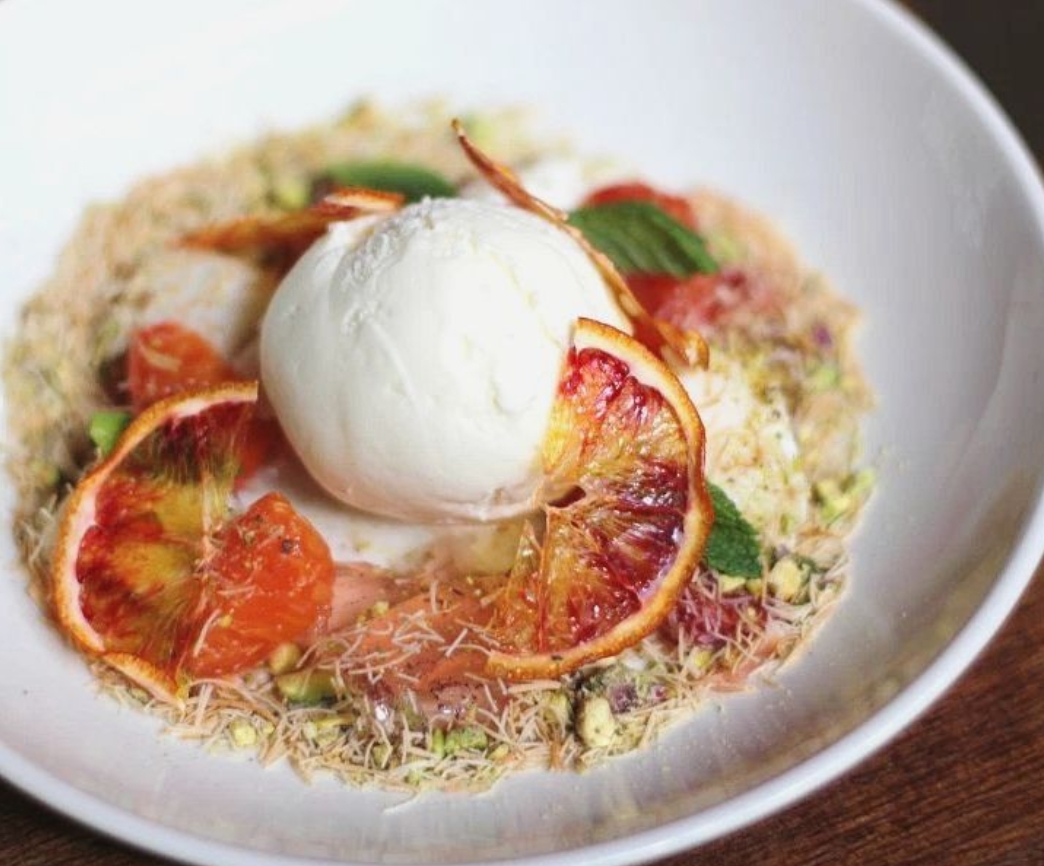 For a gentle, gorgeously balanced dessert of Middle Eastern origins, head to Arabica and try the 'Jelly, Fruit and Ice Cream'. This dessert combines rosewater jelly, milk and honey jelly, blood orange, mastica ice cream and toasted kataifi to produce absolute dessert goals… one of the best things to eat in London!
READ MORE:
Magical Middle Eastern Fusion at Arabica
33. José Gordón Carpaccio at World's End Market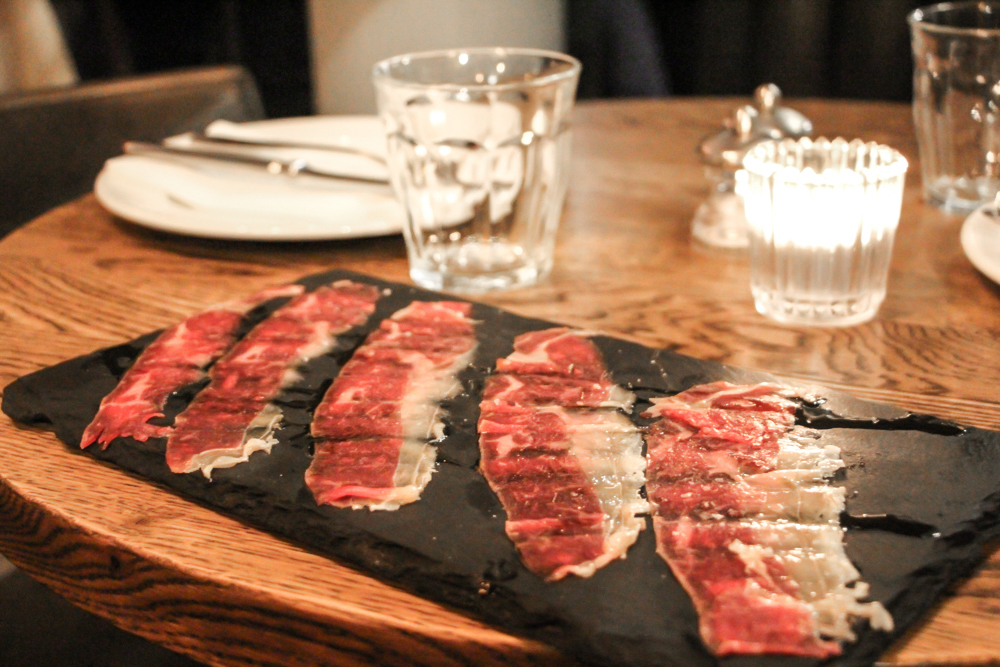 We love the carpaccio from the José Gordón entrecote, which is matured for 180 days in gorgeous Spanish olive oil. The carpaccio is cut beautifully thin and shines ruby red, glossy with oil and packed full of flavour.
READ MORE:
José Gordón: The world's best steak at The World's End Market
34. Rack of Lamb at Bocconcino
Rack of lamb, with it's blush pink insides and flame seared skin, is winningly combined with sautéed chicory. The softened tangle of vegetables lounge in a glossy slick of herb-laced oil. Yum.
READ MORE:
Bocconcino review: high-end Italian food in Mayfair
35. Classic Burgers at Honest Burgers
Honest burgers are some of the most satisfying in London with their meaty patties and fluffy brioche buns. It's the caramelized onion marmalade that really makes them however, and that tick heaping of Cheddar cheese.
36. Double Cheeseburgers at Bleecker Burger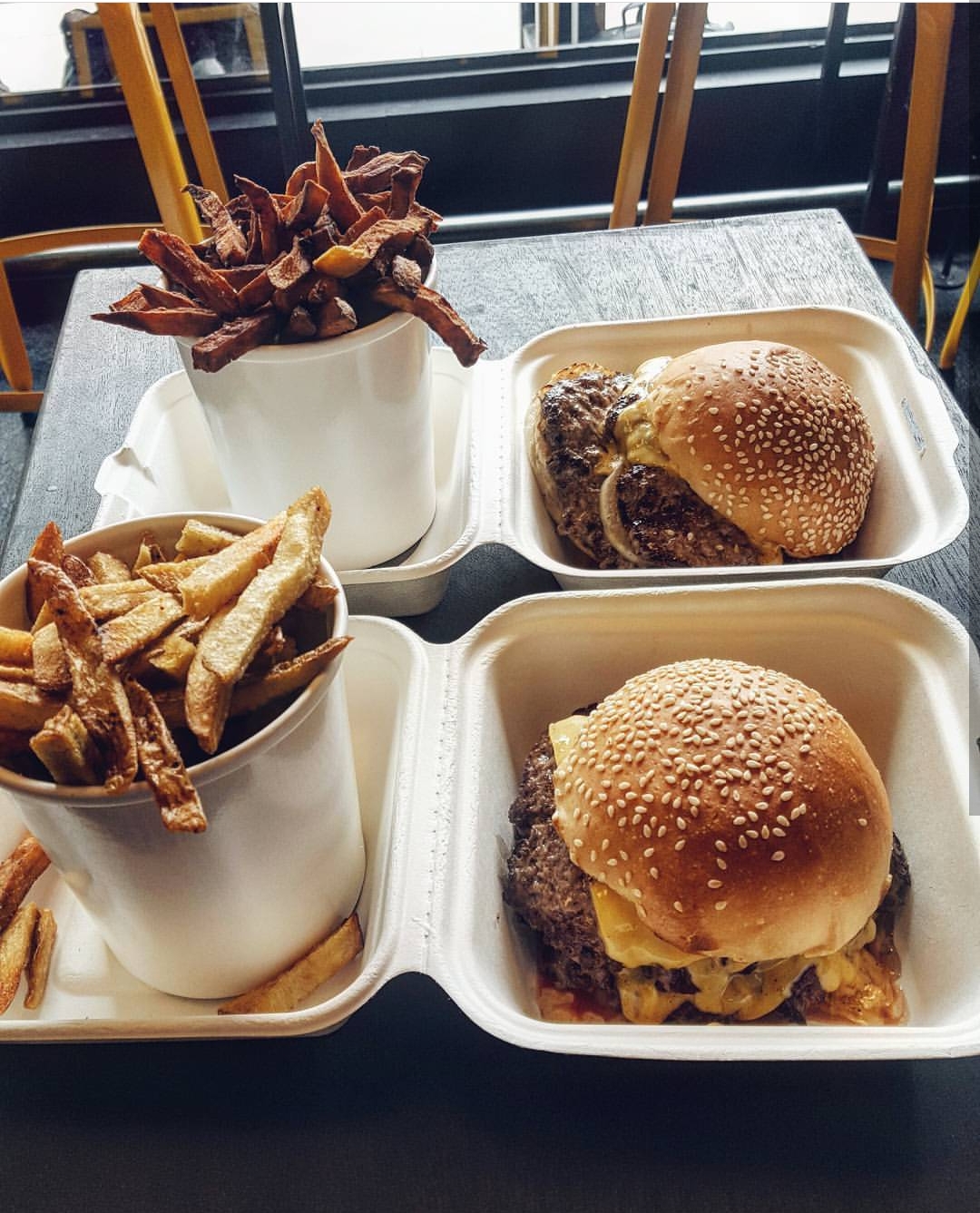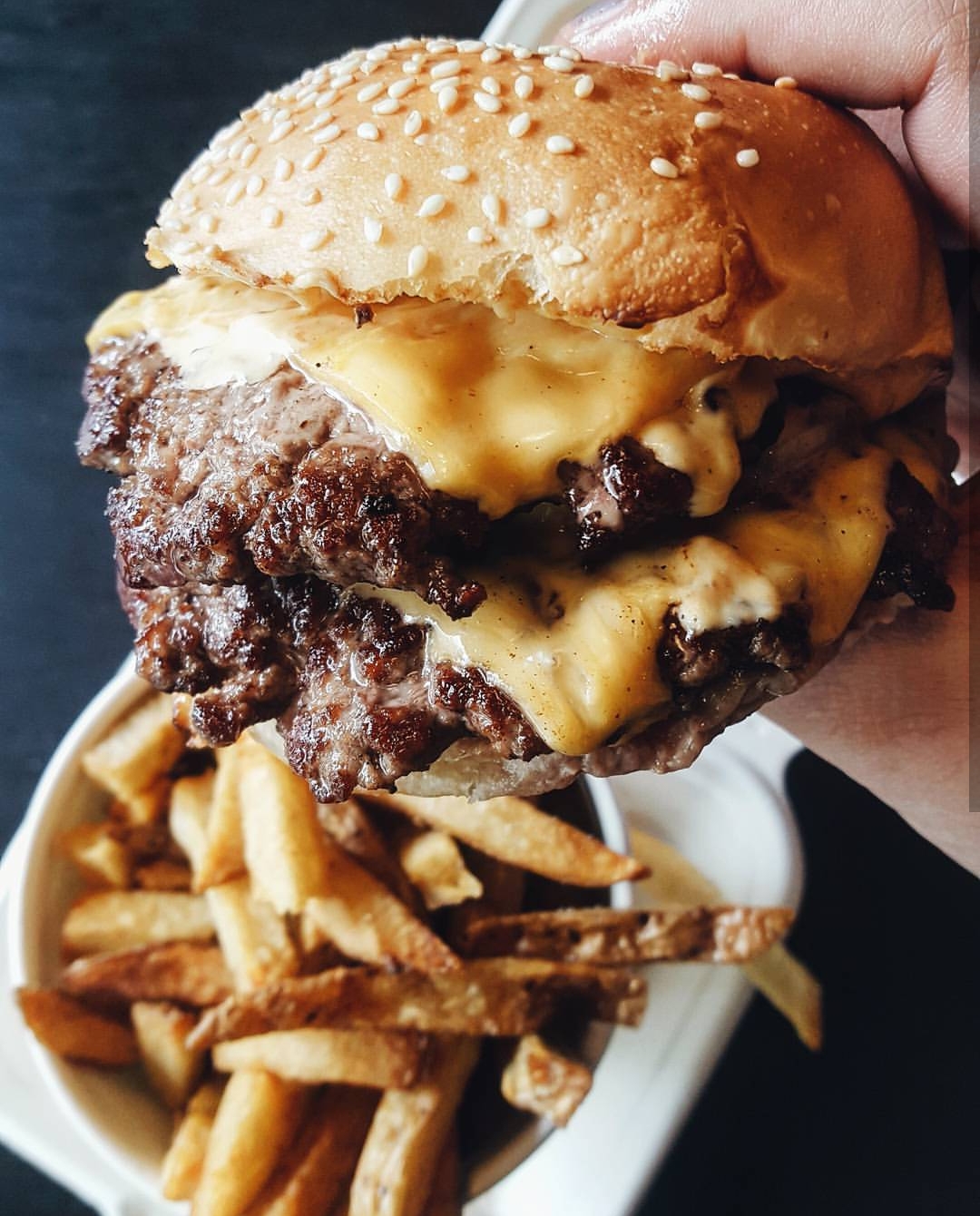 If you want a sloppy, messy, fat-fueled burger, then the double cheeseburger at Bleecker Burger will do you right. If there is anything more pleasing than grasping the slippery, cheese-lubricated Bleecker Burger in your hands and taking that first, hot bite, I have yet to experience it.
37. Le Sphere at L'Atelier De Joël Robuchon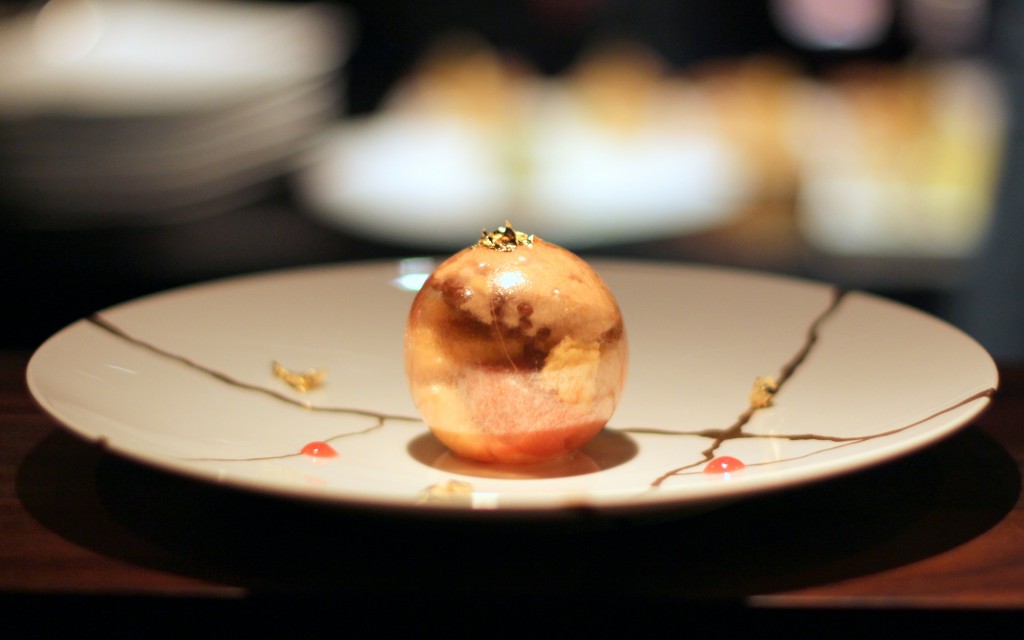 'Le Sphere' is the iconic dessert served at the Michelin-starred L'Atelier De Joël Robuchon. It features a spun-sugar bubble containing cinnamon mousse dotted with shortbread, and the outline of peach sorbet. A gentle tap is all it takes to gain entry, and the surprise crackle of popping candy says it all – Robuchon has created a sensory delight of dessert, which is fully one of the best things to eat in London.
READ MORE:
The Art of Perfection at L'Atelier de Joël Robuchon
38. Sunday Lunch at Kensington Townhouse
Designed by Alexander Waterworth, The Kensington's drawing rooms and Town House restaurant are the epitome of elegance with vaulting ceilings and elaborate cornicing.
Sunday lunch begins with starters laid out on a 'market table', flush with fresh crustaceans, prawns and smoked salmon, cured meats and toasted sourdough topped with smokily whipped chicken livers, chutneys and pickles.
READ MORE:
Sunday Lunch at The Kensington
39. Wintermelon Iced Tea with Herbal Grass Jelly at Biju Bubble Tea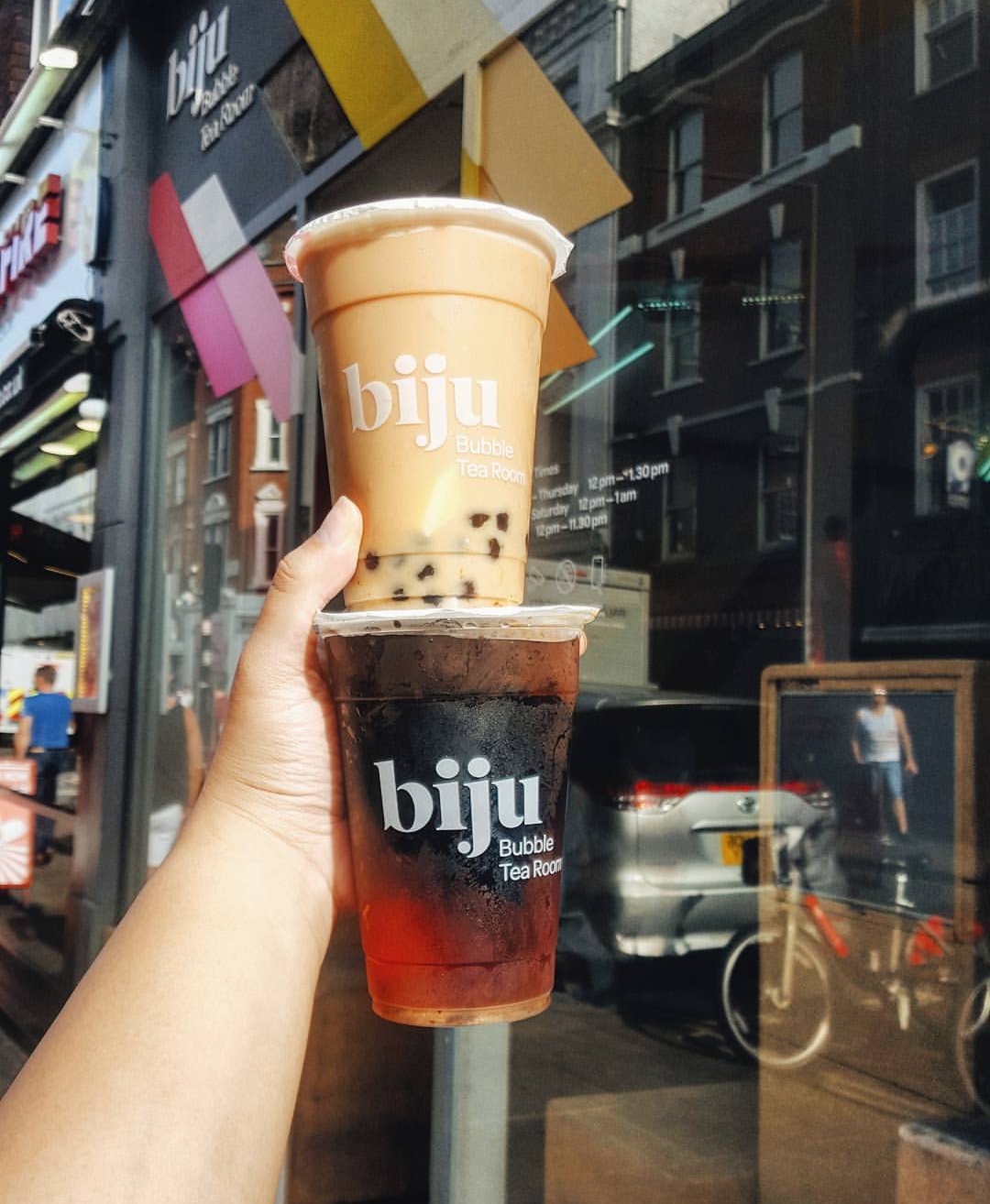 At Biju everything is made fresh. Tea leaves from Taiwan sit in espresso machines, waiting to be brewed for each individual order. For the flavoured juices, instead of using processed powders to imitate taste and colour, Biju uses 'nectars' – concentrated syrups of the fresh ingredients. These specifics add up to make a set of bubble teas that are really quite lovely.
READ MORE:
Bubble Tea Heaven at Biju Bubble Tea
Phew! So that is my personal list of the things that I would most love to eat in London. Let me know if you have any favourites too :)