Flavourful, if a little small 
7/10
The interior of Arbutus speaks of understated elegance; white walls are lined with monochrome photos and lots of natural light filters in through large windows. Its best feature is how generously sized and spaced out the tables are – a welcome change from the usual packed-like-sardines experience.
Arbutus makes full use of ingredients that are most usually discarded, utilizing ox and lamb tripe, trotters, and pigs head. It's a clever idea to revert to offal, and a veritable cash cow considering how cheap these ingredients are and the mark up in price on the menu. On being seated we are offered white or brown bread with a tab of softened butter, a nice gesture, but the bread is ordinary, bordering on mundane. Although our Bordeaux is thoughtfully provided in a carafe, glasses are not topped up during our stay and so the gesture is somewhat hollow. The blueberry infused martini is light and fresh, with just the right level of sweetness to balance the vodka.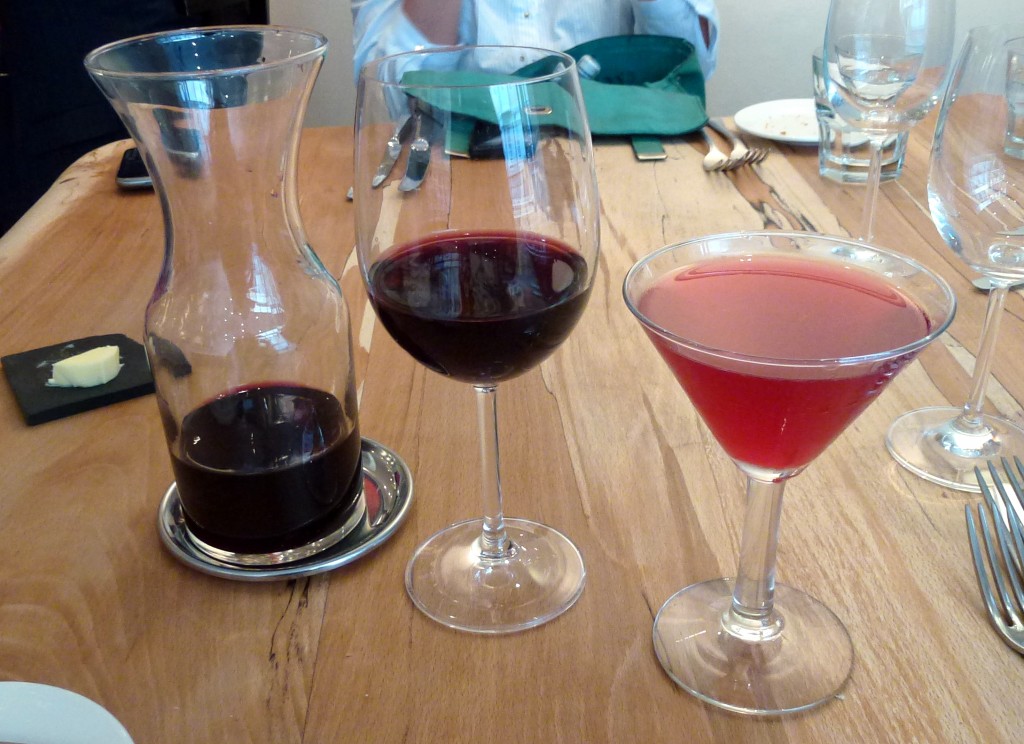 We choose to order a selection of starters as mains, starting with squid and mackerel burger with razor clams and sea purslane. The dense patty of seafood has that distinct whiff of mackerel and tastes heavily of seafood in a great way. The razor clams are steeped in a buttery white wine and parsley sauce, and laid on folds of vivid green purslane which provide a satisfying bite. Not the most innovative combination of ingredients, but absolutely delicious nonetheless.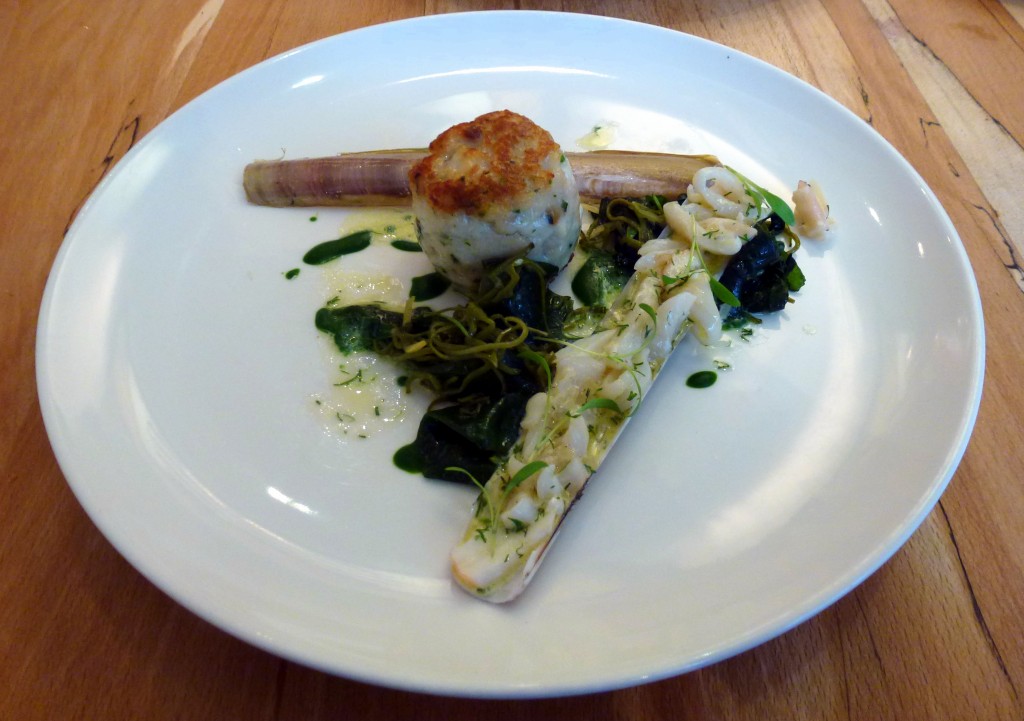 Taking a step into the unknown we flirt with the notion of going full offal, deciding finally on the pigs head which arrives transformed into a terrine, slick and fatty in texture with meaty depth. To the side of this, a spoonful of silky potato puree, pickled turnip and the crunch of pistachio. Moving on to the raw – beef tartar is finely chopped and topped with a single perfect yolk, pretty to look at and photograph, as well as eat.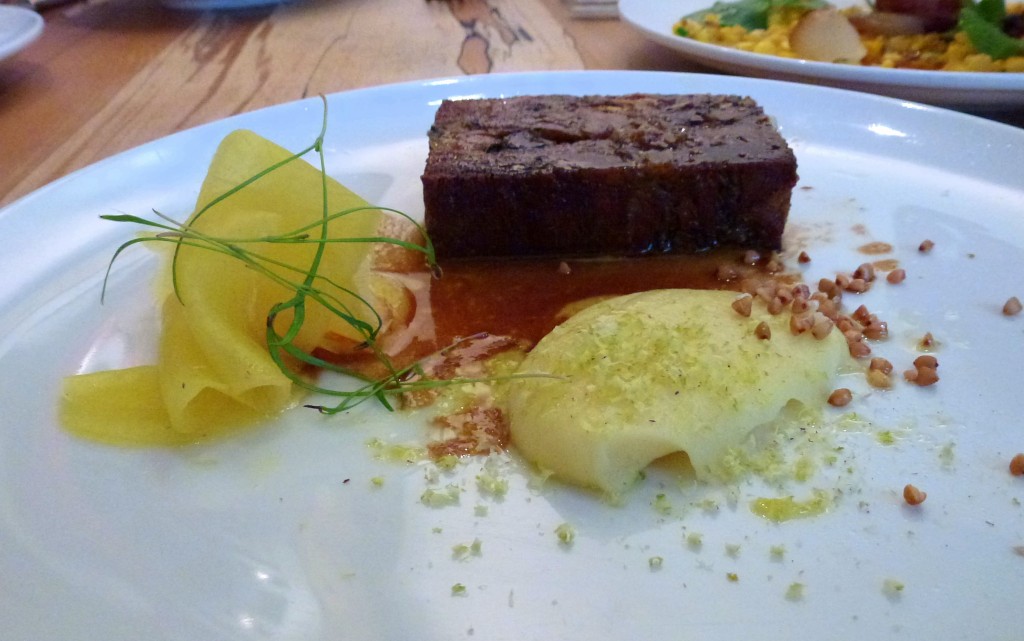 The lamb ravioli is a surprise; instead of pasta, thin layers of lamb encase velvety goats curd and a sautéed mushroom duxelle, imbuing the curd with an earthy taste of the wilderness. Strips of lamb crackling are placed on top of this, but are rather too leathery for my taste.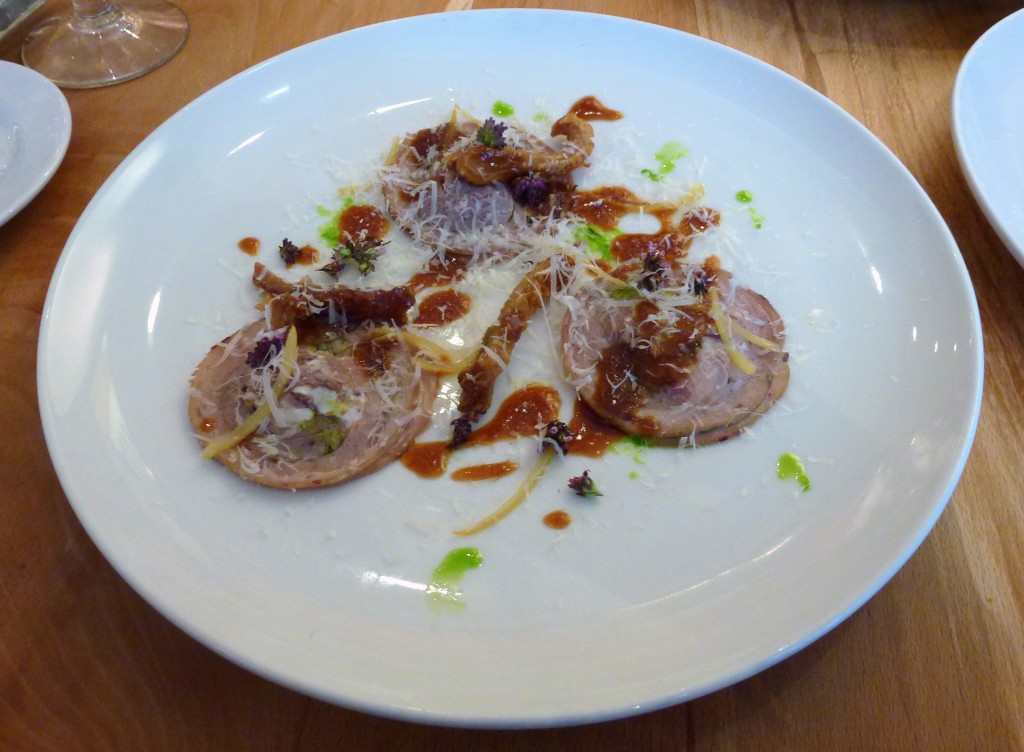 Our main of choice reads as 'saddle of rabbit, smoked corn, burnt onions, slow cooked shoulder cottage pie' on the menu, and is as confusing on the plate. What appears is a dish teeming with corn, in the middle of which rests a small piece of rabbit (wrapped in bacon, which the menu fails to state, and my non-pork eating companion is less than pleased with). To the side of this is a small bowl of mashed potato, under which is shredded shoulder of rabbit. The dish is over salted and overthought, everything being tweaked just that bit too much, resulting in a somewhat tortured misalliance that is less than pleasing.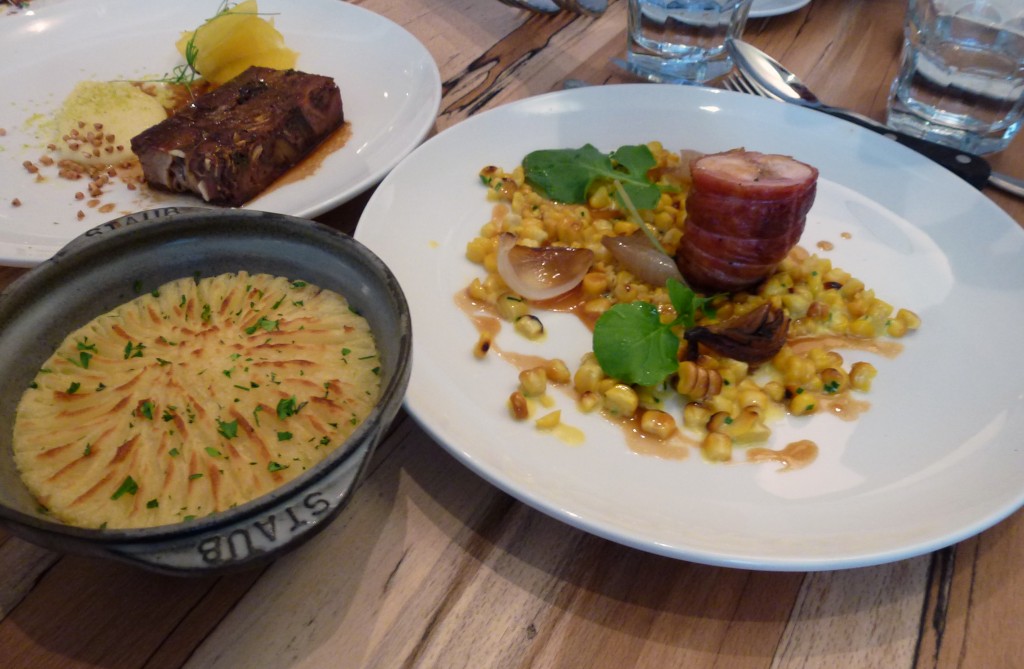 Arbutus has been blessed with a slew of rave reviews and a Michelin star, but I find it to be an establishment where one would come to show off and close a deal, not relax. Although most of the food is tasty, portions are small and we leave still hungry and somewhat unsatisfied. Service is inconsistent, average price per person is £40.
Tube: Leicester Square