You get what you pay for
5/10
It's not exactly cheap once you order 3 courses and drinks, but Brasserie Zedel offers decent value for money in London's West End, and a feel of something different – the likes of which the formula driven Café Rouge, Pizza Express and Bills can only hope for. Located less than a minute from Piccadilly Circus, this basement restaurant is deceptively bathed in light. Vast and sprawling, there is a giddy, over-the-top theatricality involved in the red velvet seating, brass rails, and gold leaf embellished marble columns – we are not in Kansas anymore Toto.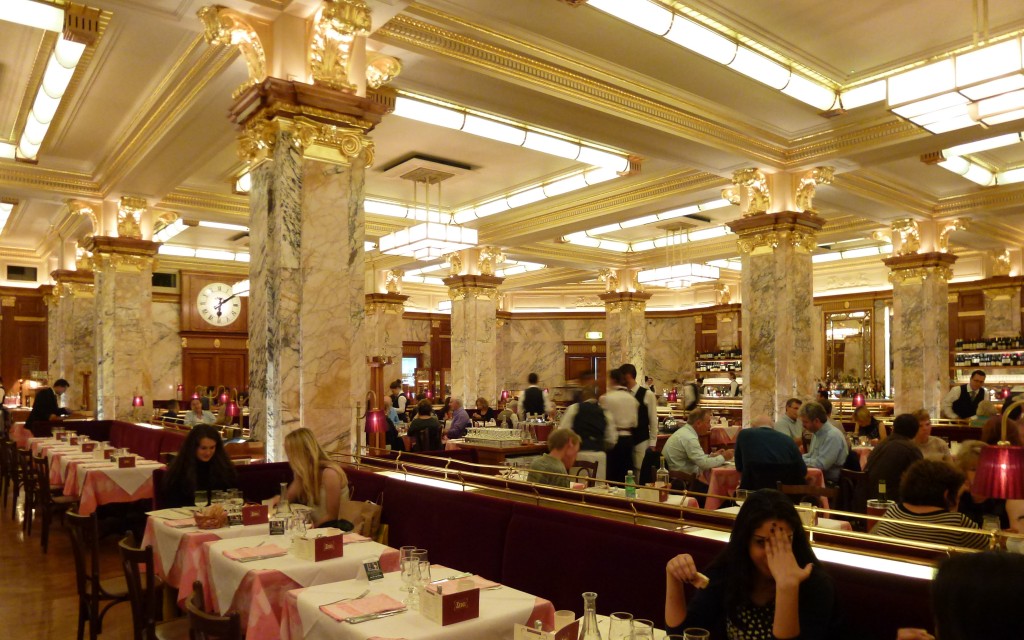 The menu, written on a rather cumbersome sheet of A3, contains dishes about as subtle as the décor including egg mayo, lobster cocktail, quiche lorraine, frogs legs and snails. The onion soup has a wonderful warm savoury smell that diffuses through the air, and is full of chunks of baguette and caramelized onion. Half a dozen oysters arrive on crushed ice and are nice enough with a shallot dip and buttered bread, whilst smoked herring is presented with softened potatoes.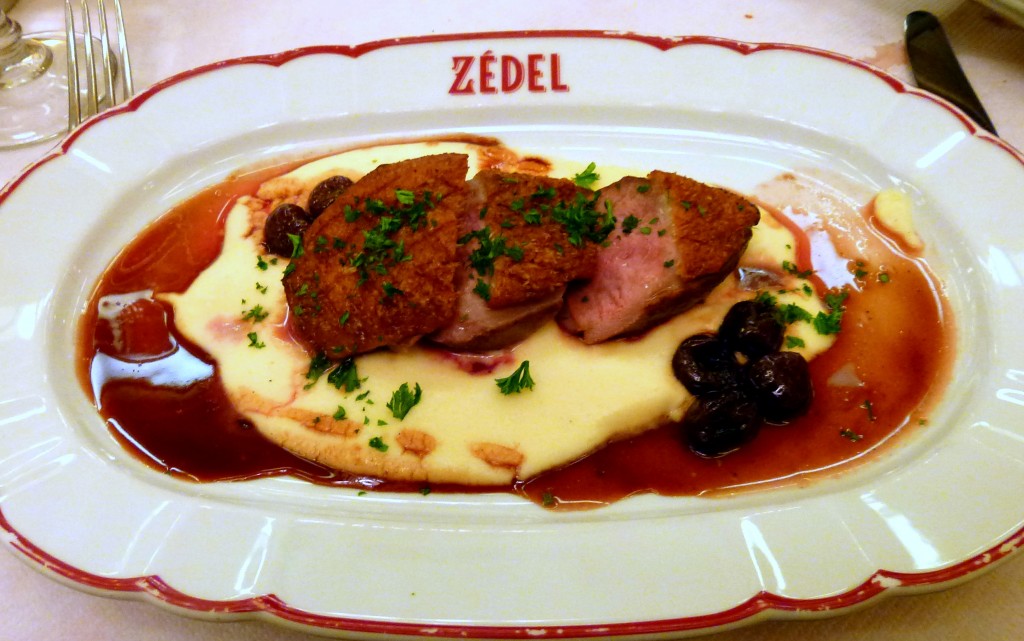 So far so good and now for the litmus test – duck. I find a restaurant is defined by how well (or not) it cooks prawns and duck. Having had plenty of bad versions of both, I hold firmly to this belief. Ironically, the roast duck is actually the best main – pink fleshed and crisp skinned, with softened cherries and a puddle of 'mousseline' mash and gravy. The menu falls short on other offerings; steak hache is studded with a touch too many peppercorns and the side of fries are thin to the extreme – dangerously similar to those at McDonalds. Choucroute alsacienne is formed of a pile of pale sauerkraut with a range of piggy additions which are acceptable.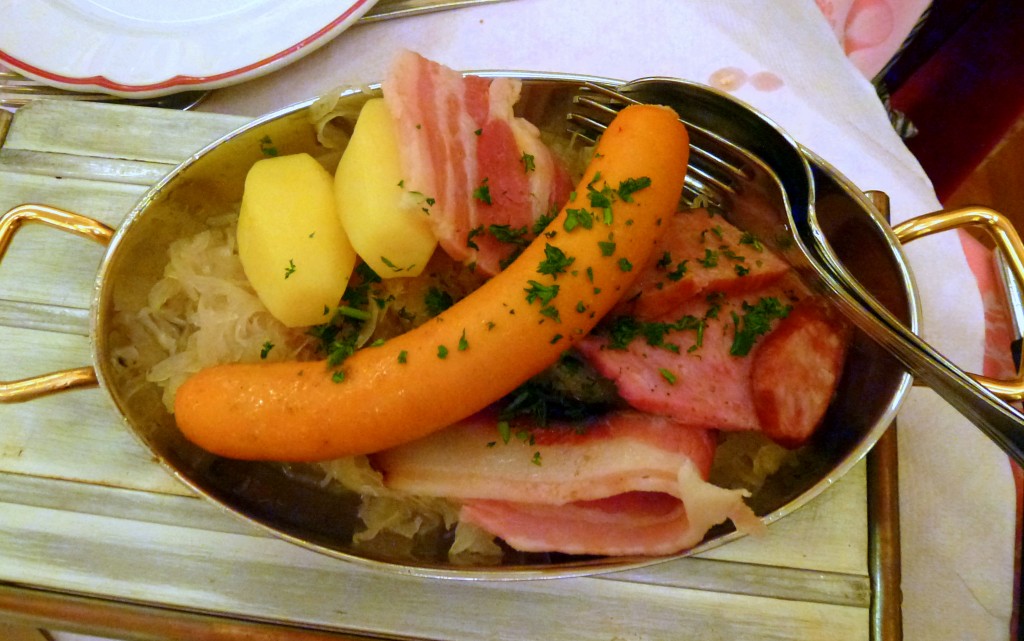 Although the dessert section reads very well, only our Ile Flottante is good; composed of cloud-soft poached meringue on a crème anglais with pink sugared almonds. The soufflé is misleading – it is actually a soufflé-shaped iced pudding of sorts and an instant disappointment. Imagine our collective anguish at dipping in for a soft spoonful only to be met with a gritty mass. The opera cake is suspiciously cold and wet as if hasn't been defrosted quite long enough – sacre blurgh.
With 240 covers to attend to the service is kept busy, average price per person is £30.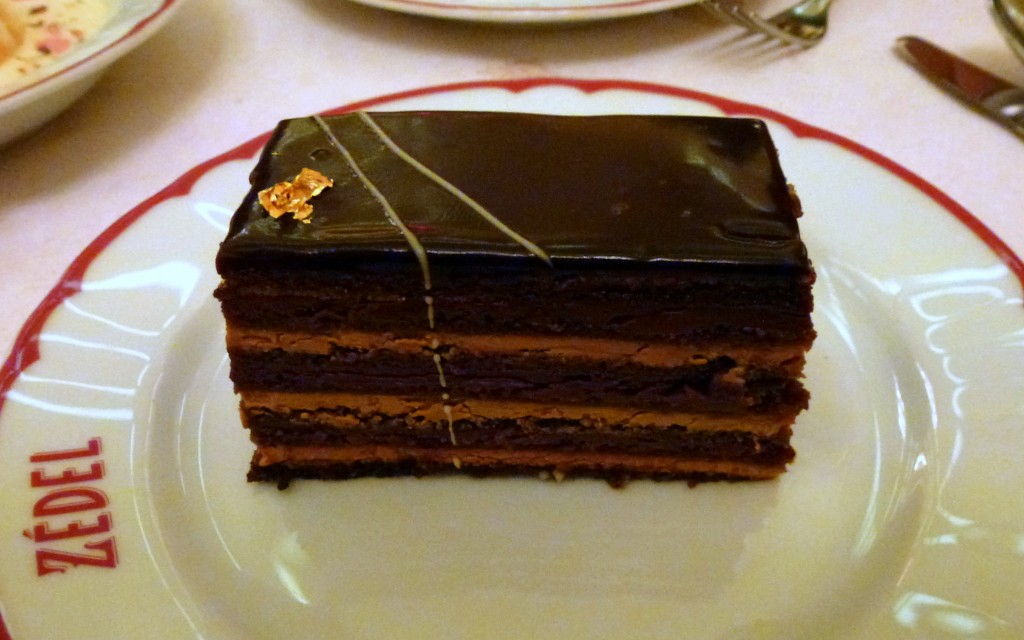 Tube: Piccadilly Circus