Blogger Event – Feasting on meat in Battersea
The Butcher and Grill is a meat-led restaurant in Battersea with a deliciously simple premise: the food in the ground floor butcher shop is available to buy and have cooked in the restaurant. So simple, so good.
We admire the cool, fresh, white tiled interior of the restaurant and awe at it's double height ceiling, wood floored mezzanine floor and decking that overlooks the canal. The homemade sourdough and focaccia with burnt onion butter marks the start of what turns out to be a fantastic blogger evening with Gary from Foodaholic and Bottomless Bookings, Jonathan from Notes on Eating and half of the fabulous London Food Babes.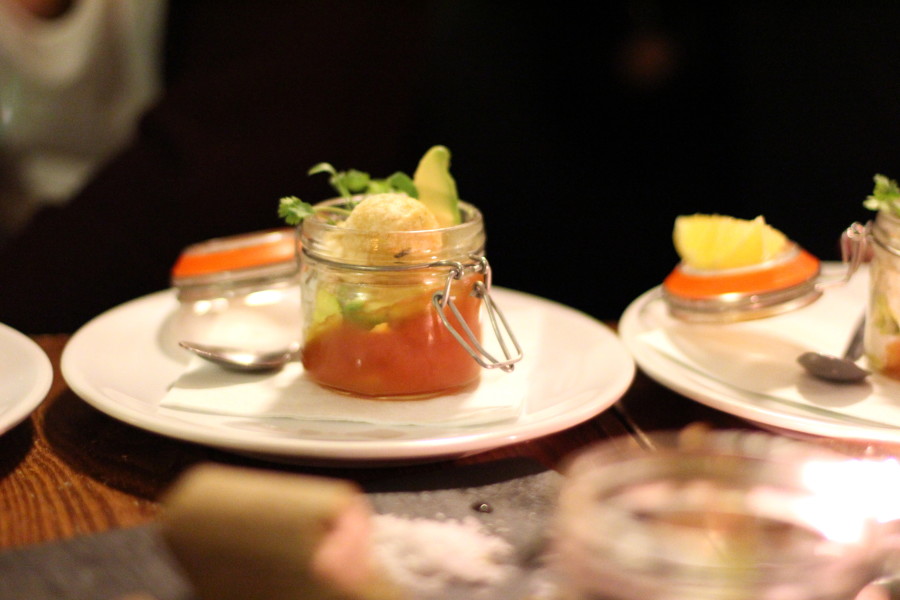 For our blogger event this evening we are treated to a cacophony of meats from the butcher shop: grilled rib on the bone, it's pinkness in sharp contrast with a black outer char; thick palms of shortrib, slathered in a delightfully viscous BBQ glaze; and stout-braised ox cheek with turnips salt baked so tenderly that they sigh into a vegetal butter. The sheer mass and variety is lovely to see and all are done very well indeed, and served with a range of sauces and dips.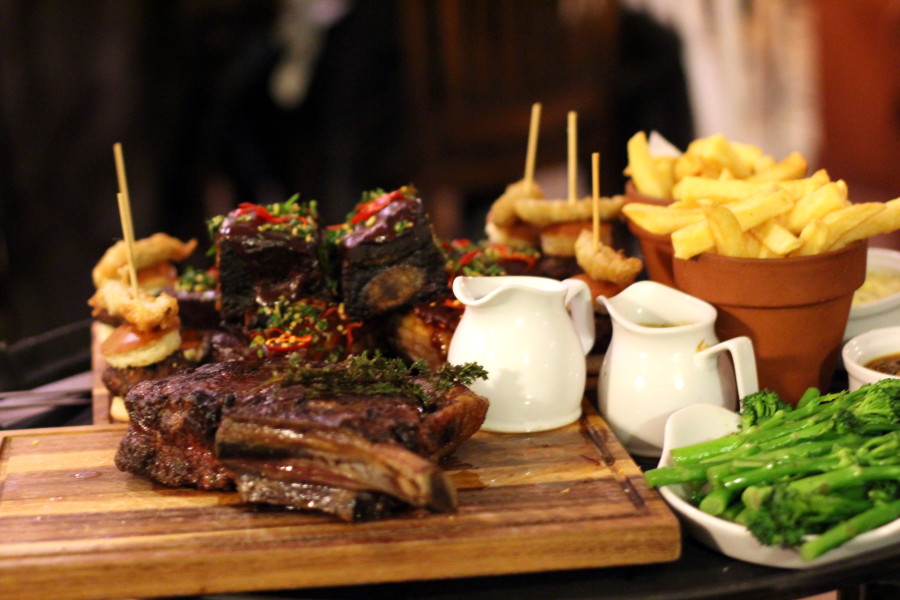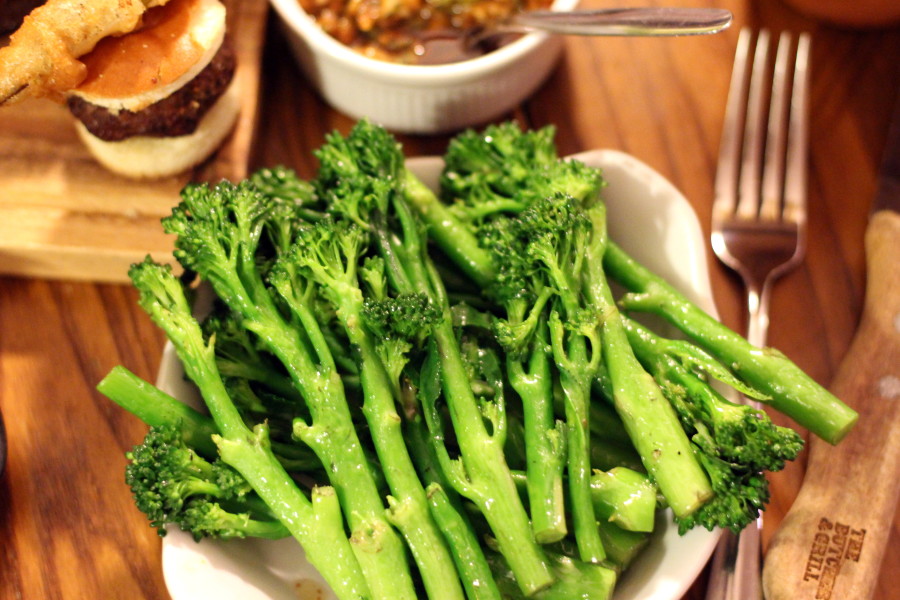 We also enjoy the thickly cut salmon steaks with their distinct griddles char marks and served on kohlrabi, fennel, pink grapefruit and pomegranate, and although this cross sectional cut is always going to be prone to the odd bone or two the meat of it is cooked to perfection.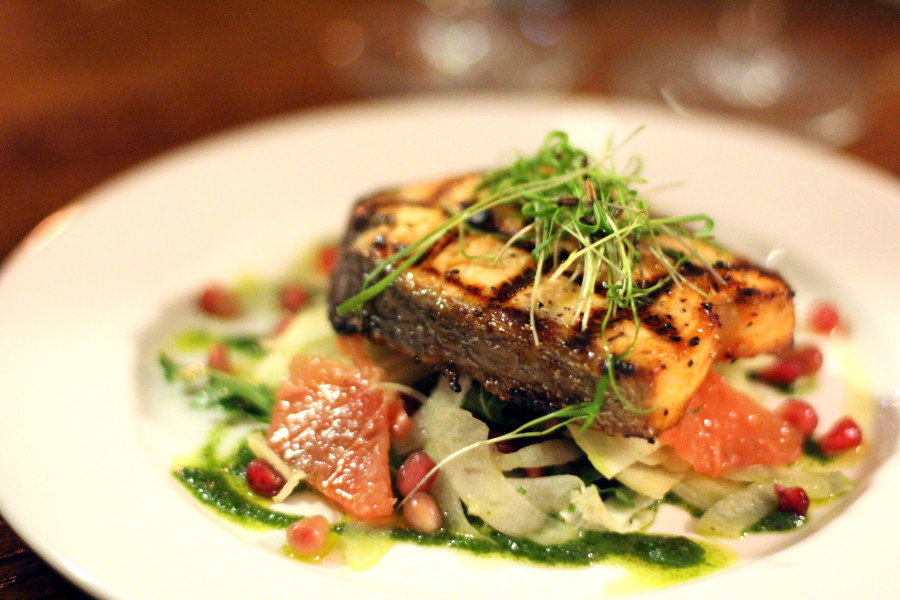 The home cured bresoala is smokily meaty, and fares well with a smattering of hazelnuts and a cool celeriac remoulade.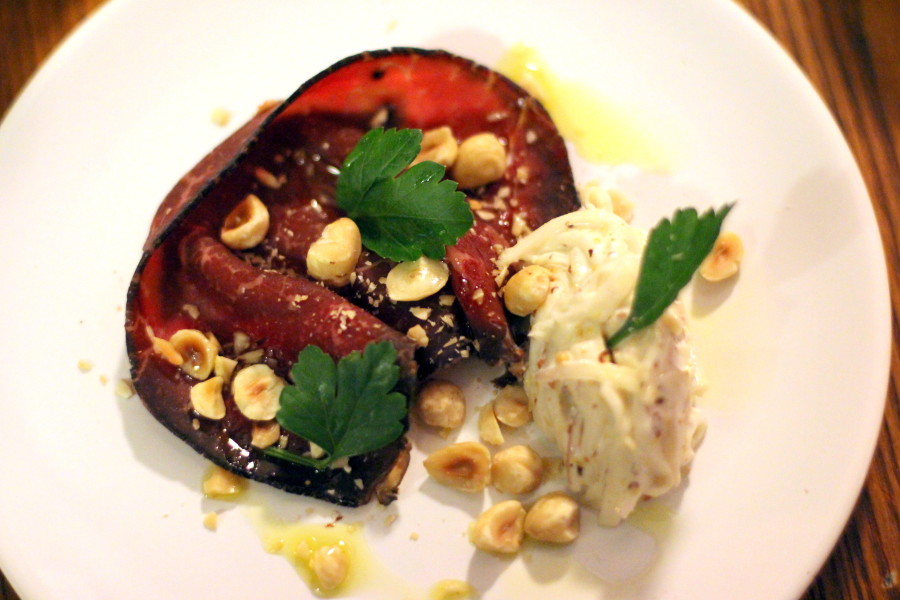 The part of the meal I've been most hankering for is the cardamom rice pudding (naughty, I know, when I'm reviewing a meat restaurant), and am pleased to say the pudding is fabulous. Whole cardamom pods lend their fragrance to the creamy rice, and a single shaft of honeycomb gives something in the way of texture. We also enjoy a spongy oreo dessert, more cake than actual cheesecake in this case, and little shots of passionfruit posset with the added surprise of popping candy.
I've greatly enjoyed dinner tonight at The Butcher and Grill, and can't wait to be back in summer for some alfresco deck dining. Gorgeous Battersea :)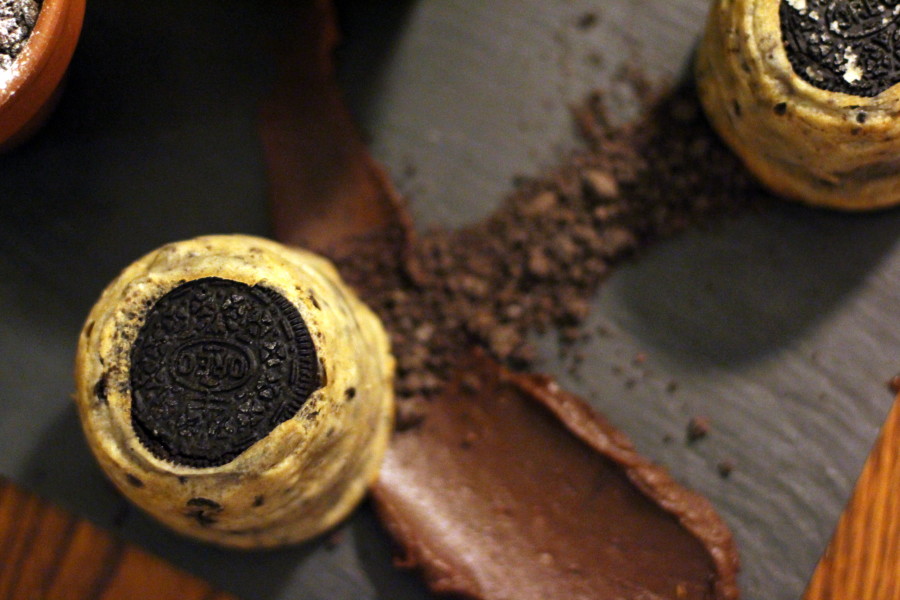 Tube: Earls Court
Address: 39-41 Parkgate Rd, London SW11 4NP
Tel: 020 7924 3999
Website
I was invited to review