Castello del Nero – About the hotel
Set amid the rolling hills of Tavarnelle Val di Pesa, Castello del Nero is one of the most luxurious hotels in Tuscany. While there are many things that set Castello del Nero apart, we especially enjoy the view…
Staying in Florence too? Check out our review for the luxury hotel Ad Astra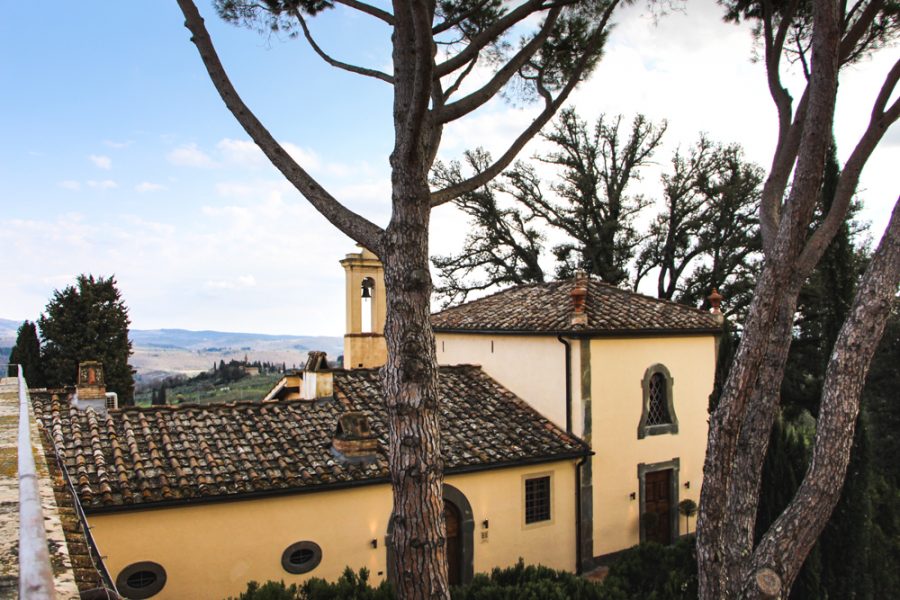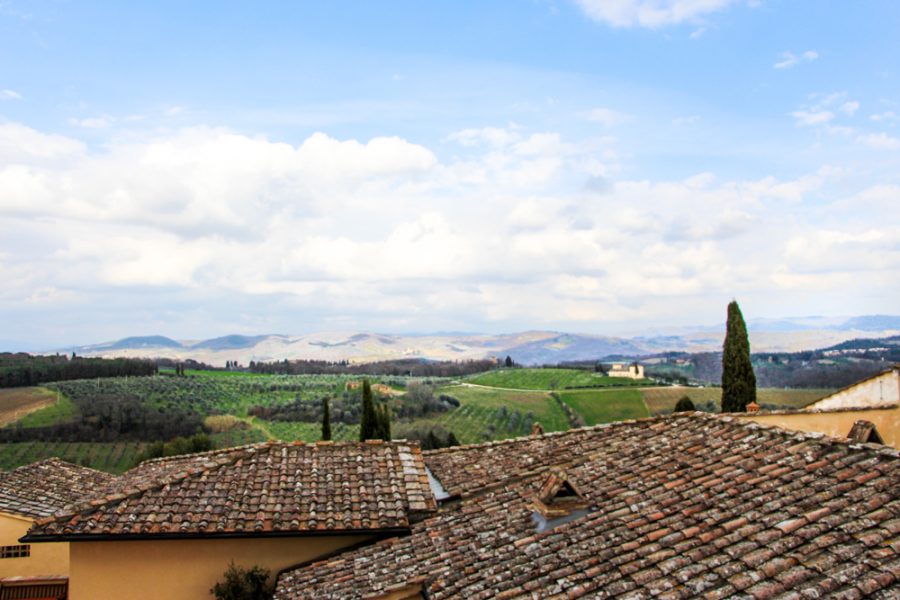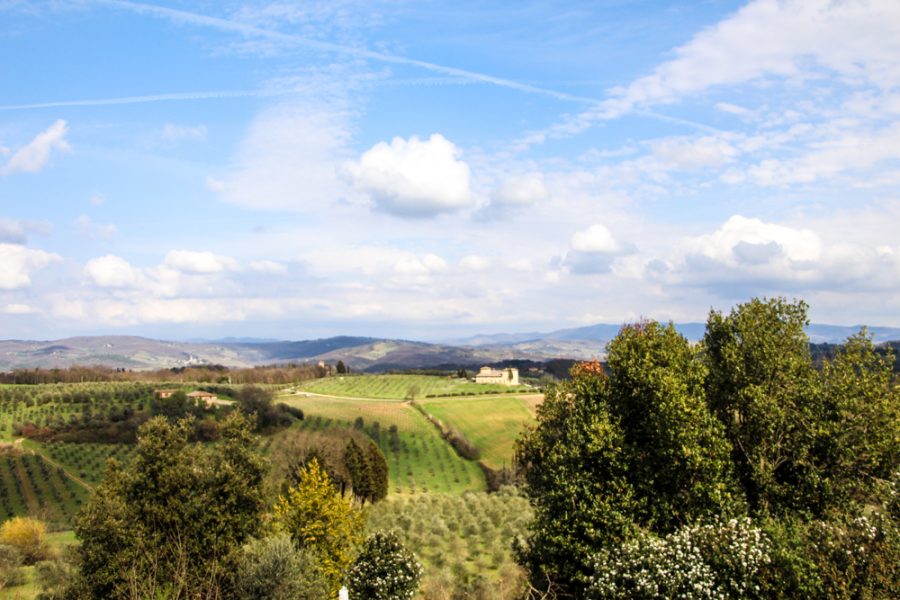 In fact, we come to love it so much so that our favourite place soon becomes the terrace that overlooks the hotel's estate.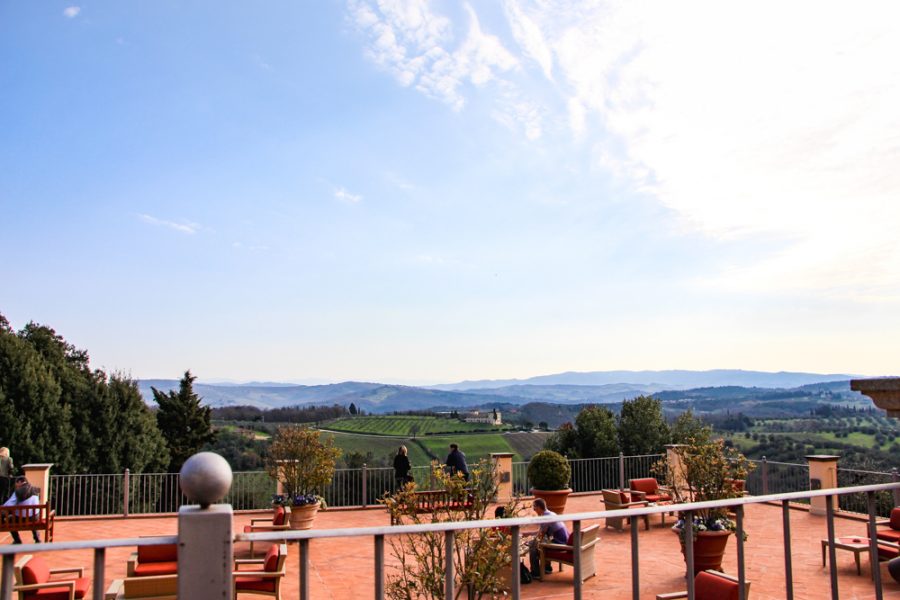 The hotel grounds are lush and verdant. There are centuries old Lebanese cedars and sacred chapels. Weddings are often celebrated here…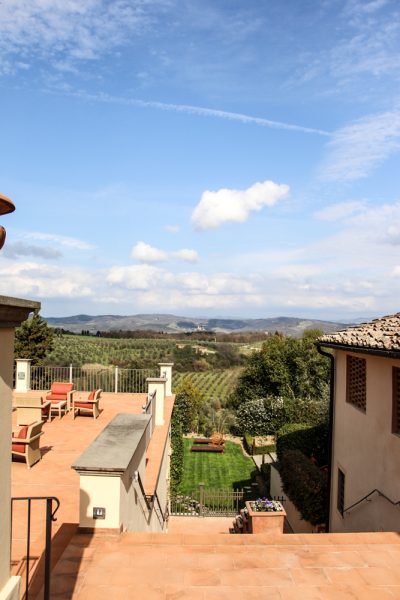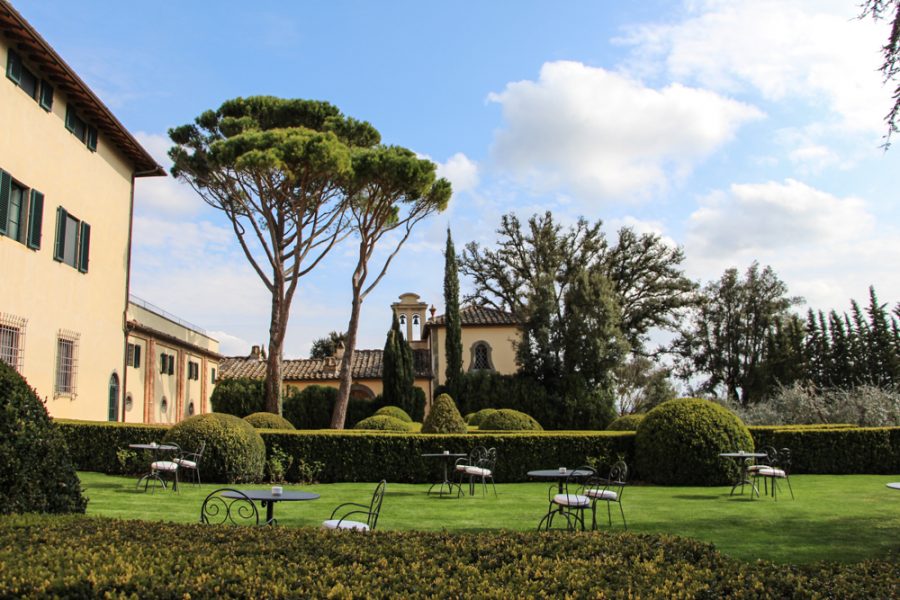 On the grounds of the hotel's estate grow olives and grapes on fields of overgrown grass.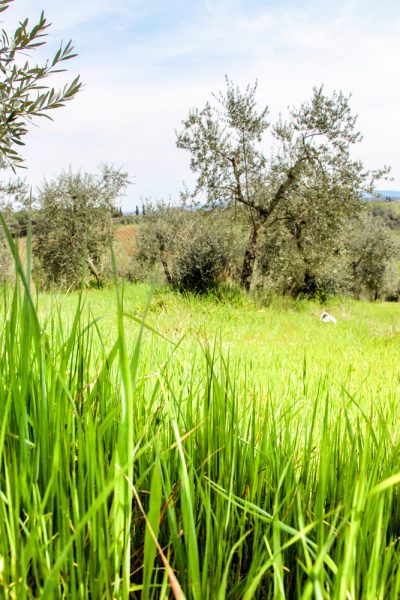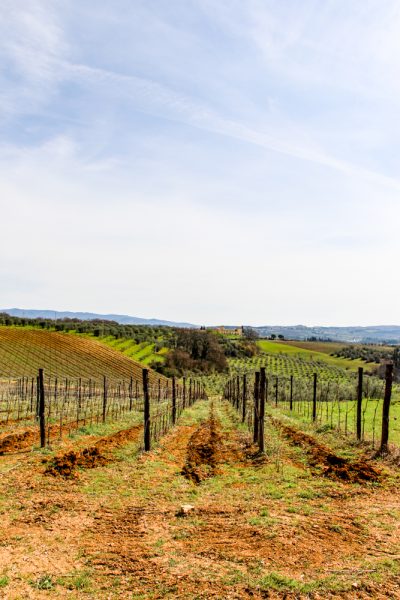 The fresh produce grown on the land will eventually make its way to the hotel's larder and restaurant… but more on the incredible food and drink later.
After a 2 year period of restoration, overseen by the Italian Fine Art Commission, the hotel is full of beautiful frescoes and gorgeous mosaics that really give it a sense of character.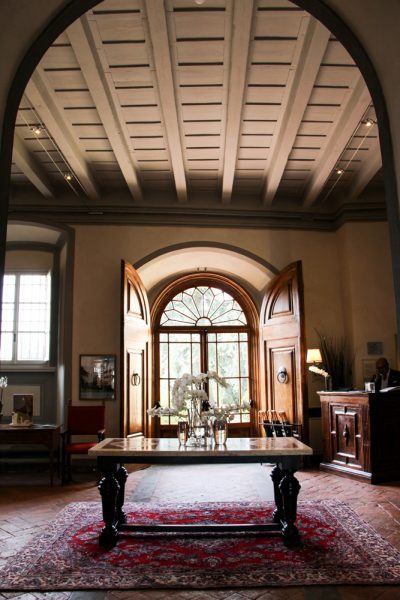 With regards to its history, Castello del Nero has belonged to various noble families throughout the centuries. There are coats of arms for both the Del Nero and Torrigiani families, who lived here until the 1700s, painted throughout the grounds.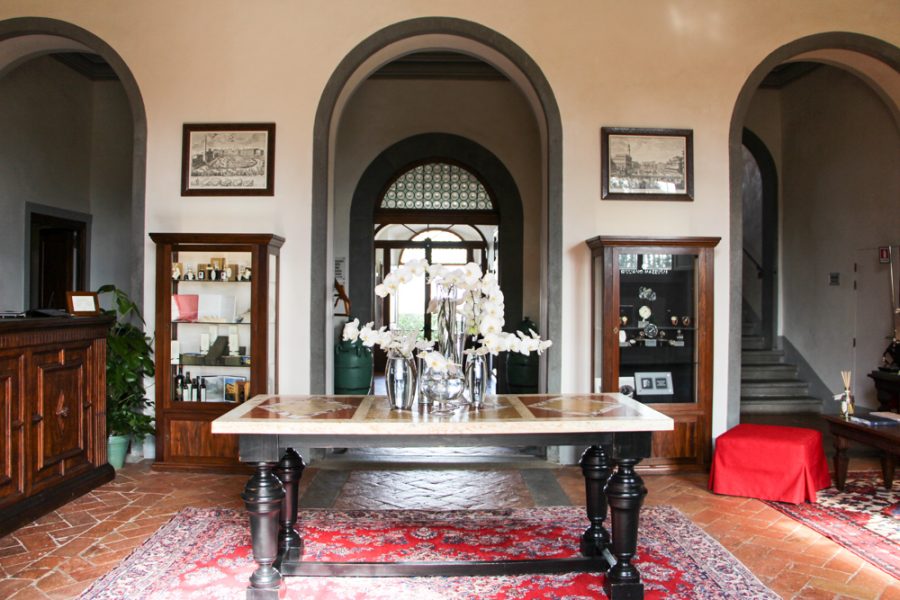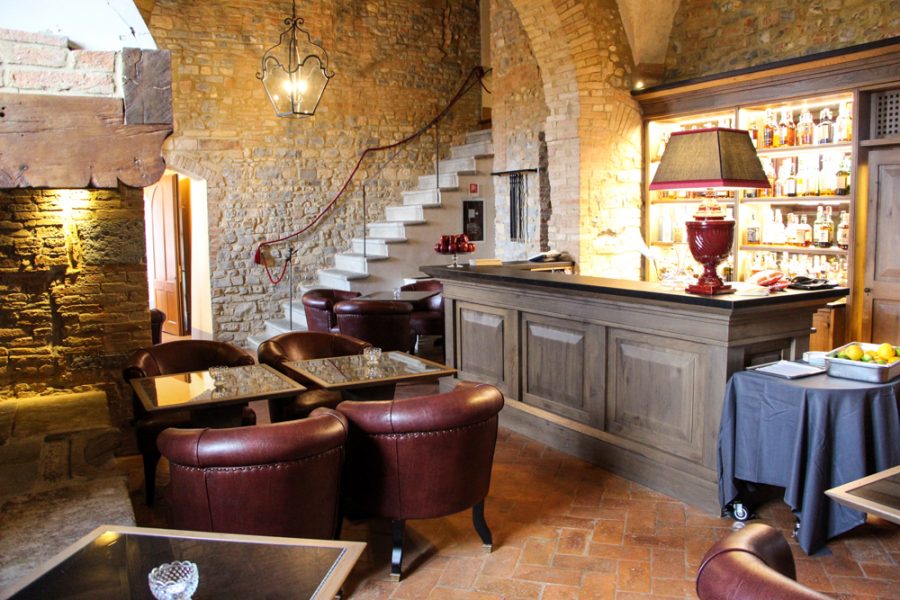 Ultimately there is an innate sense of decadence and opulence throughout the hotel, and an obvious feeling of grandeur. At the same time the ambience is friendly, welcoming and remarkably un-stuffy.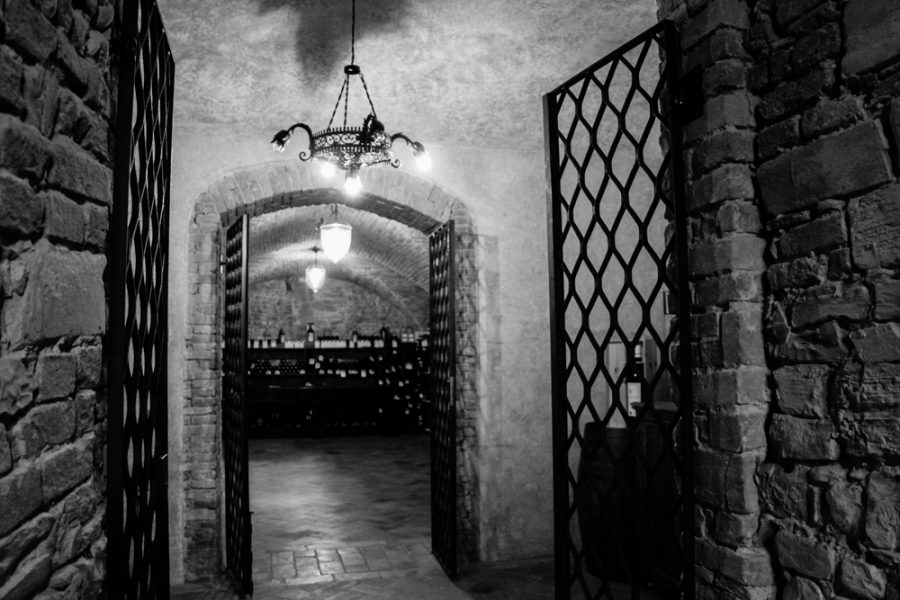 Castello del Nero – Location
Castello del Nero is located in the heart of Tuscany, in between Florence and Sienna. Day trips are a great way of making the most of the location, and the hotel provides a free shuttle service to both Florence and Sienna. It takes around 45 minutes to drive to either city.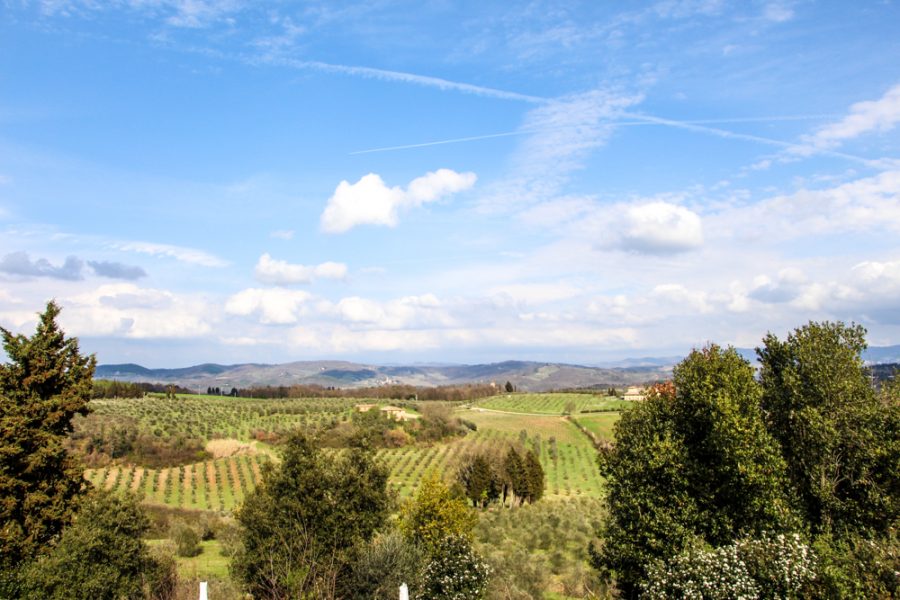 Castello del Nero – Rooms & Suites
There are a total of 50 rooms spread between the main house and various farmhouse-styled outbuildings, including 18 suites.
Our stay puts us in a 'Superior Suite', located in the main castle. Our suite (Room 102) is composed of three spacious rooms, painted with beautifully restored Italian frescoes and elegantly decorated.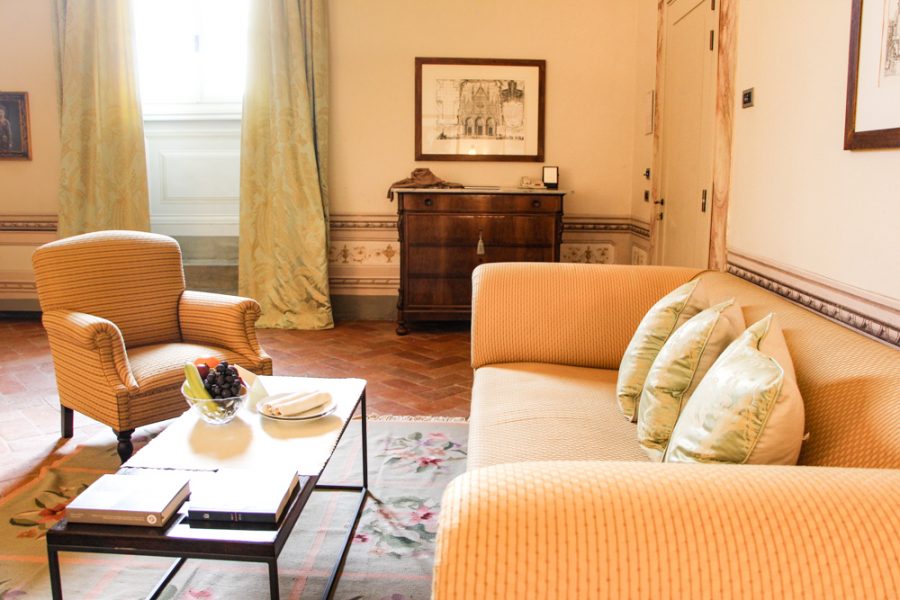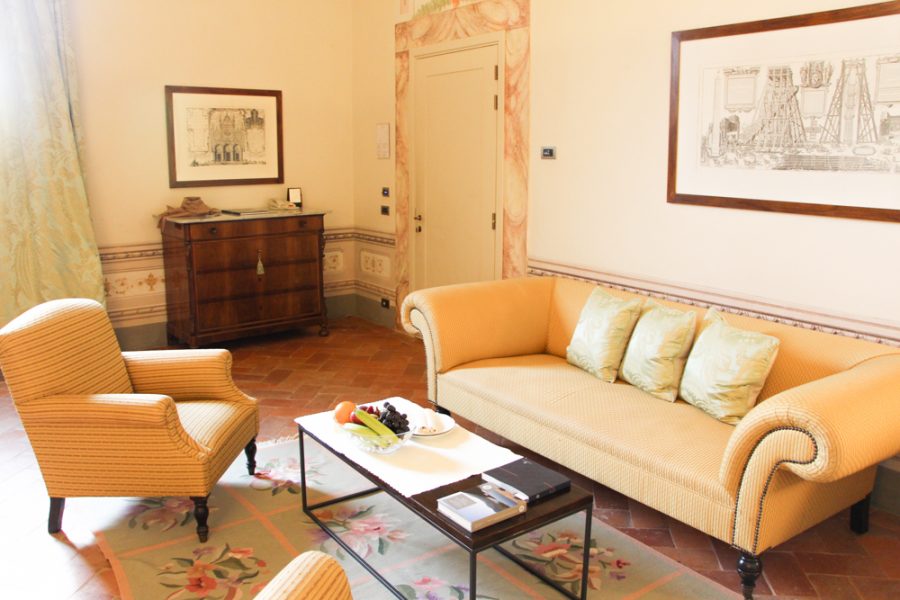 Terracotta tiles undulate underfoot, perfect in their imperfection, and there are also intricate, low pile rugs. Spiced yellow couches and silk-upholstered chairs mark out the sitting room, which leads on to the bedroom.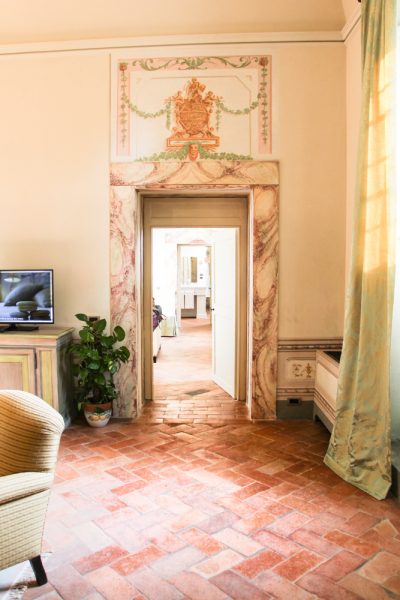 A king sized four poster bed dominates the bedroom, topped with layers of luxurious Egyptian cotton and goose down duvets and pillows. There is also a pillow 'menu' for you to choose your favourite pillow.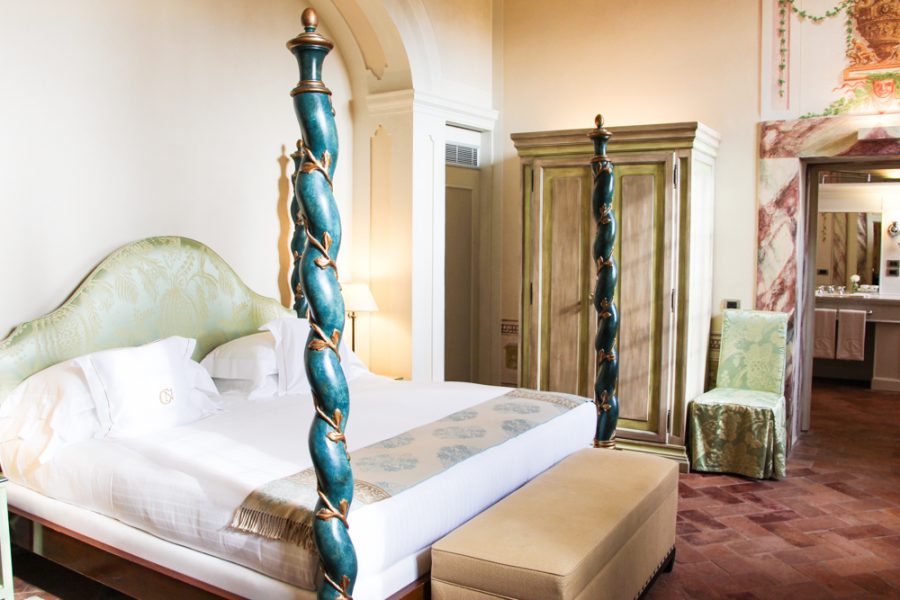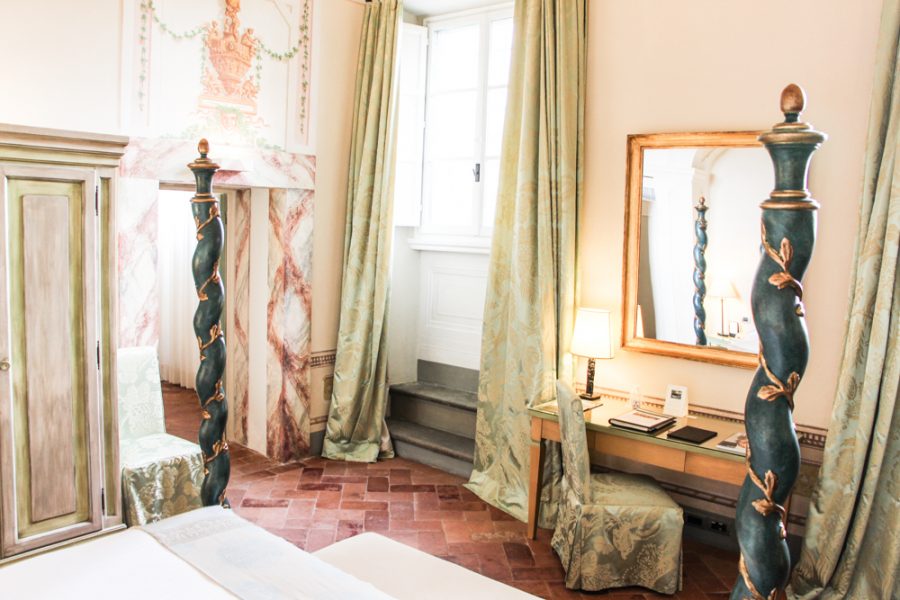 Passing through the bedroom we find ourselves in a marble bathroom. The unique H-shaped bathroom is in fact the most noteworthy feature of our suite, and has been voted one of the best bathrooms in the world!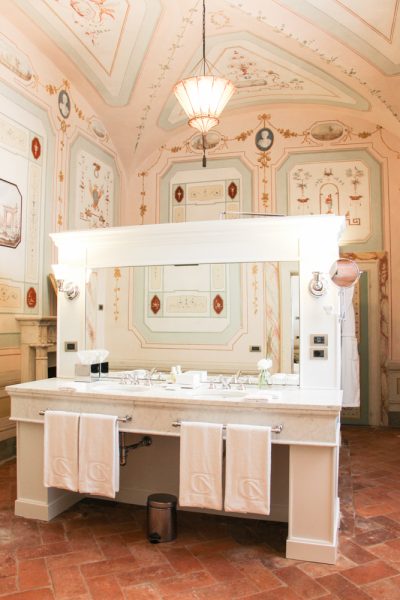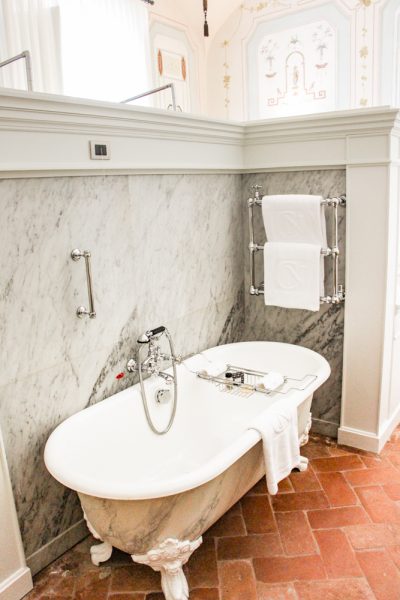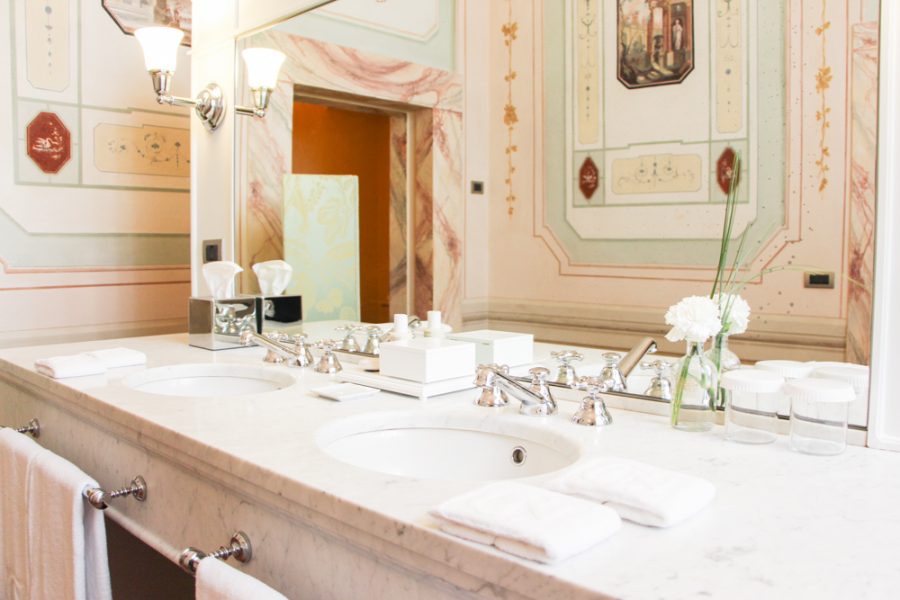 There are twin vanities, twin showers and a free standing bath. The bathroom is also filled with luxurious Castello del Nero toiletries, and every surface (including the ceiling) is painted with pale pink and pastel frescoes.
We're given a little tour of some of the other rooms in the hotel, and each have their own special features. Some have their own terraces with estate views, whilst other have hand painted frescoes and family crests.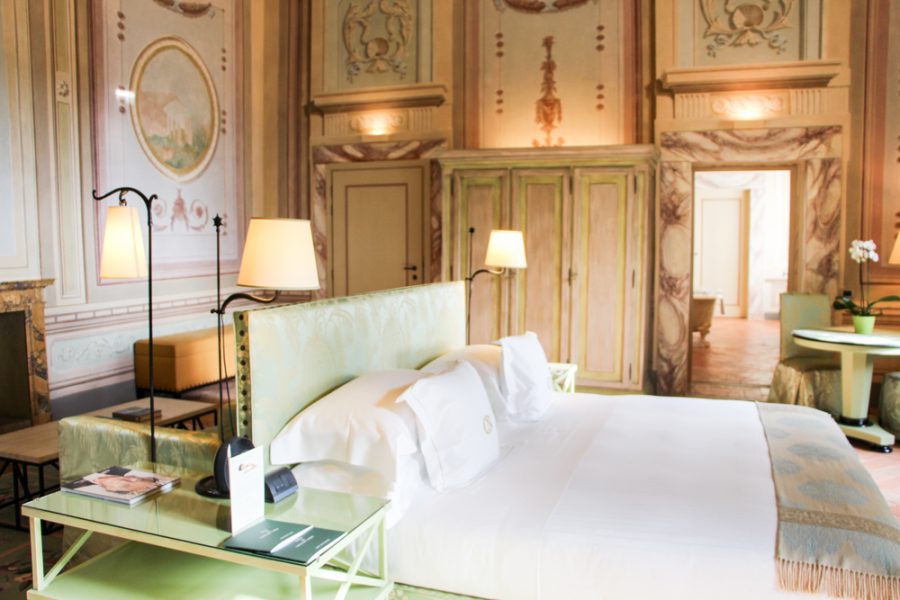 Castello del Nero & ESPA – the best Spa in Italy
As well as providing a sense of homeliness and authenticity, Castello del Nero is also very much a luxury hotel. The incredible 1000m2 ESPA spa at the hotel is regularly voted one of the best in Italy, and is the perfect place to relax in.
The spa is composed of specialist showers, saunas, Turkish baths, treatment rooms and a heated vitality pool.
In addition, the spa uses bespoke ESPA products that have been created with a blend of the hotel's own extra virgin olive oil, lavender and rosemary. These oils are used in various treatments, spa products and in the sauna and steam rooms, and linger beautifully on the skin.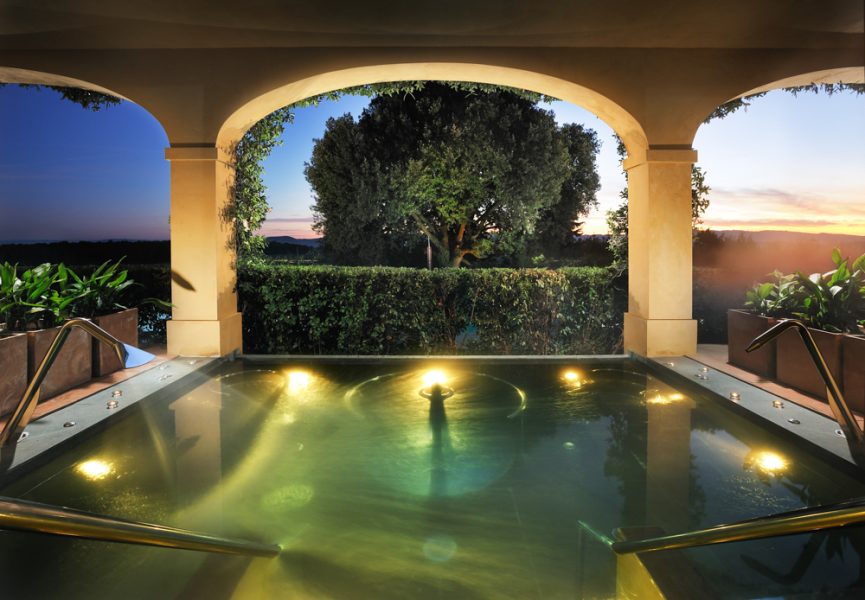 We love taking the spa for a spin with a Thermal Package, which gives us use of the invigorating shower, ice fountain, sauna (laconium) and aromatic Turkish bath (caldarium).
Lying on heated ceramic tiles in the lavender and rosemary scented caldarium is one of the best ways to de-stress.
After we've been suitably relaxed, we amble across to the heated outdoor vitality pool with views over the Tuscan countryside….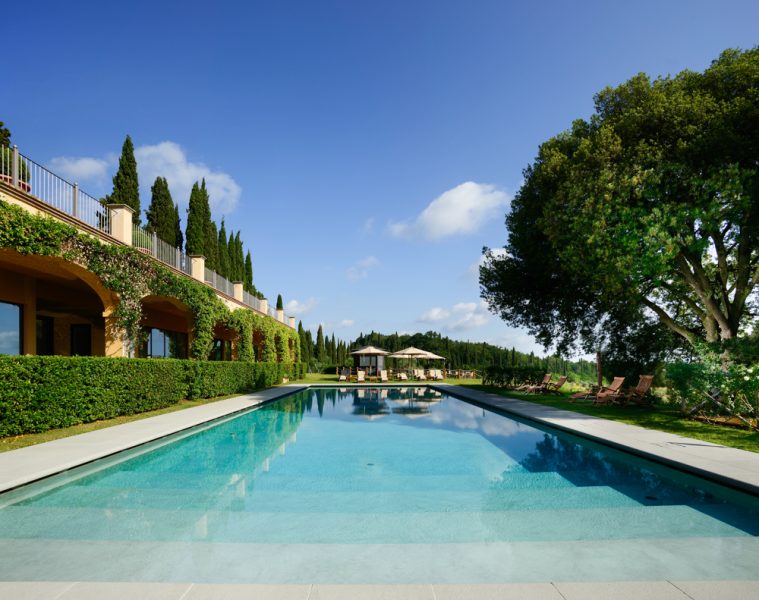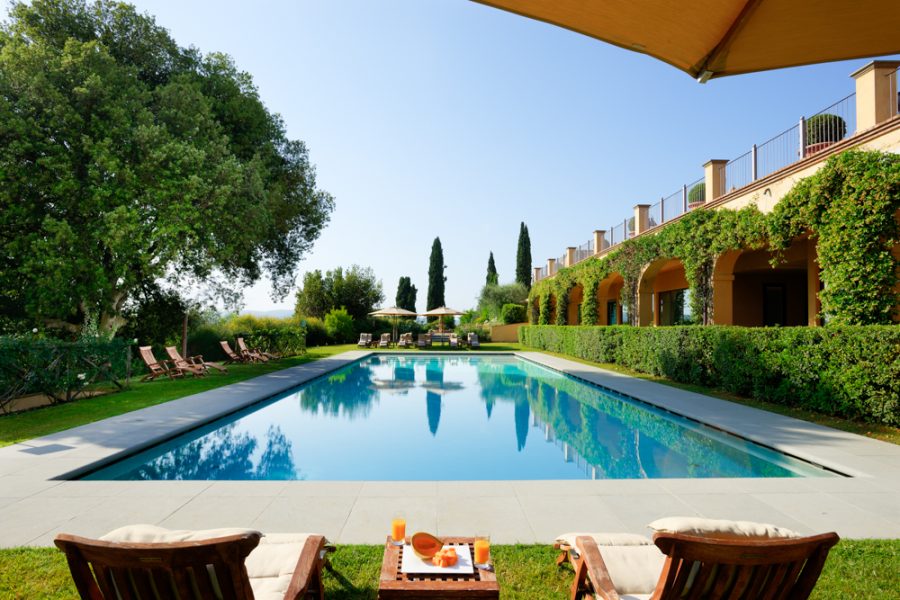 Dining at Castello del Nero
There are two restaurants at Castello del Nero. The first is the casual dining restaurant La Taverna, which is located in the historical castle kitchens. La Taverna serves laidback and casual cuisine, perfect for a lunch.
The second restaurant at Castello del Nero is the Michelin-starred La Torre, based in the castle's former stable.
A buffet breakfast of breads, pastries, cheese and eggs is served at La Torre, with an additional extras menus. From the extras we love baked eggs with spinach the most.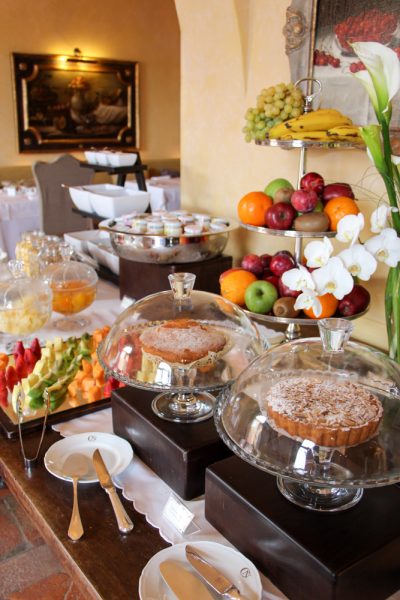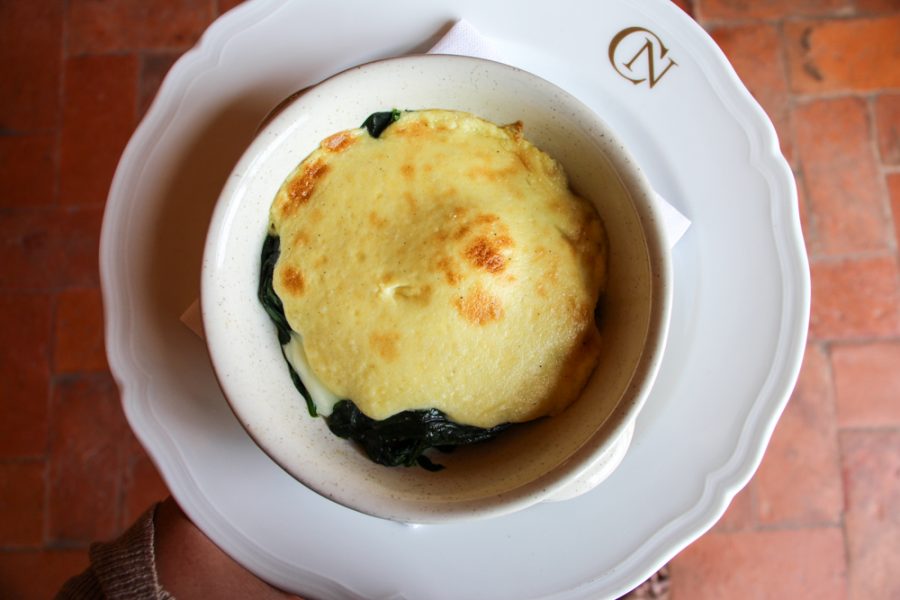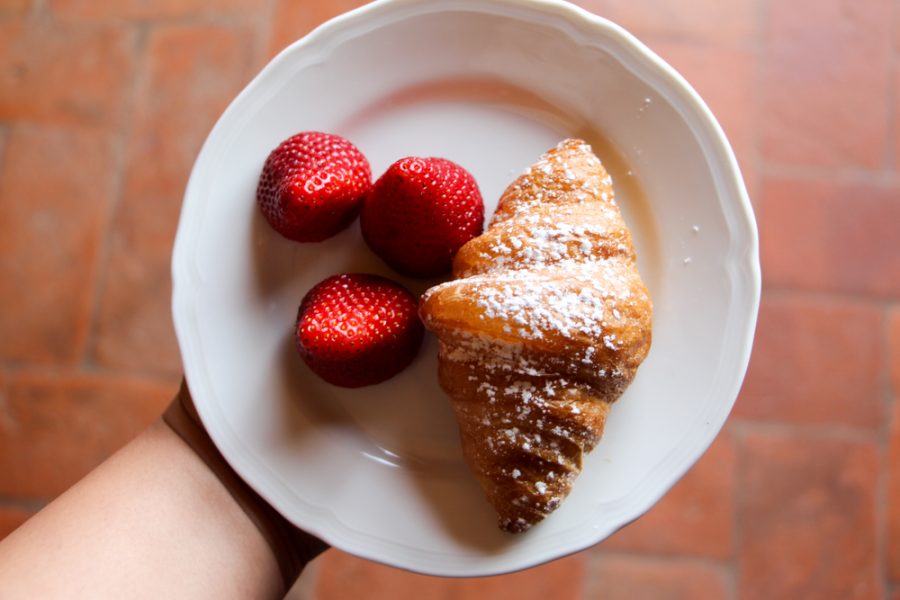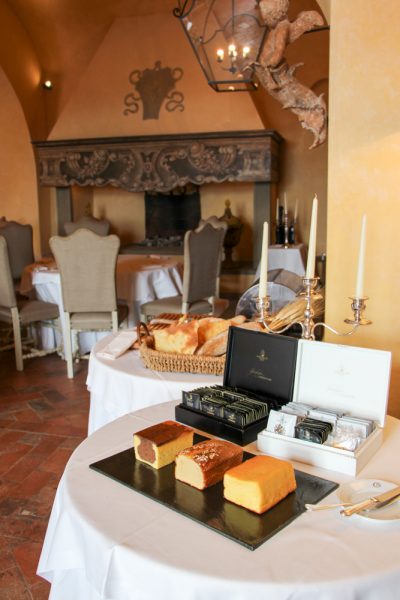 La Torre also serves a fine dining menu of some of the best Tuscan produce for dinner.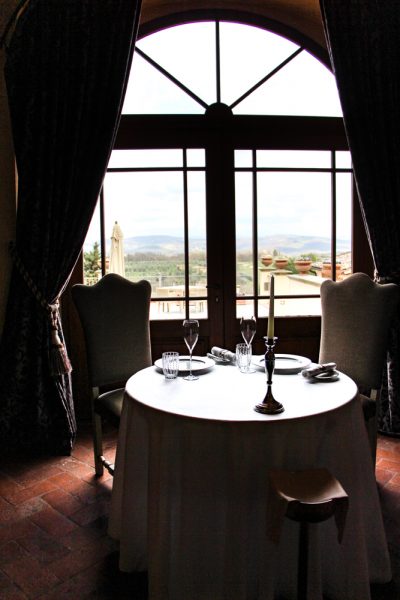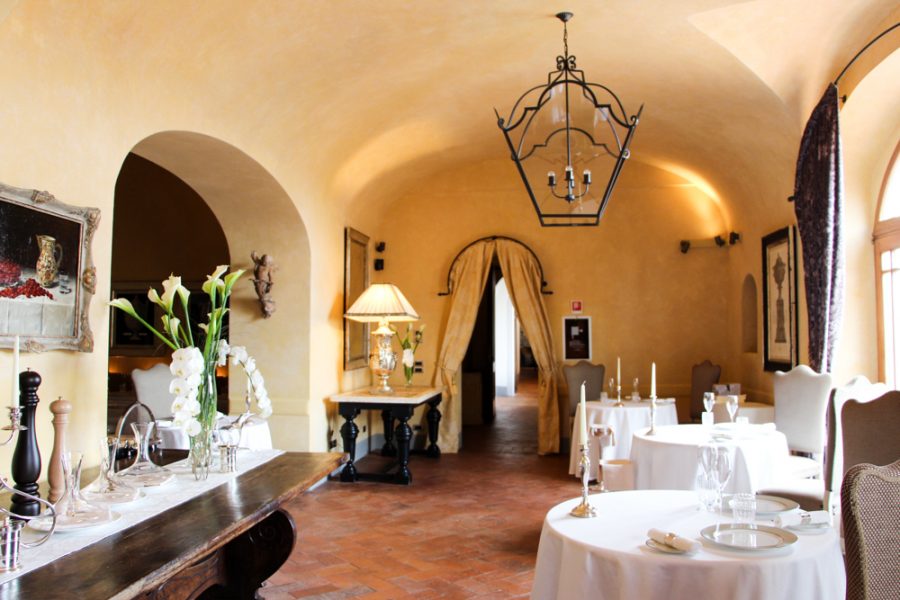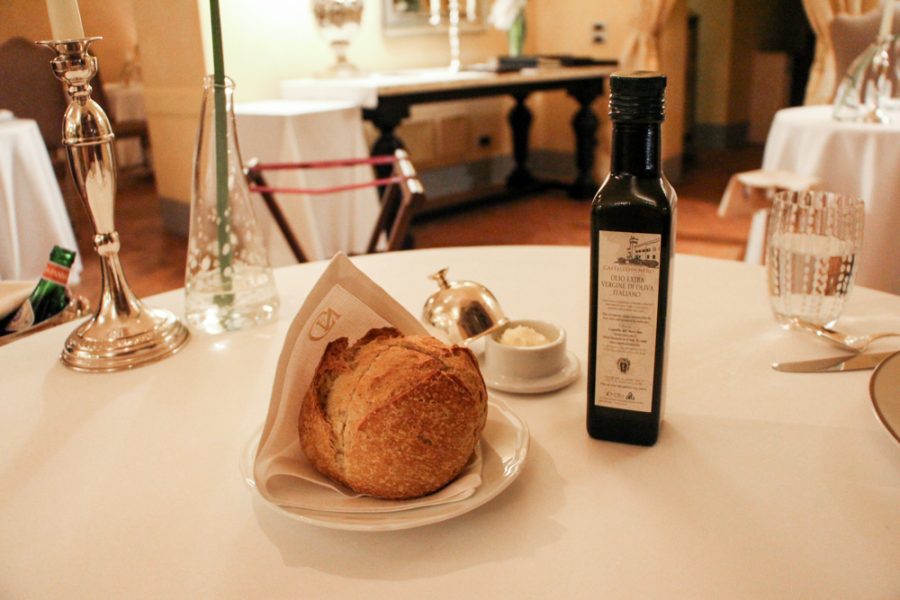 Standout dishes at La Torre include an impossibly silken foie gras terrine served with a pot of foie gras crème brulée and a shallot compote.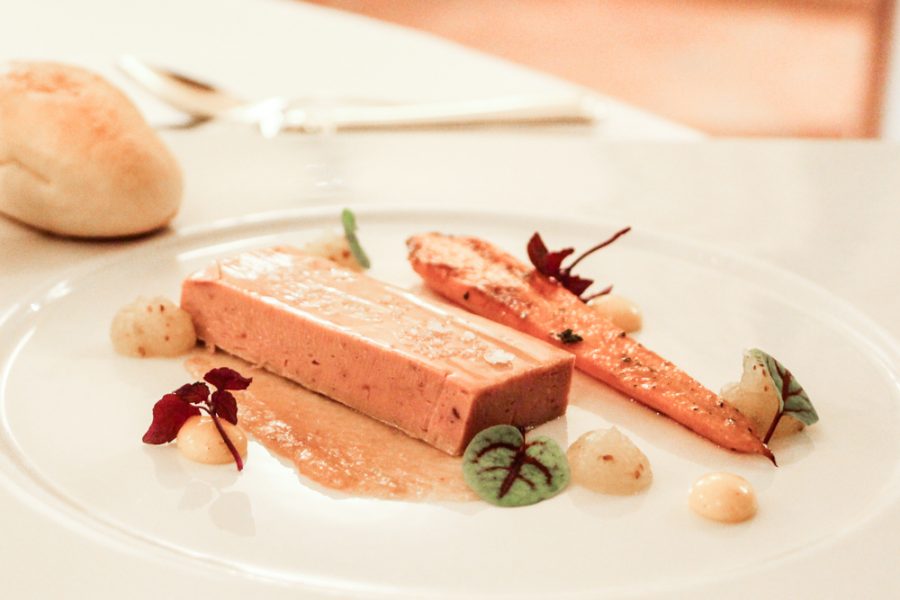 From mains our favourites are Agnolotti pasta filled with parmesan cheese, on a Chianti snail sauce, and interleaved with savoury little nuggets of snail. The staff recommend this dish especially to us and I'm so glad they do!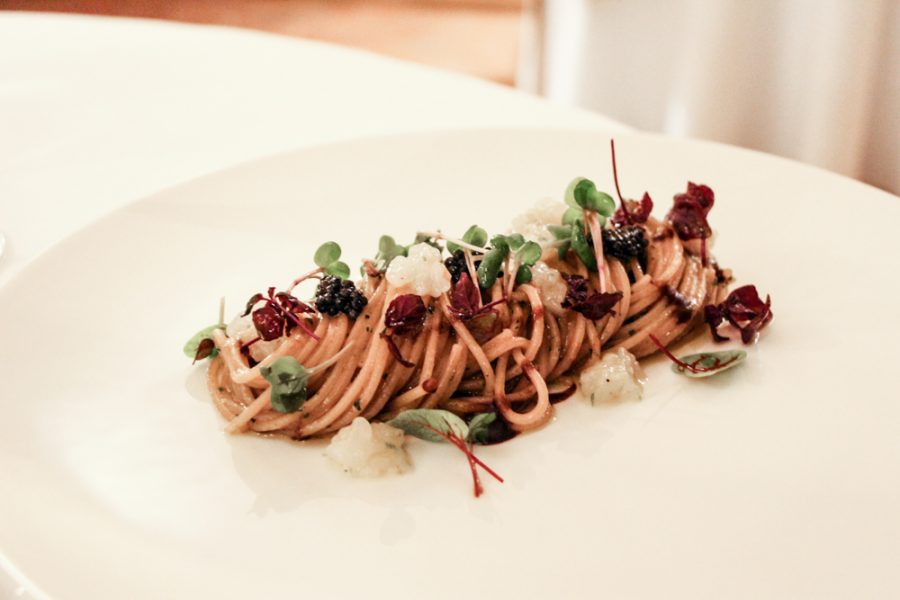 Part of the pleasure of dining at La Torre is that each dish incorporates the fresh produce – olive oil, vegetables and herbs – grown on the hotel's estate.
Last but not least, the Pigeon from Laura Peri is really not to be missed, with its sticky glazed breast, crispy thigh, and red beetroot and spinach.
Chocolatey desserts mark another high, finishing with an astonishing selection of petite fours, served in a chest, like the treasures they are. Swoon.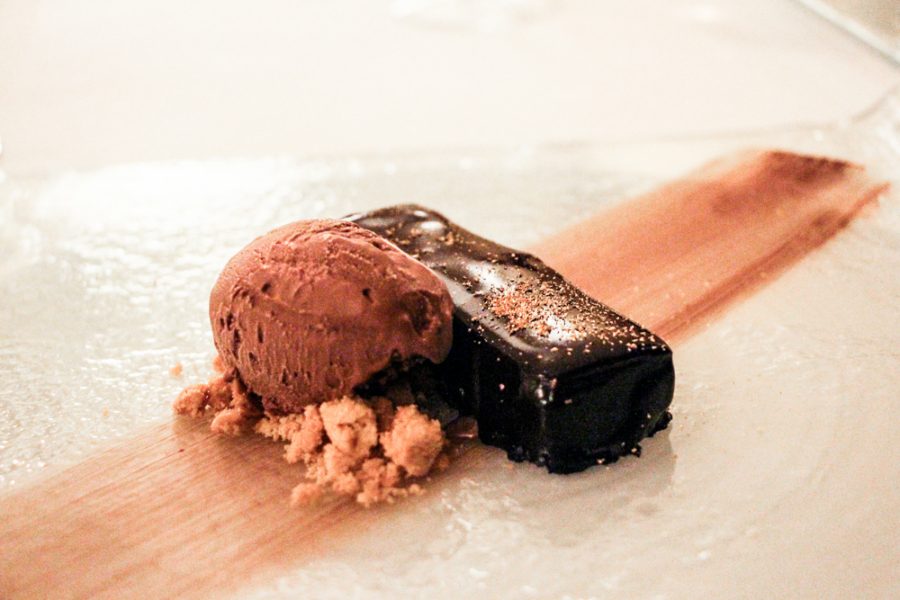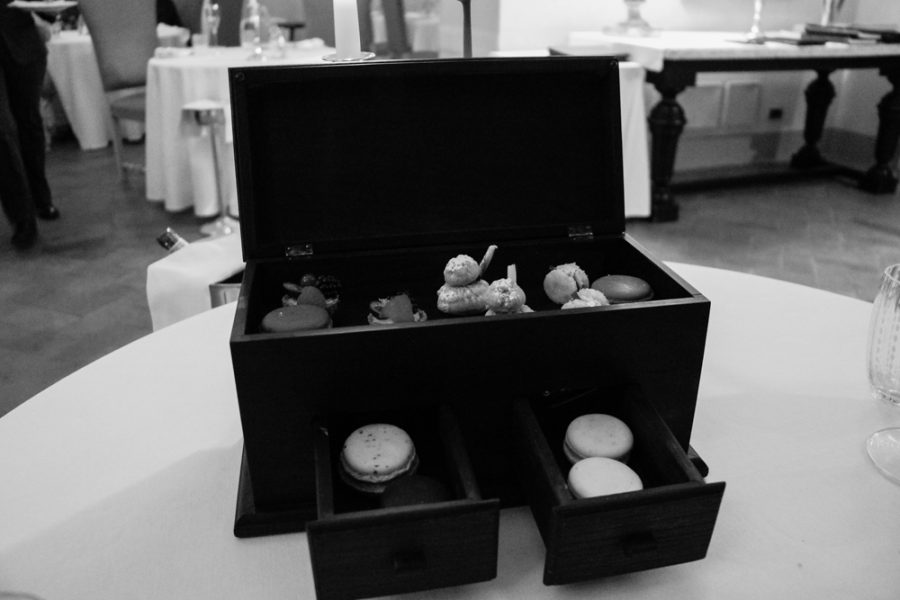 Craving Italian food in London? Read all about our lunch at The Baglioni hotel, Kensington
A little extra…
Castello del Nero offers local chauffeur-driven excursions around the towns and hills that dot the area. Guests can also hike through marked trails on the hotel's estate and sample their products, including their gorgeous olive oil. Depending on the season, truffle hunting is also an option.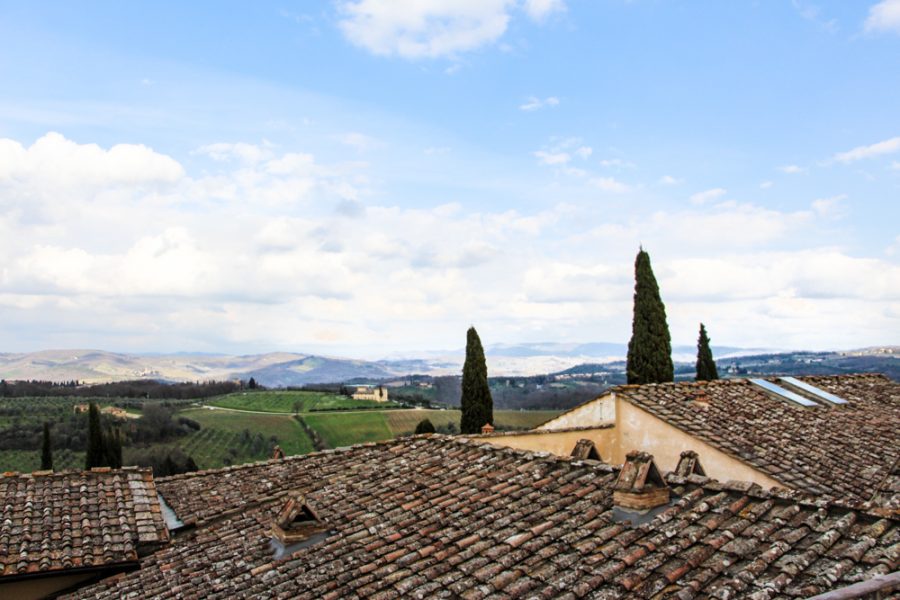 When to go
We visited Castello del Nero in late March and the weather was beautiful – warm with clear, blue skies. Temperatures increase up to a quite warm July, and then tail off again to September.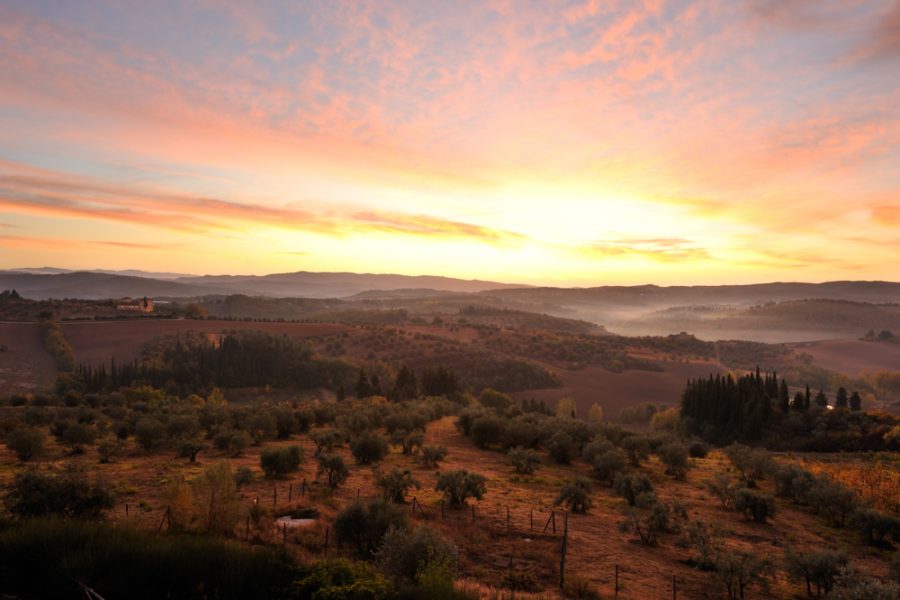 Have you stayed at Castello del Nero before? Do you have any favourite hotels in Tuscany? What do you look for from a holiday in the Italian countryside? We'd love to hear from you, drop us a comment or email!
Address: Via di Spicciano 7 – 50028 Tavarnelle Val di Pesa, Italy
Tel: +39 055 80 64 70
Website

In the interest of full disclosure please be advised that the accommodation was provided on a complimentary basis. With thanks to Castello del Nero for having us in.