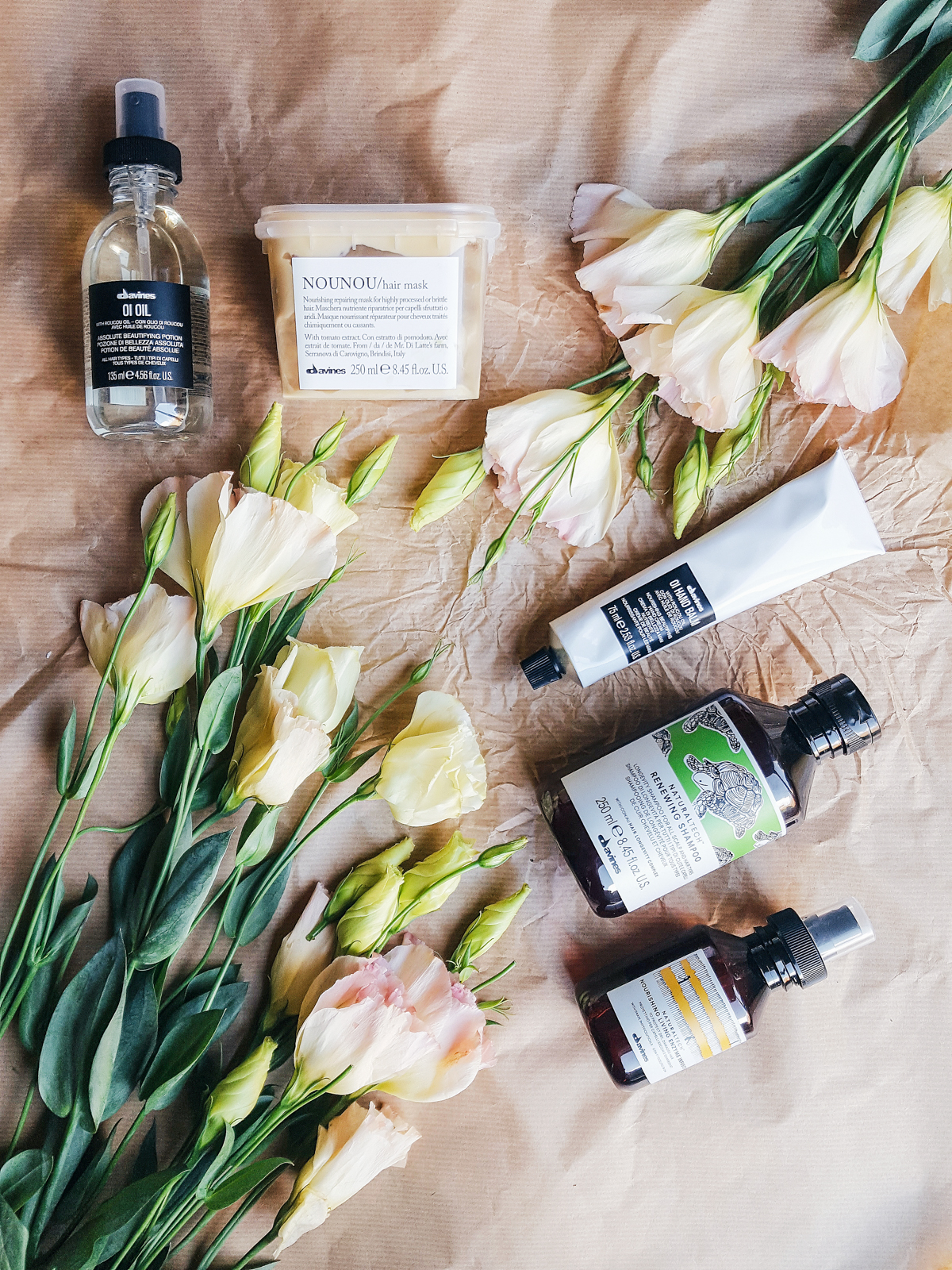 Davines: The fresh new haircare products that everyone is talking about
Yay a new lifestyle post! Here we are again. For the second time in as many weeks I'm contemplating a couple of new products – this time from Davines – and pondering how best to present them.
There are shampoos, hair oils and butters, conditioners, protective sprays, and even a hand cream for good measure. All I need now is to make them look as good in this post as they do in my hands.
READ MORE:
ESPA at home – 5 of the best products to create a luxury spa experience
Travel tips: 5 reasons why we love L'Occitane for after-sun skincare
And boy, do they look good. Which is odd really, considering how simplistically they're packaged. But there is something about the feel and smell of them, and about how they make my hair really shine, that I want to try and do justice to in this post.
Like any good hair care routine, it all starts with prep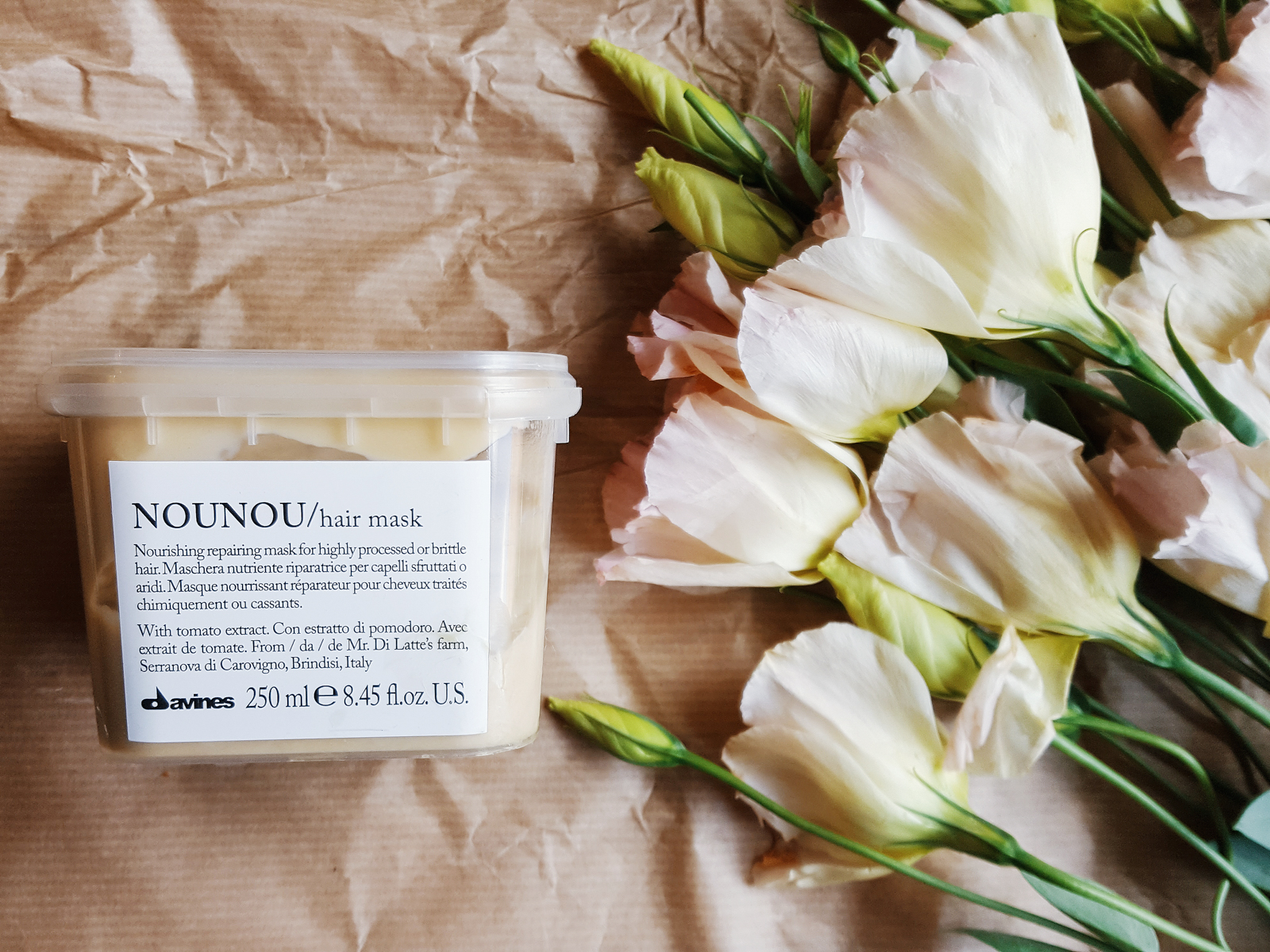 Off to Chiswick for me then, with inspiration still fresh in my mind from my last product review.
Walking down the High Road I head to my favourite florist, and choose delicate pink florals that I think might work beautifully with the warmth of the Davines products – especially the terracotta hued Momo conditioner.
After having a little wander around the High Road with flowers in hand, I head off home to savour the last rays of the day. That natural light will work wonders in a picture.
With fresh flowers, picked especially for the occasion, laid on brown paper that just moments ago held them, we're ready to begin.
So who are Davines?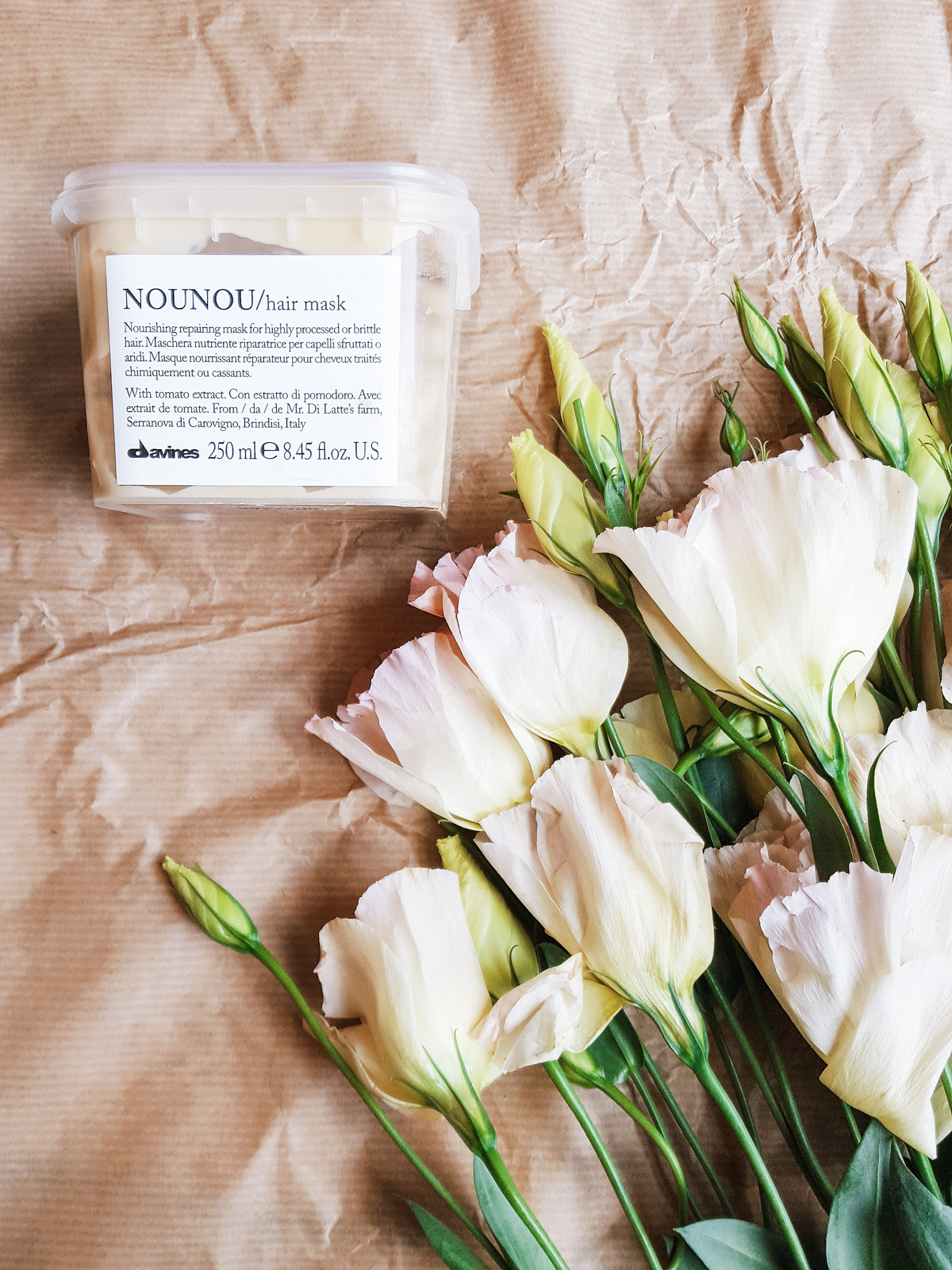 Founded in 1983 by the Italian Bollati family, Davines started life as a research facility, producing high end hair care products for companies around the world.
They explored and played with natural ingredients and scientific precision, and ultimately honed their own skills for the products they create today.
I first came across Davines a few months ago whilst getting a haircut at The Lounge Soho. My gorgeous stylist, Sidsem, prepped my just-cut hair with Oi Oil before blowing it dry.
And for weeks after, my hair felt new and refreshed; healthy looking and shiny, and incredibly soft to the touch.
So obviously, I had to explore more of the Davines products…
– Oi Oil
– Oi Hand Balm
– NOUNOU Nourishing Repair Hair Mask
– MOMO Conditioner
– Renewing Shampoo
– Nourishing Living Enzyme Infusion
– Authentic Replenishing Butter
Which leads us in to the hair care routine…
My hair has always been pretty good – it's thick, healthy and lays relatively flat. Since I've been getting it dyed however I've had to put a little extra thought into it. It's been a few years of dealing with dry ends and increasingly dull and brassy hair; but I think I've finally cracked how to make it look healthy and shiny.
Mask up
Ok so this first step is probably the one I wish I did more often, because I'm rarely organised enough to leave enough time to put in a pre-shower hair mask. The Davines NOUNOU Nourishing Repair Hair Mask however is one that has moved up the priority list of masks to use.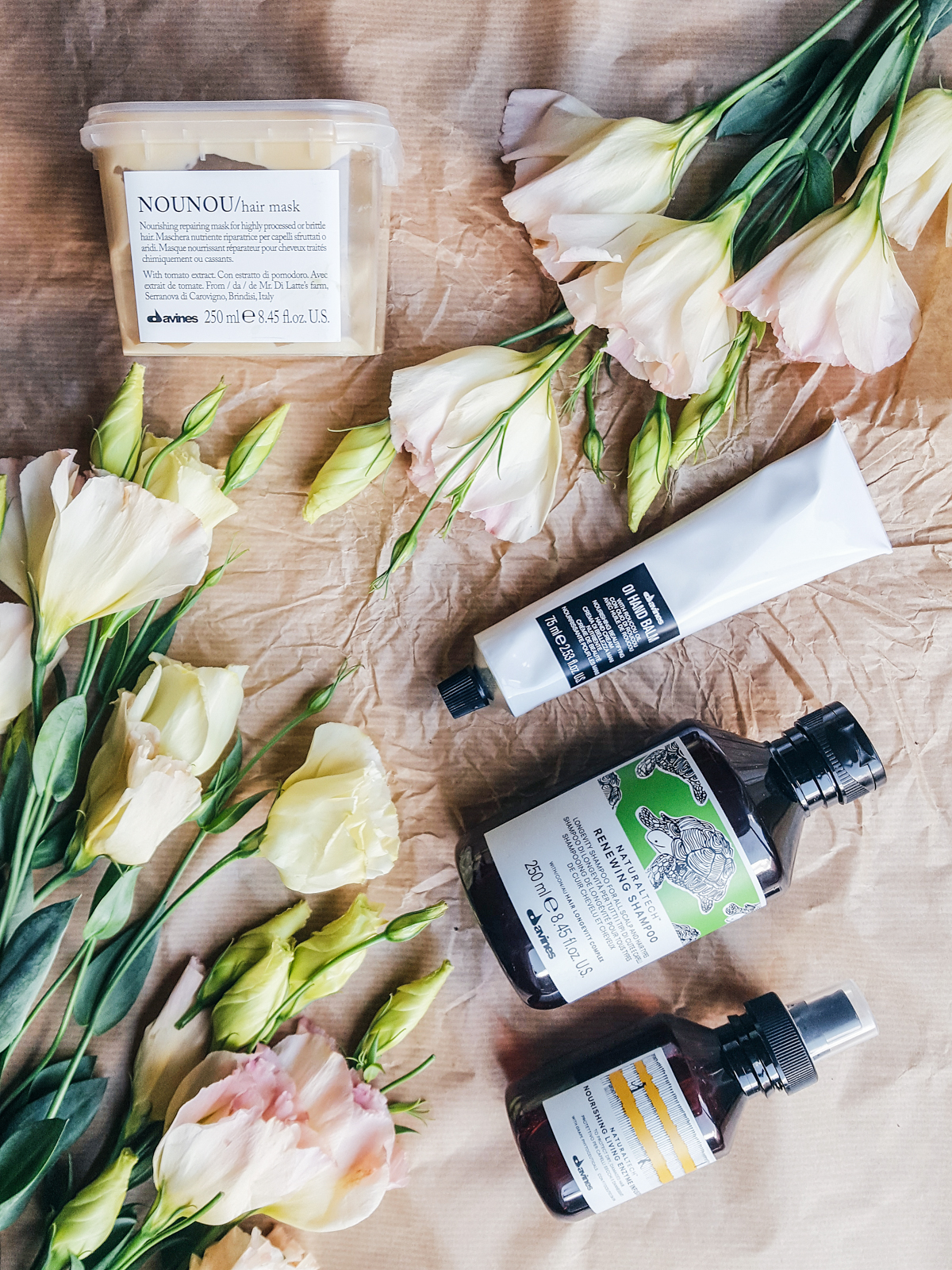 It's perfect for a little TLC, which my hair desperately needs after having been balyage bleached for the fourth time now. Mmm crispy.
So when I do have an extra hour of so free in the afternoon, this is one of the masks that I reach for.
Shampoo & Condition
After 20 minutes (or more if I have it) I head into the shower and use the Renewing Shampoo.
The Renewing items are part of the Naturaltech range at Davines, and there are lots of good things about these little products. They're free from parabens and sulphates and have some really gorgeous packaging.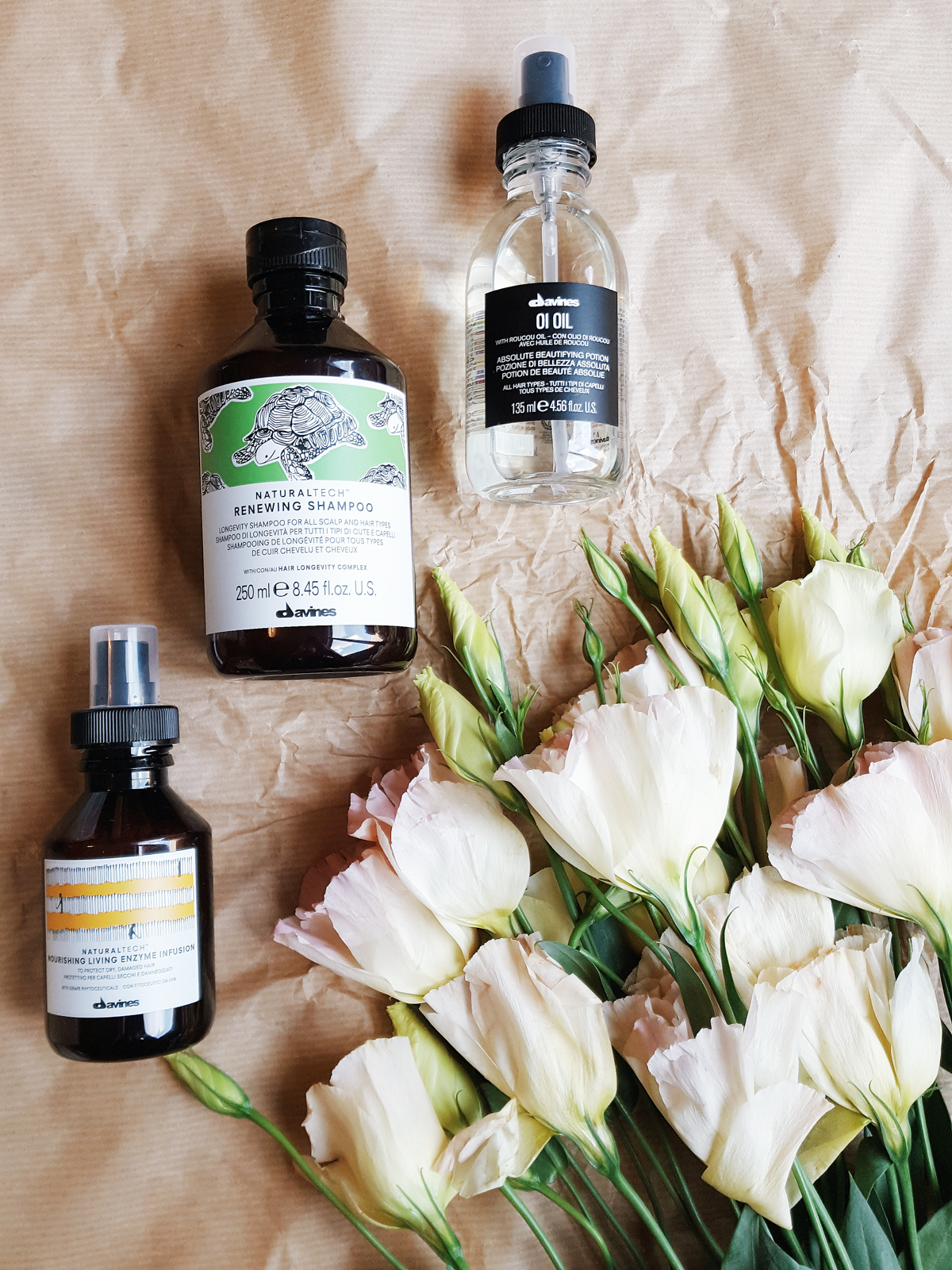 The Davines Renewing Shampoo is supposed to help renew particularly dry hair, and seems to be working well to give my hair a glossier texture.
I'm not sure if the shampoo by itself would be heavy duty enough to tackle very damaged hair, but I think if you combined this with the MOMO conditioner it'll work wonders.
The MOMO conditioner by the way has this fantastic yellow melon fragrance. Yum.
Spritz and smooth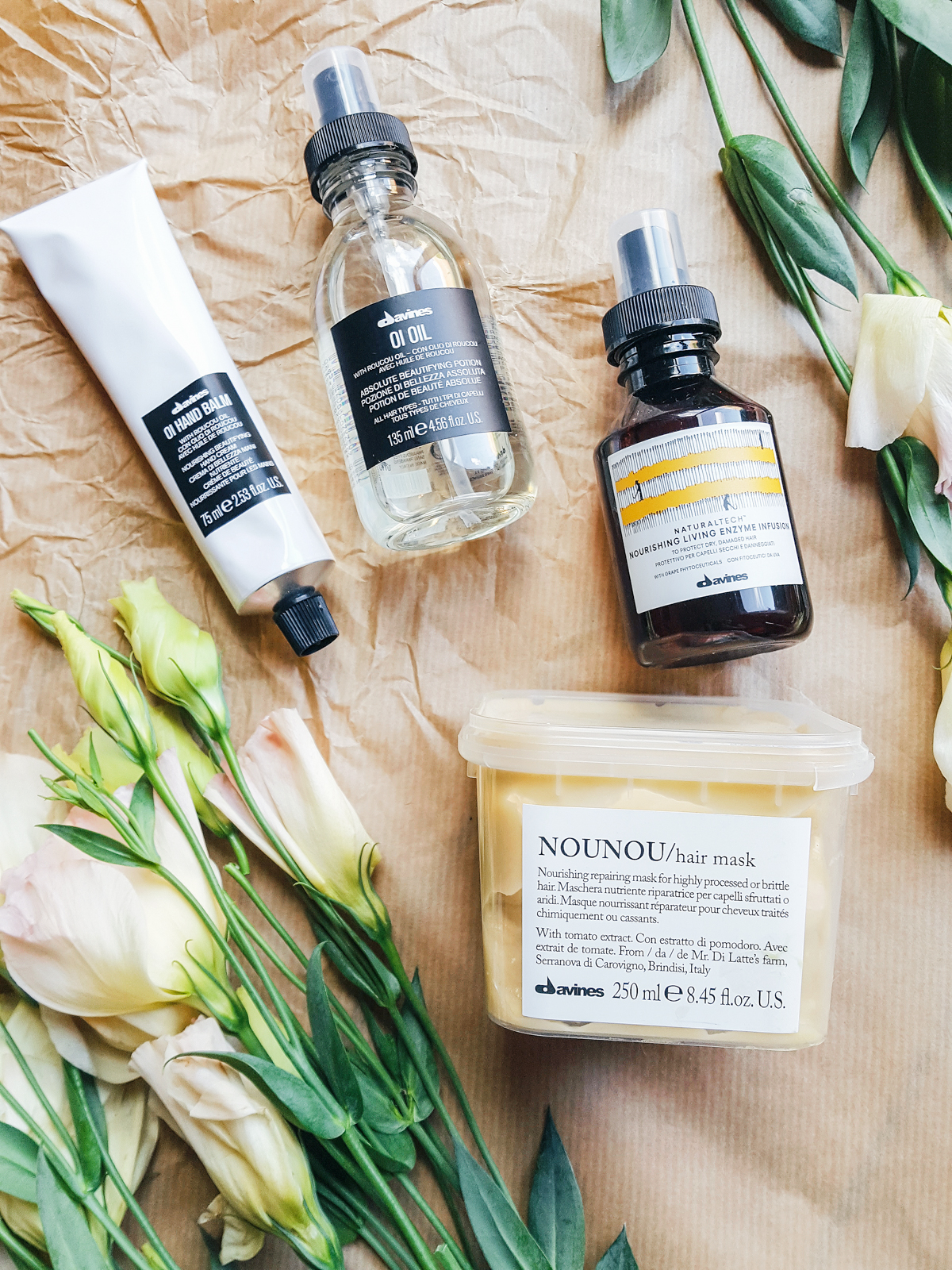 After towel drying my hair I give it a generous spritz with the Nourishing Living Enzyme Infusion. It's an interesting product, but actually the thing that gives the best results in terms of moisture and shine, is the Davines Oi Oil.
My. Favourite. Oil. Ever.
Because I have particularly thick hair I use two pumps of the oil and work it from my mid section to my ends, before blowdrying.
Once my hair is completely dry, I use another spritz just on the ends to really lock in the moisture. It's a decadent amount, and I'll soon be running out, but I really love the Oi Oil.
I love the smell; this subtle almost-herby aroma. It leaves my hair impossibly soft, and I can really tell the difference between using it and not.
And when an oil just isn't enough? Use a butter of course..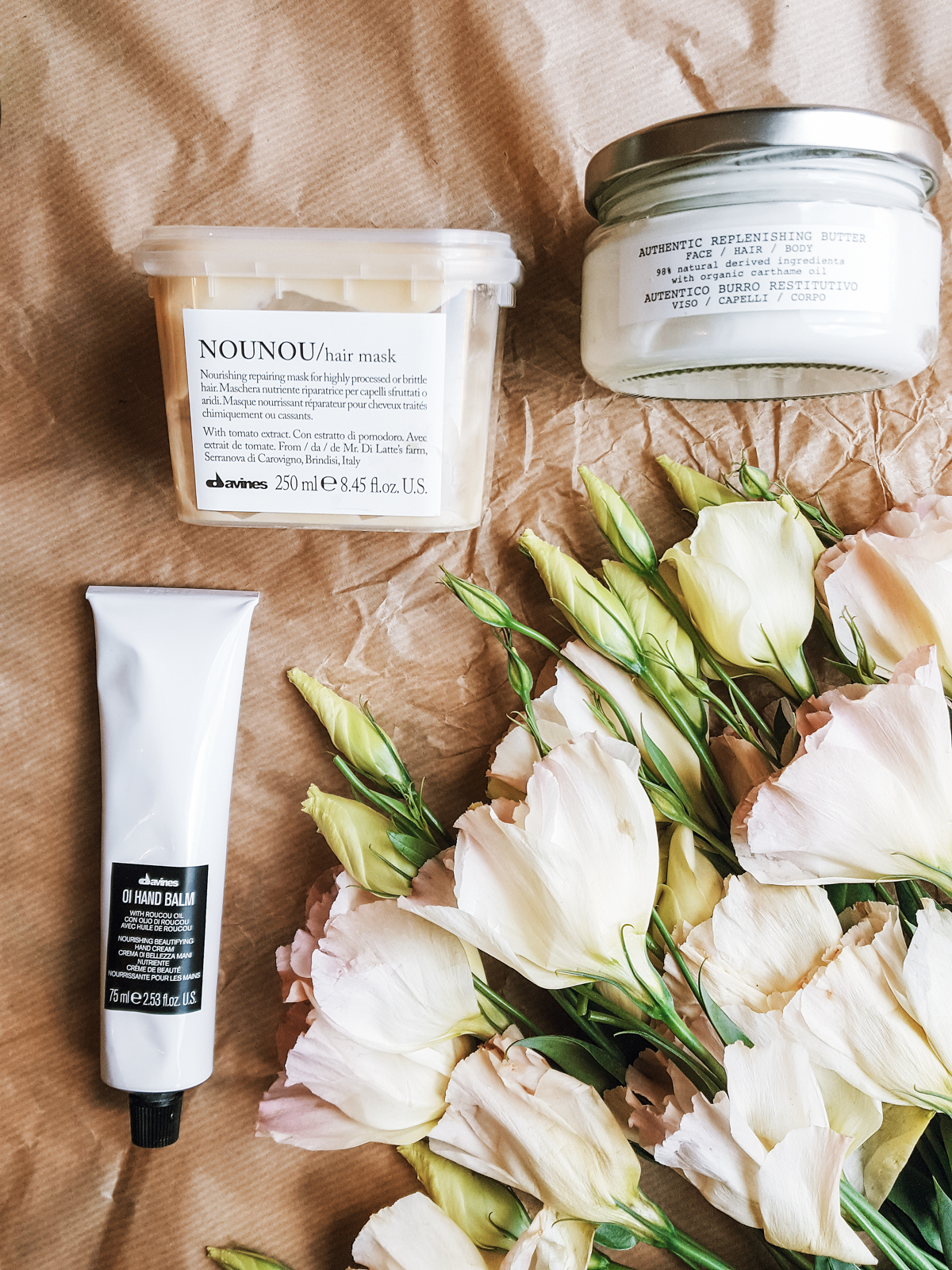 The Authentic Replenishing Butter is packed into a dinky little jar, and has a dense, creamy texture. It's designed to be used on both the hair and body, but since my hair doesn't need that much TLC I use it mainly as a body balm.
A tiny amount is really all you need, warmed up between the palms and then patted where you need it. I leave the pot in my living room and absent-mindedly smooth it over elbows and knees.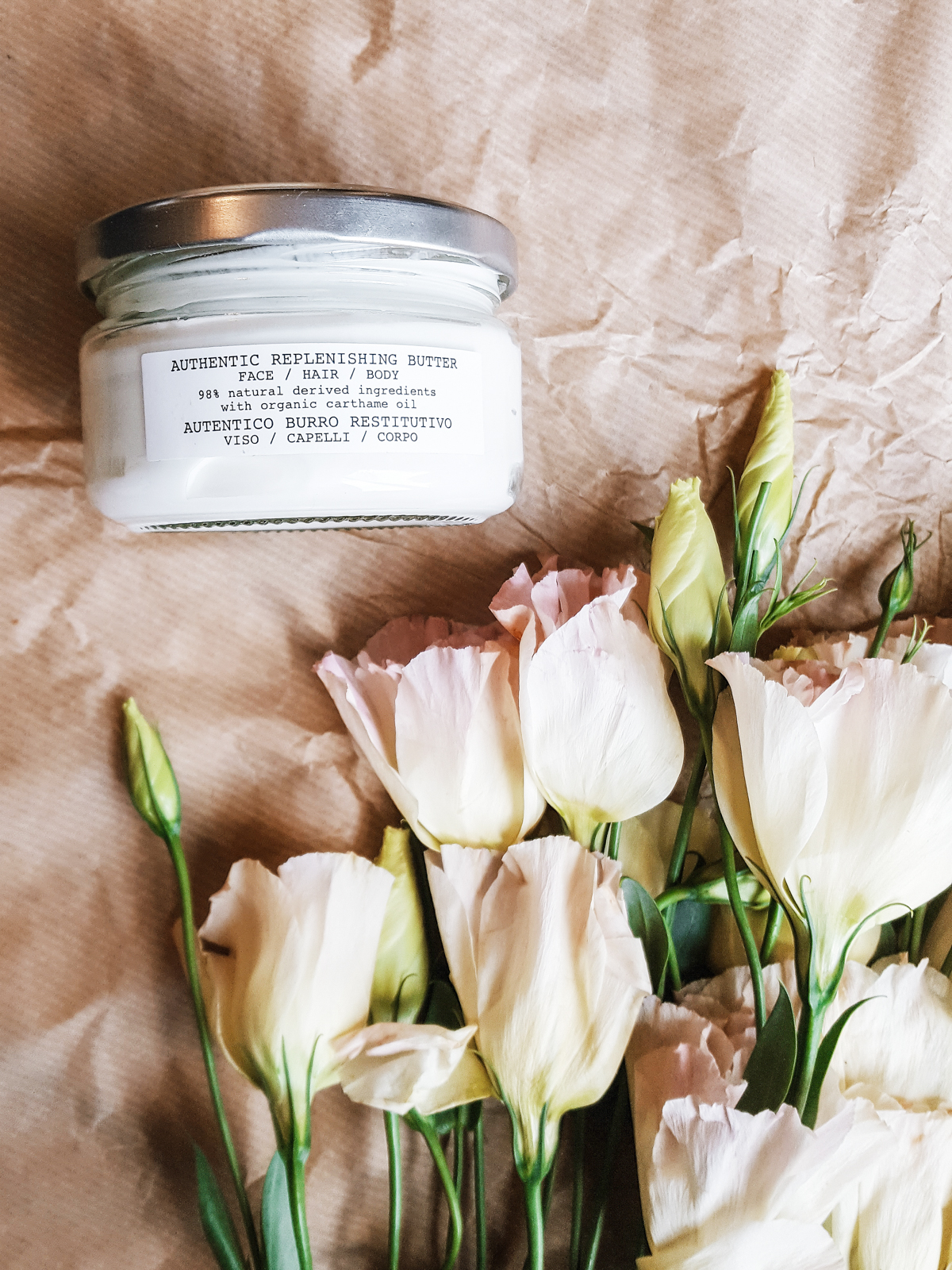 It's a very nice product, much like the Oi Hand Balm, that has found a new home on my desk at work. The balm has been specially formulated to take care of sun damaged hands, so it's actually great for a post-summer treat. Smoothy smooth.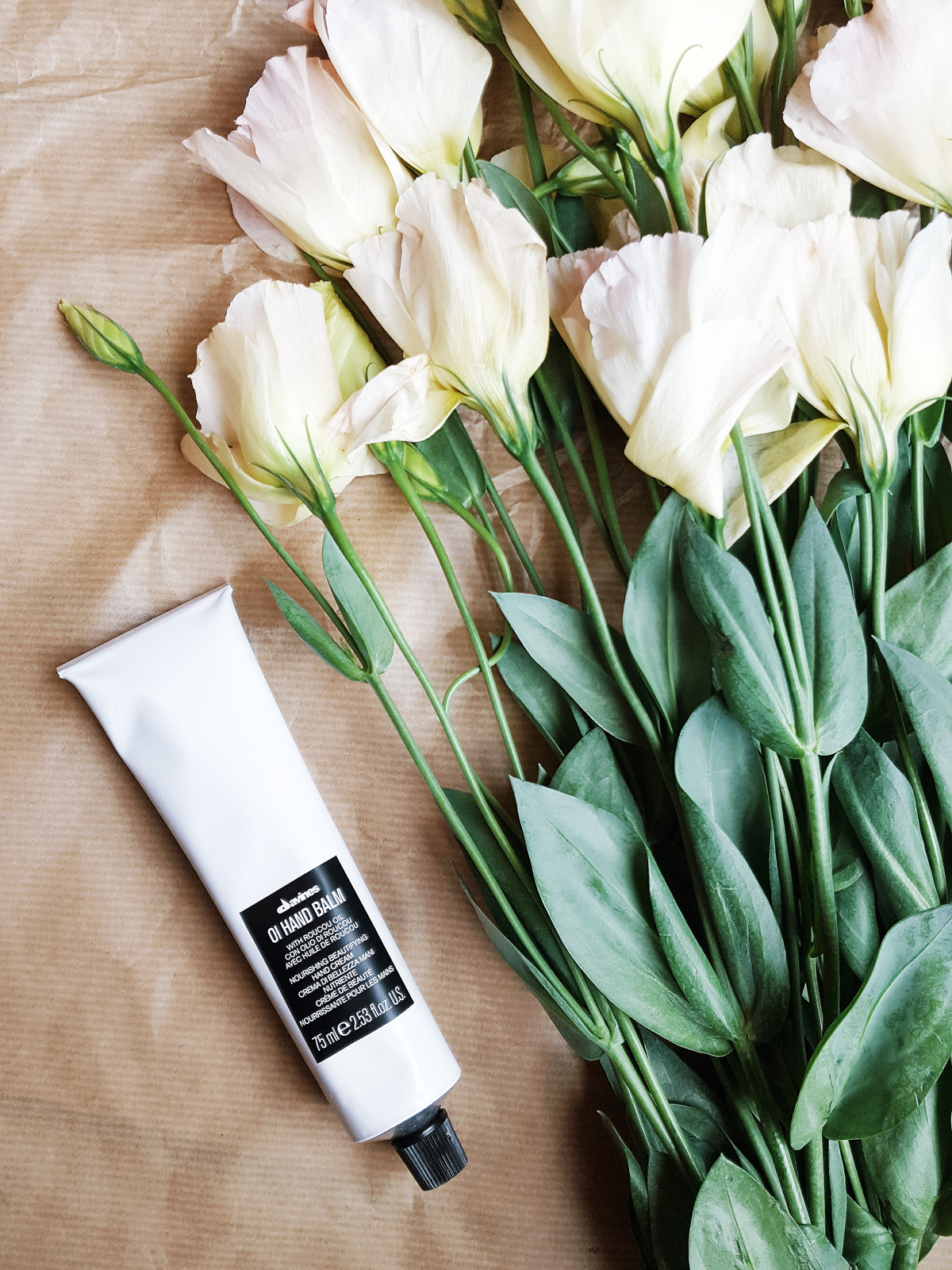 Have you used any Davines products? We'd love to know if you have and what you think, or if you have any favourites of your own. Get in touch with us here or pop us a note on Instagram :)
The products were kindly provided to us from Davines. All views are our own and as ever we aim to provide useful and honest feedback.