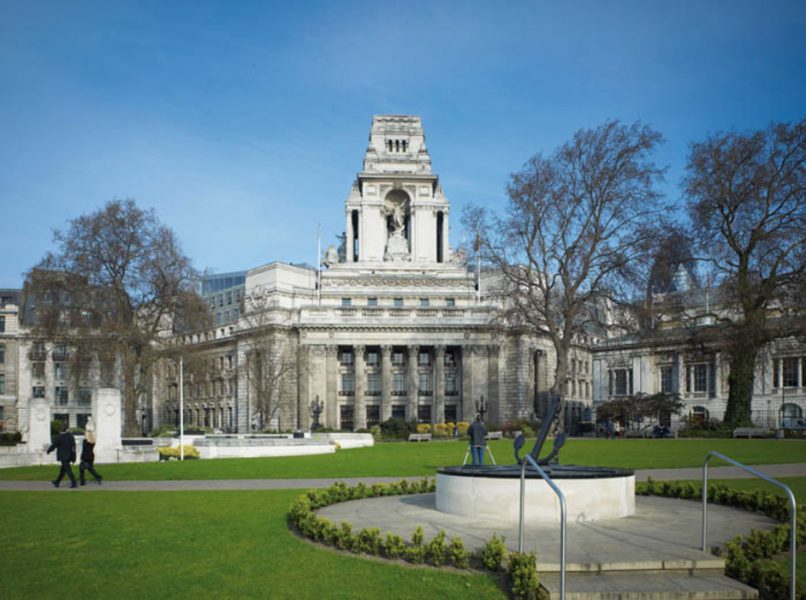 An indulgent chocolate afternoon tea at the new Four Seasons Ten Trinity
The new Four Seasons Hotel Ten Trinity has only just opened its doors in London, and we're here today to check out their limited edition chocolate afternoon tea.
To say that we're excited to be going to the new Four Seasons is something of an understatement. After all, the launch of London's newest luxury hotel marks one of the most anticipated openings in the city. Although we don't yet know what awaits us, being that the hotel is so new, we can't wait to head in…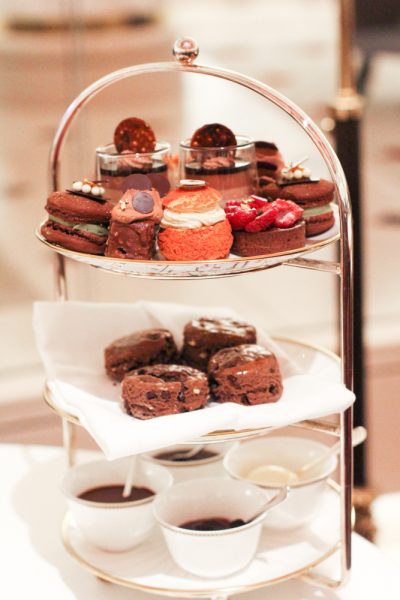 The hotel is located just behind the gardens of Trinity Square, with fabulous views of the Tower of London. Set in the former premises of the Port of London Authority, the Grade II-listed façade is simply gorgeous…
After admiring the grand exterior with its classical columns, we head inside. Past the marble lobby is the Rotunda, which is the setting for our chocolate afternoon tea today.
Trying out the Limited Edition Chocolate Afternoon Tea
Using only the finest Valrhona chocolate, the limited edition chocolate afternoon tea is absolutely luxurious.
We start with a creatively spiced carrot and lemon juice. It's zingy and very useful for clearing the palate between chocolatey courses.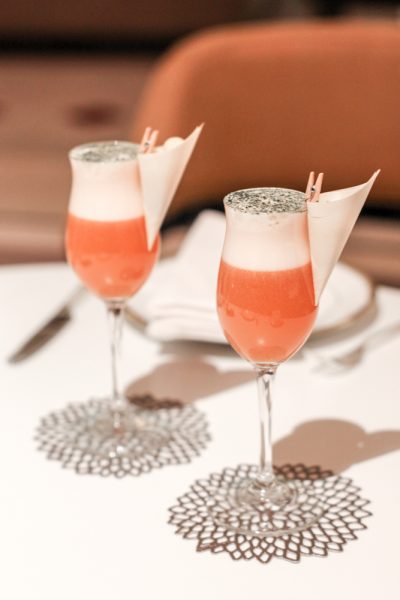 Whilst we sip on the refreshing juice we also admire the space itself, which is a living, breathing reference to the buildings nautical past. The circular room is wrapped in relief-work that gives life to its seafaring history, and a domed ceiling is almost compass-like in design. The plates too are part of the experience, decorated with maps that show dotted tea shipping lanes.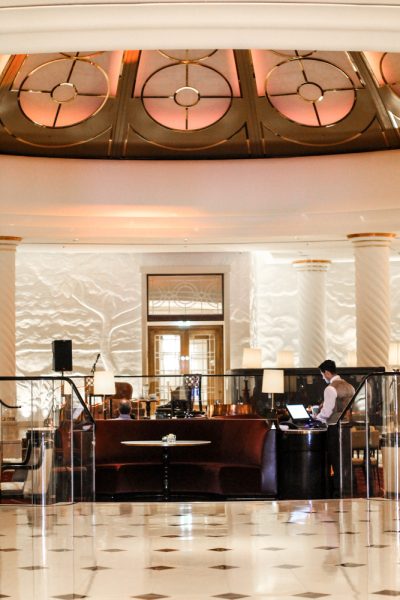 Settling in to our comfy seats, we begin the chocolate afternoon tea with a plate of savouries. We love a roast beef and granny smith apple compote filled milk bun, as well circlets of foie gras with a zingy gel and a pumpernickel base.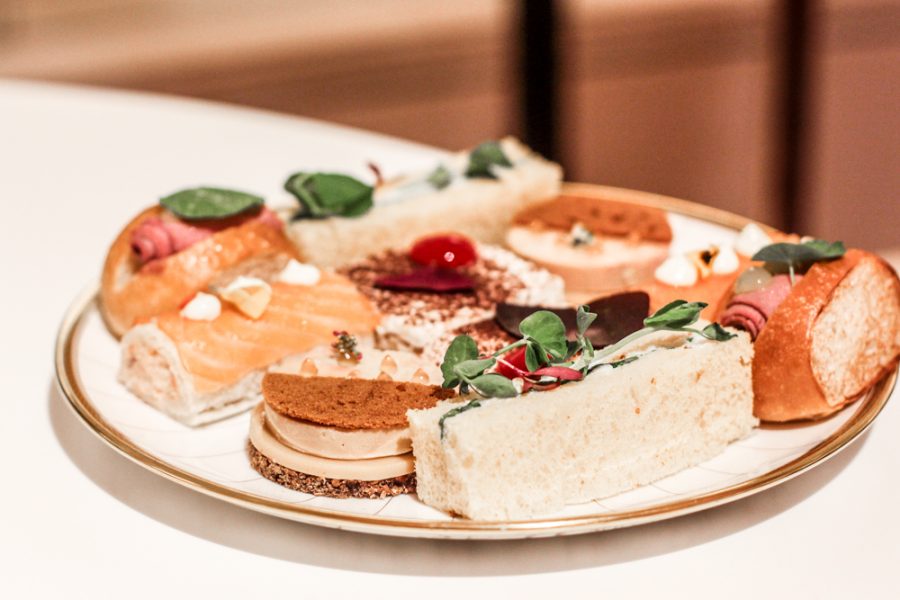 The savouries also include salmon sandwiches two ways (both smoked and deliciously poached), and a goats cheese mousse with little dots of spicy espelette coulis and a dark cocoa powder.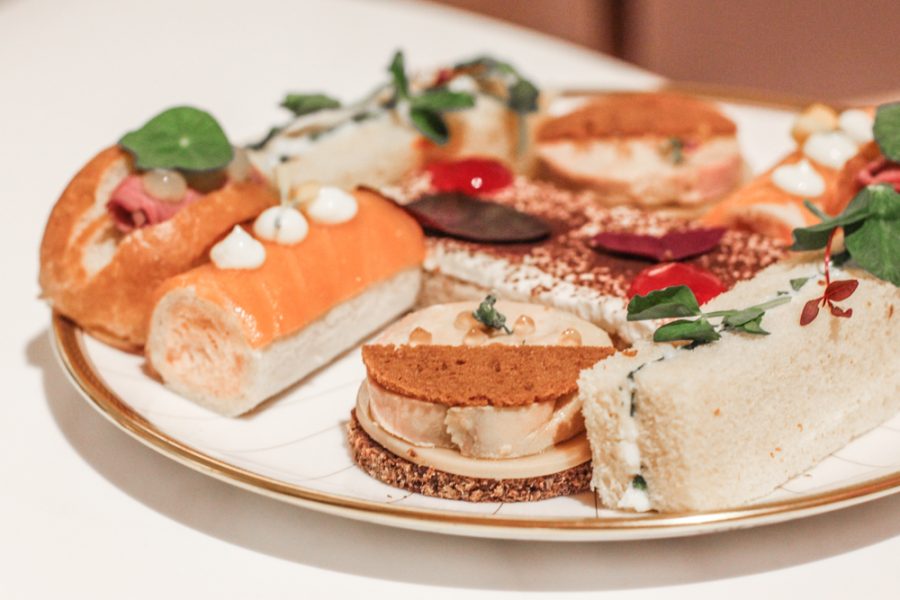 As wonderful as all of these are, the majority favourite is the egg and gloriously fragrant truffle finger sandwich. Mmm.
Scones & Tea
After polishing off the savouries we are brought a three tiered afternoon tea tray, holding scones, pastries, and jams.
To start we make a move on the chocolate and macadamia nut scones, which are served at just the right temperature. We take turn spreading these with clotted cream first, then a chocolate and plum compote, then strawberry jam, and then finally with gooey chocolate spread.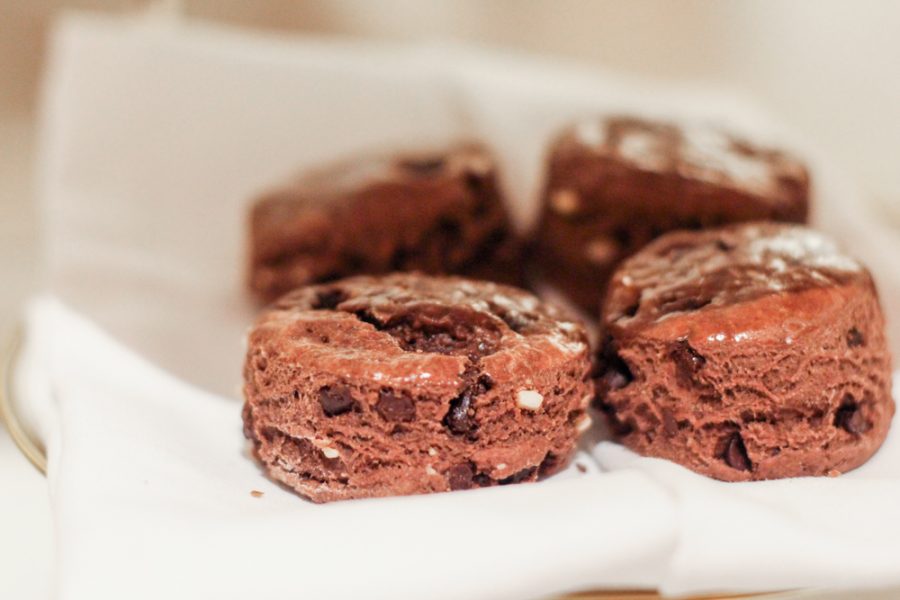 As we tuck in to the chocolatey scones we also progress through the fine tea menu, composed of various classical and new blends from the Rare Tea Company. I love my Oolong tea, whilst my companion sips on a delicate Darjeeling.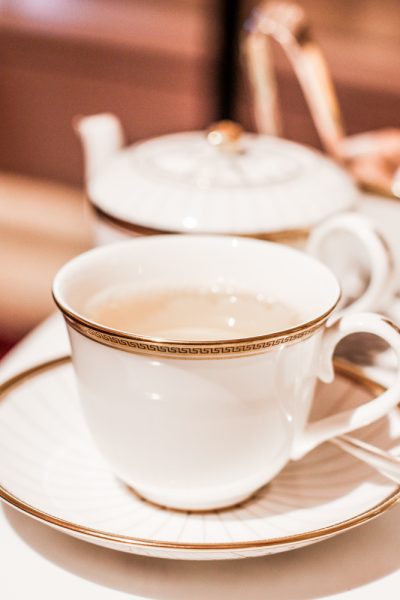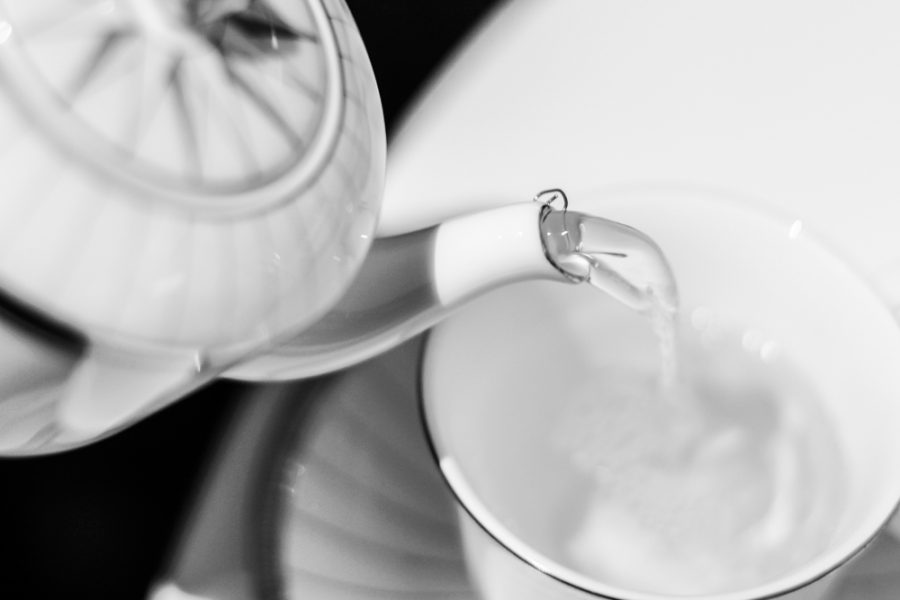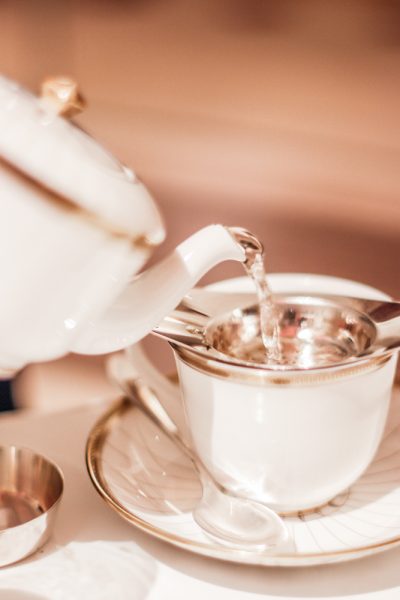 In order to leave a little room for the best part of the tea we just have one scone each, a hard decision at the time but one that pays off exponentially.
The dessert tier and final thoughts…
With a little extra room, we take in the dessert tier! My favourite has to be the delicate choux, filled with a rich, 70% Guanaja chocolate ganache. I love the crispness of the thin choux casing that gives way to an uber chocolatey, melt-in-the-mouth chocolatey middle.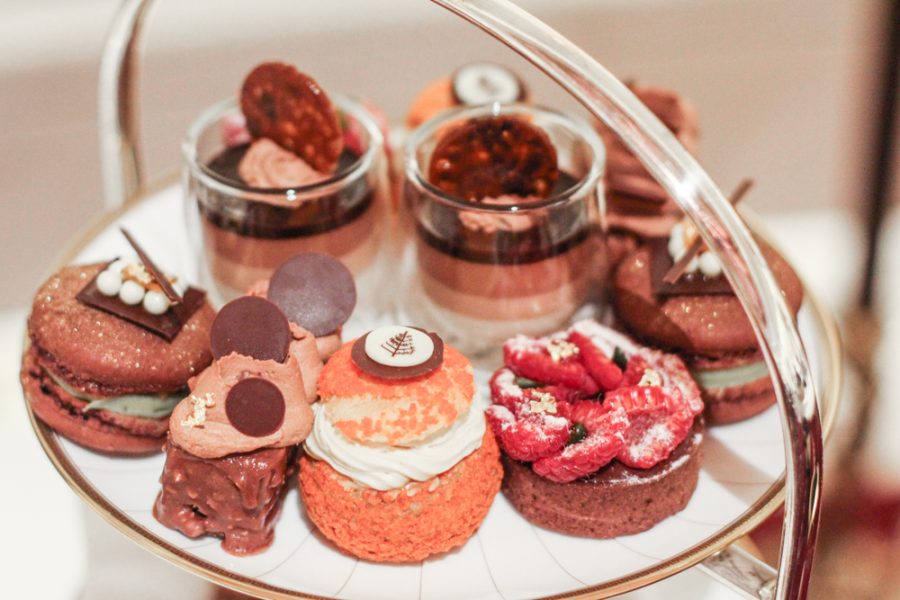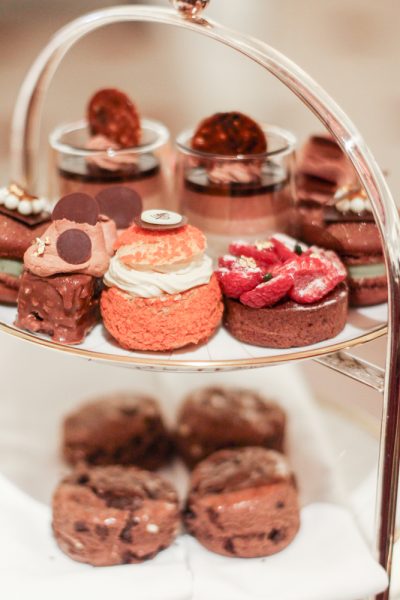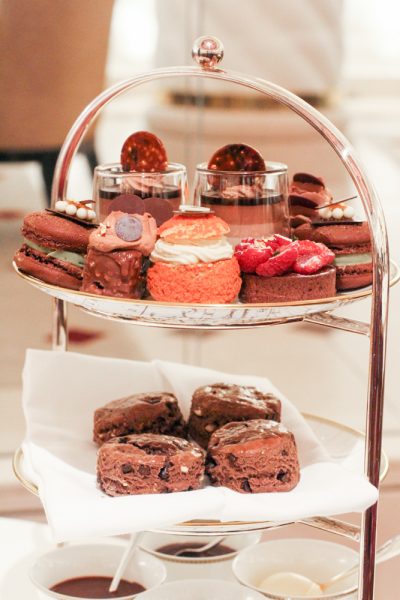 Then we have the macarons, made with 35% Ivoire chocolate and filled with a white chocolate and matcha middle. There's another surprise flavour in there too in the form of orange confit, which is only revealed when bitten in to.
Meanwhile, my companion loves the raspberry-topped tart made with 64% Manjari chocolate, whose fudgy, chewy base is almost brownie-like in texture. There is also a chocolate ganache and nut slice, topped with chocolatey chantilly cream and crushed caramel.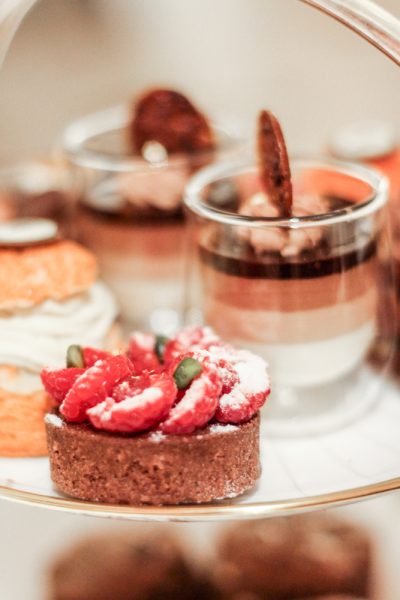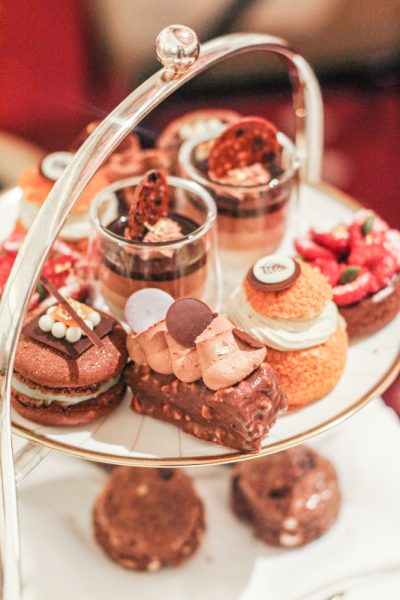 The super indulgent chocolate afternoon tea ends with a little cup of peppermint tea, with is a thoughtful conclusion to such a rich gastronomic event.
We've loved exploring the new Four Seasons Hotel Ten Trinity, and the limited edition chocolate tea has been a great way to do it. If you'd like to experience it then there's still time, as the tea is available until 23rd April.
Do you like the sounds of an all-out chocolate tea? We'd love to know if we've inspired you to visit the new Four Seasons Ten Trinity, and if you do we definitely want to hear your thoughts on it! Drop us a comment below or connect with us on social to tell us what you think.
Tube: Tower Hill
Address: 10 Trinity Square, London EC3N 4AJ
Website
Thanks to Four Seasons Ten Trinity for having us in. The meal was complimentary, but all views are our own and as ever we aim to provide useful and honest feedback.