Heddon Street Kitchen – restaurant review
Heddon Street Kitchen is one of many restaurants created by Gordon Ramsay in London, and serves his signature Beef Wellington. Obviously, a dish as iconic as this has to be tried.
We head in to the enormous, double-storied restaurant on a crisp winters evening, keen to see what it is about the food that keeps people coming back.
READ MORE:
Hanger SW6: Fulham's newest steak restaurant
Hunter486 review: The Best of British in Marylebone
It can't be easy to keep all of the seats full in a restaurant as large as this, and the menu isn't exactly cheap. But at 6pm on the Wednesday evening that we visit, Heddon Street Kitchen is already packed. As the evening progresses, through starters, mains, desserts and more, the queue to get in just gets bigger and bigger. Note to self – next time choose a table further away from the door.
And good for Gordon, who has clearly come in to a formula that works, and that pleases the people who choose to visit.
We can only surmise that this is due to the food being as appetizing as it is. Although some people may say that Ramsay could be more innovative, I don't think I would want a Beef Wellington, for example, to be any other way than it traditionally is. Whatever your personal preference is, the menu at Heddon Street Kitchen seems to succeed at being universally satisfying.
The Starters…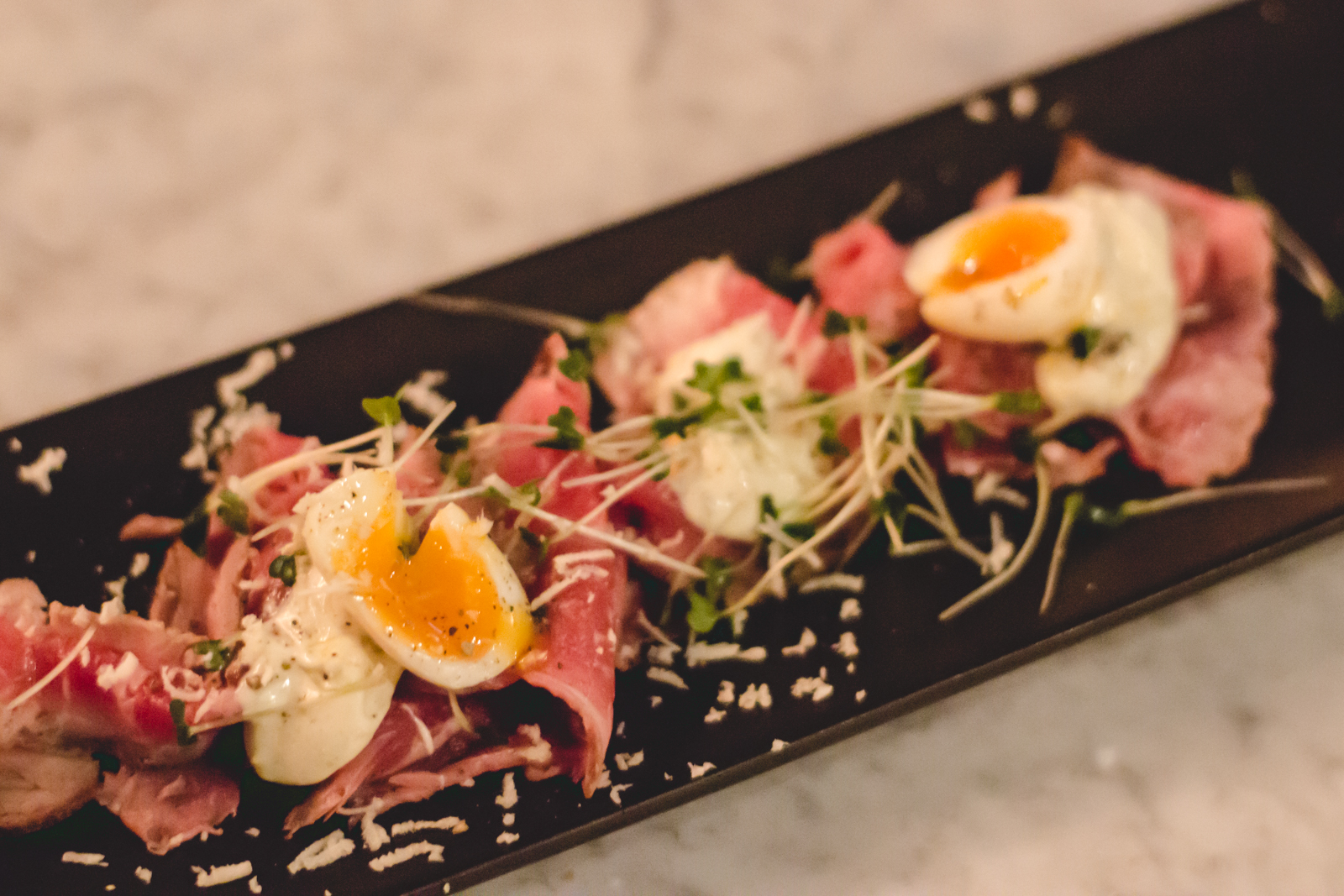 Which becomes clear as we finish off the last of the delicious sourdough, and our starters arrive.
I love my cured salmon, flecked with dill, and laid out on a plate, glistening and glorious, with wasabi mayo and piped avocado.
In addition to this, the pieces of roast beef carpaccio that I steal from my partners plate are also enormously delicious. Imagine them, red-centered and only just roasted on the periphery, served with smoky truffle, watercress, quails egg and horseradish. Double Nom.
But anyway, enough of all that, on to the really good stuff..
Gordon Ramsay's signature Beef Wellington
Ok, so this is really, really good. I don't remember the last time I had Beef Wellington, and I guess the reason that so few places offer it is because it should be popped in the oven to order. Which is exactly what they do at Heddon Street Kitchen, who advise a 45 minute wait time…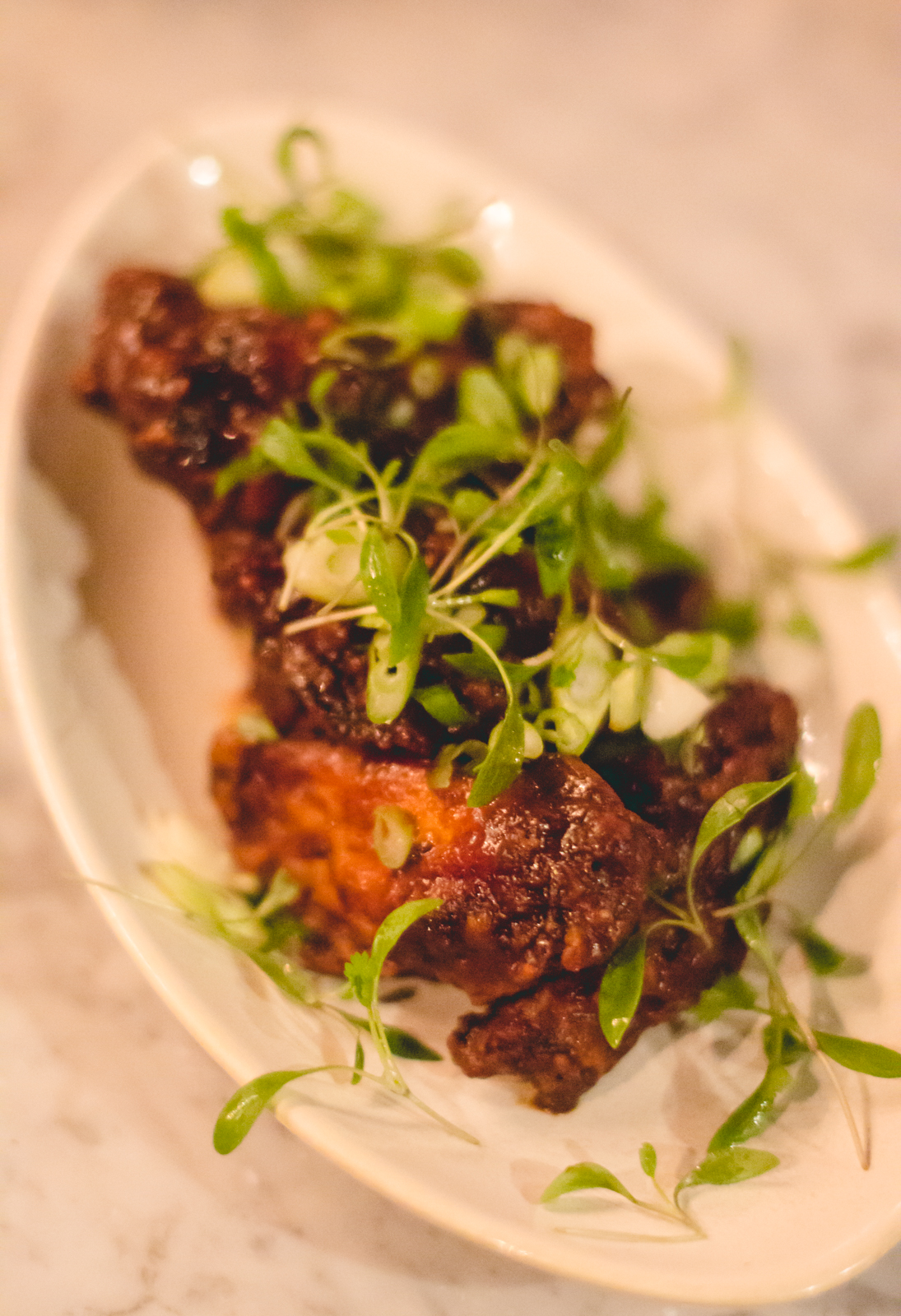 … which might explain why we cave and order pre-Wellington tamarind-spiced chicken wings. Which are sooo good. So good. Imagine them: moist chicken (I hate the word, but it's true in this case); encased in crunchy, crispy tamarind; peppery and slightly hot, but balanced with spring onion and coriander. The wings are certainly a worthy tangent to enjoy before the Beef Wellington arrives…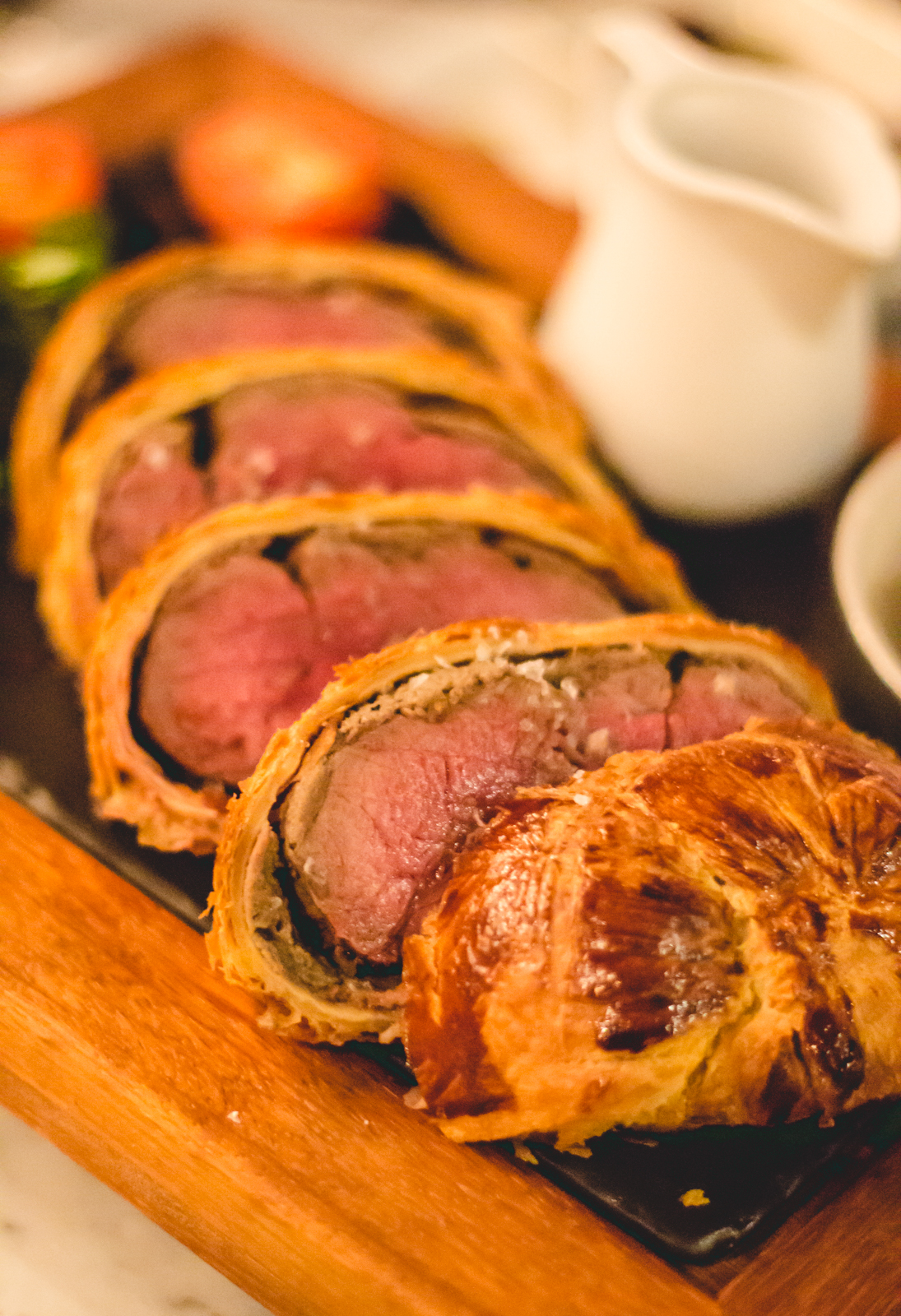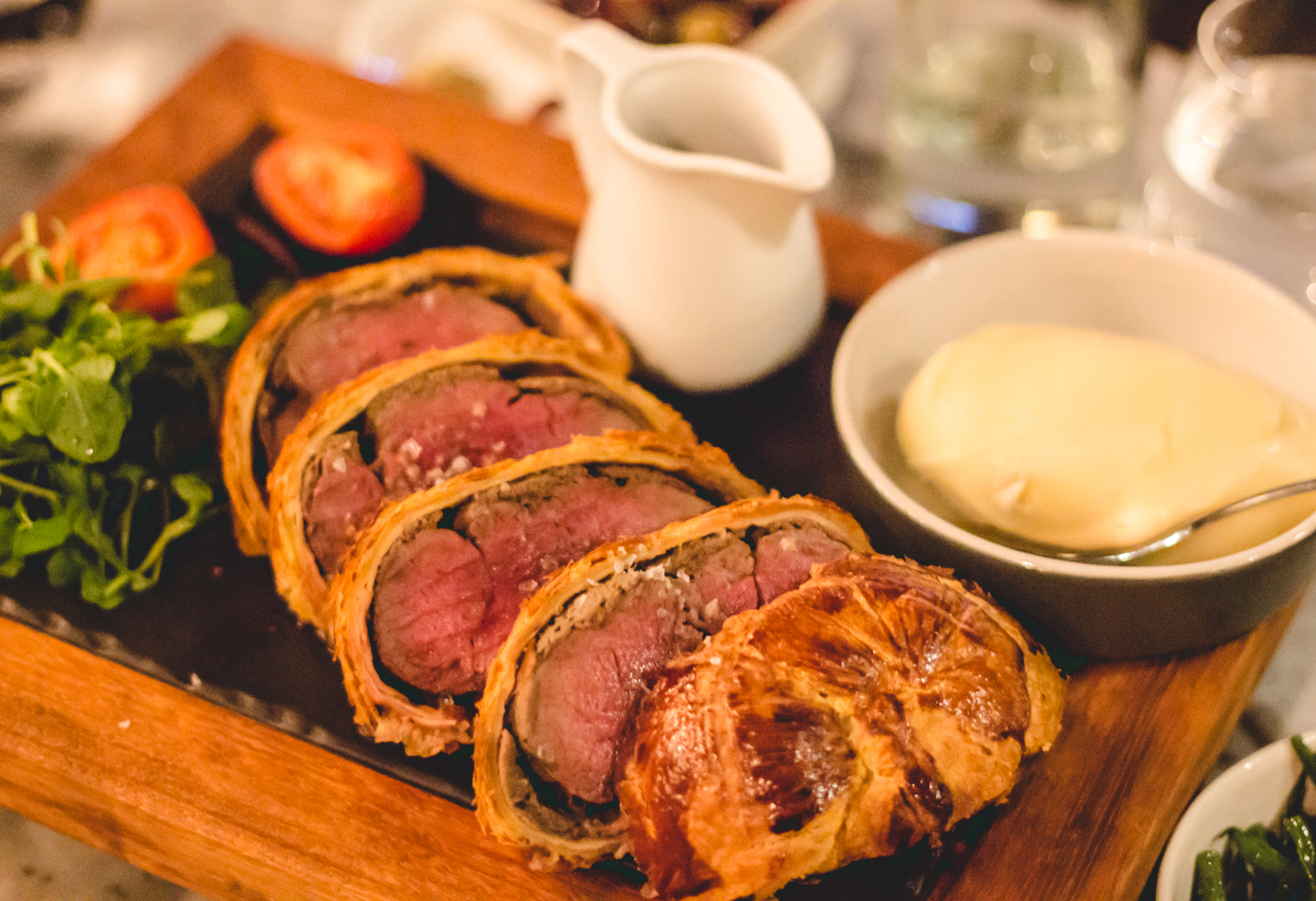 I can see why Ramsay would choose this as one of his signature dishes. There is literally nothing wrong with a traditional Beef Wellington; it's perfect. And I think that Ramsay pulls his off very well.
The Wellington is served already sliced, in 5 generous, thick pieces, that two people would struggle to finish having already had starters (and a cheeky wing or two). The beef fillet inside is perfectly red, encased in a veil of mushrooms, and then wrapped and baked in the thinnest layer of pastry.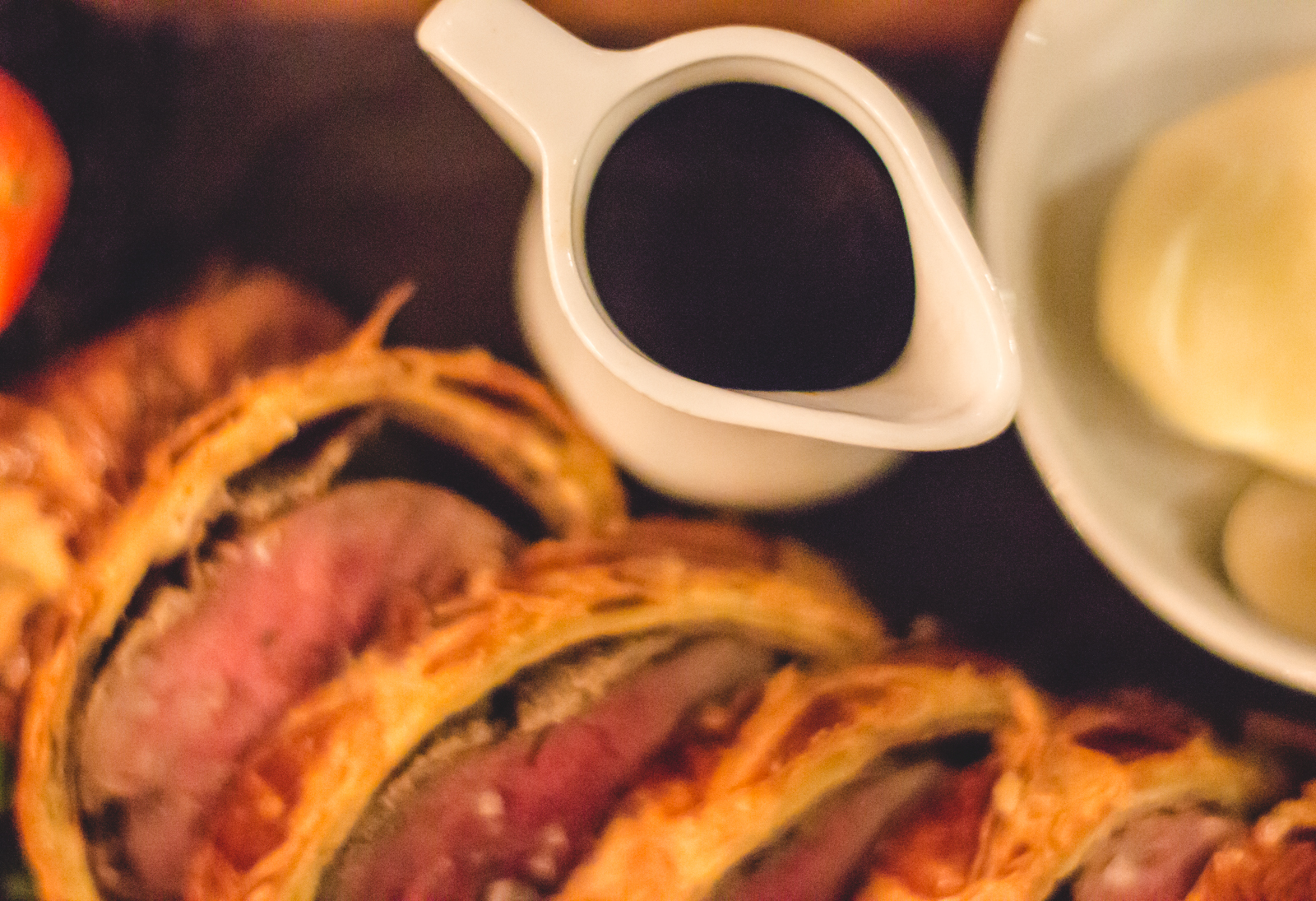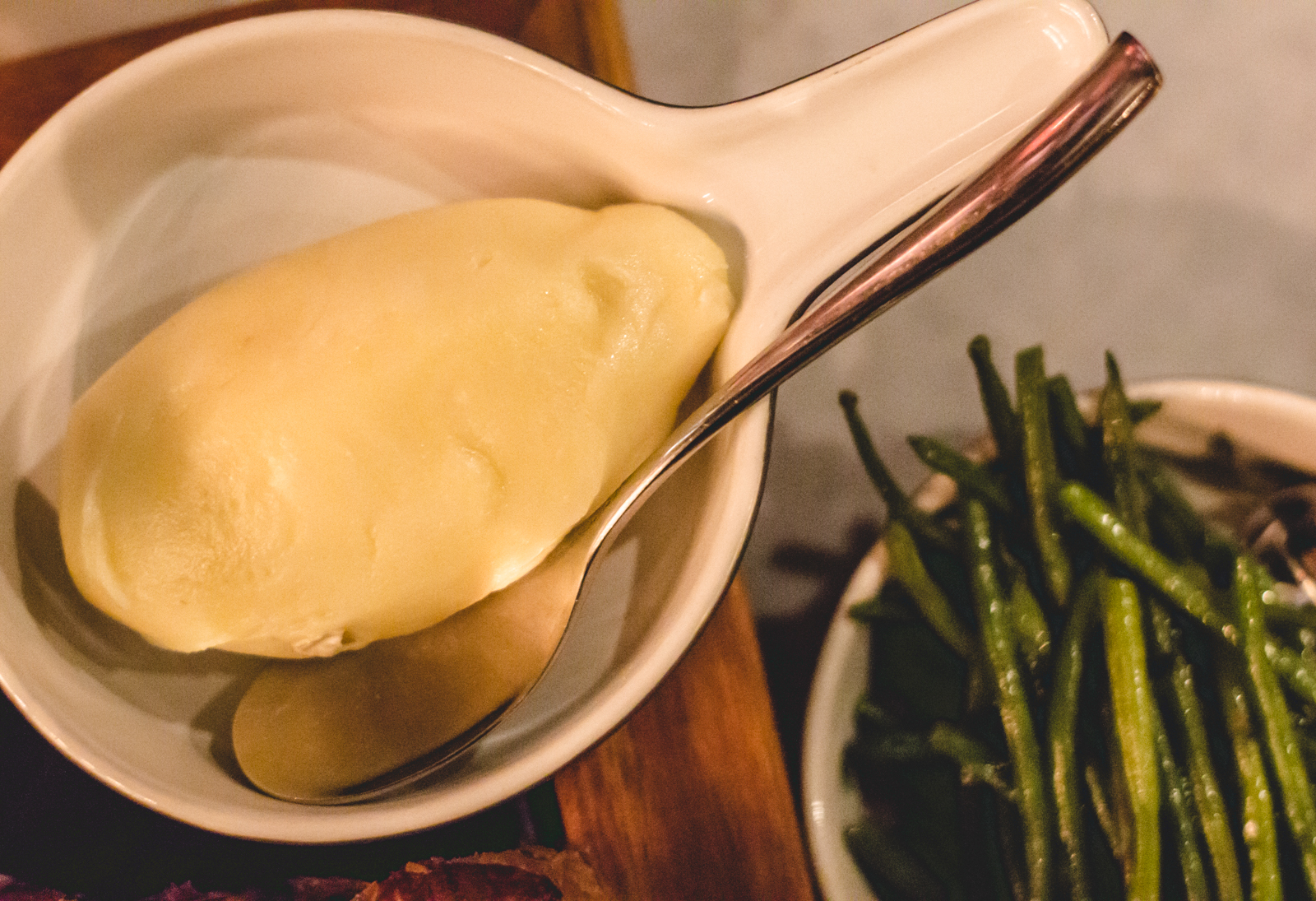 We lift slices of it off the board, hoard them on our plates and douse them with jus, with sides of brie-mash, green beans and spinach.
The first taste…
The first taste is the best – it's of buttery pastry and moody mushroom, and a heart of delicate, juicy beef fillet. Stick on the buttered greens and potatoes mashed with brie and, well, you're really on to a winner.
My only comment would be that I'd have loved a bit more of the jus. I come from a family who drowns their roasts in gravy, it's all part of the fun, no?
How could we possibly have room for desserts, you ask?
God knows. No, that isn't true, we don't actually have room, but this wouldn't be a proper review without at least taking a peak at the sticky toffee pudding would it?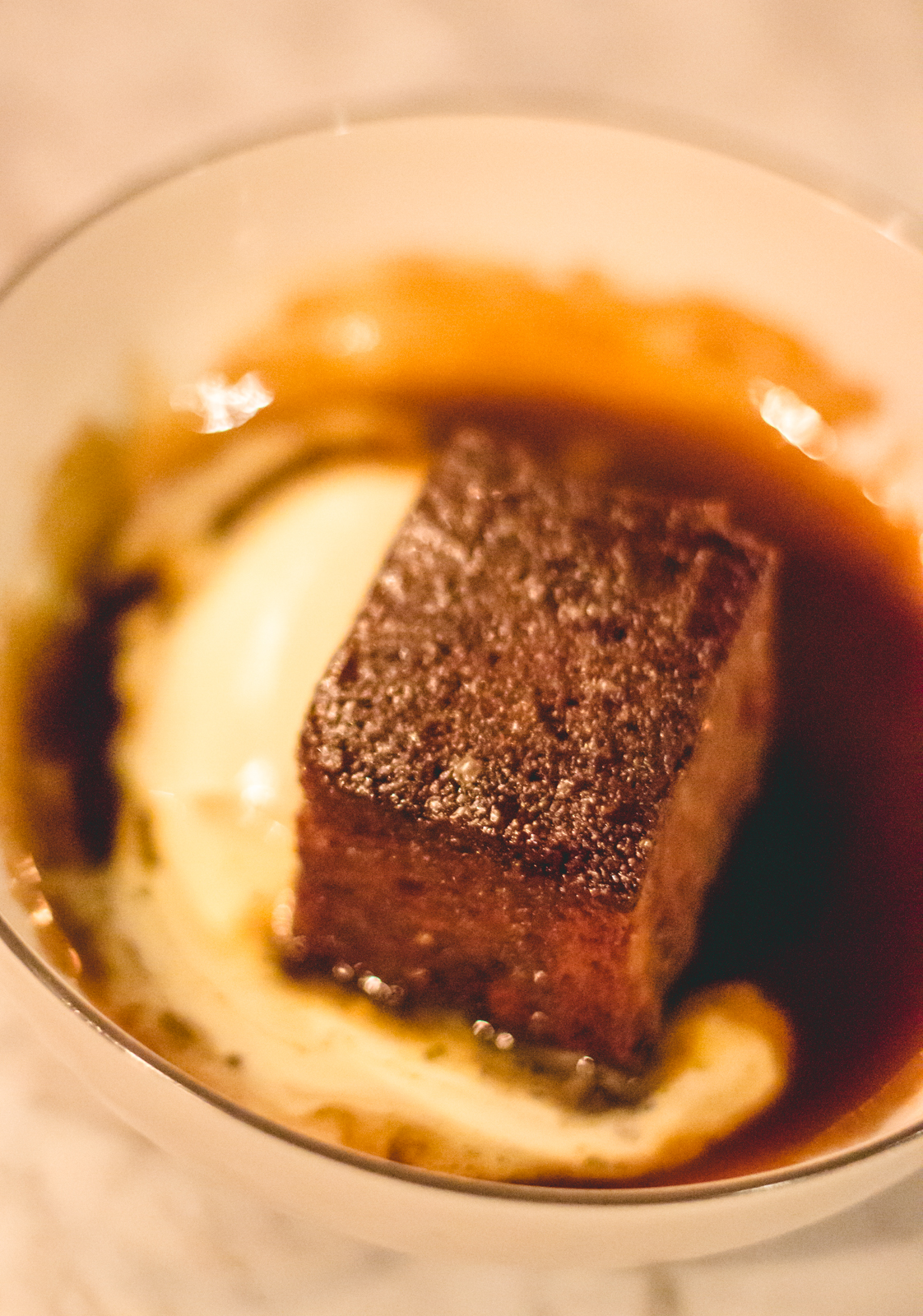 Ahh, Cuboid of Lurve. I do like a good sticky toffee pudding, and this is a good one, so we're in luck. It's rounded off with a scoop of clotted cream, that bleeds dreamily into the mollasey treacle underneath it. Delish.
We also like the Bramley apple crumble, which is served piping hot, and whose pastry case is incredibly fine. Very skilled stuff indeed.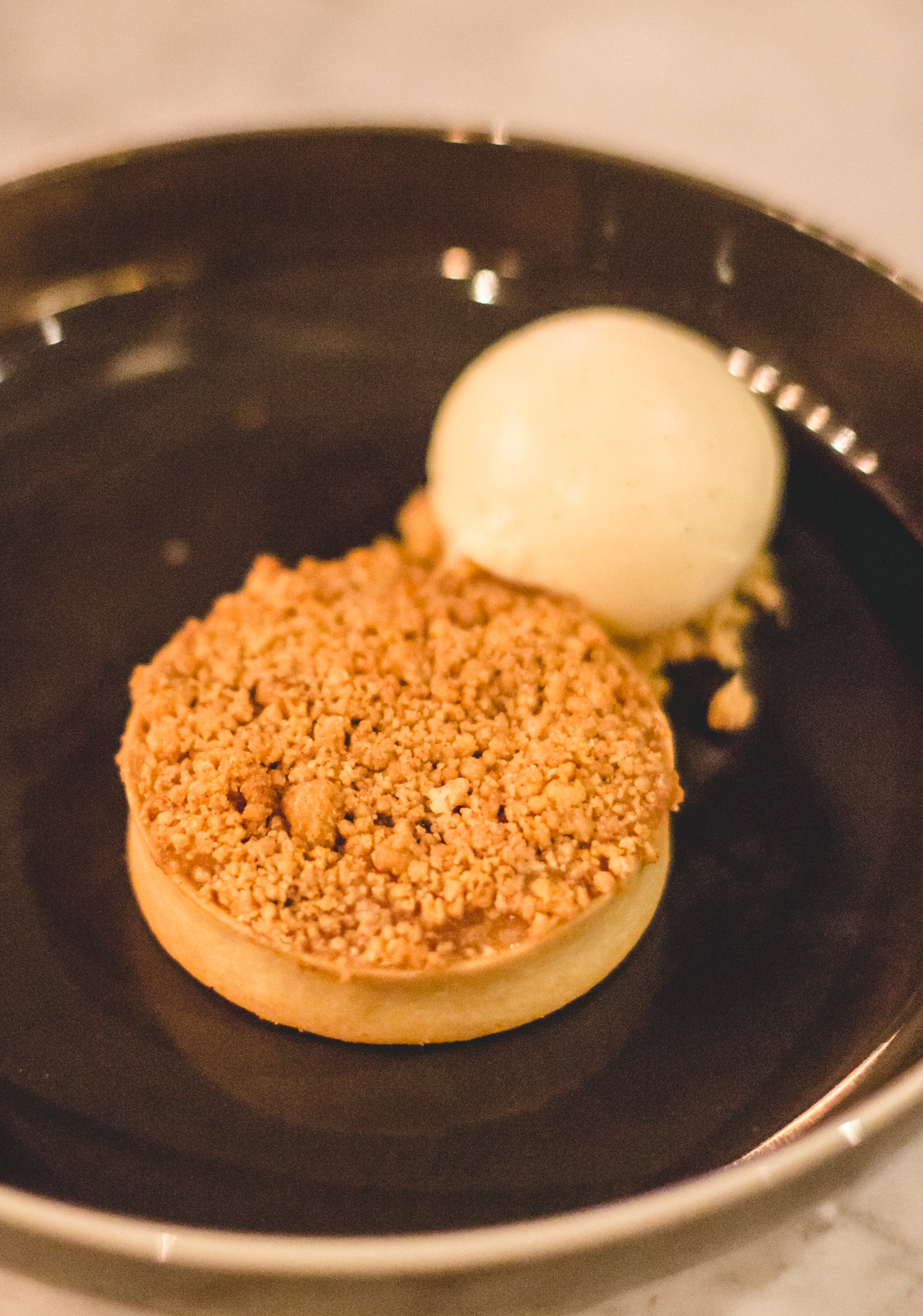 So all in all, it's been a very good evening indeed at Heddon Street Kitchen.
Have you eaten at Heddon Street Kitchen? How do you rate Ramsay's Beef Wellington? We'd love to find out, so leave us a comment or get in touch with us on Instagram :)
Thanks to Heddon Street Kitchen for having us in. The meal was complimentary, but all views are our own and as ever we aim to provide useful and honest feedback.