Bitter sweet in Chiswick
8/10
Hedone is a Michelin starred blip on an otherwise ordinary suburban high street. Armoured in slate-grey cladding and frosted windows, it is easy to overlook. An unmarked door does little to demystify, but we, the initiated, know better. The restaurant is open plan, such that the brushed steel kitchen is in full view in one corner of the square area. Watching the chefs as they flit around each other with organized and practised finesse is highly fascinating, and a highlight of dining here.
As dynamic as the kitchen is, front of house are more lethargic in nature. It is a shame that the atmosphere is almost immediately soured by a less than gracious hostess, who seems aggravated by having to receive guests. The aforementioned waitress maintains this oft-unseen variation of service when we voice our need for a second menu, and query whether or not there is an a la carte dinner option as well a set menu. How silly of us.
Hedone is one of the more divisive restaurants, polarizing blogger and critic opinions. Reviews of it vary from frothing-at-the-mouth delight to disdain. It seems that the staff are well drilled when encountering the above mentioned, as unsheathing my camera produces a pronounced change in service. Whilst painstakingly taking pictures of a bread basket from several contorted angles, there is a visible shift in attitude to sudden and deep interest. The downturned lips of our derisive waitress stretch into a Cheshire cat smile which is plastered in place during the rest of the evening.
This revelation does little to soften the awkwardness of our head chef, who at least has consistency in demeanour. An open plan kitchen and humble domain afford him the ability to walk around his guests, yet his wanderings seem to have little purpose. His table side manner is worse than that of his staff – on requesting the bill, he arrives with a card machine and breaks conversation with 'someone owes me a card'. Charming.
Swallowing an urge to find out if La Trompette has a table, we remain seated and brush off the shortcomings of hospitality. Bread neutralizes the initial acidity of the evening – fresh baked white and brown sourdough is soothing, salty, and wonderfully chewy. The travails of our own arrival are all but forgotten with the arrival of canapés. Fine membranes of buckwheat sandwich foie gras, a delicacy of presentation which is also apparent in the smoked eel tart and morello jelly.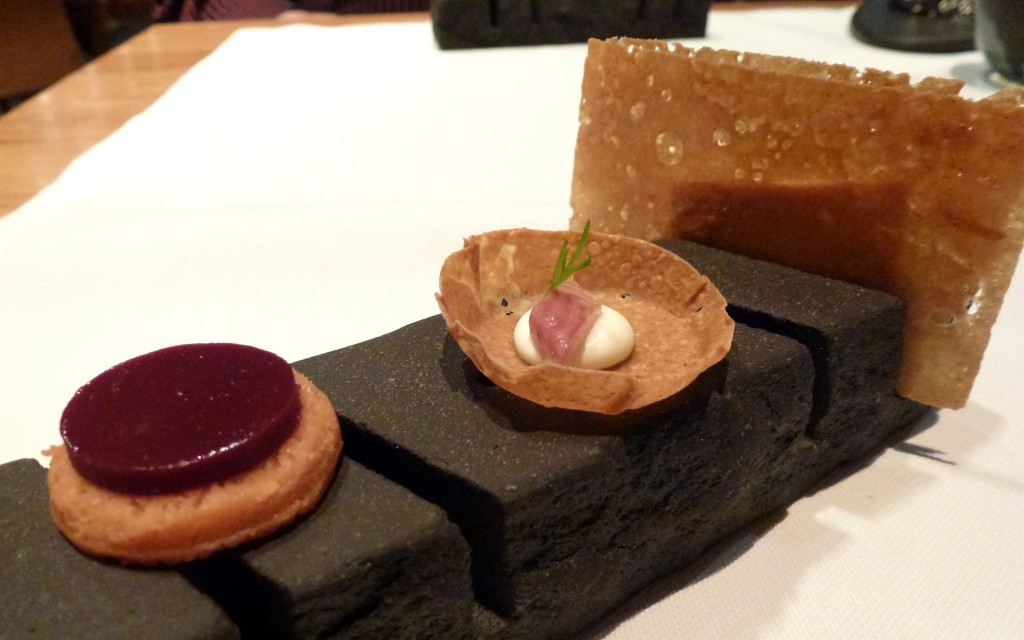 The clatter of shell on ceramic is in fact the first course. Pebbles (inedible) buoy fat little oysters to the plate. The oysters are poached for 45 minutes in their shells which cleans them of their usual phlegmy coating. These are served on an apple foam, whose fruity nuances are sharpened with a pomegranate puree and shallots. A final touch of acidity from a pansy petal (edible) results in a fresh and clean mouthful. The second oyster allows us the luxury of experiencing it again, this time slower and with more sorrow at its ending.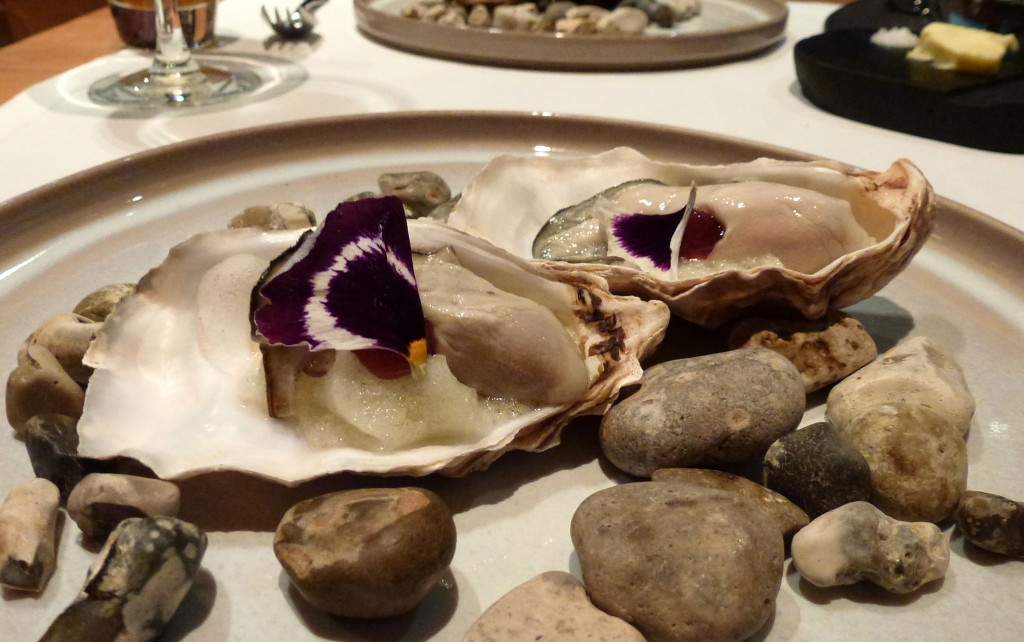 Our understated second course is formed of layers of sweet onion, from the Cevennes region of France. These humble bulbs are prized for their delicate taste, and it is this subtle sweetness which works so excellently when steamed with butter. The resulting beurre blanc is spooned into softened onion shells with white pepper. Sliced pears lend an additional dimension to create a wonderful expression of autumn on a plate.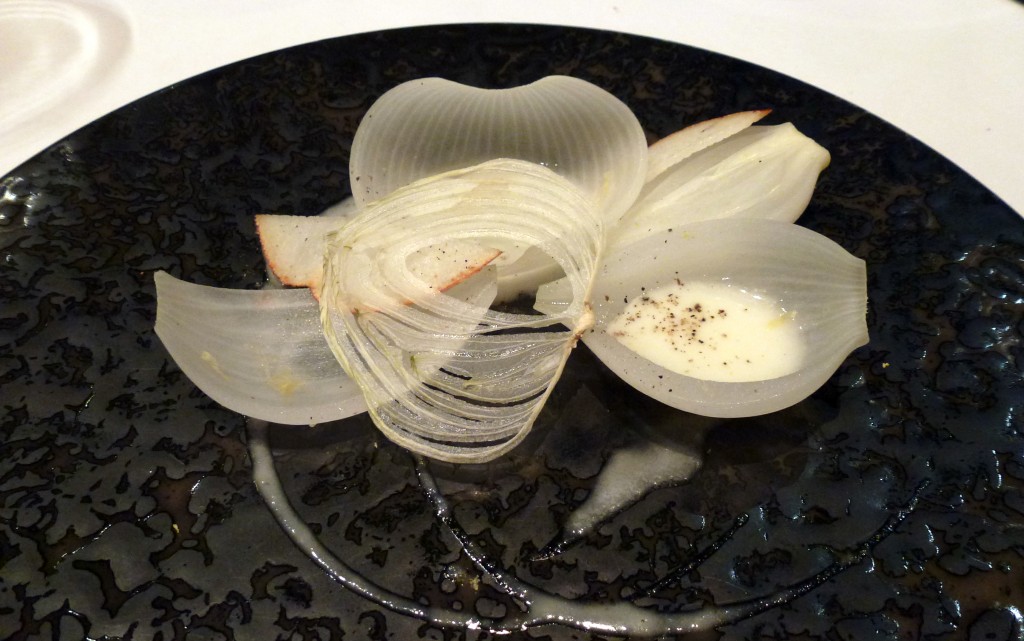 The third course of fresh ravioli is full of hot, liquid parmesan, with a horseradish foam and clear onion consommé. We are instructed to eat the ravioli in one bite, to ensure that their salty contents land only on our overindulged palates.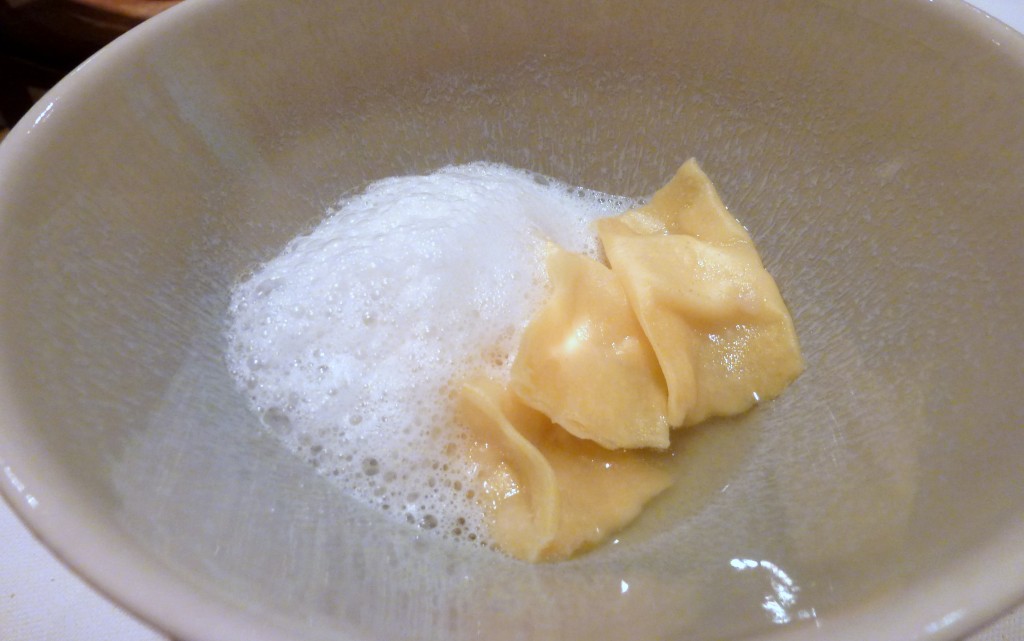 Both main courses are, predictably, fantastic. Loin of red deer is served rosily pink, surrounded by smoked whole chestnuts, chestnut puree with a touch of salted caramel, and a final dash of quince for sharpness and contrast. My obstinate dining partner requests that his rack of lamb be massacred to well done. It arrives medium-well (who can blame them), with tufts of kale and dulse seaweed from the coast of Brittany.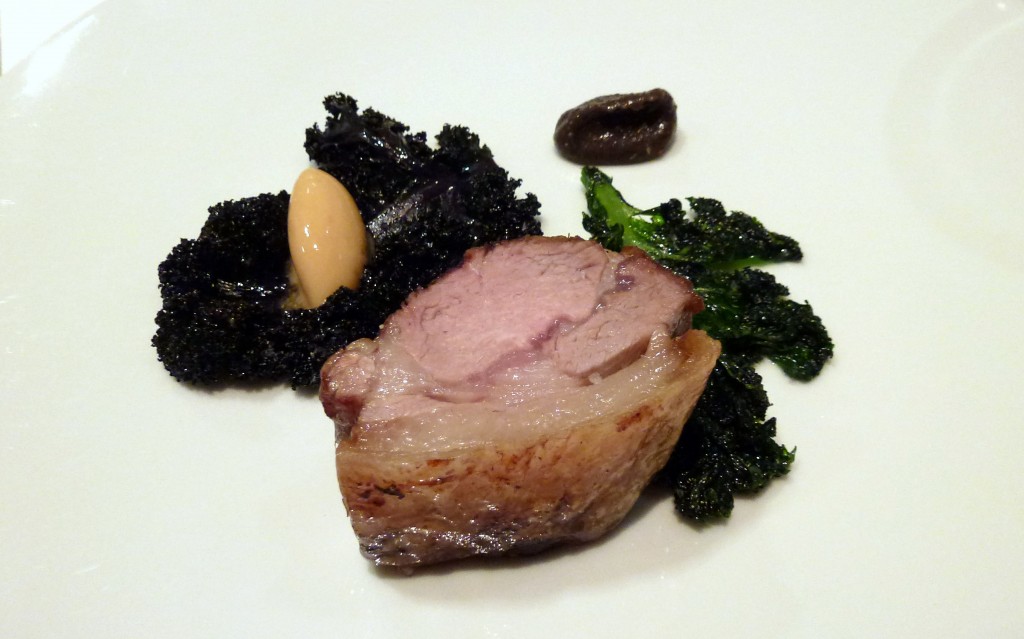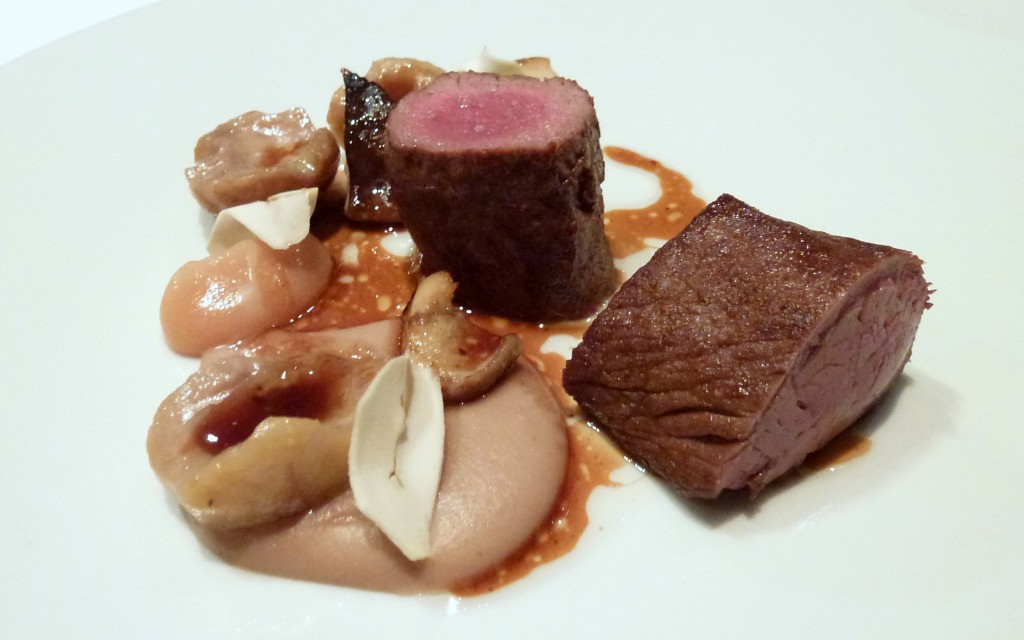 Pre-dessert is a few bursting mouthfuls of fresh, taut blueberries, and bracing lemon sorbet with notes of rosemary. Dessert proves to be the breathless climax of the menu. A warm chocolate mass, best described as being between a ganache and mousse in texture, sits on top of a layer of passionfruit jelly. Crusting this is a circle of almond biscuit sprayed with a homemade raspberry powder. A quenelle of vanilla ice cream crowns this ensemble, and provides that crucial difference in temperature to best appreciate each component of the dish.
The food by itself is a 10/10. Each dish has a singular star component, with a few, well considered sides to add complimenting texture and taste. The experience is markedly degraded by the lack of hospitality, bordering on pure rudeness. The 6 course tasting menu is £65 per person.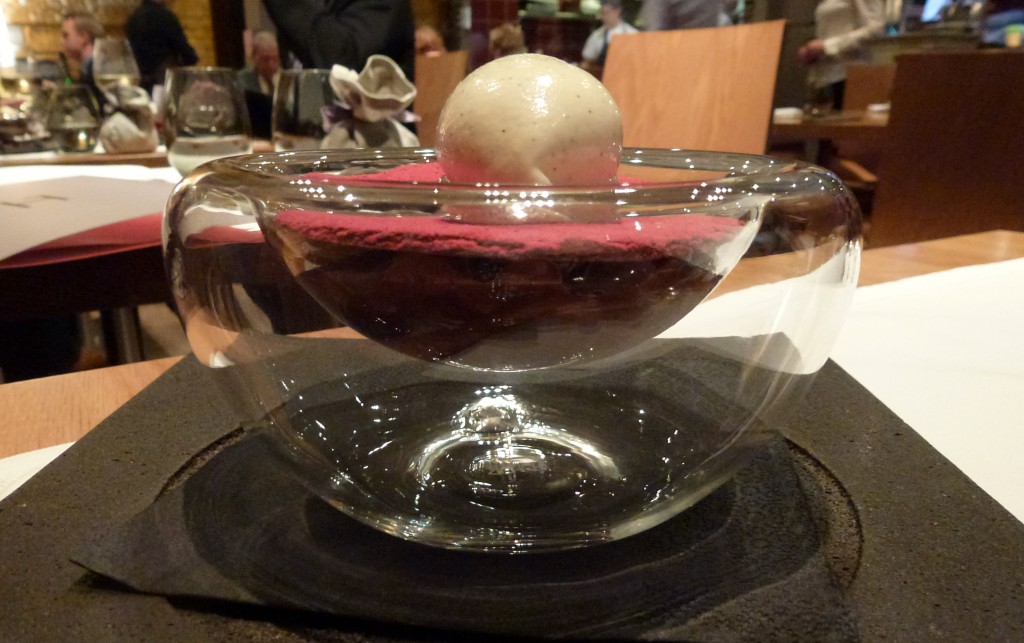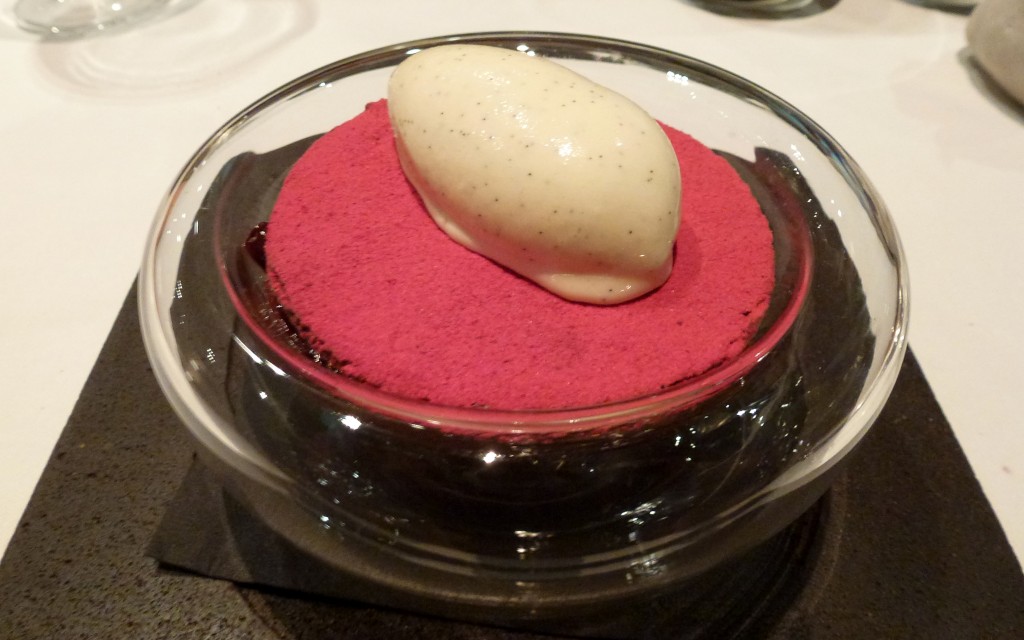 Tube: Chiswick Park