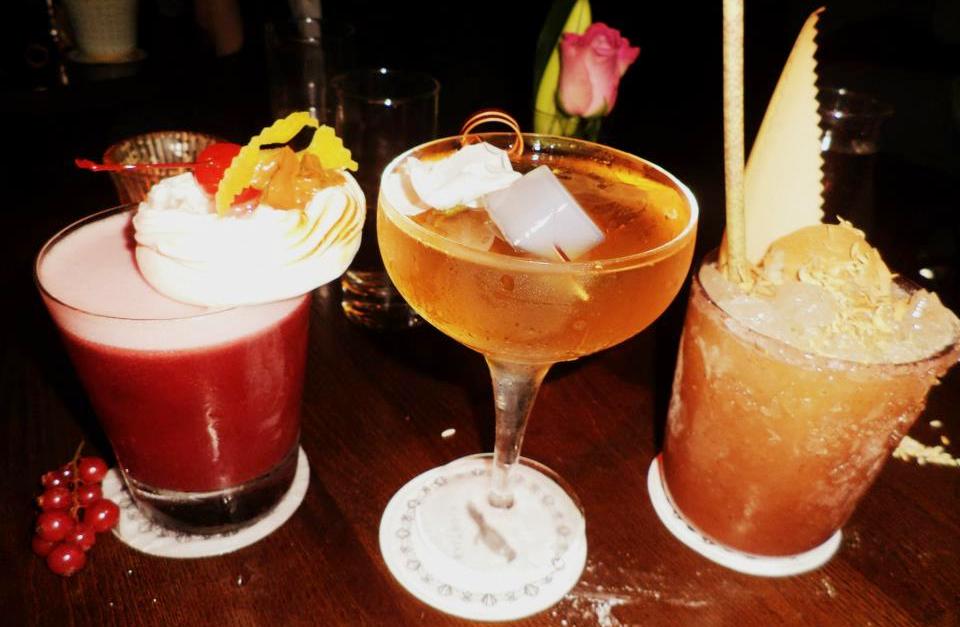 Live jazz, ridiculously good cocktails
9/10
Praise the Protestants! Credit where credit is due, we must give thanks to those who started the Prohibition Era of 1920's America, in turn giving us the most hallowed haunt of the liquor enthusiast – the speakeasy. Intended as secret dens selling the elicit sauce, the modern day speakeasy has growing prominence in London. Be this as it may, Nightjar does it best.
The entrance to this speakeasy is easy to miss; its only signage a discrete emblem of a nightjar (a nocturnal bird) on an isolated door. The door leads onto a narrow staircase which takes you down to the darkened bar area itself, complete with clandestine alcoves and crooks. The pressed tin ceiling is a beautiful thing, and suggestive of the night we have in store. There is a strict table service policy – no standing around and no ordering at the bar – we are here to be served.
The extensive cocktail menu is divided into four sections: pre-prohibition; prohibition (1918-1932); post war; and the signature cocktails. Drinks are devised by a better mind than mine; who would have thought to blend a cocktail in a barrel for a month, as seen in the achingly smooth Barrel Aged Zombie (Bacardi, lime, tamarind and mamajuana) which arrives topped with a slice of rum soaked cake set alight at the table.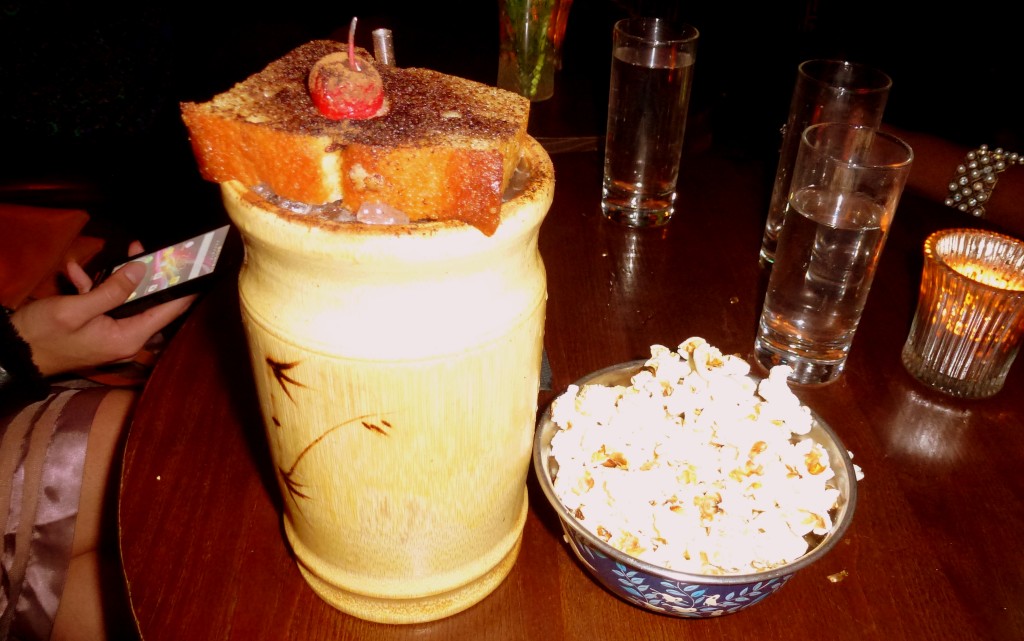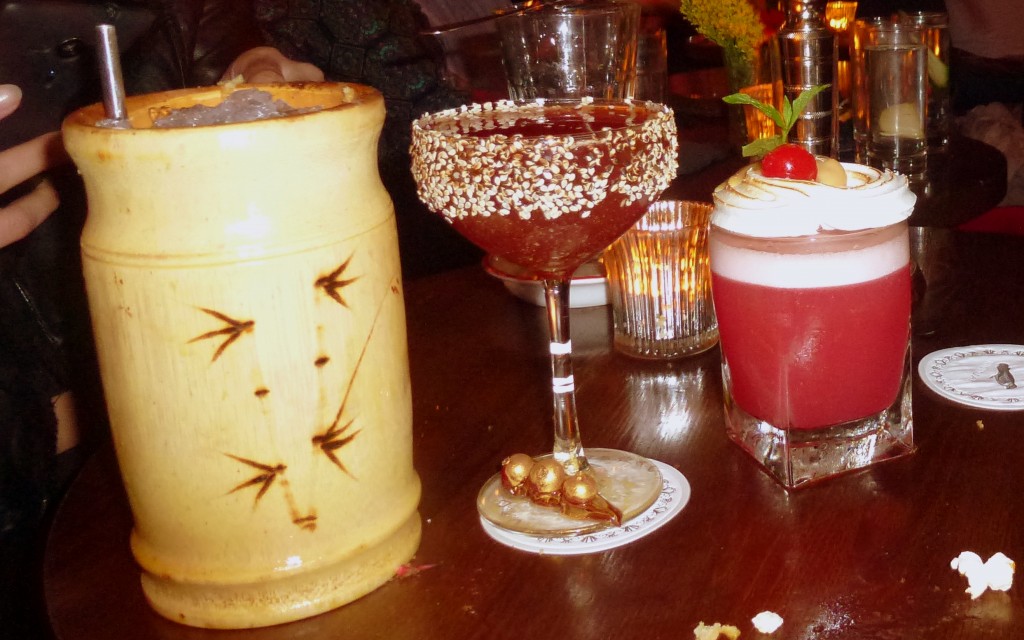 Absinthe is served in the traditional fashion with a cube of sugar and vintage fountain, our 70% selection burning a path from tongue to stomach – the 80% set aside for braver souls. Sweet Dreams is another gut corroding cocktail of intense Appleton Estate VX Rum embellished with plantain foam, cacao butter, banana blossom and coconut yogurt.
The Nougat Cocktail is the one to go to if you like boozy creamy drinks; concentrated brandy enhanced with the savoury nuttiness of cashew, hickory, chestnut and macadamia, laced with pink Kashmiri tea syrup. Although the 12 Mile High is less frou frou, it still hits the right spots with cognac, rum grenadine and lemon, presented in a sesame seed crusted glass.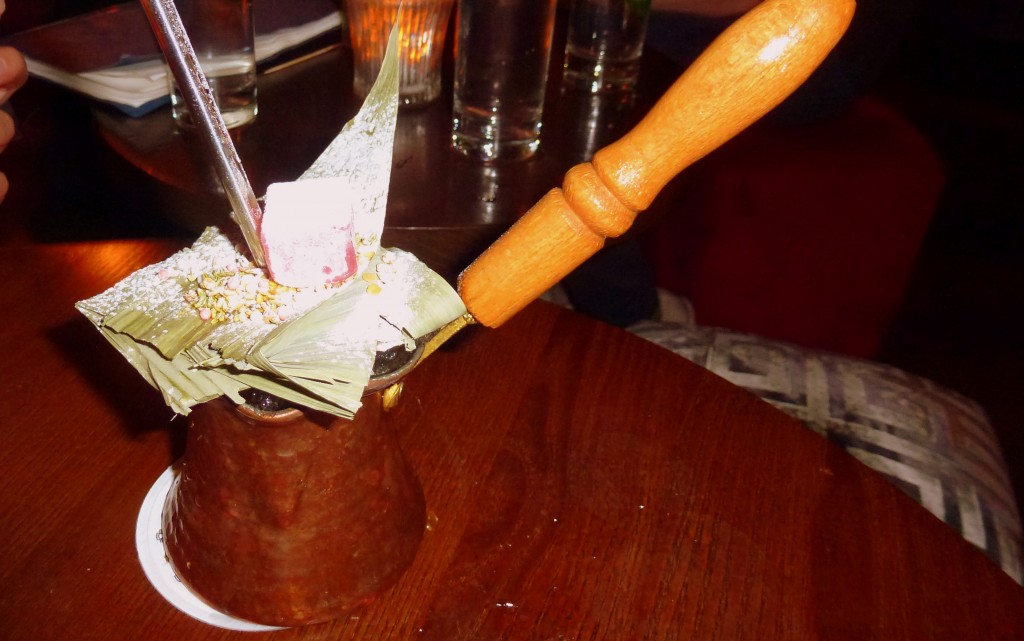 If you are in the mood for something less potent, the Honey Smash is one of the lighter offerings of honey liquor teased with Moroccan mint, pollen syrup, sorrel leaves and watermelon. The rose champagne Rosehip Julab with kewra water and green tea kombucha is also a nice easing-in drink as is the Jungle Bird, presented in a brass bird figure containing an effortless mix of rum, campari, papaya, cantaloupe and coconut blossom.
My favourite cocktail in London is of course a Nightjar creation – The Pink Chihuahua is capped with a sugar-browned meringue splodged with toffee and a maraschino cherry. Under this is tequila mixed with hibiscus, rosebud, rice syrup, purple carrot and watermelon, with a frothy whipped eggwhite foam. It's strong enough to be worth the trip to Shoreditch whilst maintaining a gorgeous smoothness. Love in a glass, and all for me.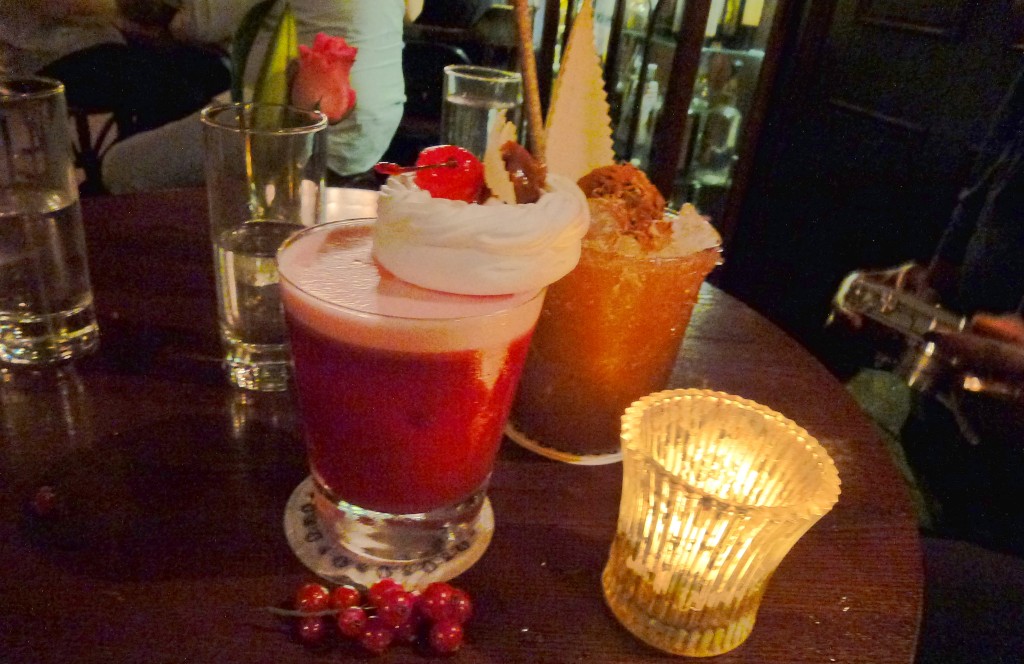 The cocktails are exceptional both in taste and presentation, and with a live band playing jazz, swing and blues on alternate nights it is easy to see why Nightjar is packed out for the next month. This is a place to come and truly mellow out, enjoy innovative drinks and get rip-roaringly … happy. Service is fair, average cocktail price is a very reasonable £10.
Tube: Old Street