Roka, Canary Wharf – restaurant review
Roka is one of my favourite Japanese restaurants in London, and today I'm heading in to try out the Canary Wharf branch. I am so excited to be able to do this. Japanese food – hell, Japanese everything – is by far what my heart desires most in this world.
Roka Canary Wharf is the latest member of the Japanese restaurant collective, located in the middle of the city.
I'm glad to find that the feel of Roka Canary Wharf is much the same as the other Roka restaurants. From the outside, the floor-to-ceiling glass exterior leads to a warm, timber-clad interior. In addtion, seating is arranged around the central Robata – the Japanese grill that informs most of the food at Roka Canary Wharf.
After being seated we sip on some sparkling water and assess the menu. Pages and pages of delicious food are laid out in various sections. I've been here before so I know the menu well, and flick through the raw options, before going to the grilled Robata dishes and the meats.
The best things to eat at Roka Canary Wharf
With so many delicious things to eat, ordering is never easy at Roka. In the end though, we choose to start with the signature Roka sashimi platter.
The sashimi platter is filled with precisely cut fish that is arranged on a mountain of ice, and served with freshly grated wasabi.
Whilst I love the slices of sashimi, my favourite part of the platter has to be the tuna tartar. This is served finely minced and mixed with a quails egg yolk. Mmm the smell – it's gorgeous. In addition, to the side of the tartar lays a small amount of Sevruga caviar, and shards of super-fine crackers.
We take turn spooning the silken tuna on to these shards, and top each mouthful with a few beads of precious caviar. As we knew it would be, the tartar is the decadent cherry that tops the whole thing off. Nom.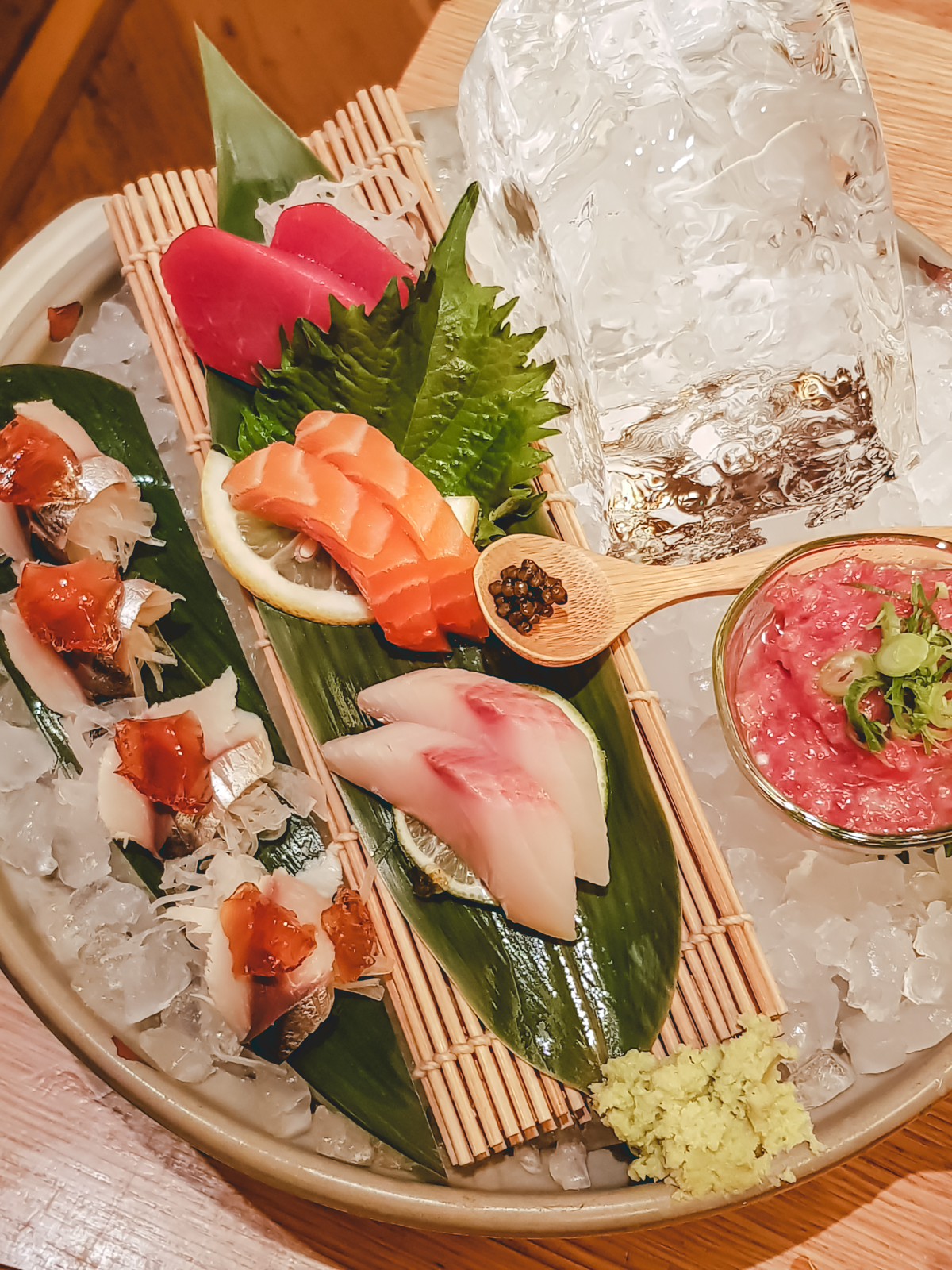 This rather excellent sashimi platter is swiftly followed by the yellowtail sashimi. Here we have membrane-thin slices of the fish, splashed with a refreshing yuzu truffle dressing.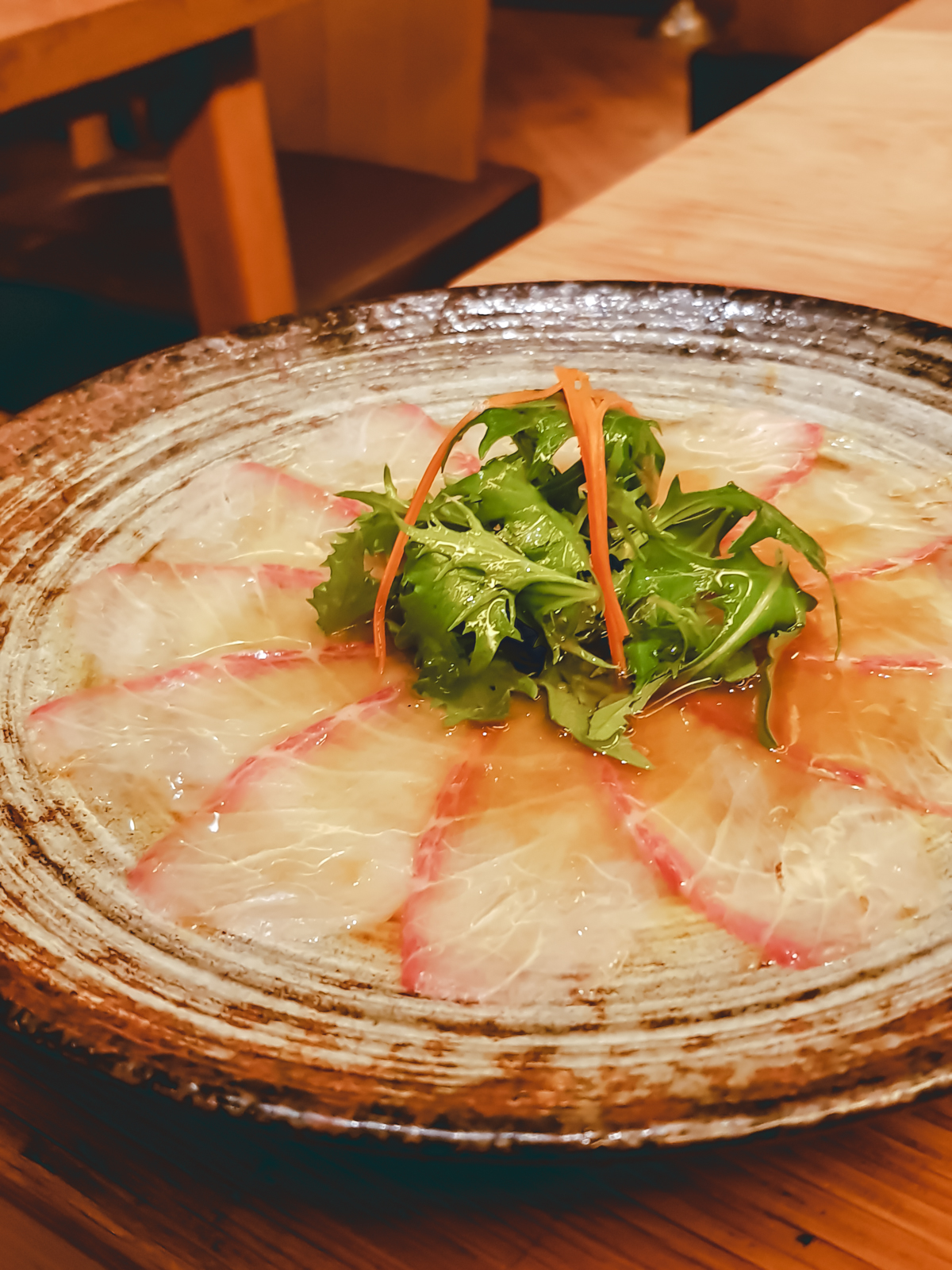 The slickness of the yellowtail sashimi is followed beautifully by the soft shell crab maki, which imparts depth and much-needed texture. Imagine it – crab that is soft and sweet, encased in a frothy tempura, rolled in rice and Nori. Heaven.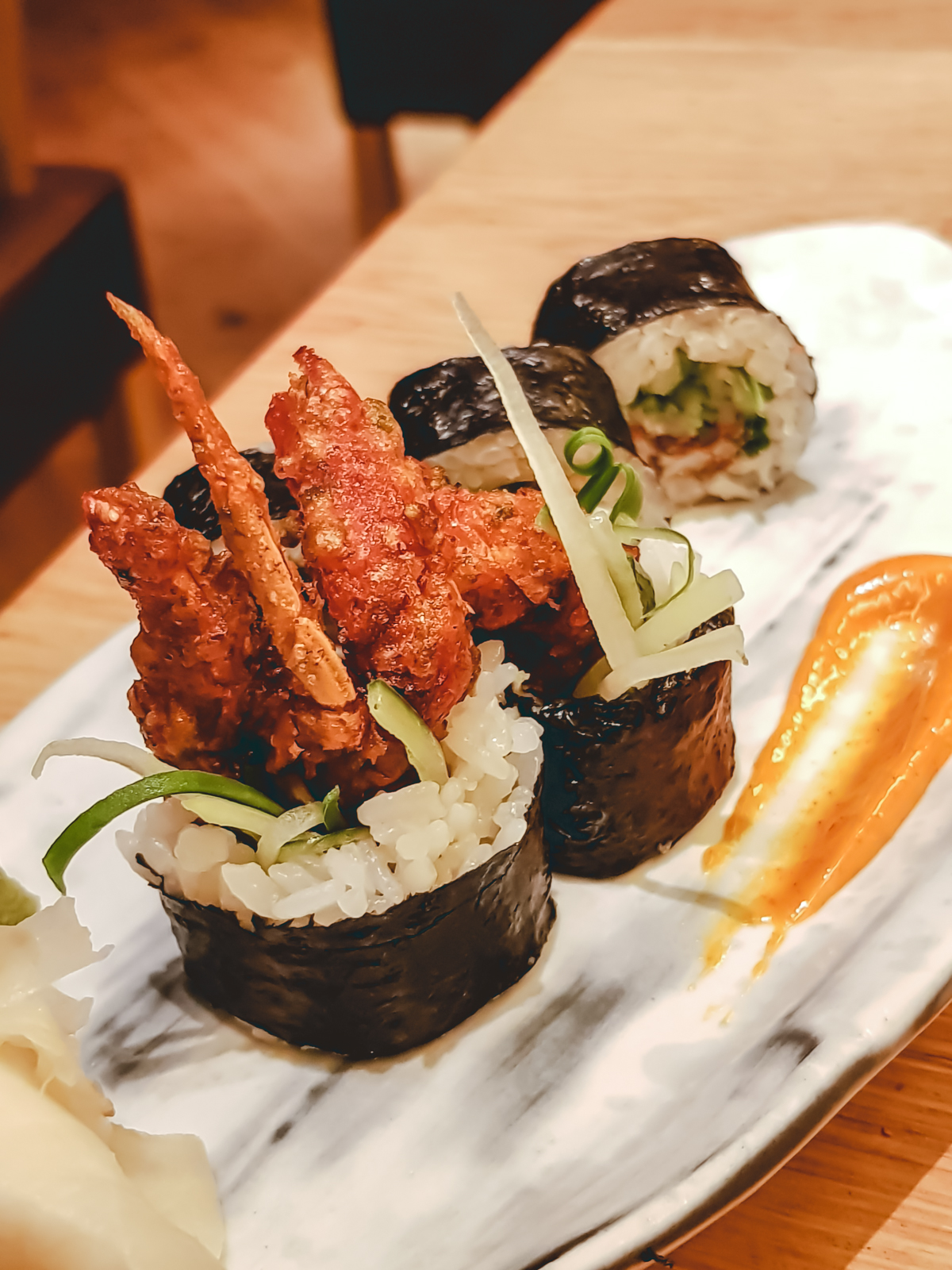 We dip back to the raw one last time with tuna tataki, rolled with shredded daikon and topped with apple mustard dressing. This is such an incredibly refreshing dish, that I can see why it followed the tempura maki. In fact, it's almost like a palate cleanser, but also so much more.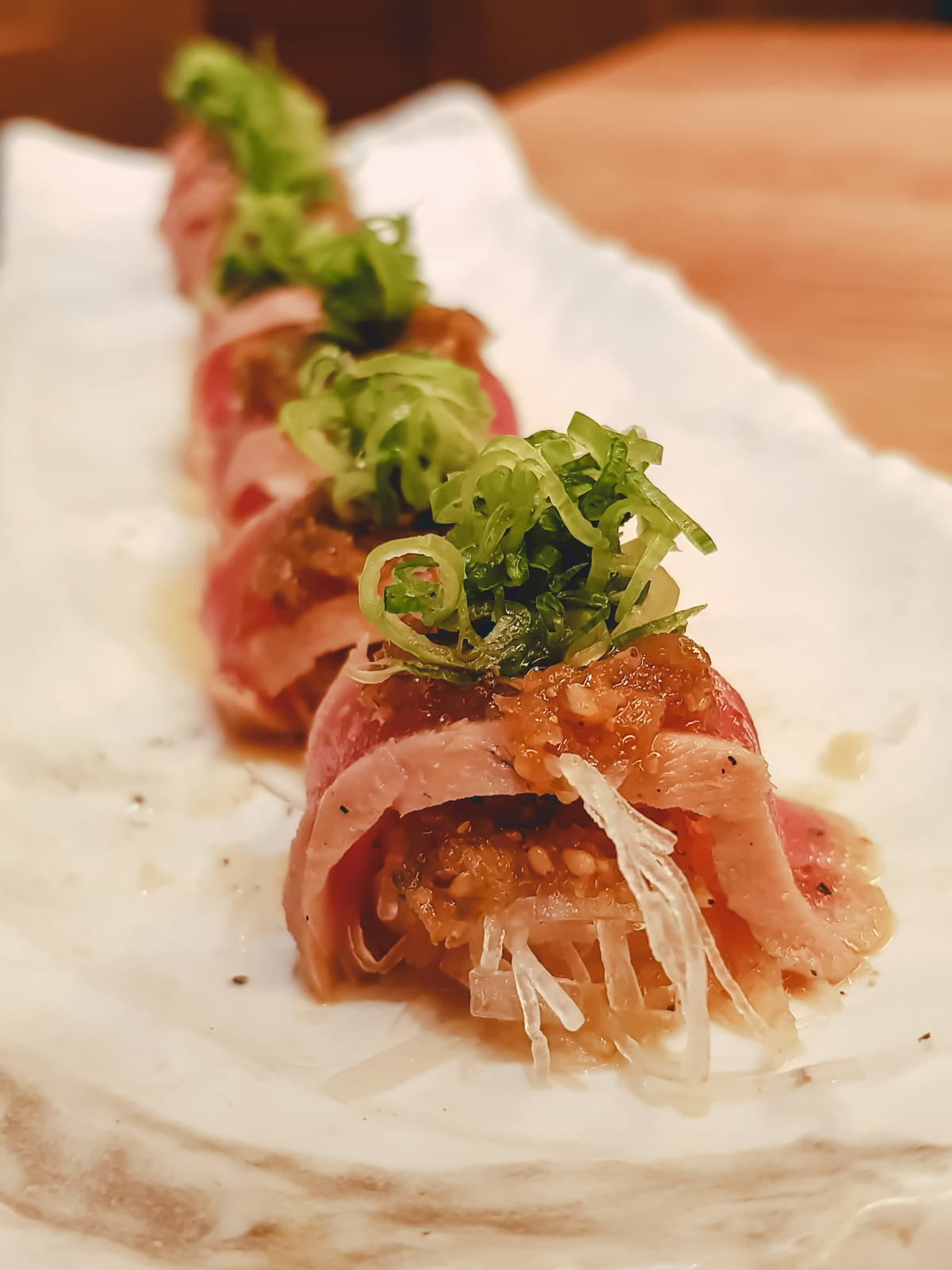 After spending some much needed time with the sushi, sashimi and tartar, we head to the Robata grill section of the menu.
Adventures on the Roka Robata Grill
First up we try the ponzu skewered scallops, licked with flame and topped with more of that fresh wasabi and shiso.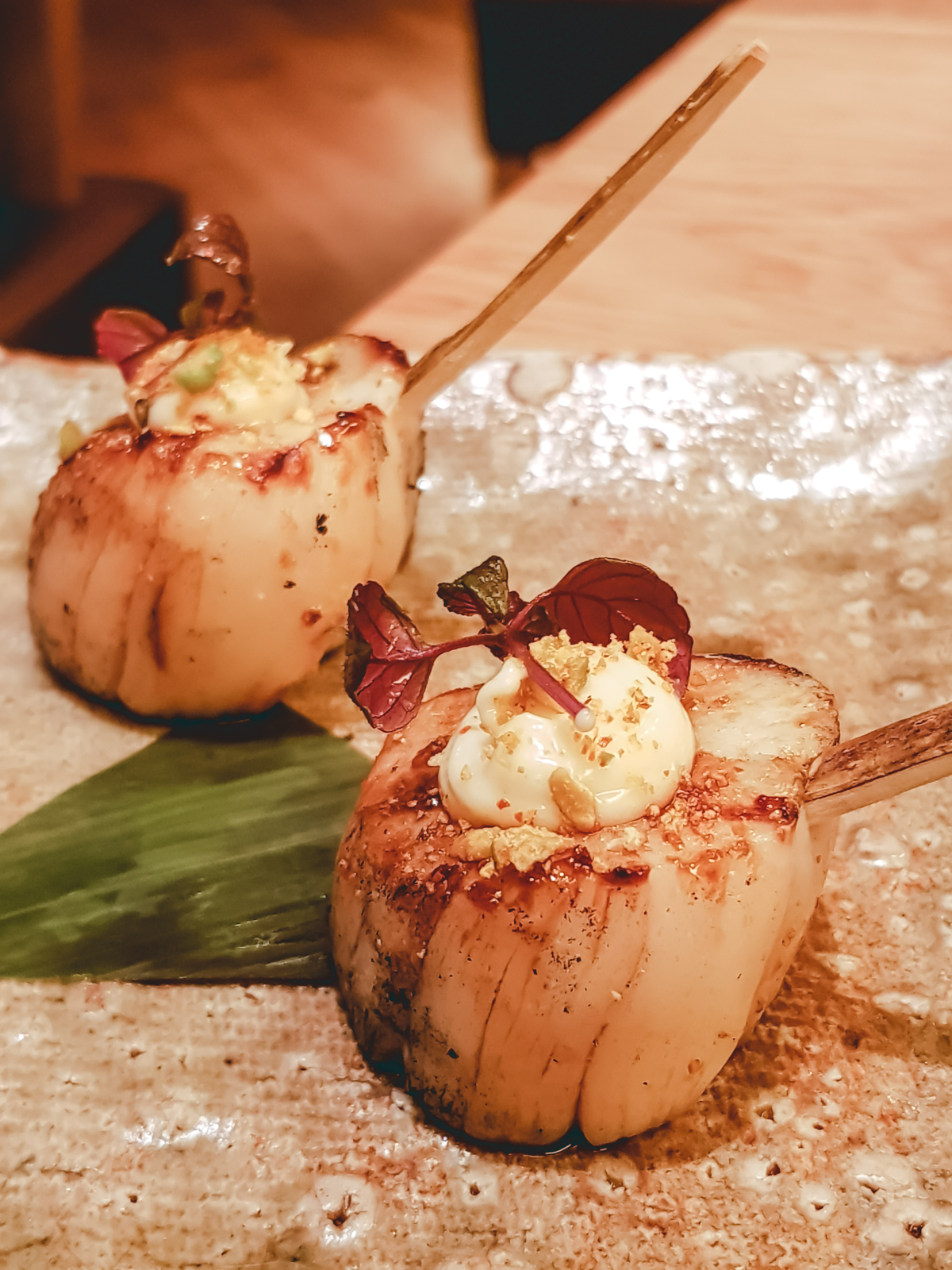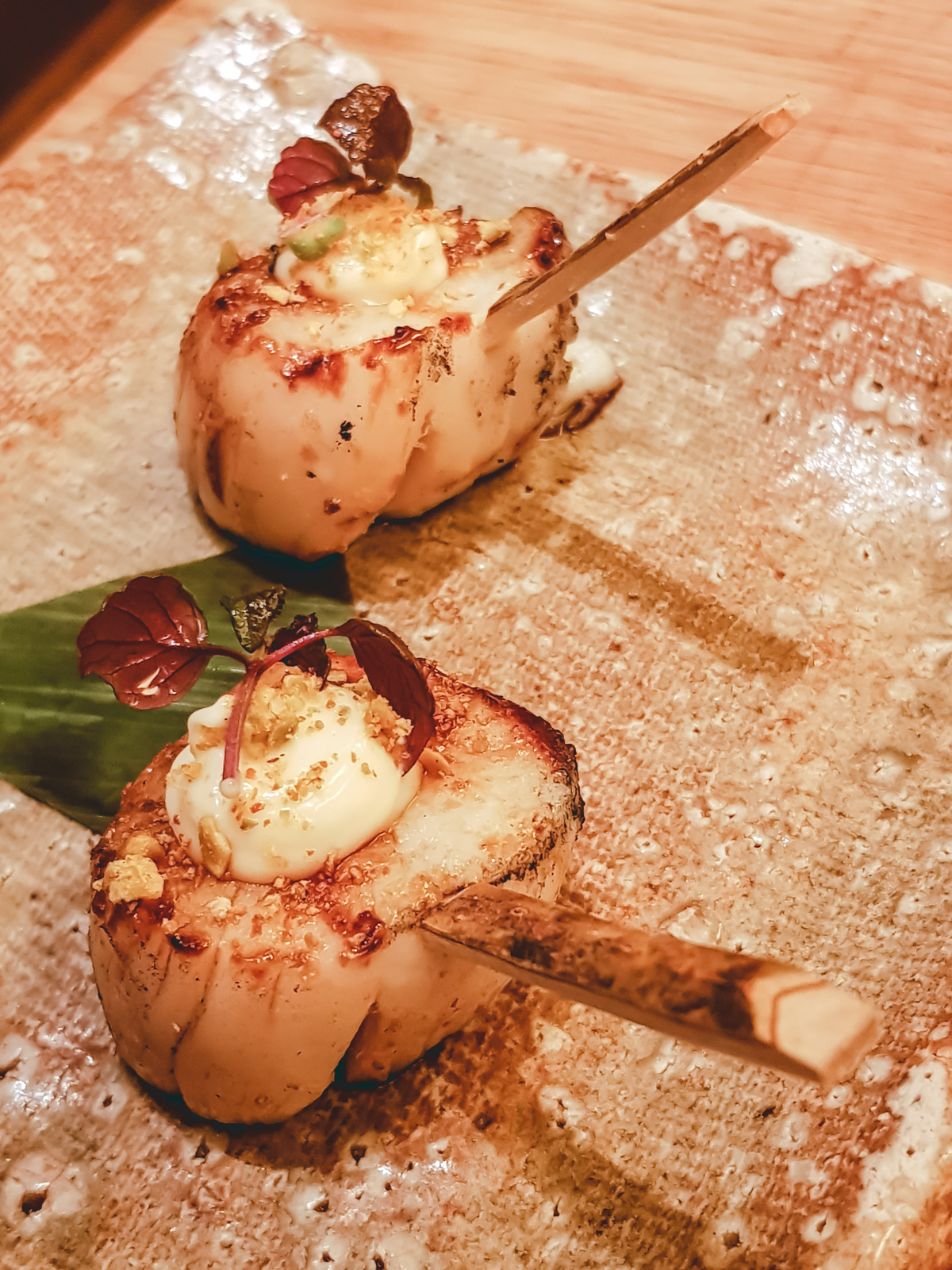 The Roka signature – black miso cod
Next up, the star of the show and the dish that Roka Canary Wharf is so famous for… The miso black cod.
This gorgeous fillet speaks of a sticky-sweet miso glaze that encrusts flakes of juicy cod and, on the outside is a blackened char, courtesy of the Robata grill.
After a quick session on the traditional grill, the cod is placed on a Hoba leaf with a shred of lemongrass.
I've had miso black cod lots of times before in various Japanese restuarants in London. It's safe to say that the one today at Roka Canary Wharf is one of my favourites!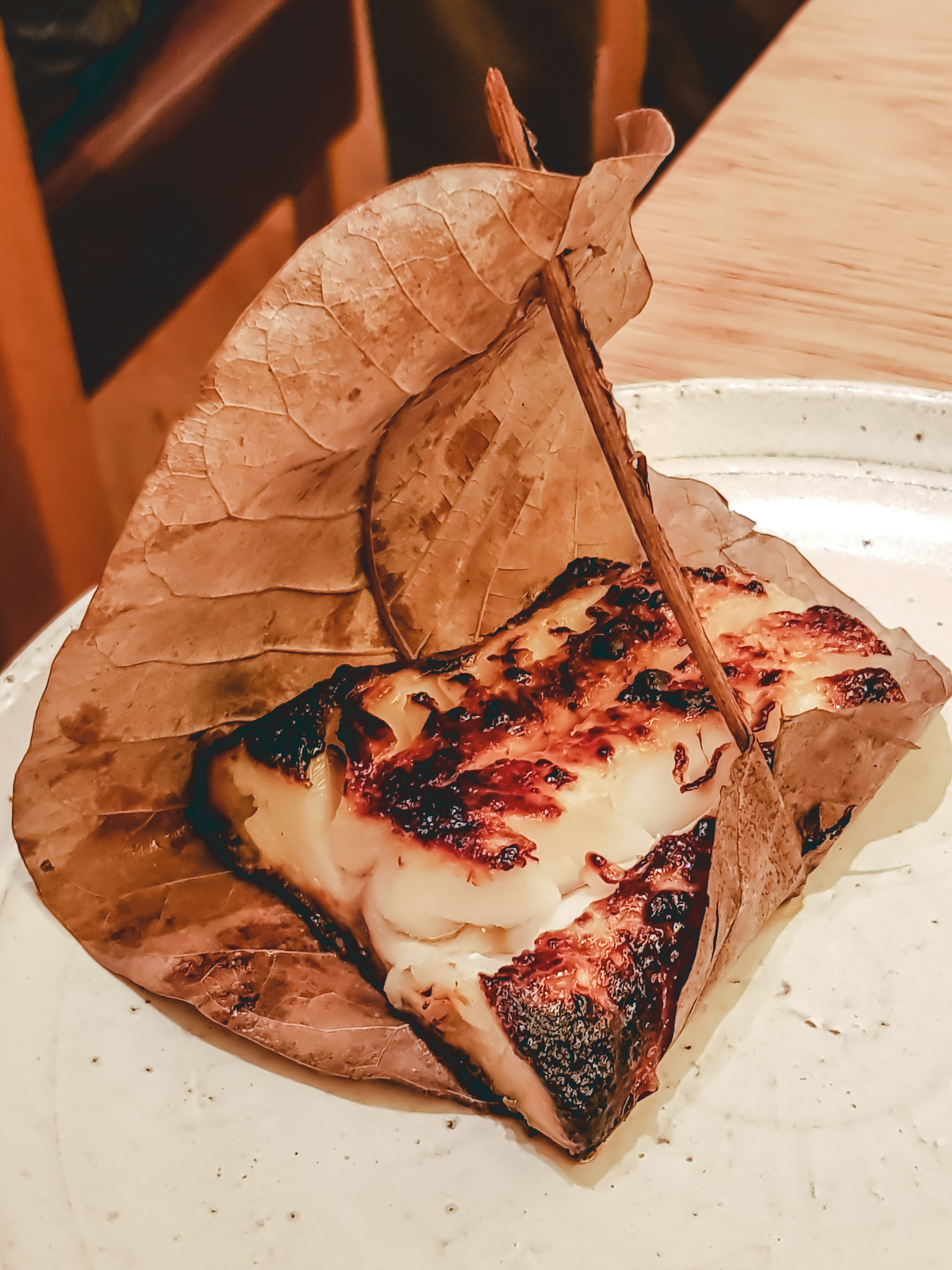 To finish off the fish section we also order the Rockshrimp tempura. It's sort of a side order at first – a recommendation from the waitress – but once we try it it becomes clear why this is a Roka favourite.
The Rockshrimp insides are tender and luscious, and each piece is covered in a hot, fluffy, delicate tempura batter. Delish.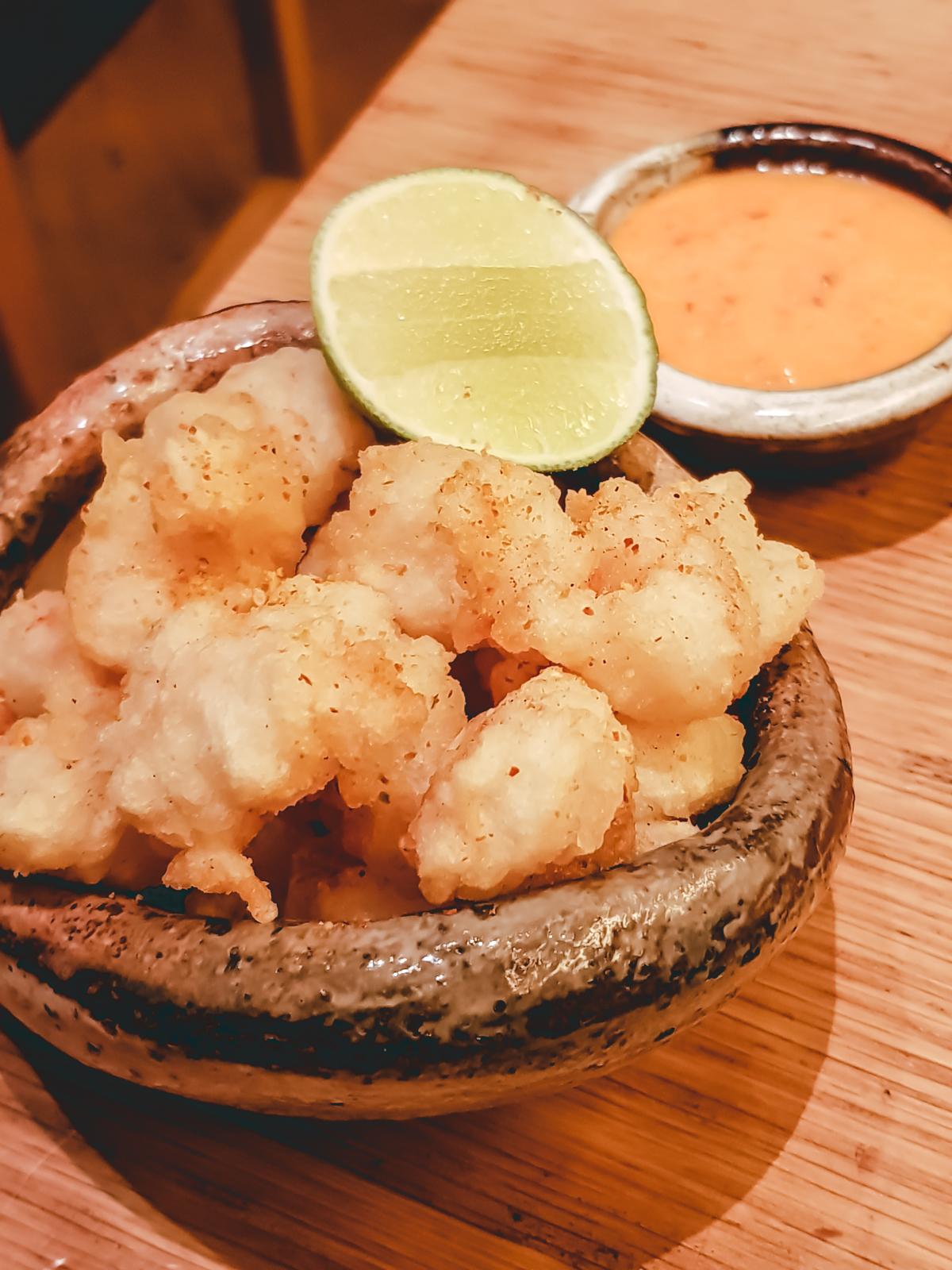 By now we're getting really rather full, but a dinner at Roka Canary Wharf could never be complete without having their lamb chops.
A firm favourite – Korean spiced lamb chops
Korean spiced lamb chops, don't you know, that put all other chops to absolute shame.
Again, the signs of the Robata are clear to see here, where the fire and heat have crusted the lamb and imparted colour and smokiness. Inside, the red heart of the lamb is blissfully intact. Each piece is succulent and waiting to be bitten in to, and paired beautifully with cooling segments of dressed cucumber.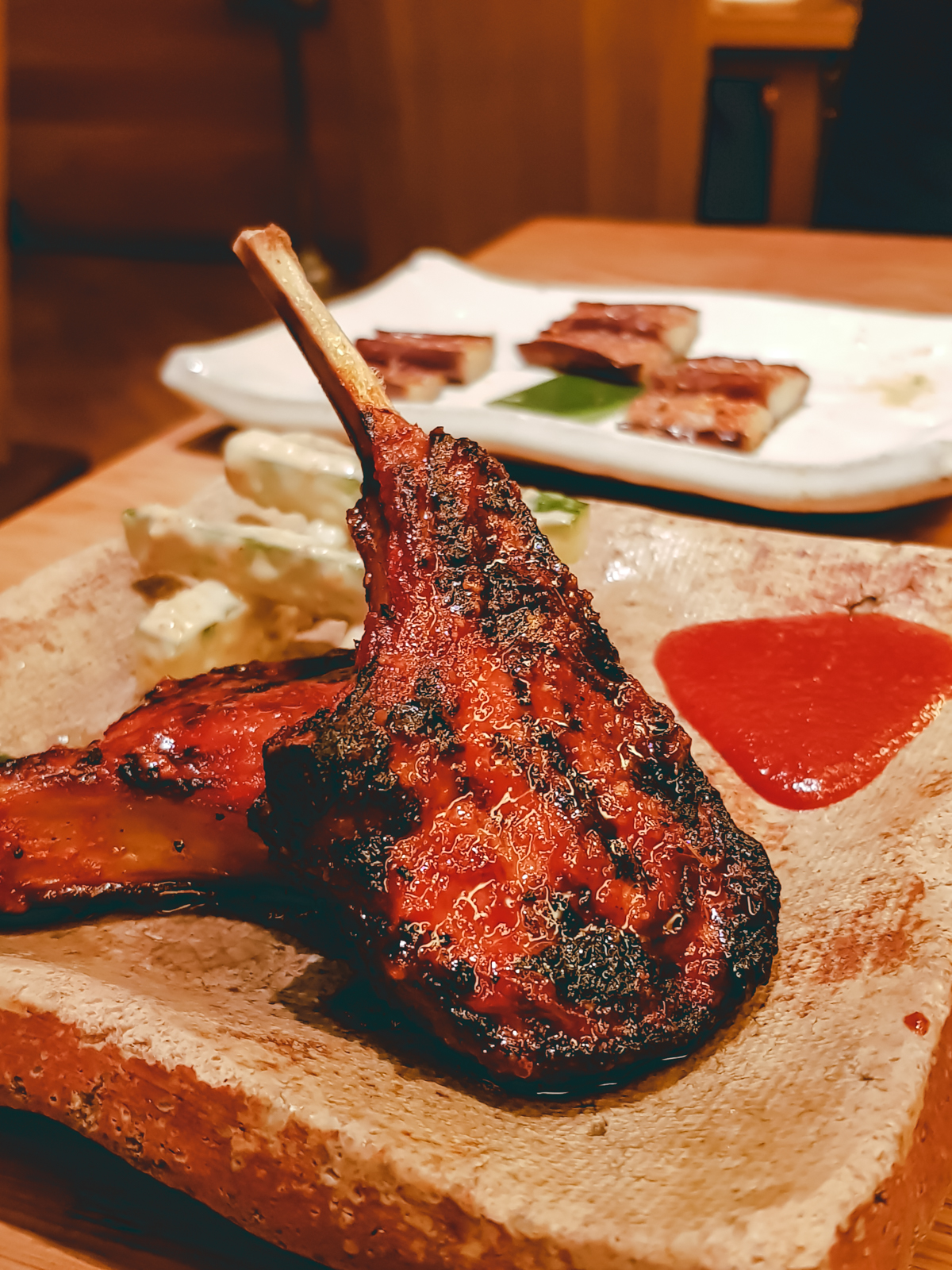 We also try the beef, ginger and sesame dumplings. Just look at that pan-fried golden goodness…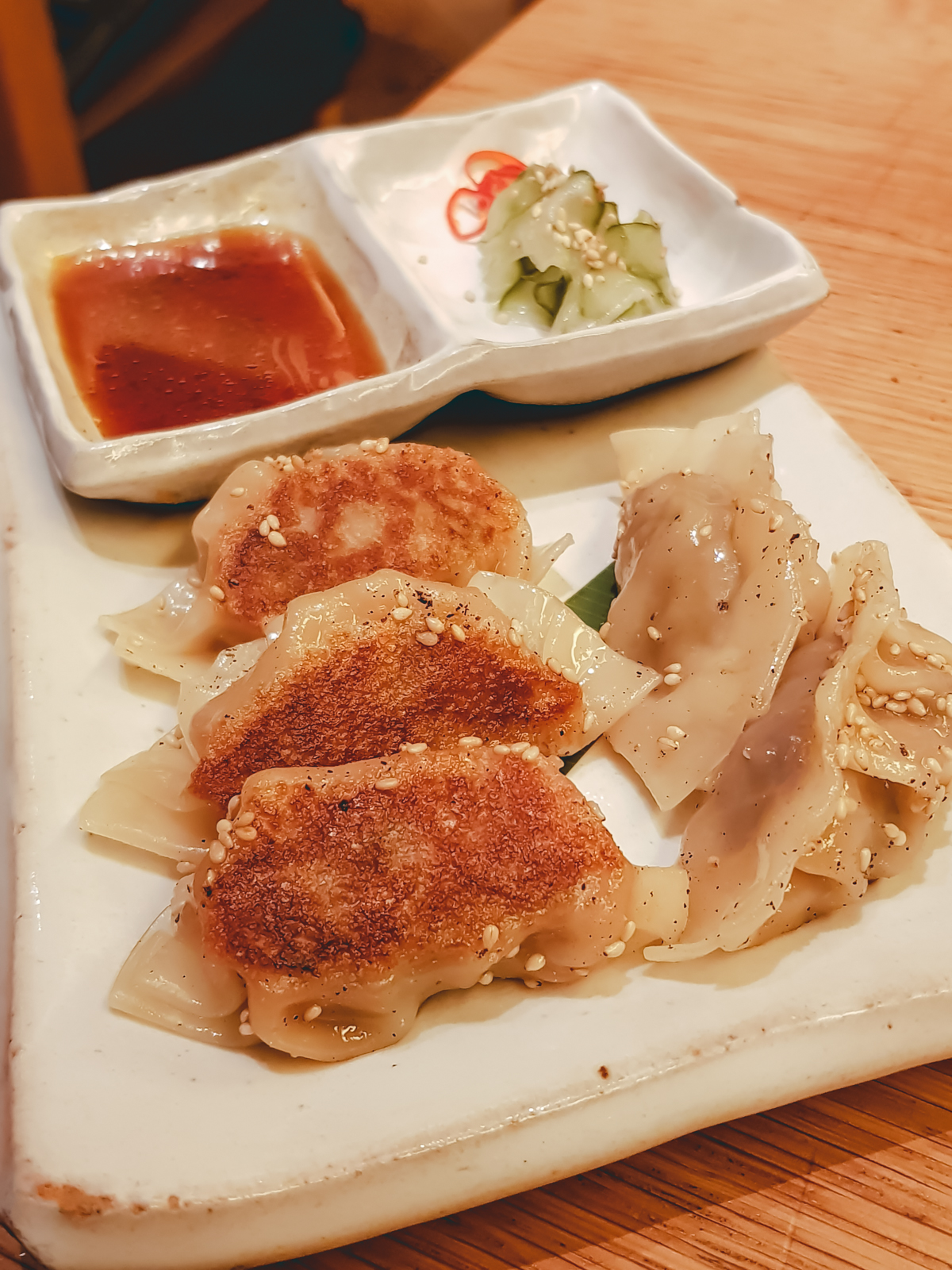 The iconic Roka Canary Wharf dessert platter
Roka are known for their desserts, and specifically for their incredible dessert platters. These enormous works of art are filled with a feast of Japanese treats.
We love the chocolate fondant most, imprinted with Roka in golden letters and filled with oozing, hot matcha.
Scooping the molten chocolate and swirling it with the piles of ice cream and sorbet is so much fun. Noms.
And so this brings us to the end of our dinner at Roka Canary Wharf. I do have to apologise if this post seems too complimentary, but by now I know exactly what I like to eat at Roka, and so everything is basically my favourite.
Maybe I should tried new dishes – but I just can't tear myself away from the sashimi, the tartar, the cod and the lamb.
Next time, perhaps ;)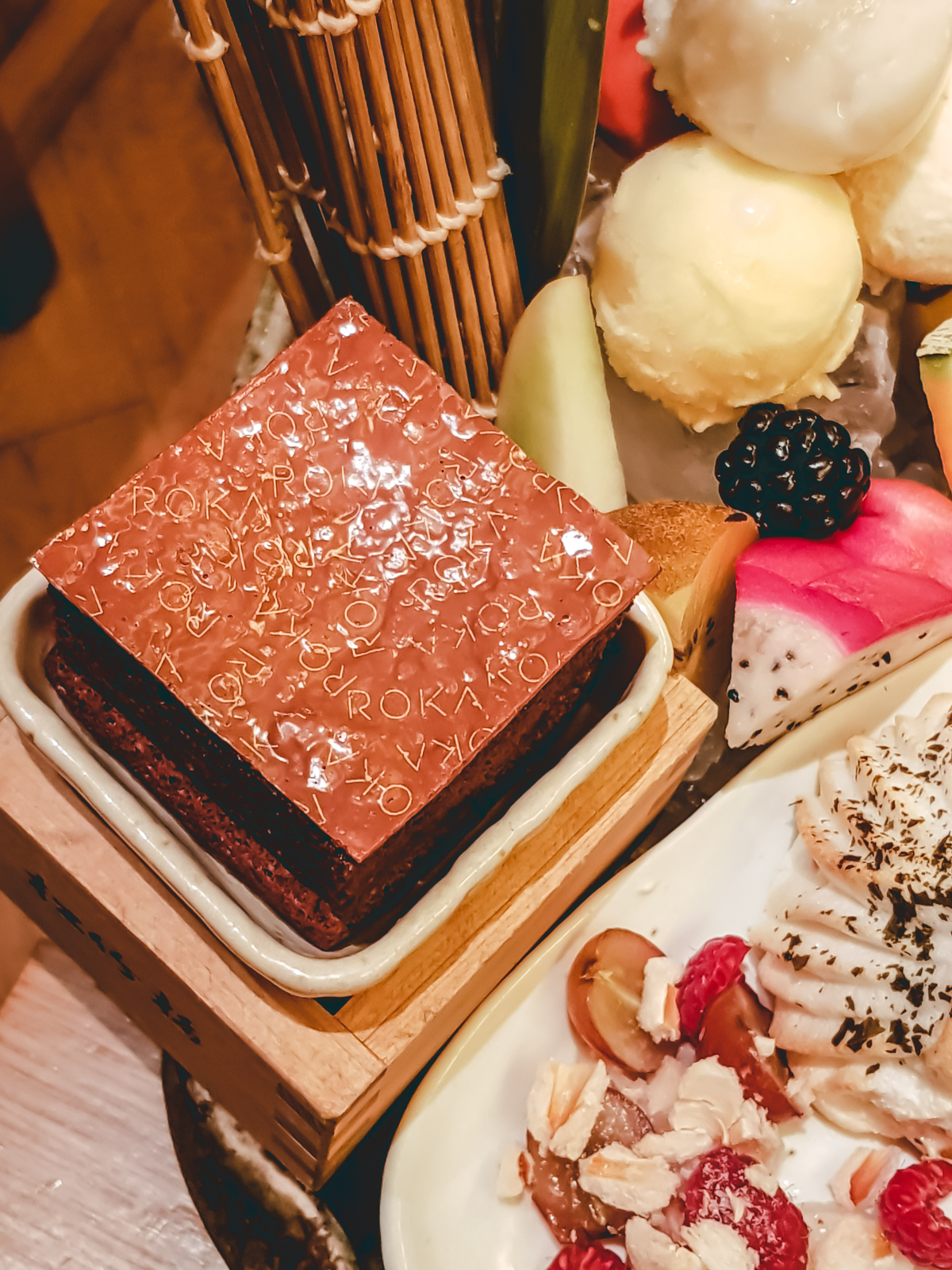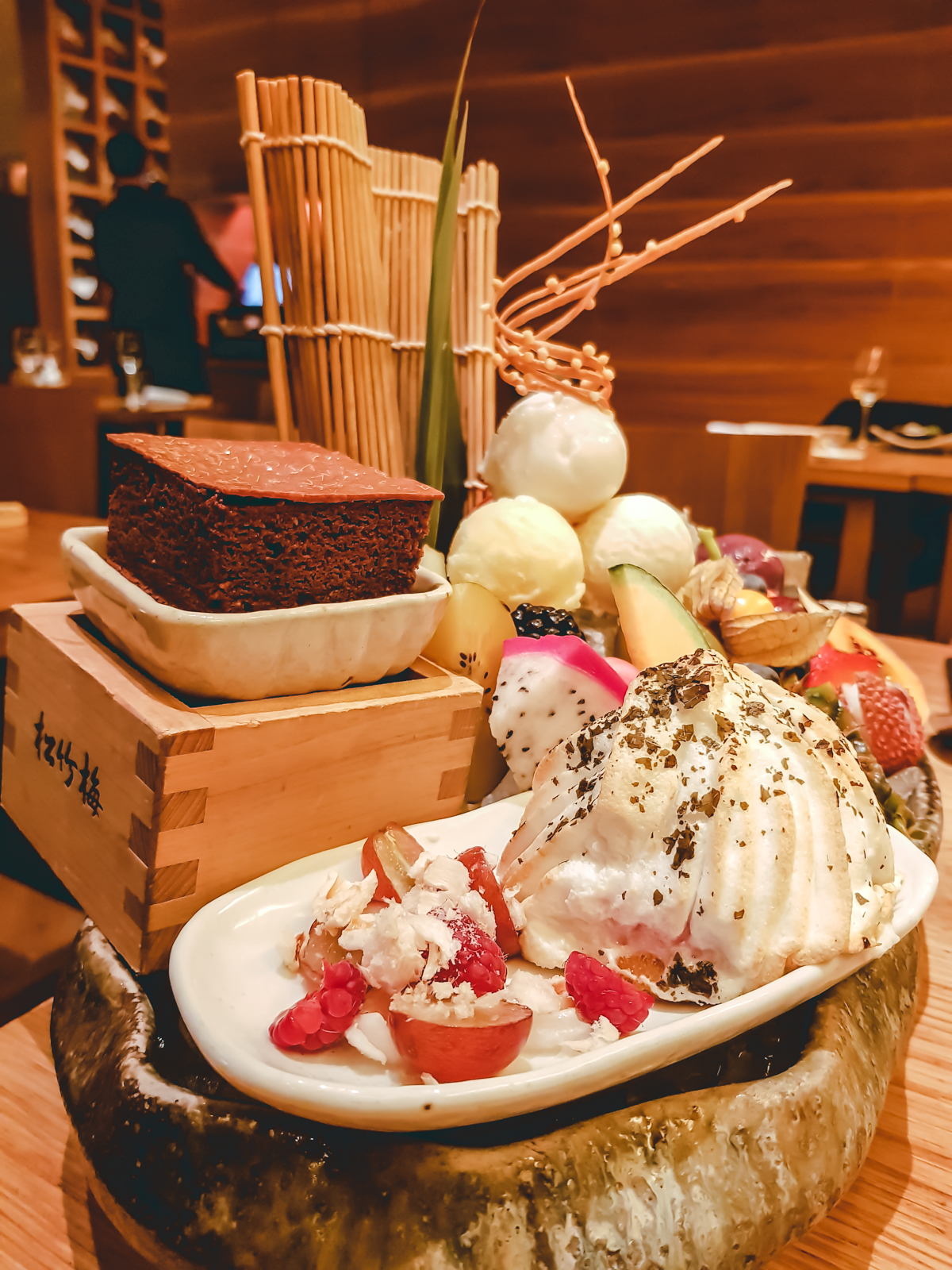 The Details
Roka, Canary Wharf
Address – 40 Canada Square, Canary Wharf, London E14 5FW, UK
Website – Roka, Canary Wharf
Phone – 020 7636 5228
Nearest Tube – Canary Wharf Station
Our meal at Roka was complimentary, this does not affect our review in any way. All views are our own and as ever we aim to provide useful and honest feedback.