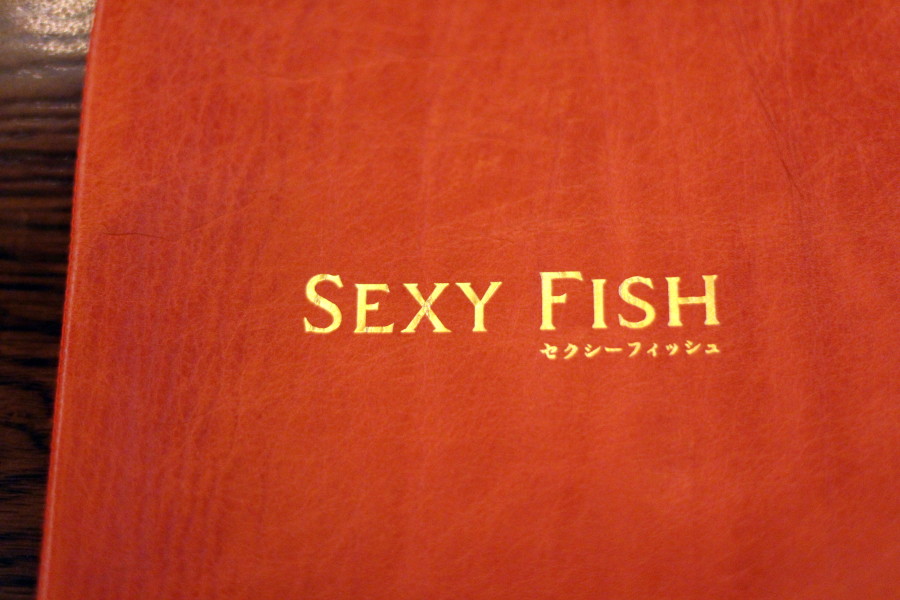 Asian inspired, seafood dominated restaurant in Mayfair
Sexy Fish is the latest restaurant from Caprice Holdings and Richard Caring, the restaurant group behind The Ivy, Le Caprice and 34, and offers an Asian inspired menu dominated by seafood.
Located in a converted former NatWest bank on Berkeley Square, Sexy Fish boasts a host of artworks which include two mermaids who sit on either end of a lava-surfaced bar and a mermaid/shark relief panel from Damien Hirst, and a 13ft black formica crocodile from Frank Gehry. The floors are laminated in Iranian Esmeralda onyx and an internal waterfall slides down the window panels behind the bar, whilst the ceilings are lined in hand-printed linen by Michael Roberts, Vanity Fair's style editor-at-large. It's all very swish, and clearly a lot of money has been spent on the interior.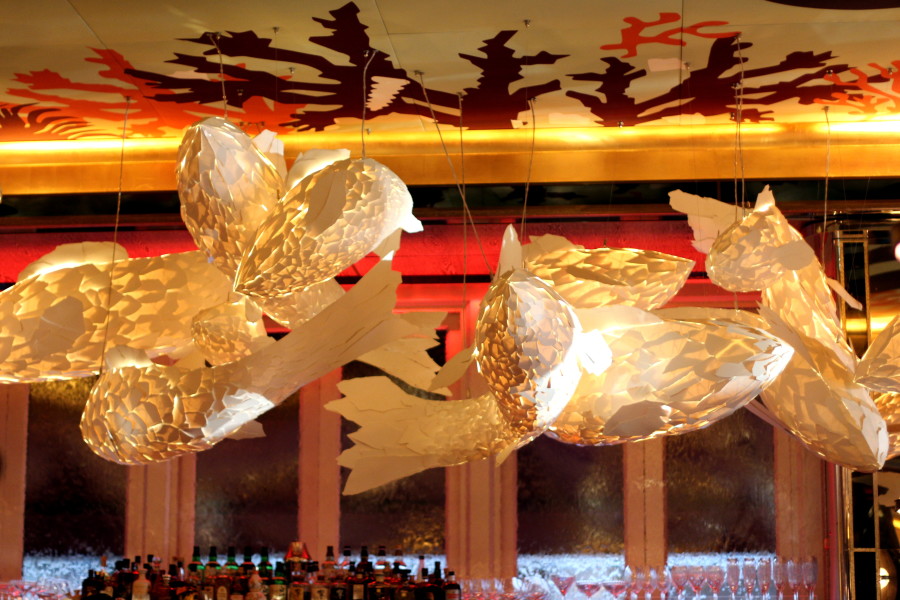 The menu features oysters, caviar, sashimi, tataki and tartares from the raw bar, various skewers, grilled food from the robata, tempura and salads.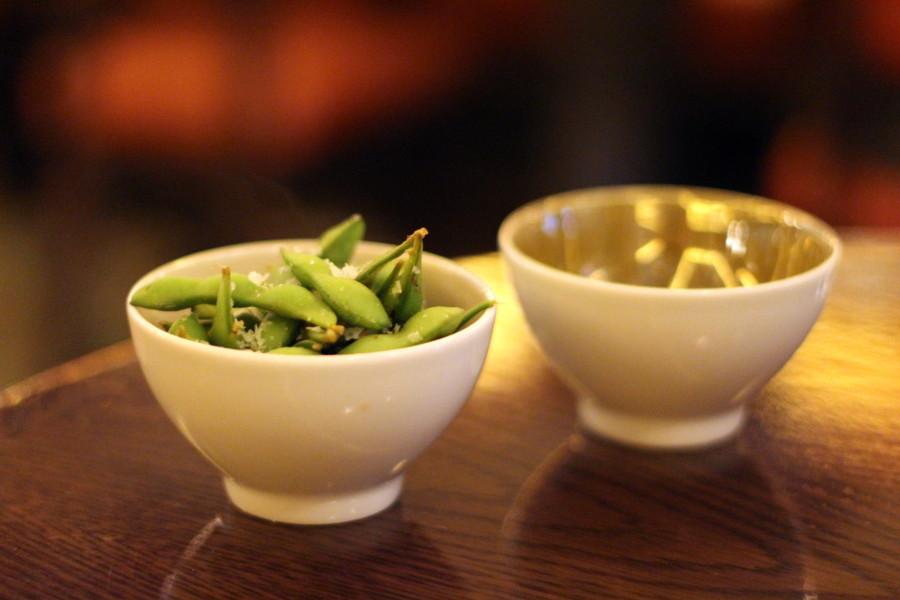 To start we try the barbecue glazed smoked eel: half a dozen pound coin pieces on sushi rice, covered with a layer of frozen, grated foie gras. I sort of, almost, like it, but the saltiness from the glaze is overpowering, and the best element of the dish, the foie gras, is lost on the palate. The coldness of the ingredient goes even further to de-emphasise it, and I'm not sure that this particular incarnation of duck liver does it that many favours.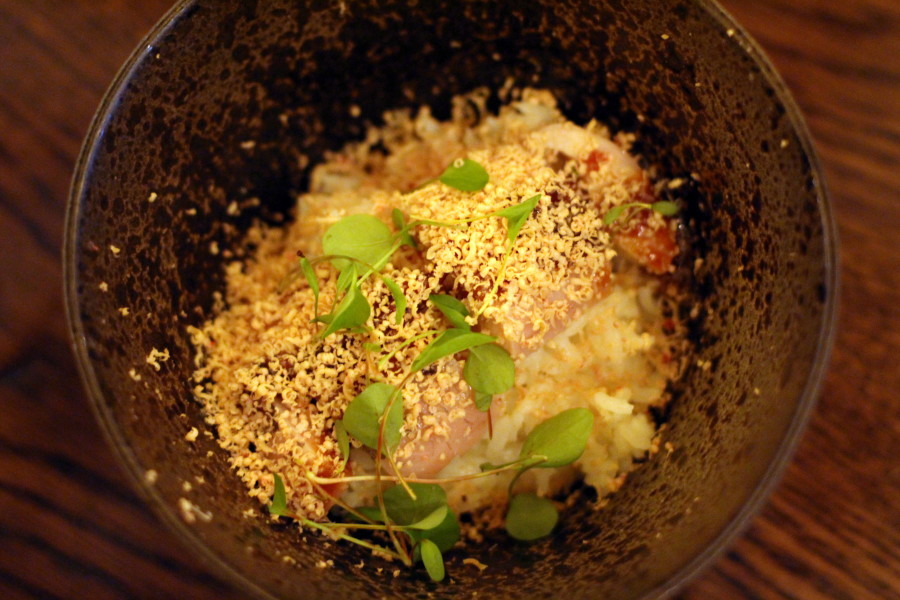 Skewered cubes of beef shortrib and duck hearts come as a double portion for £4 and £6.75 respectively, which represents surprisingly good value for this particular menu. Although the shortrib has a textured and carbonised surface, both it and the duck hearts are fatty and oily in the mouth. They are also under-seasoned, and the single-dimensioned mayonnaise-like dip only acts to add an extra layer of fat to the mouthfeel. I need something citrusy, yuzu or ponzu based, to cut through the thickening lipid layer in my mouth.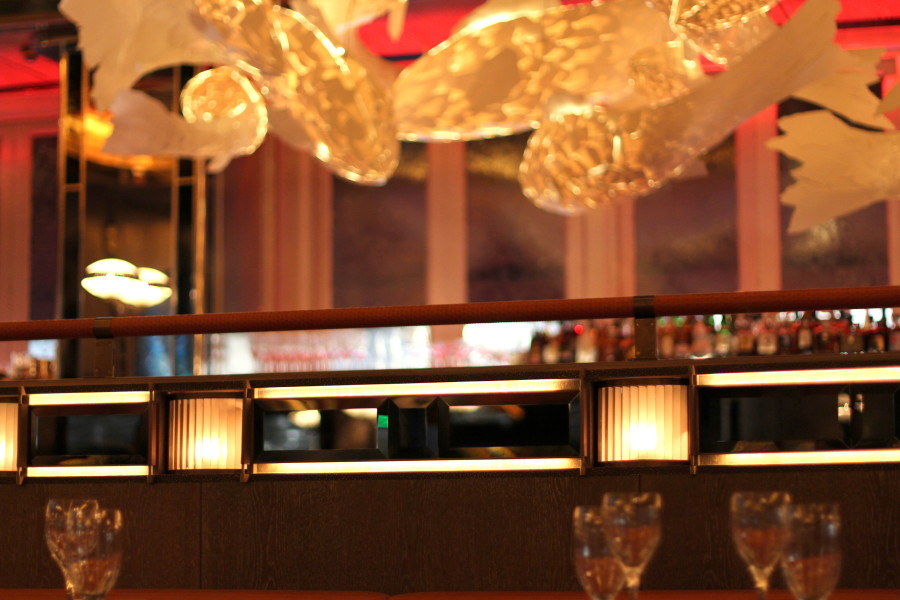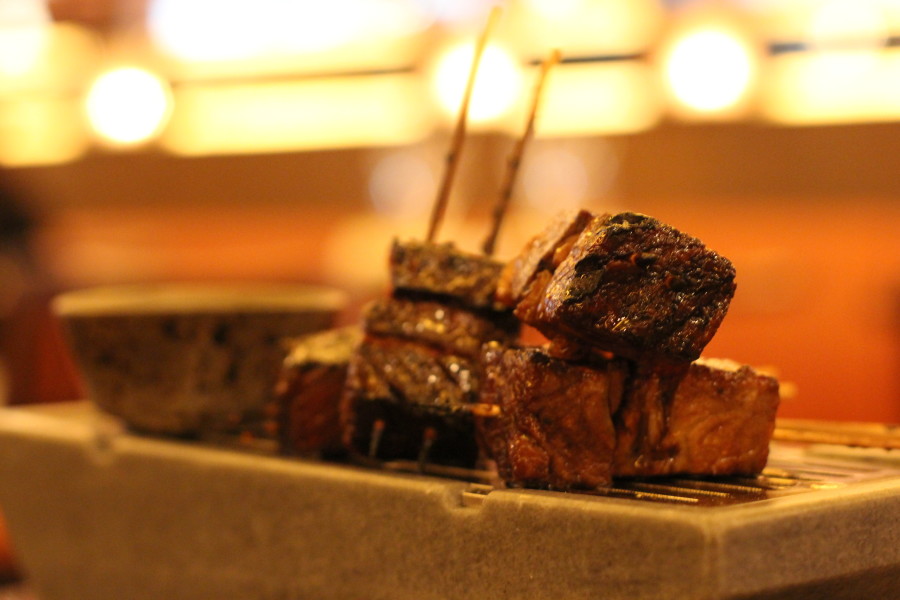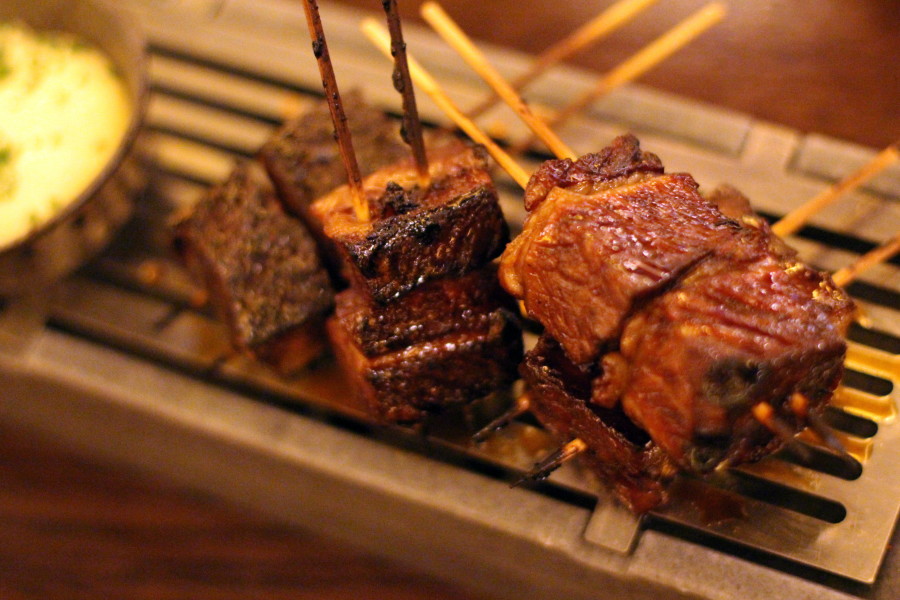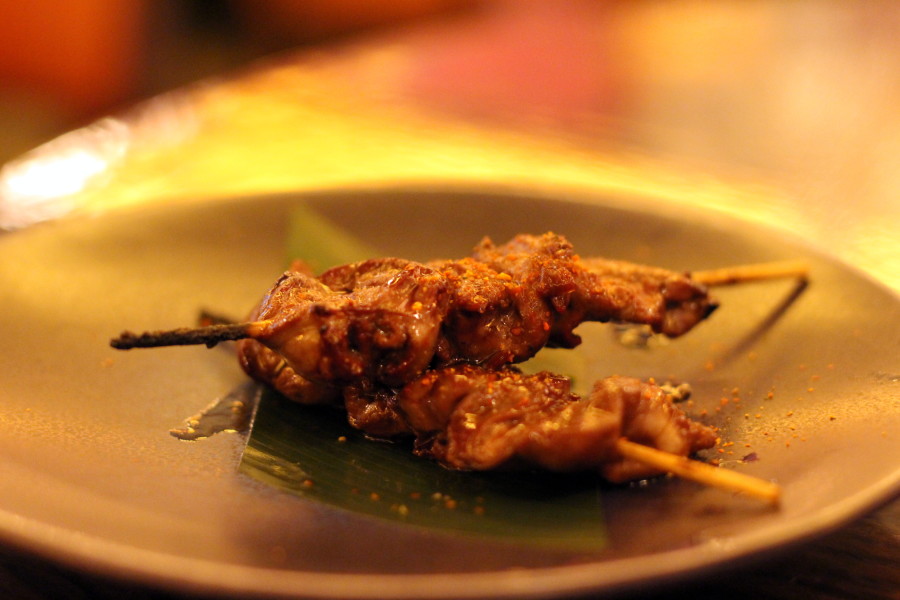 Moving on to tempura we try the soft shell crab, a generous portion with perhaps half a dozen crab halves in a medium to light batter – a fair expression of the dish. These are also served with the same dip as the skewers, which would be fine if the dip was really that good, but I find myself indifferent to it.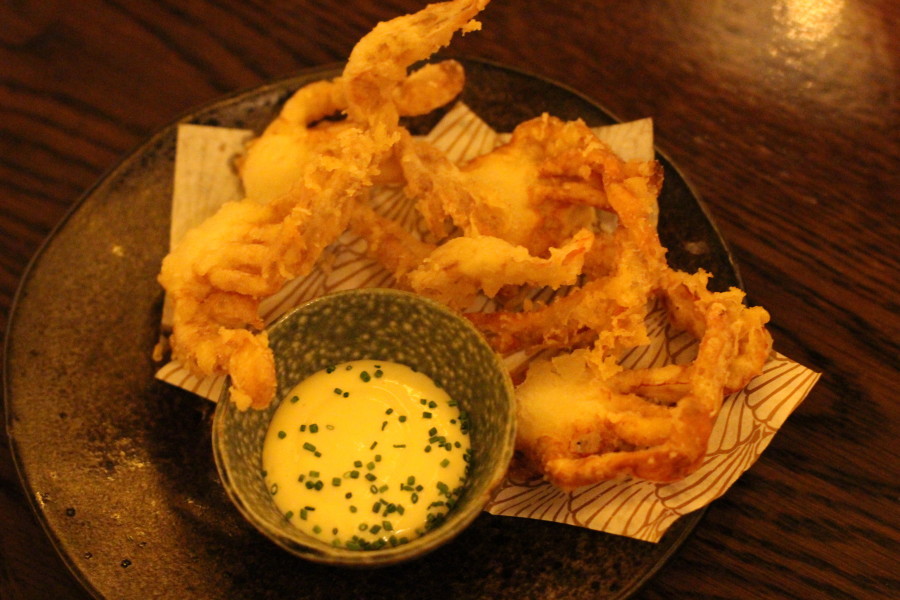 The sea bass represents the main course, a fillet covered in sesame seeds and served with a shaft of aubergine. The vegetable is good – sticky and of an almost caramel texture, adding just the right level of interest to the fish. The flesh of the fish is cooked perfectly but the skin is slightly loose instead of being properly crisped, which seems a basic thing to have missed. Other mains include house smoked salmon, butterflied sardines, and various wagyu and USDA steaks.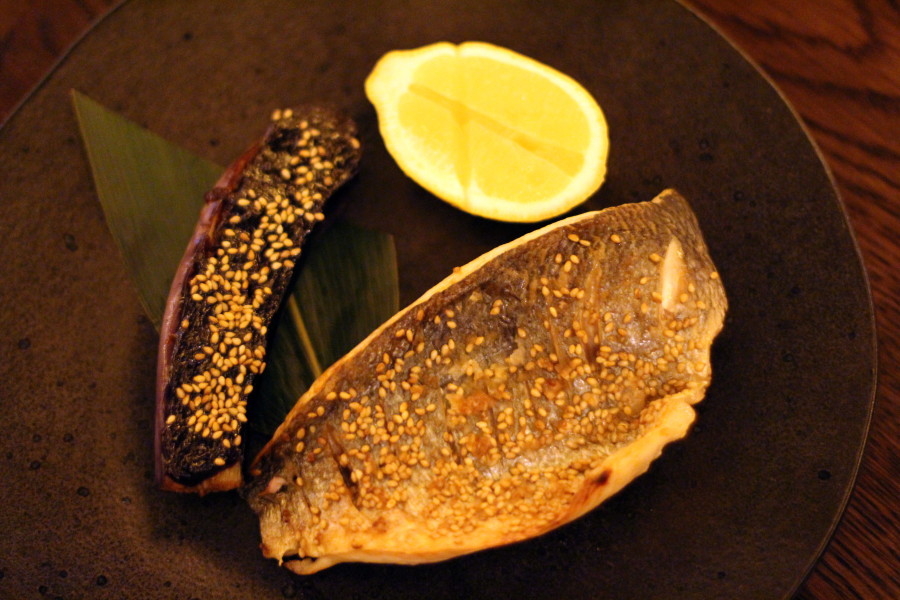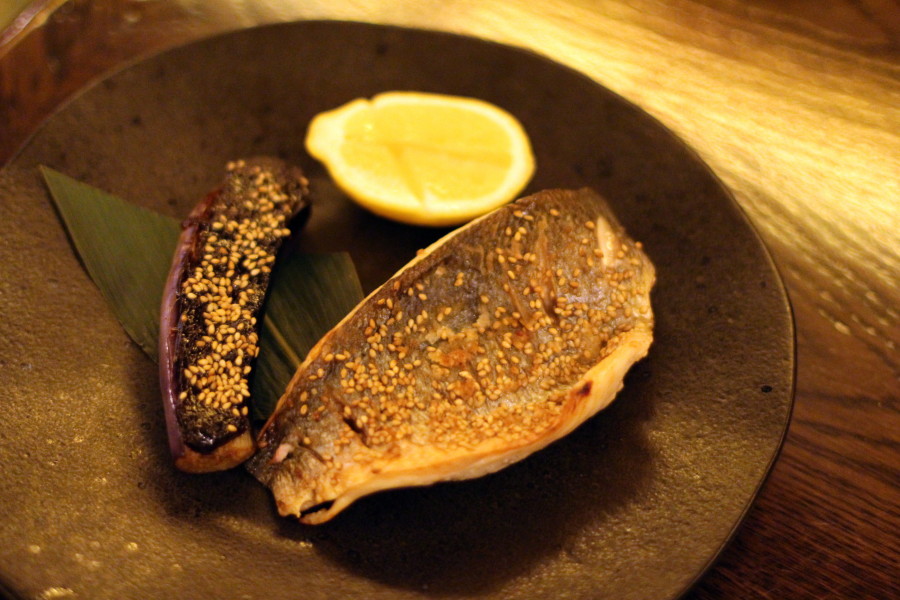 The best thing about lunch at Sexy Fish today is an oozy, sexy, tall drink of water sort of chocolate fondant, that bursts a wholly liquid centre of chocolate and praline when cut. With this is a yuzu smear of sauce and quenelle of ice cream. Yum…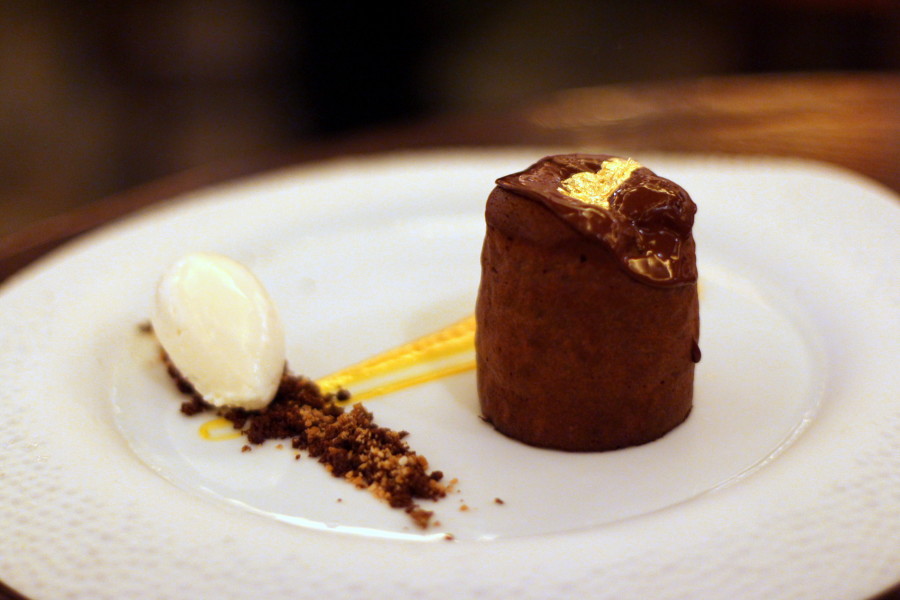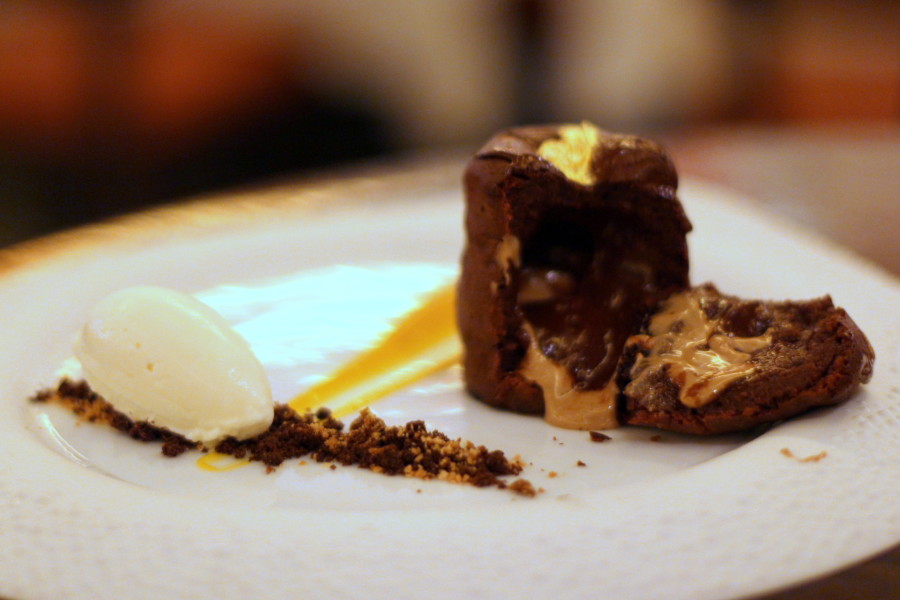 Although its early days for this young new restaurant, on the whole there have been more mistakes than I would've expected. For £100+ per person there are definitely better, more established and more steadfast places to dine.
Sexy Fish is sure to be patronised by the shiniest of celebrities, and has already gone some ways into inviting them during the soft opening phase. For the average paying person however, I couldn't comfortably recommend dining here.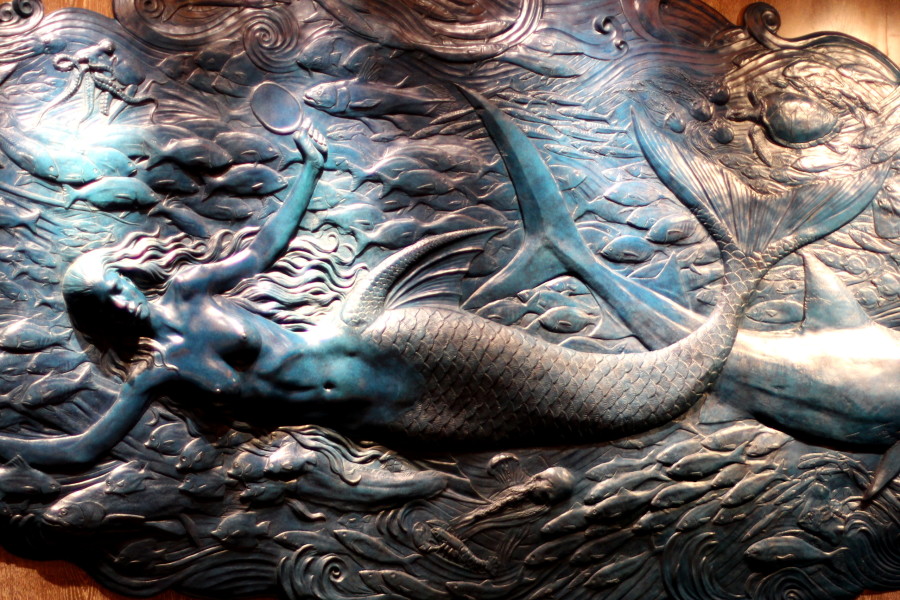 Tube: Green Park
Address: Berkeley Square House, Berkeley Square, London W1J 6BR
Tel: 020 3764 2000
Website