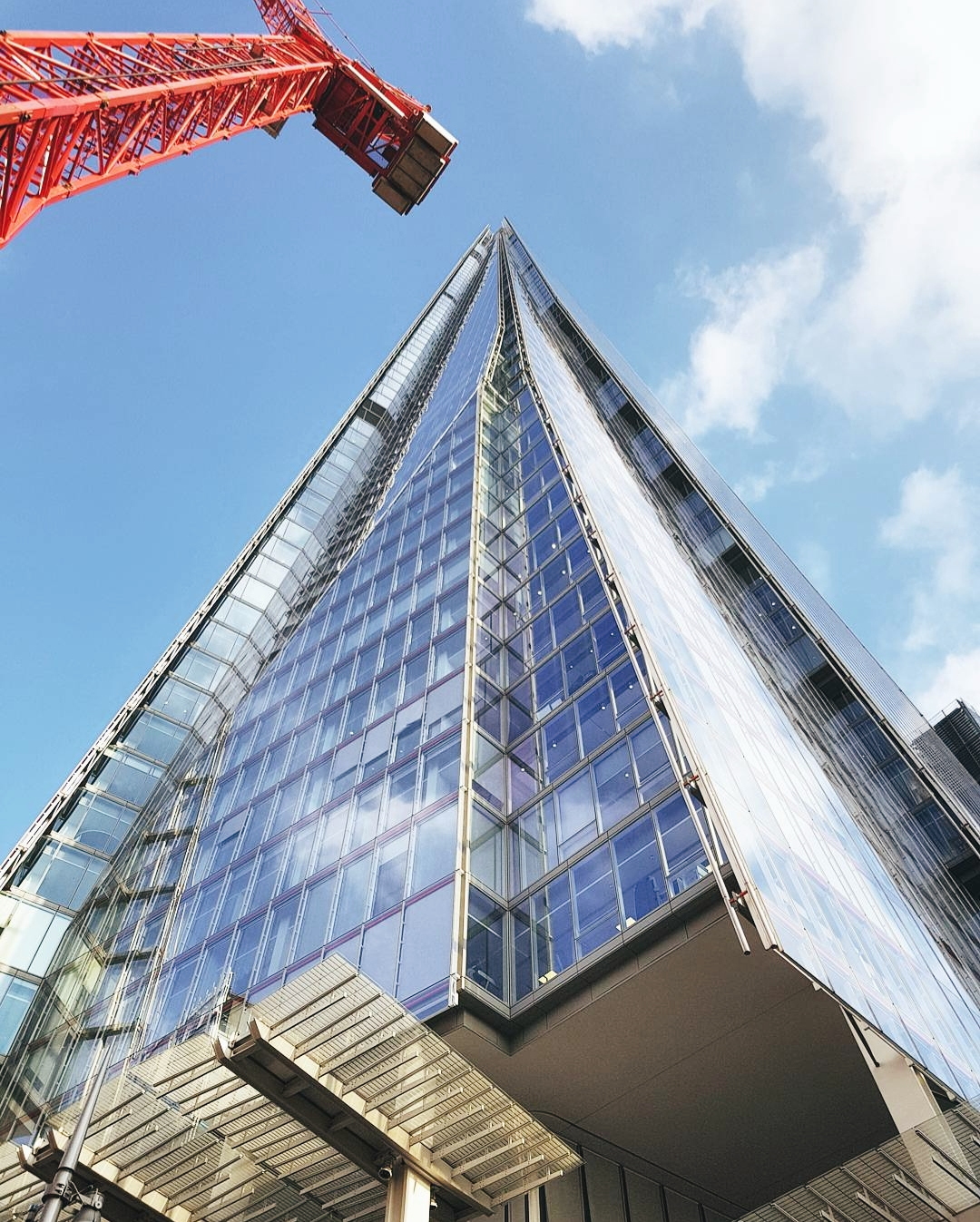 Hotel Review – Shangri-La at The Shard
Shangri-La at The Shard – it's a gorgeous idea isn't it? Having one of the most luxurious hotels in the city in one of the most iconic buildings, you'd expect nothing but the best. I'm here today at Shangri-La at The Shard to explore the hotel more, and see for myself what all the fuss is about.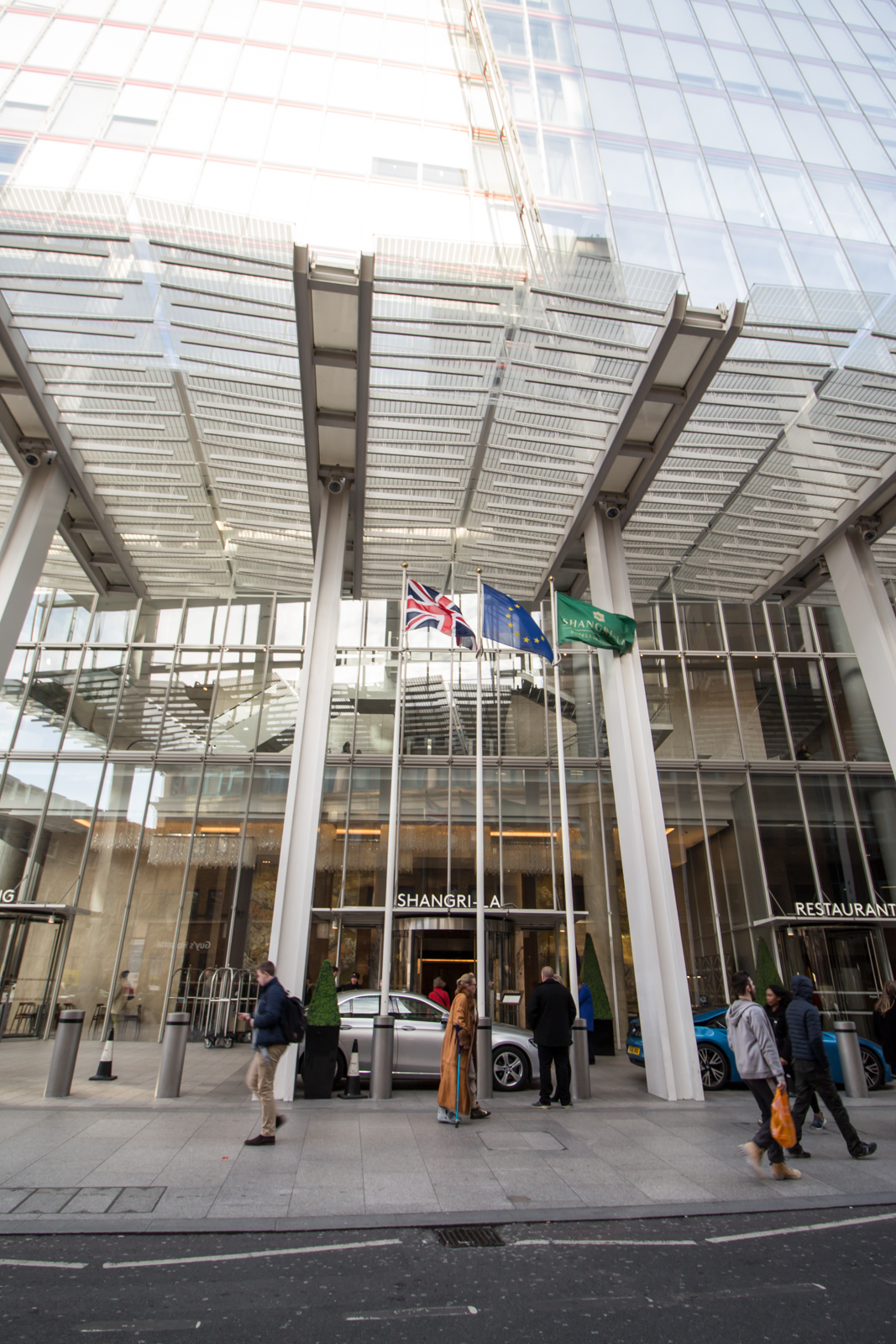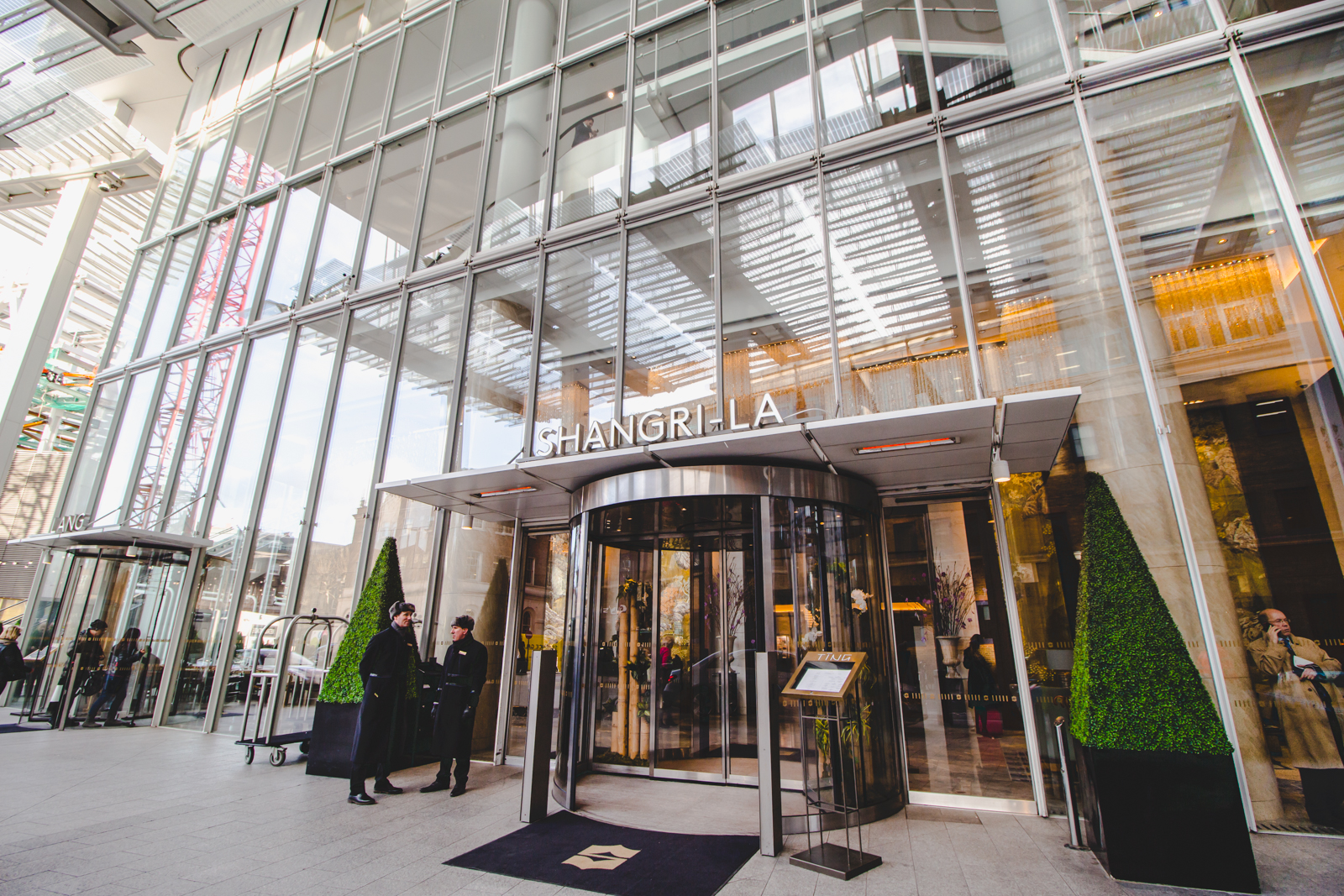 Designed by Italian architect Renzo Piano, The Shard stretches high into the clouds above London, and offers some of the most spectacular views of the city.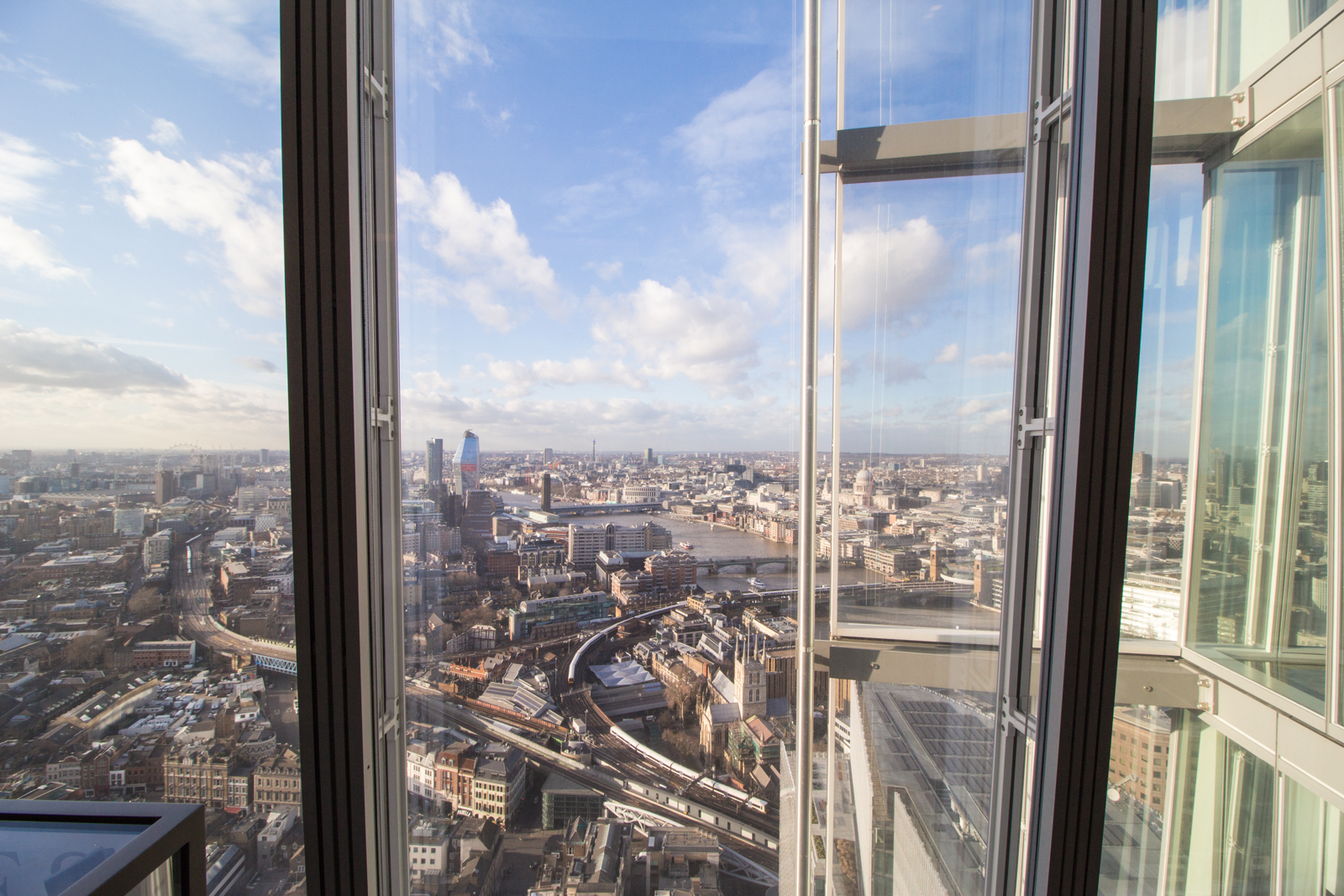 As such the Shangri-La Hotel, which occupies levels 34 to 52 of The Shard, is one of the best places to stay at in London, purely for the views alone. And I can't wait to explore it more today…
READ MORE:
Four Seasons Gresham Palace – A Luxury Hotel in Budapest
Hurley House Hotel – rural luxury in the heart of the English countryside
A Luxury Staycation in London
There's something a little naughty about booking a luxury hotel room in London, especially if you're a Londoner. For just one night, you get to be a tourist in one of the most beautiful and vibrant cities in the world. And so it follows that when I finally book a night at Shangri-La at The Shard, it also comes with a thrill of excitement that never really leaves.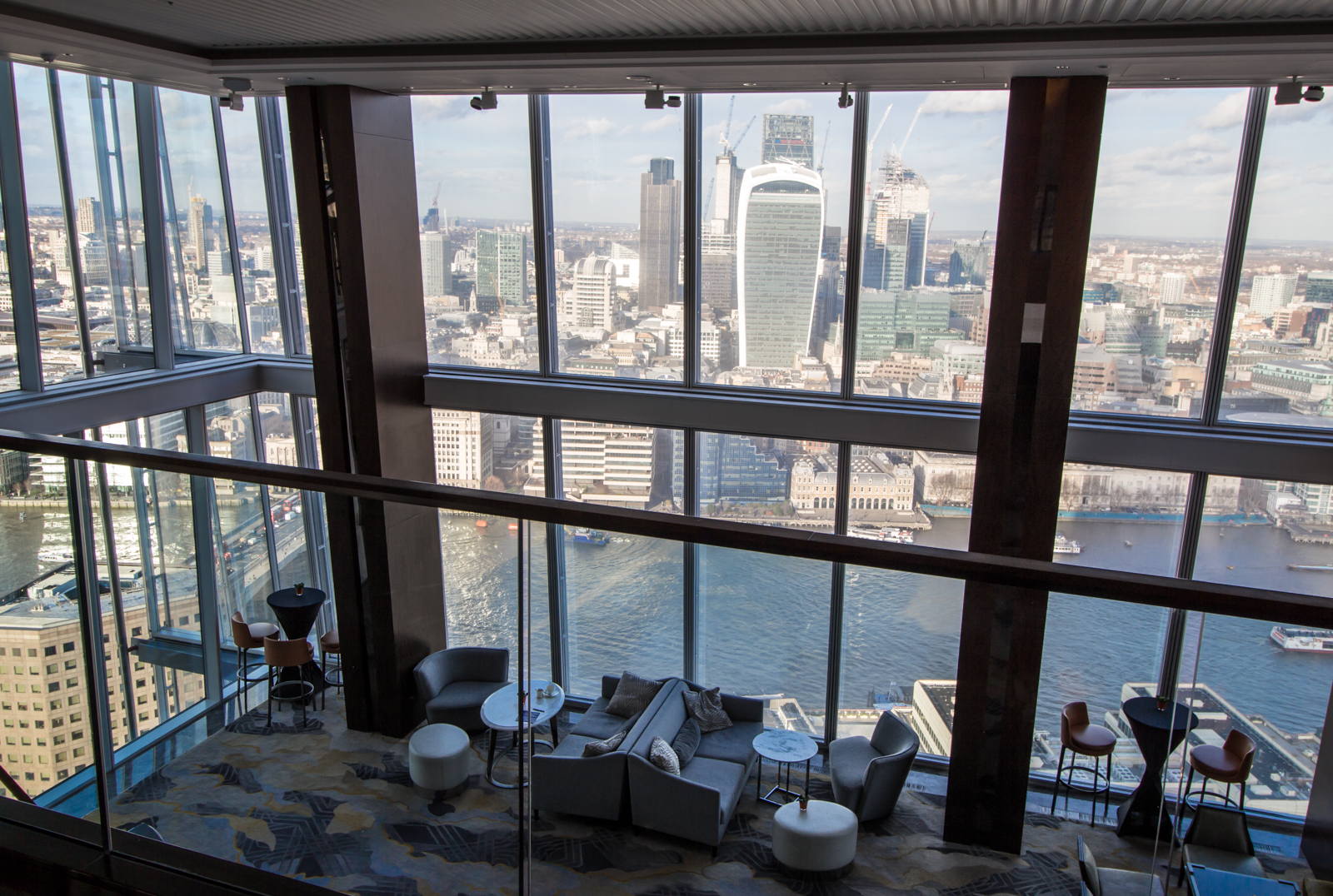 Although there isn't any particular reason for me to book a night here, staying at Shangri-La at The Shard fulfils one of my own personal goals. The goal is to have one incredible travel-related moment for every month of 2018, as part of my 12 places in 12 months post.
In the run up before my stay I'd spent almost a week going back and forth over a few different hotels to stay at. In the end I felt that Shangri-La at The Shard offered something unique, and would make for a really beautiful blog post.
And I'm happy to say that it doesn't disappoint. What I love most about the hotel is the sense of floating over London, which can be had from just about everywhere. It starts off when you reach the lobby on the 35th floor…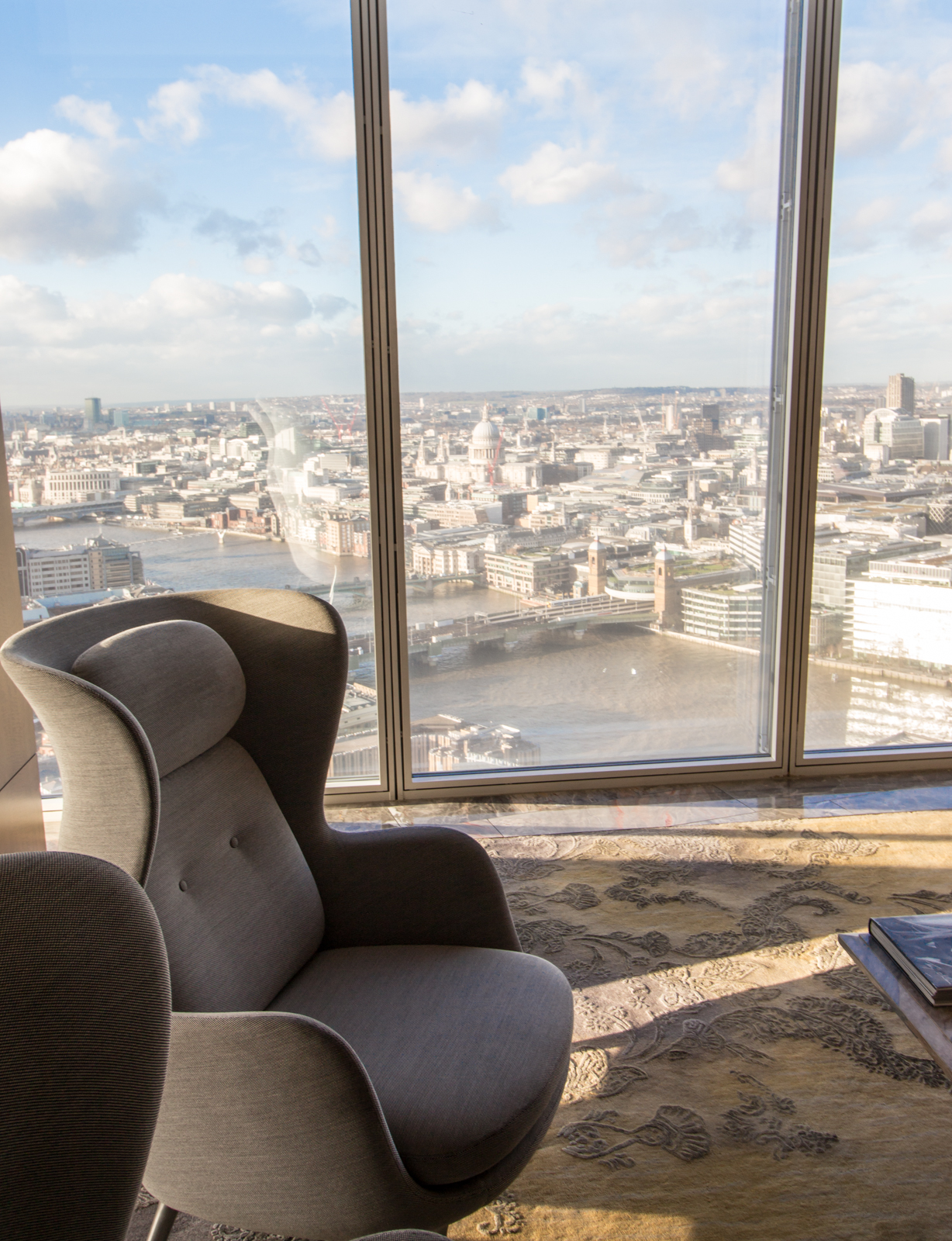 And when you have breakfast at the hotel restaurant Ting, also on the 35th floor…
And also, when you ascend to Gong bar and the infinity pool on the 52nd floor of Shangri-La at The Shard. Just look at that view…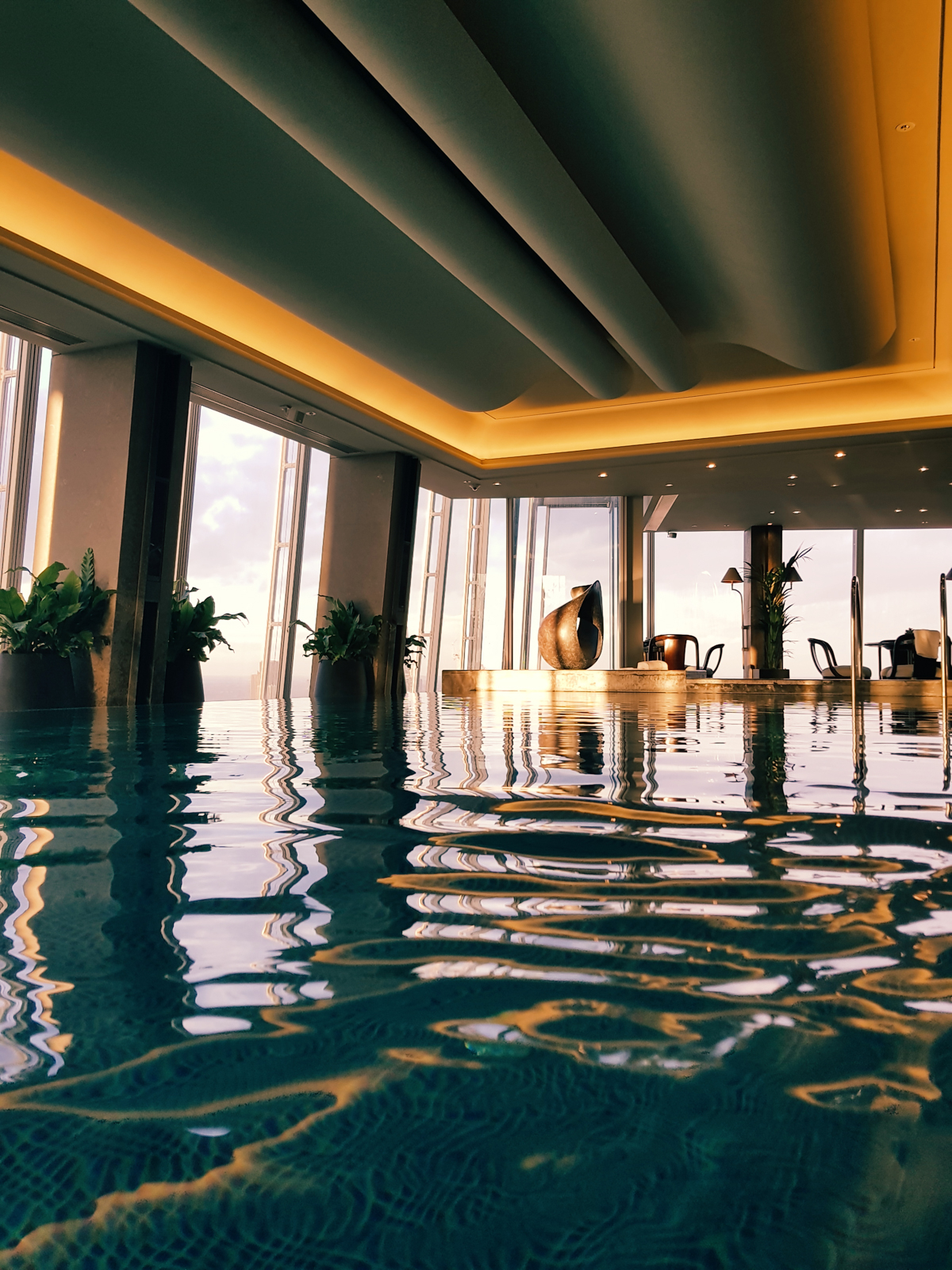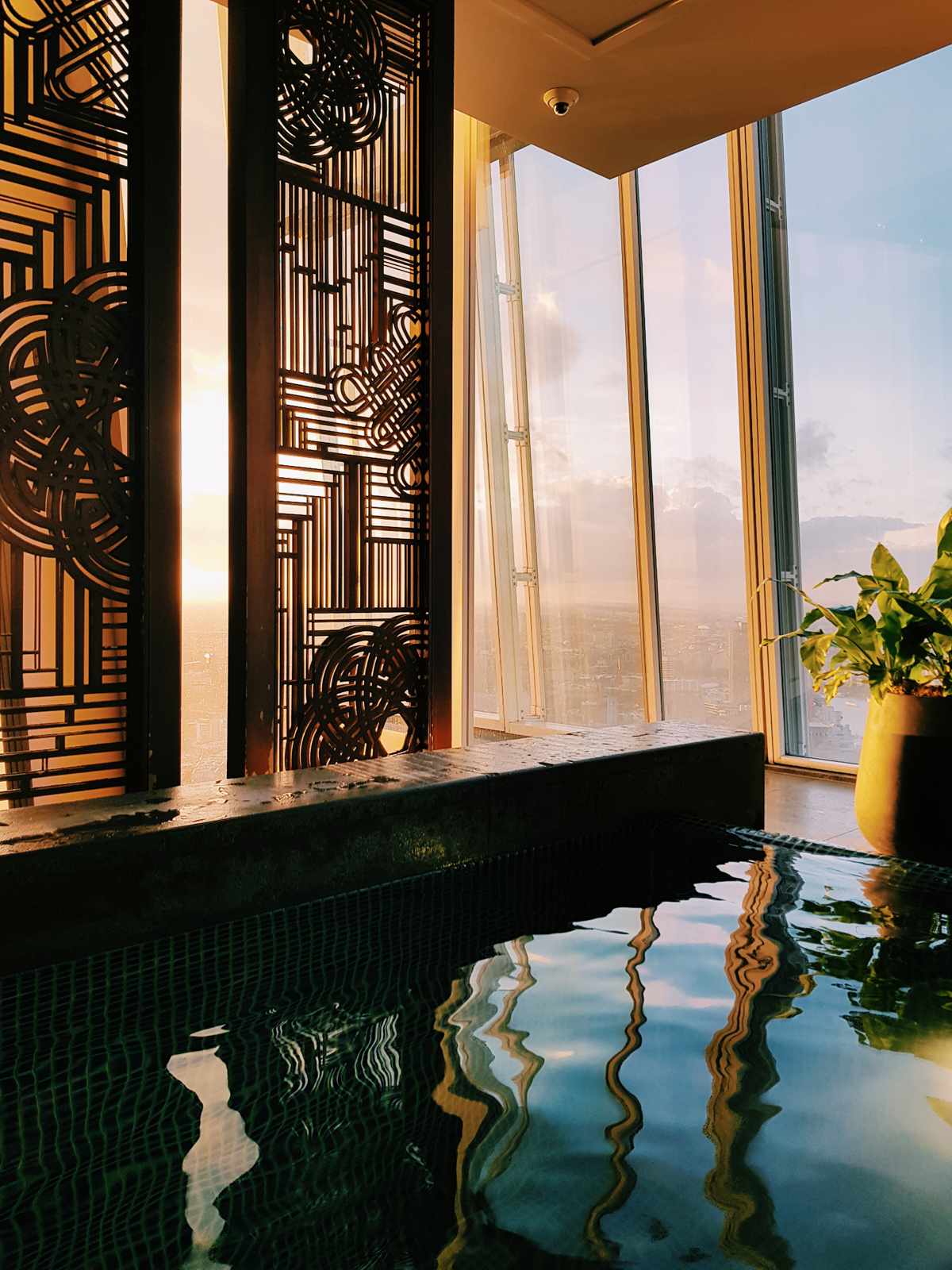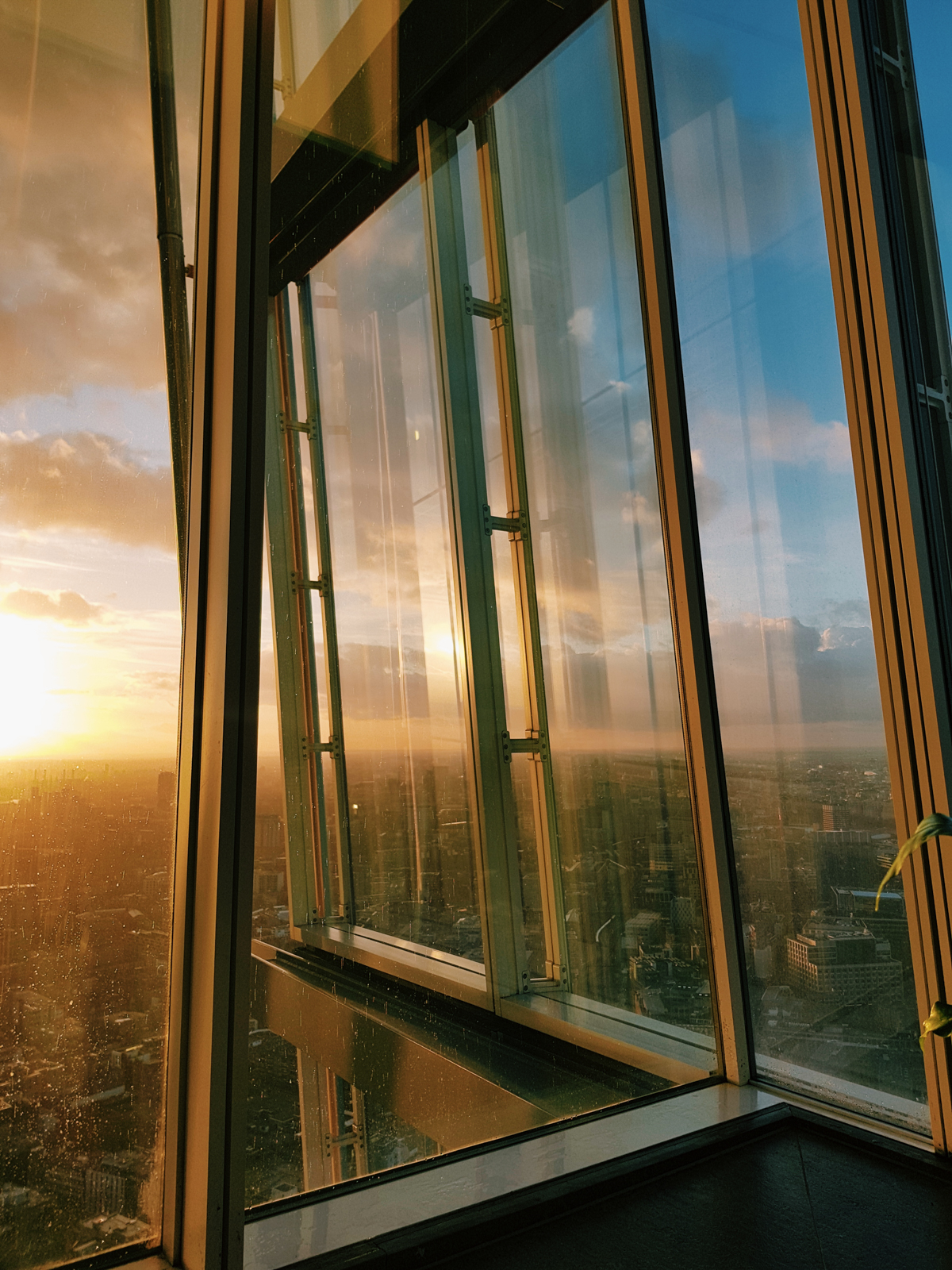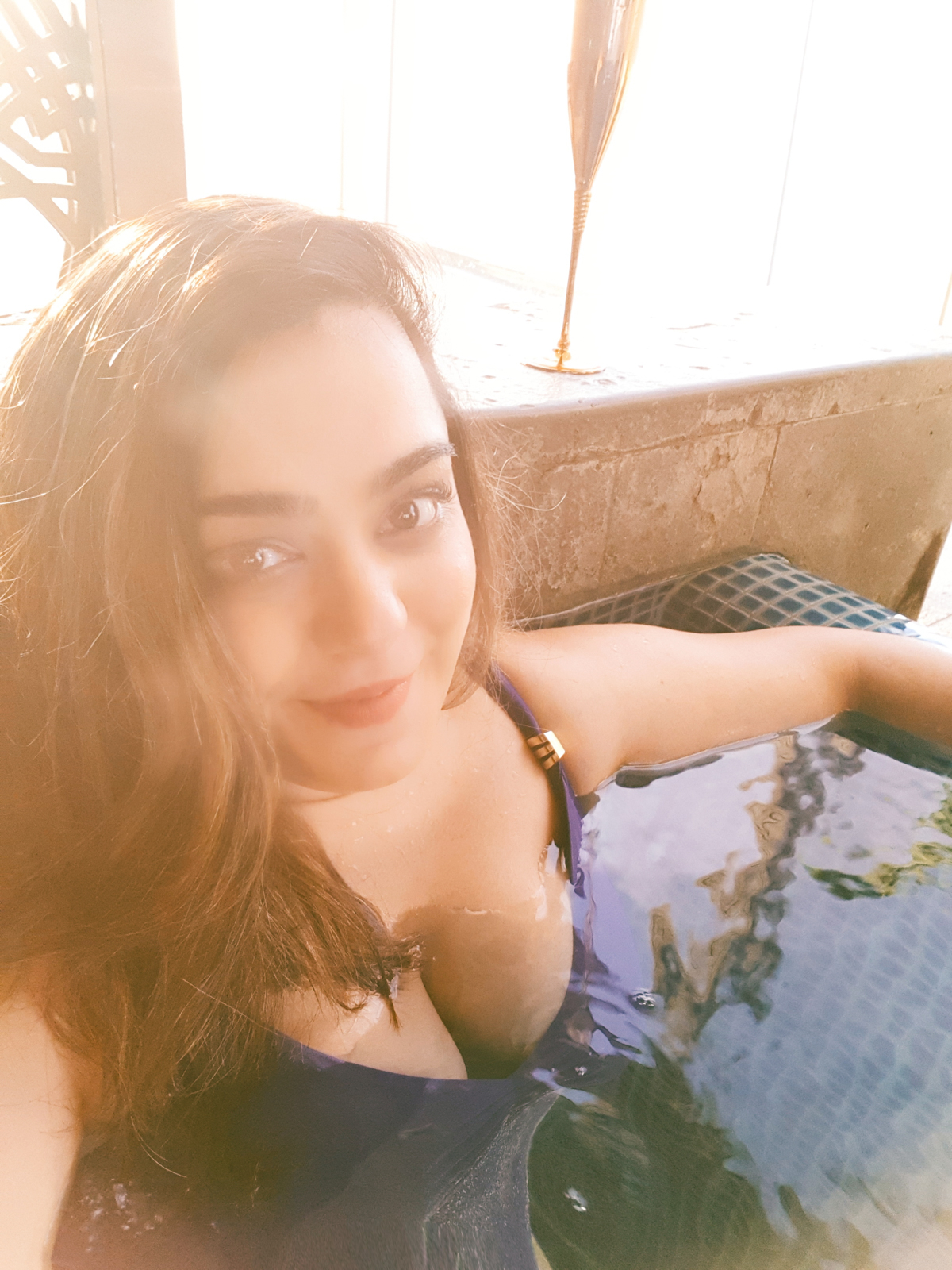 An Iconic City View Room on the 46th Floor of The Shard
Although every room at the Shard is blessed with its own element of floor-to-ceiling windows and views over London, I would argue that our Iconic City View Room probably has the best.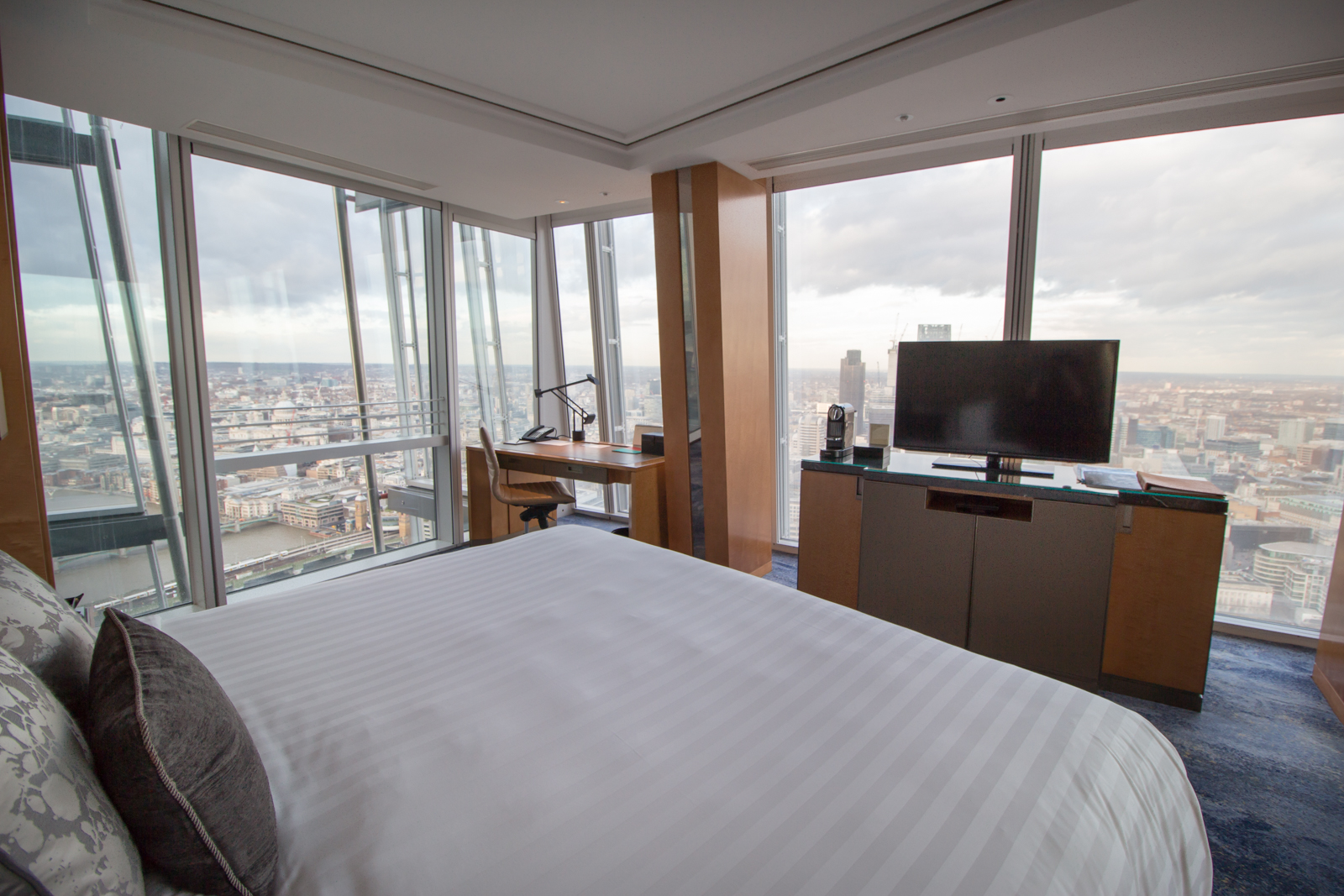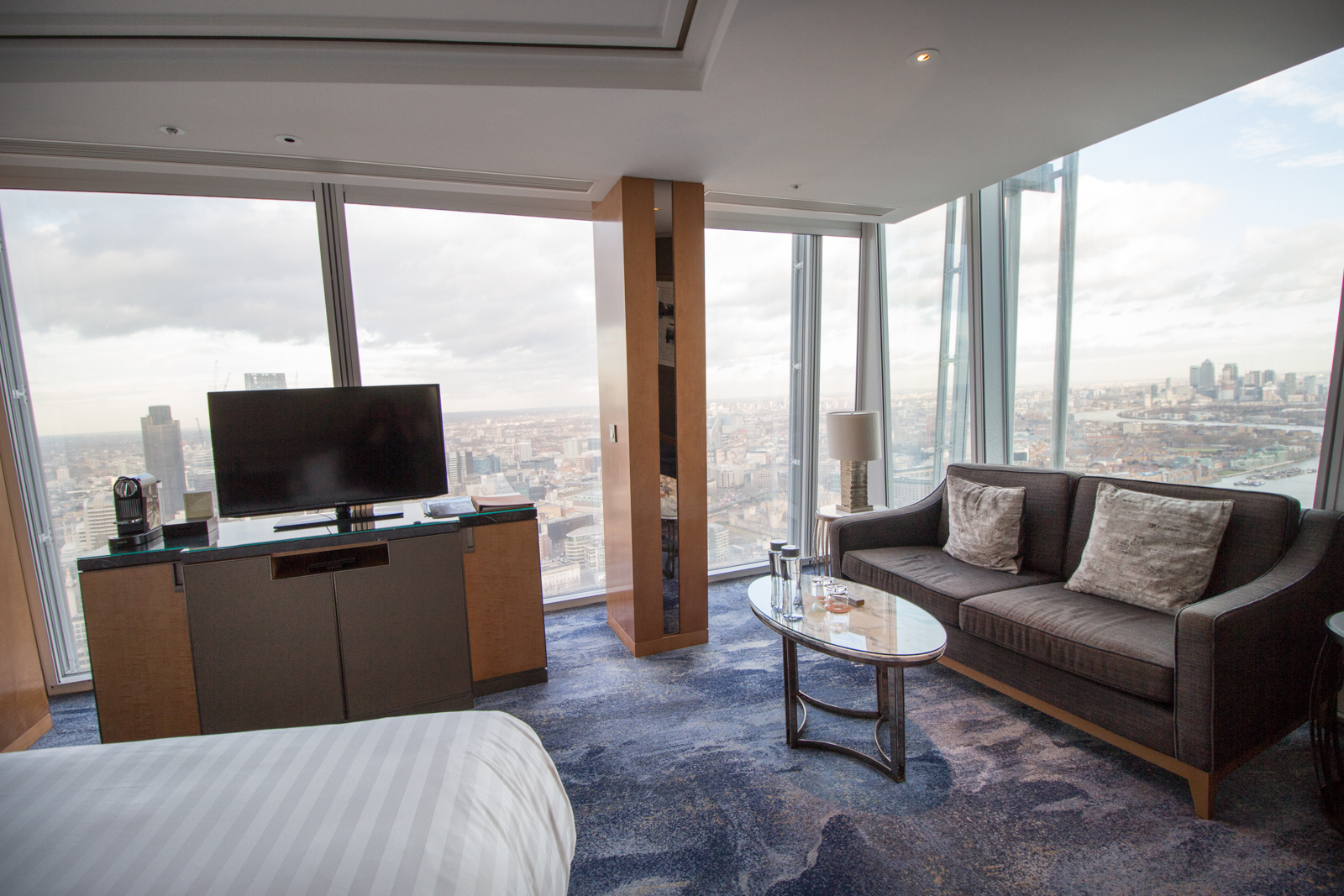 Why? Because we have a full and unobstructed 180-degree view of the city, spanning from the BT tower and St Paul's Cathedral to the west, sweeping through to Sky Garden, London Bridge, and Canary Wharf on the east.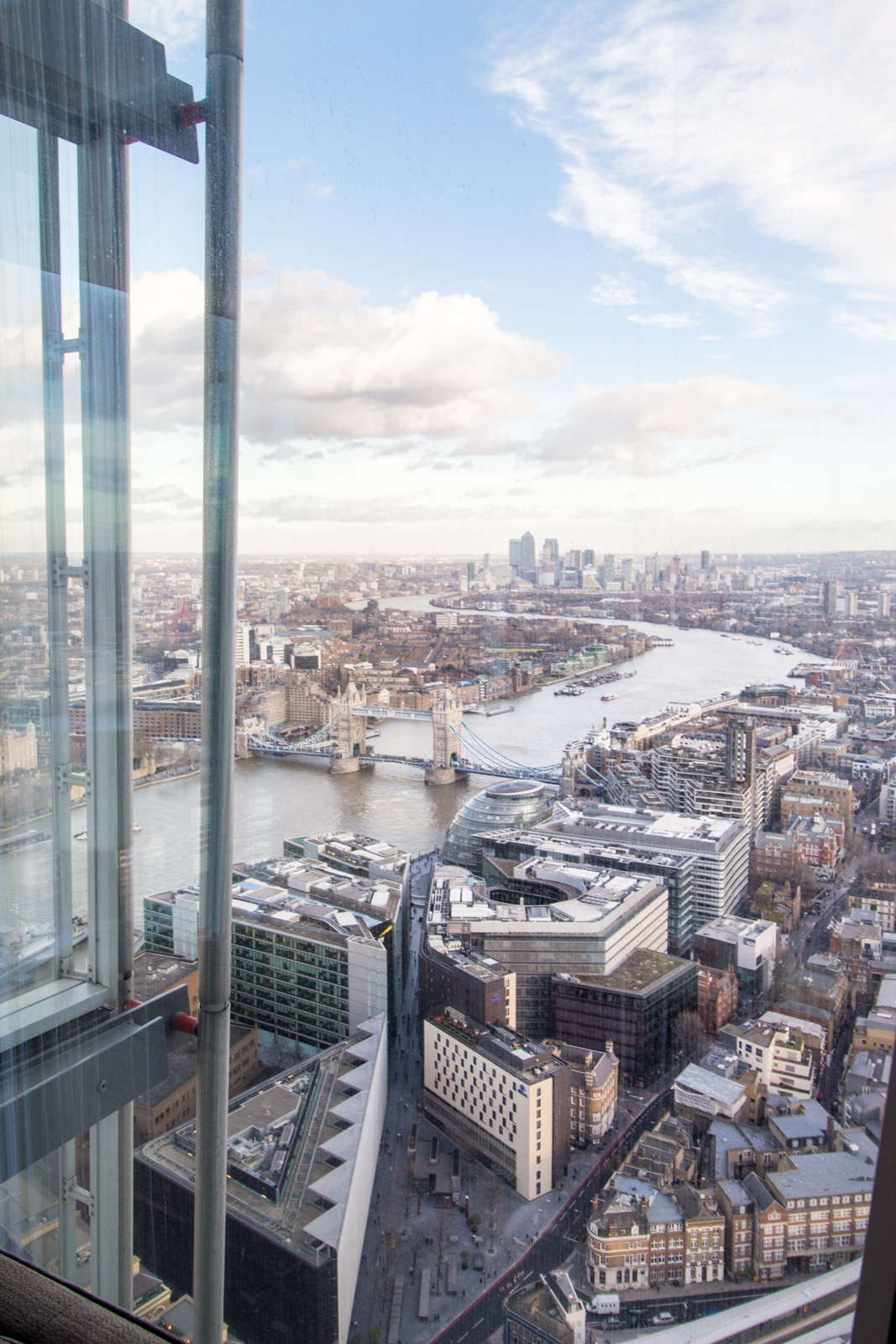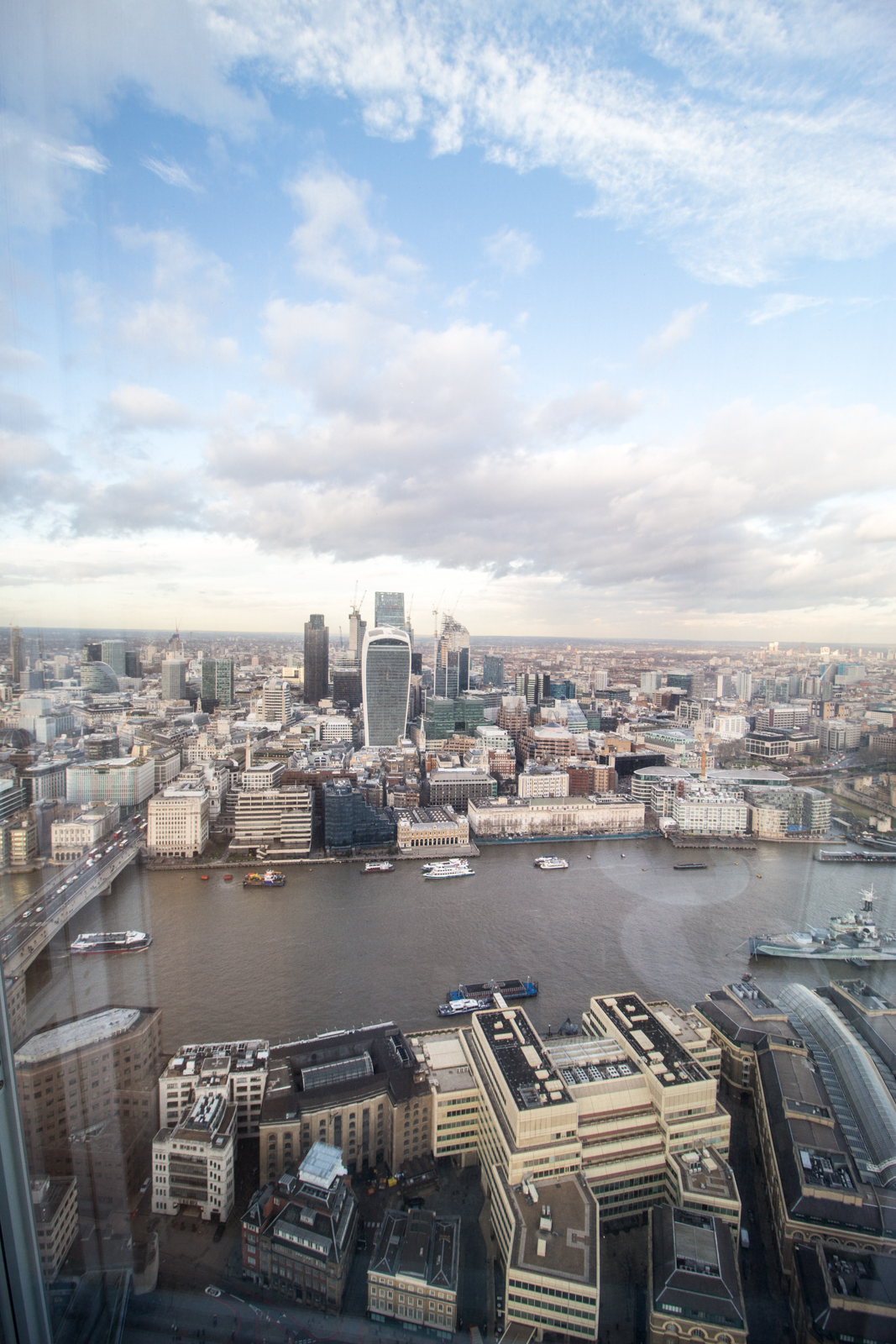 As soon as I get into the room my breath is taken away. It's like floating in a glass box suspended in the clouds, with all of London mapped out in front of you. Deliciously, guests are also provided with a set of binoculars for some serious people watching. I'm not sure I'll ever look at The Shard in the same way again.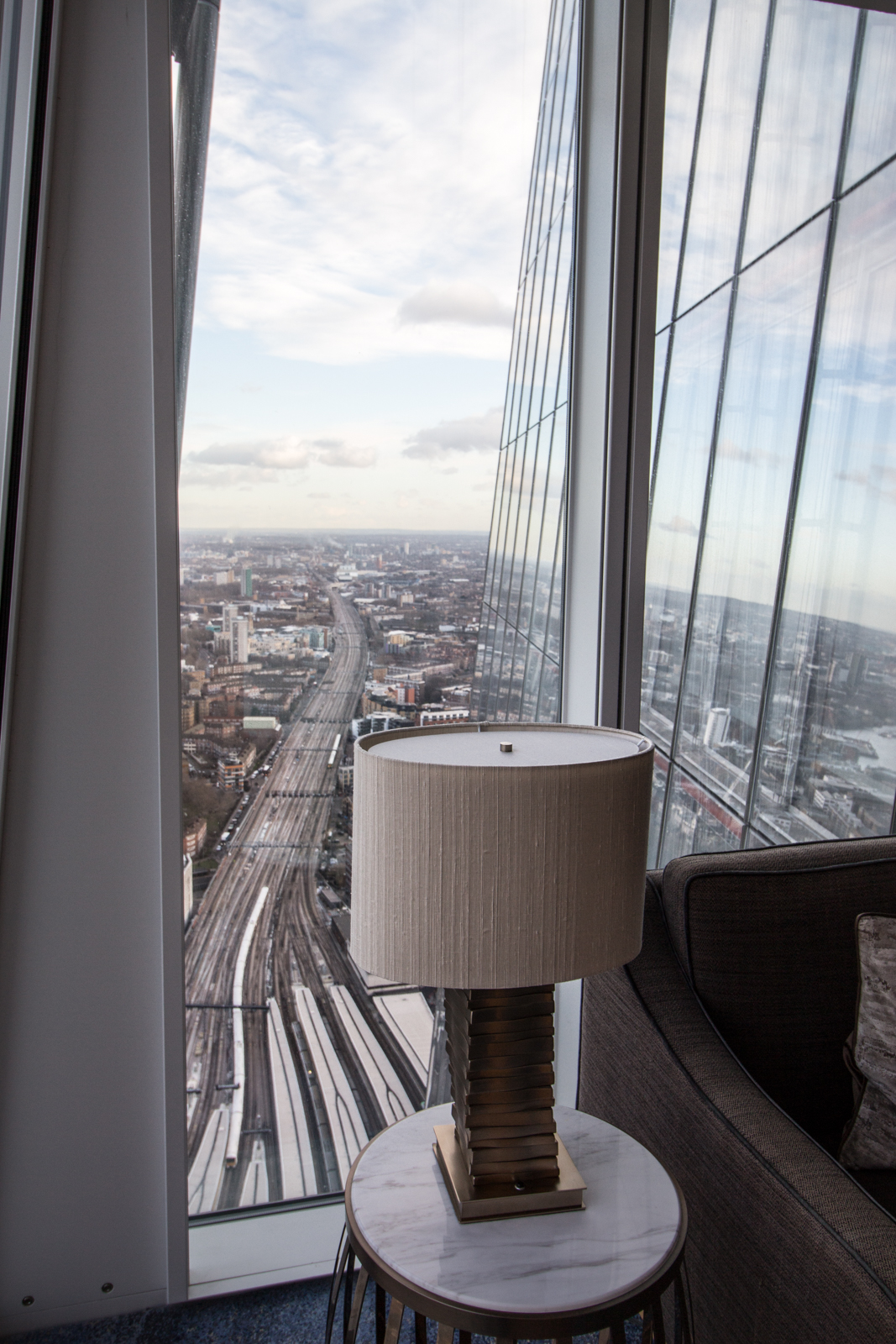 The views really are what you come to Shangri-La at The Shard for, but the rooms and amenities are also nonetheless stellar in their own right.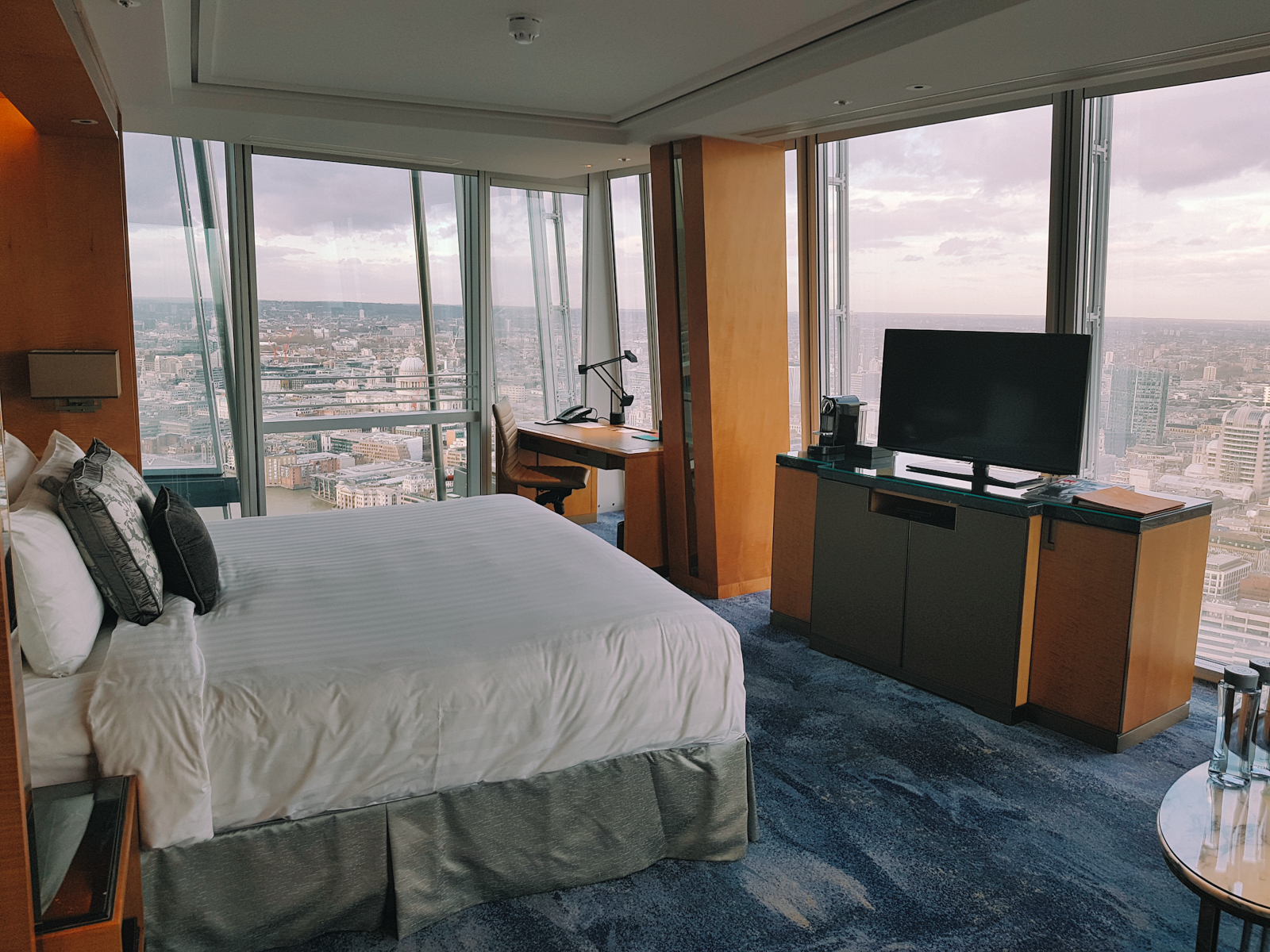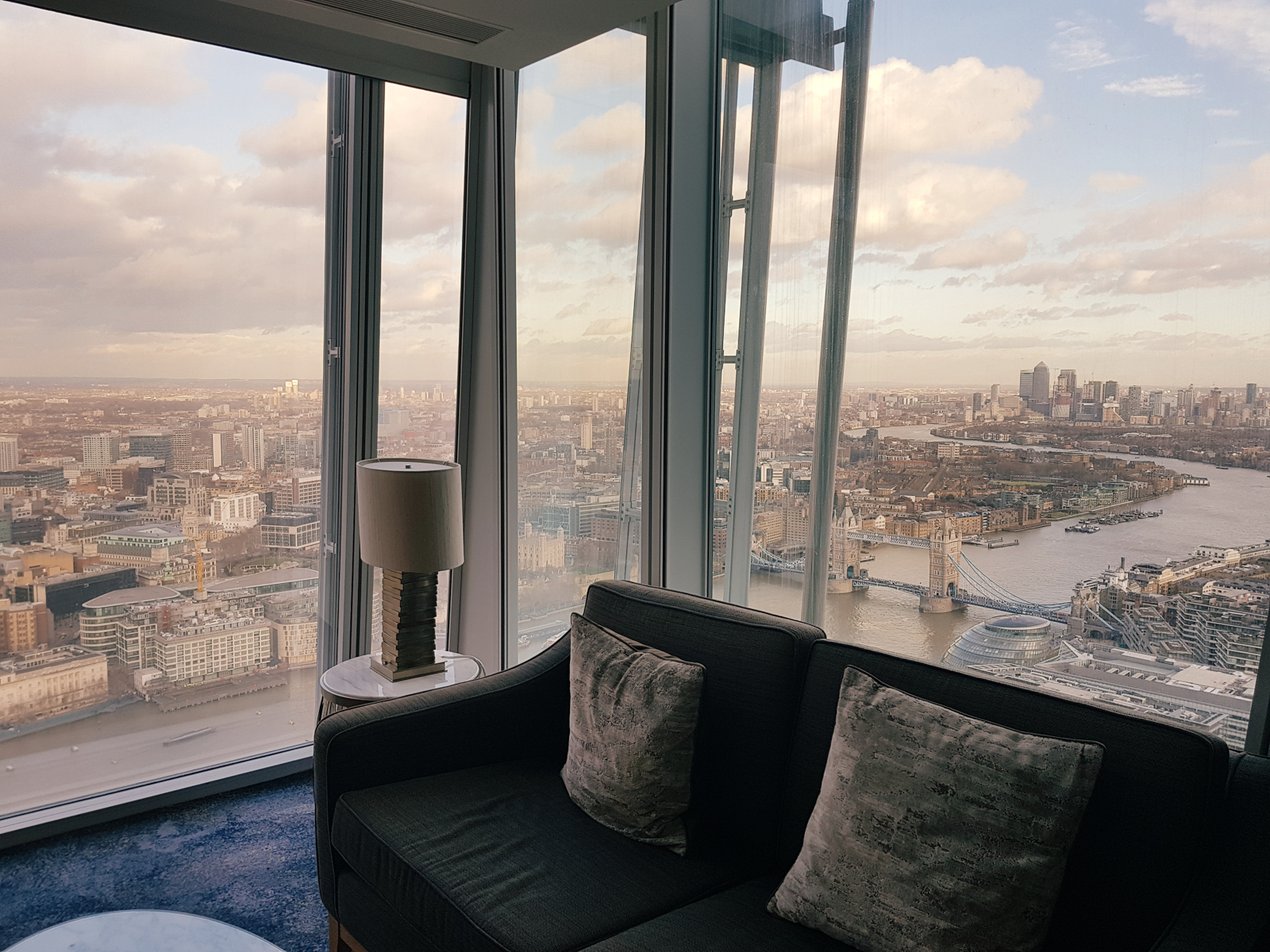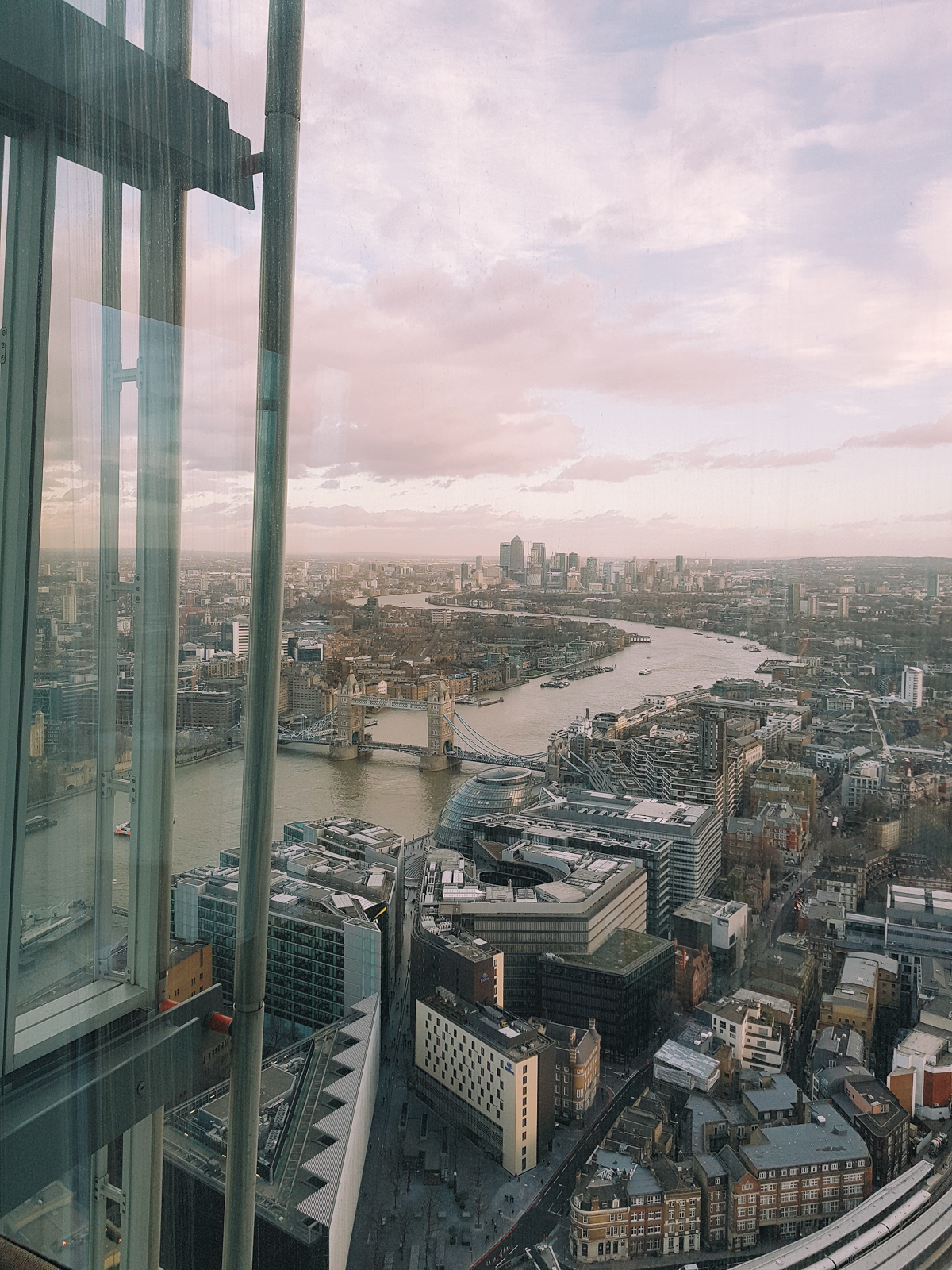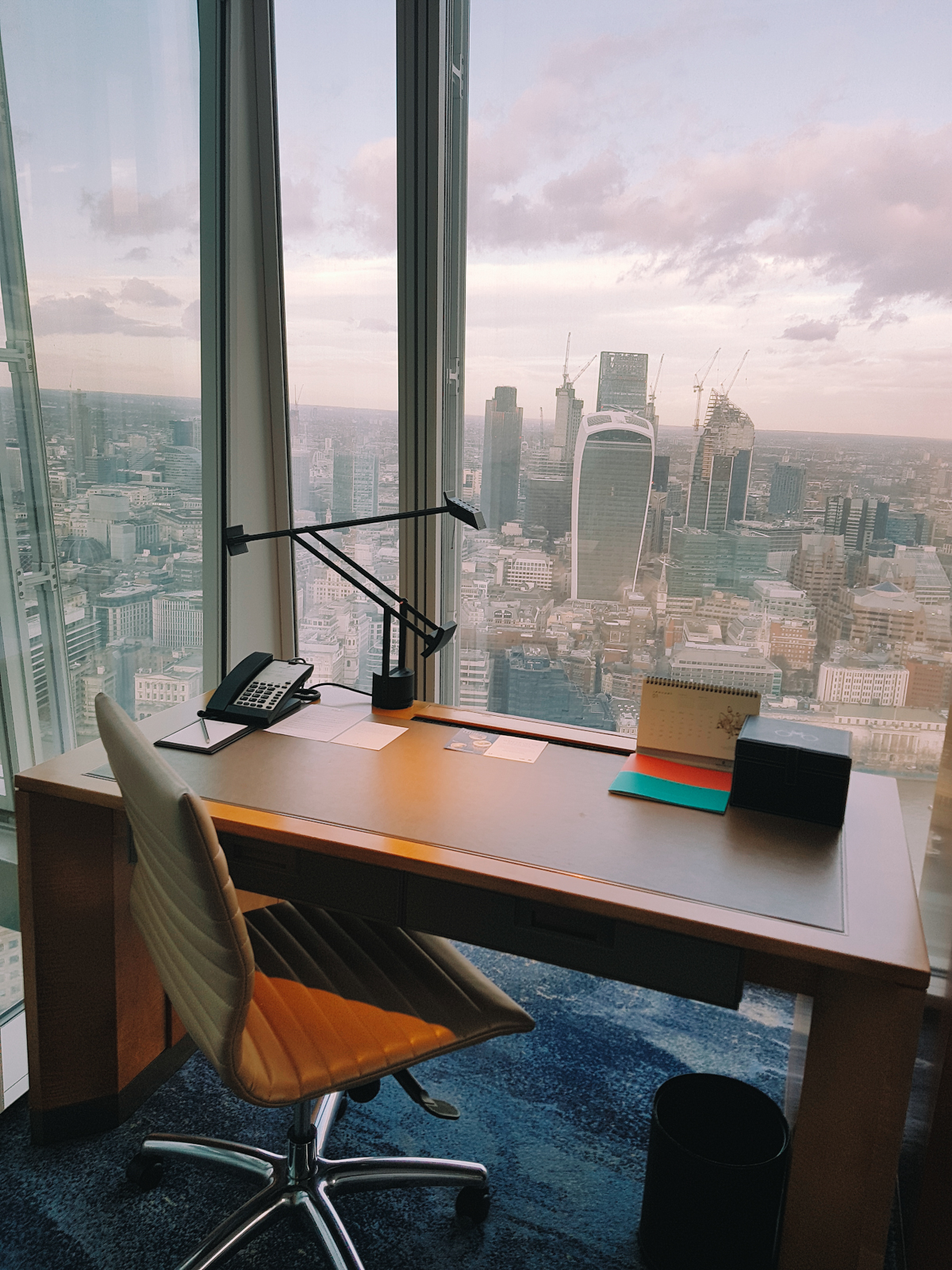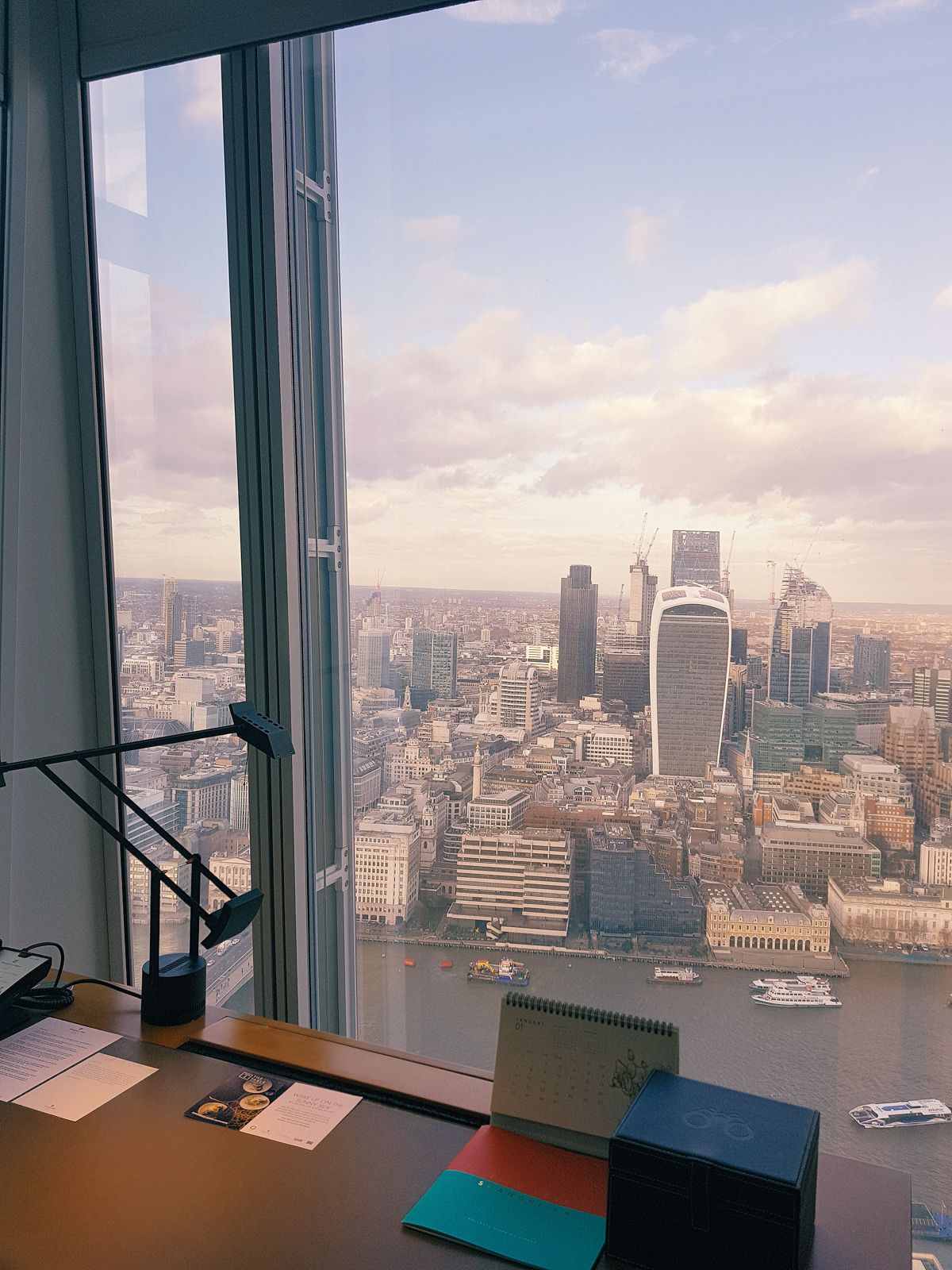 Our bed is a generously-sized super-king, that fits in well with our generously-sized room. In addition, the bed is fitted with the sort of topper that hugs you in your sleep.
There is a concise pillow menu, although the ones already on the bed are gorgeous enough. Soft with just the right about of squidge-ability. I mean, this is the aftermath…
The best bathroom in London
The same views that are so gorgeous in the rooms, restaurants and lobbies, can also be as spectacular in the bathrooms.
I love the idea of spending an afternoon chin-deep in a bubble bath, contemplating London.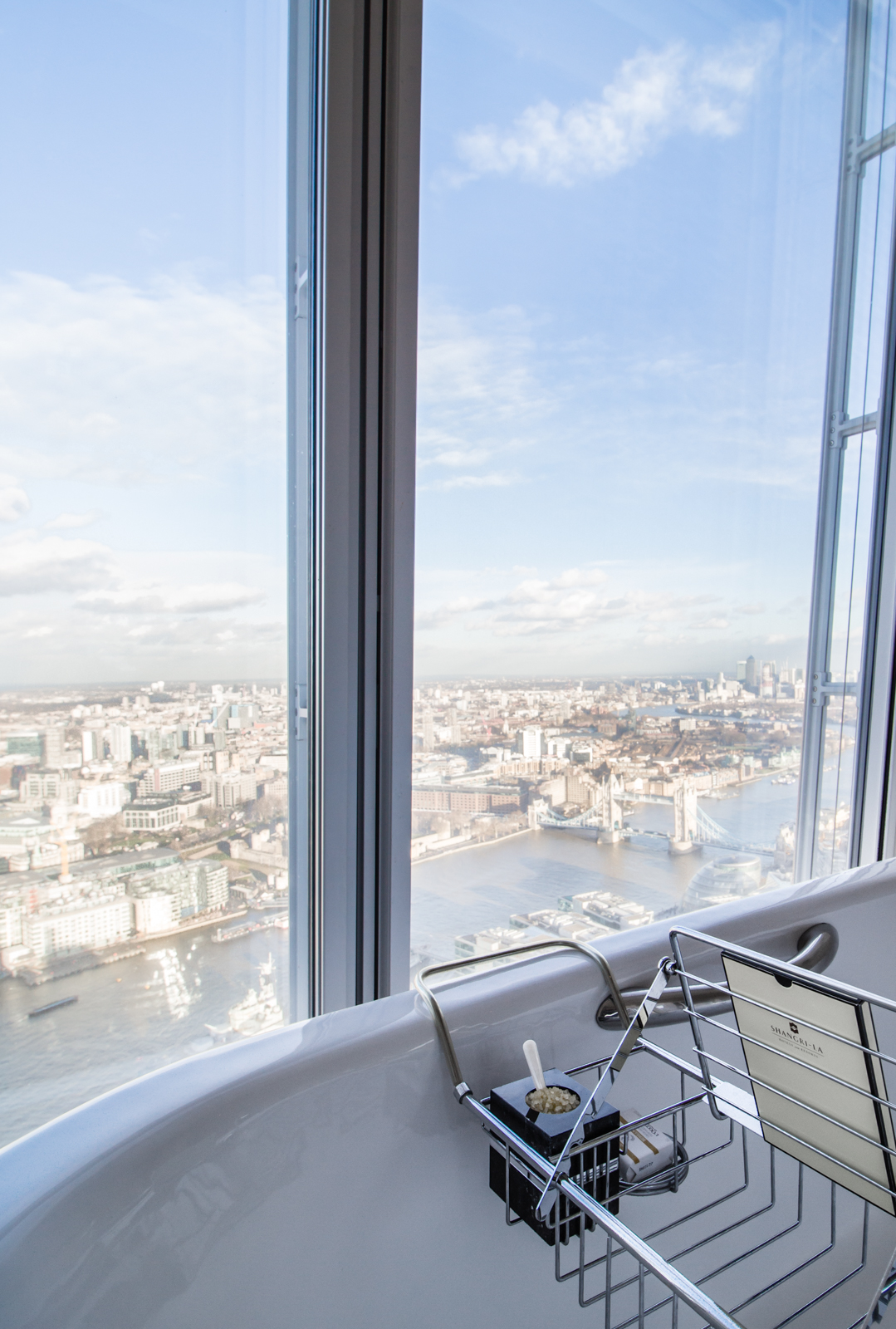 In addition, each bathroom at The Shard is equipped with heated marble floors and high-tech Japanese washlet toilets. In theory it doesn't sound like a heated toilet seat would do much, but it is oh-so-comforting in the middle of the night.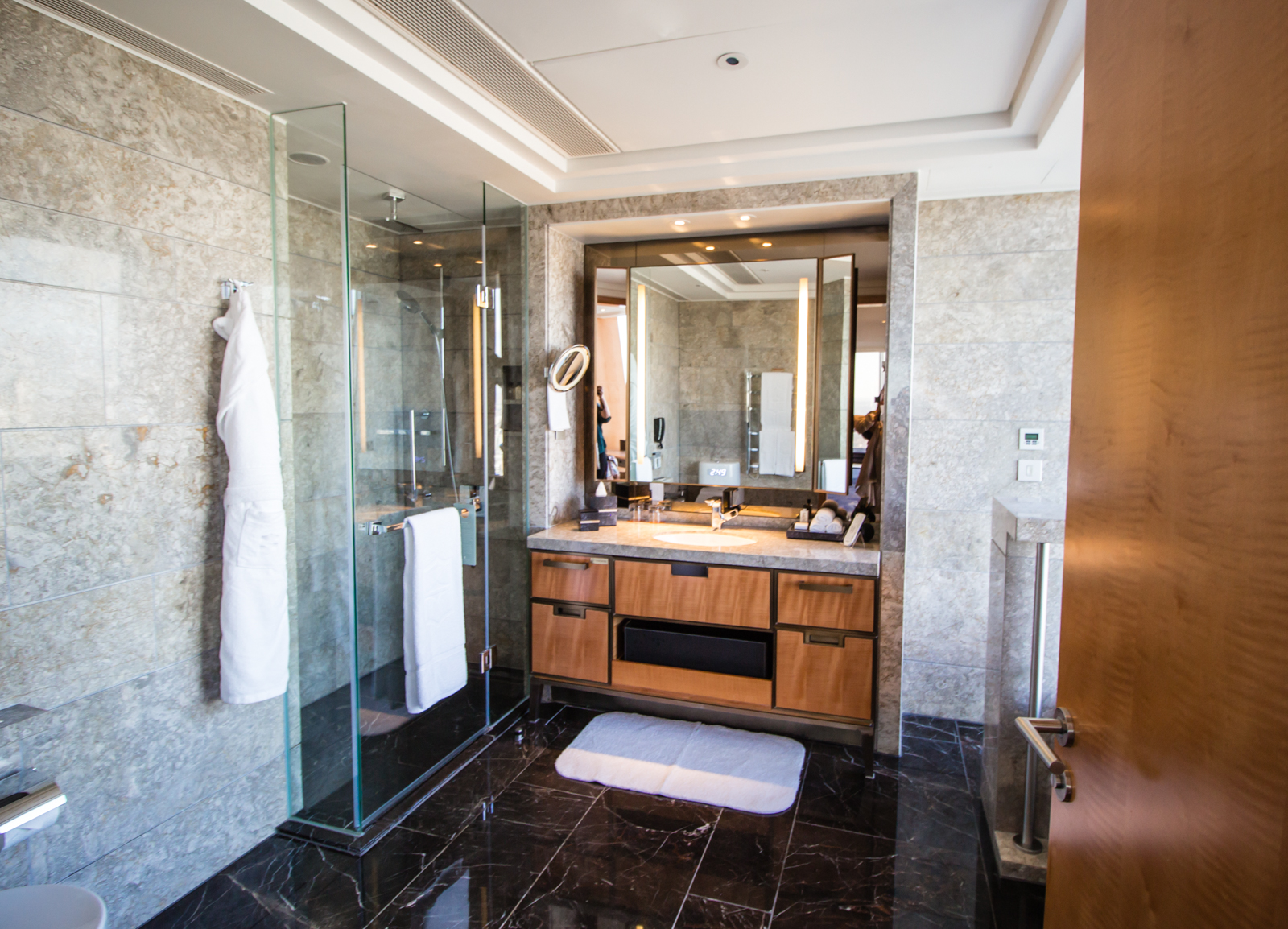 There is also a small selection of L'Occitane toiletries and a high-powered rain shower.
Breakfast in Bed at The Shard
As morning breaks over London we have the pleasure of seeing it under yet another light. The city, sleepy and covered in a blanket of fog, wakes up alongside us.
Too happy and content to move anywhere or change, we order breakfast in bed.
There are various options for breakfast at Shangri-La at The Shard which includes a buffet at the hotel's restaurant Ting. Although the buffet looks lovely, we opt to order a couple of things from the A La Carte menu.
Soon after having phoned up with our order, a table arrives at our door, complete with hot cappuccinos and thick linen tablecloths. Lush.
I love my order of scrambled eggs (how do hotels get their eggs so creamy?) with smoked salmon, and my partners omelet looks great too.
Finally, to end our visit we have another dip in the infinity pool, before saying our farewells to this gorgeous hotel. It's been a stunning night, achieved without having to pack any bags or catch any flights #winning.
All in all it's been an incredible stay at Shangri-La at The Shard, a hotel that has to be one of the very best in all of London. It's a night that I'll treasure and, no doubt, repeat again and again.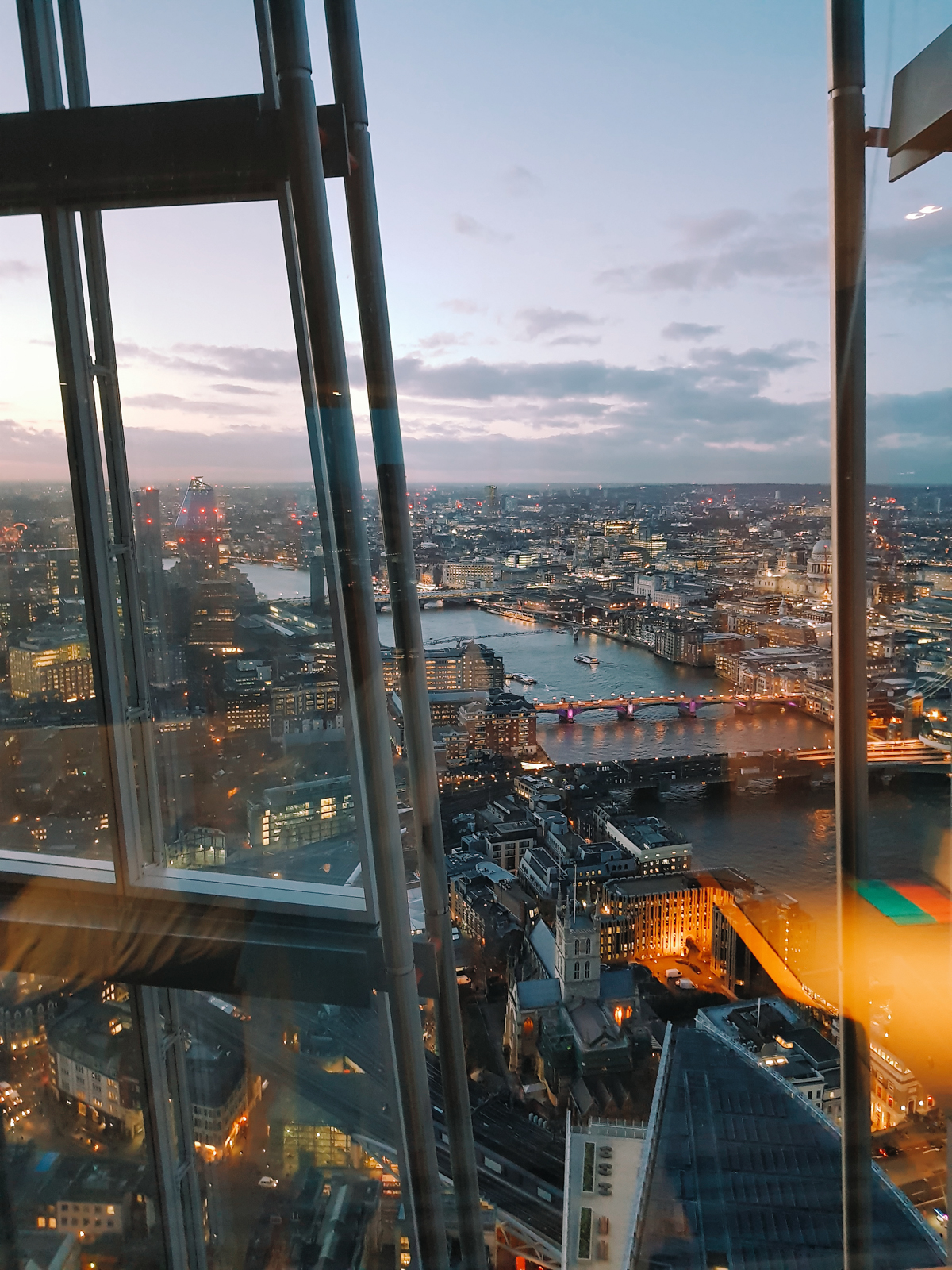 Highlights
Floor to ceiling views over sparkling London
Impeccable service
Gorgeous food
Room for improvement
Having a fully staffed pool area. The wait to be able to order a drink wasn't long, but it could have been much more seamless.
The Details
Shangri-La at The Shard, London
Address – 31 St Thomas St, London SE1 9QU, UK
Website – Shangri-La at The Shard
Phone – 020 7234 8000
Nearest Tube – London Bridge