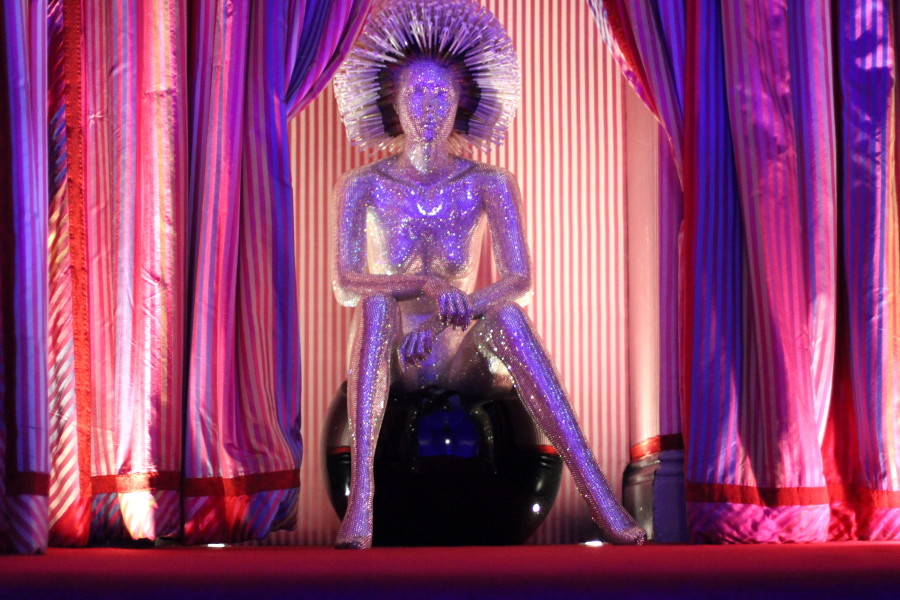 A Michelin lunch at a snip with Bookatable
I think if I had an unlimited supply of money and a heart that easily forgave, then I'd write only great things in the next few paragraphs about my lunch today at Sketch. Although there is a lot to like about the set lunch menu, which is full of inventiveness and creative meanderings, not everything works exactly as it should, and there are a few fundamental oversights in service. 
Built like a warren of different bars and restaurants, Sketch houses a 2 Michelin starred restaurant called The Lecture Room and Library, which is where the Bookatable set lunch is held, and also contains a patisserie called The Parlour; an effervescently pink room called The Glade where afternoon tea is taken; a more informal brasserie by the name of The Gallery; and The East Bar.
Opened in 2002, The Lecture Room and Library in Sketch was immediately lauded as being the most expensive restaurant in London, perhaps due to input from the critically acclaimed chef Pierre Gagnaire, who visits every few months to oversee the kitchen. The a la carte menu for the Lecture Room and Library contains some of the most expensive dishes I've seen, where starters cost around £50, mains £75, and desserts that hover around £45 per plate. So garishly pricey is the a la carte menu that it's all a bit comical, but then Sketch has been thriving for more than a decade now and is clearly well aimed at a clientele who enjoy its excesses.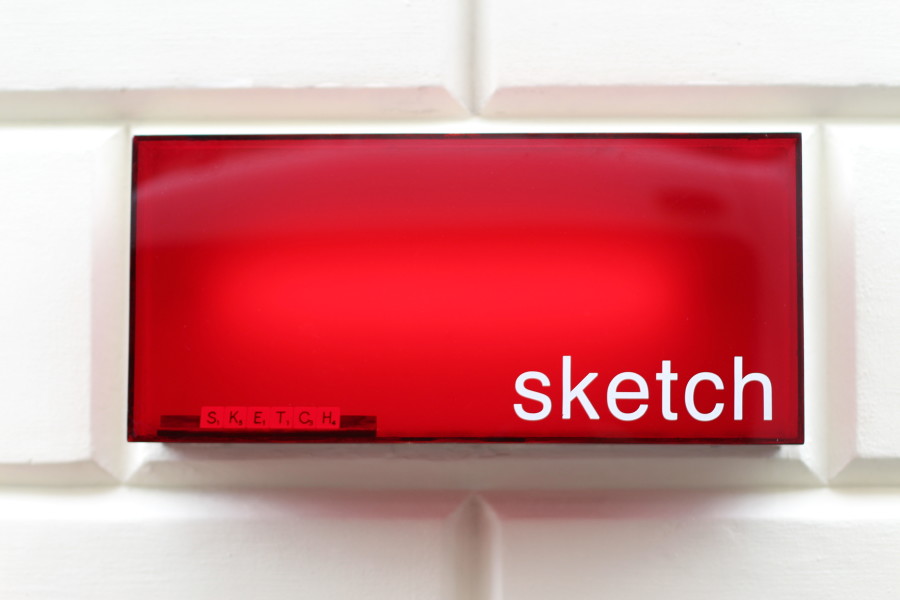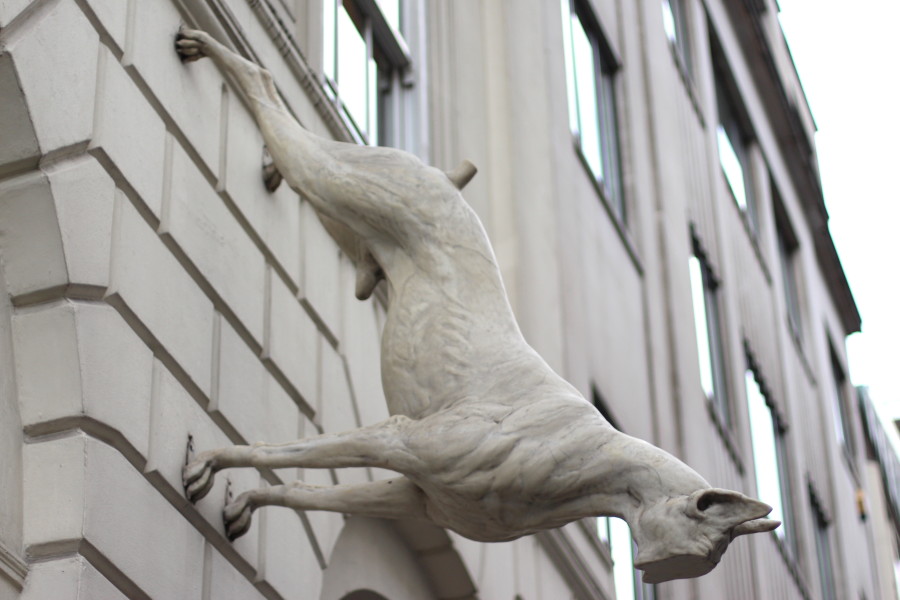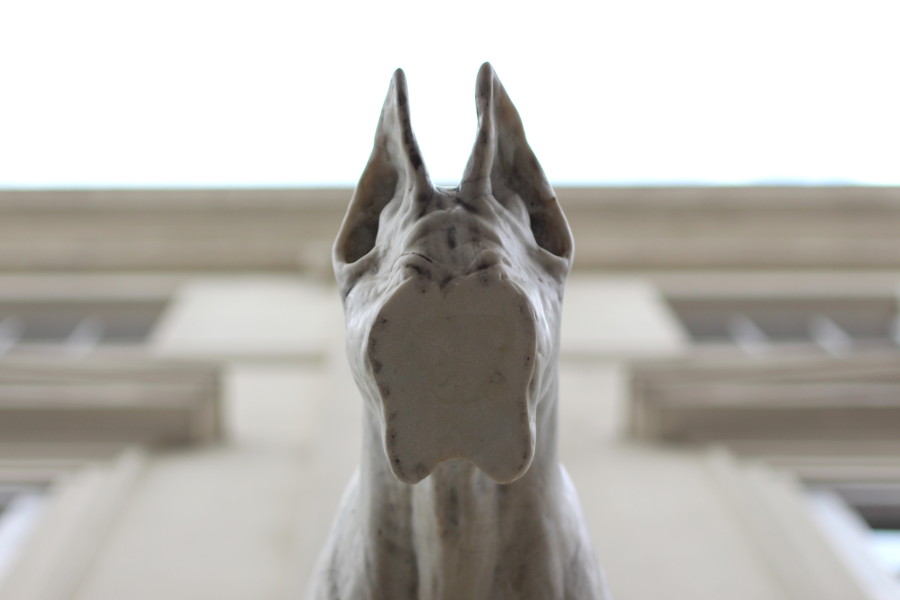 Although a dinner with service can easily surpass £200 a head, a more affordable way to sample the menu at The Lecture Room and Library is to try out the Bookatable Star Deal, which allows for a three course lunch meal with amuse bouche, petit fours and coffee for £40 per person.
The meal starts out with a selection of bread and amuse bouche, which involve crunchy balls of parmesan flavoured sable; artichoke leaf with pine nuts and aioli; squid ink wafer with fresh goats cheese; crunchy bread crisps with lardo di colonnata and Dijon mustard; chilled tomato and strawberry gazpacho; and artichoke cream with a cumin cracker and pomegranate seeds. And – breathe.
This approach of overwhelming a table with a lot of small plates of different items is adopted for both the starter and dessert portion of the set lunch menu, and although it has its drawbacks, it at least shows a desire to give the client something more than just traditional cooking.  As much as I applaud the modernist approach when it comes to flavour, and the aspiration to lean toward exhibitionism with a smorgasbord of food that is sometimes of the avant garde persuasion, thereby trying to establish technical knowledge and largesse, the practice of giving a selection of sometimes unrelated smaller dishes means that there is no clear peak to any of the courses. There is nothing that I can remember as being particularly excellent, which is surely to be expected of a double starred establishment.
From the set lunch menu, everyone is given the same mini plate selection as the 'starter', and the same trio of 'Pierre Gagnaire' desserts. For mains you can choose from either a meat, fish or vegetable option. The set lunch menu is said to change twice a month.
Starters are brought out in a procession of plates: on one is a curl of aubergine with nuts and pomegranate; on another a thin pate of compressed rabbit, dotted with a fruity reduction that is adequate but not special. I much prefer a third plate that holds a fat thumb of leek, grilled and placed squarely in a mess of 'egg mimosa', which seems to be a loose sort of scrambled egg. The starter selection ends with bits of cured sea bream with redcurrant and mangetout. Whilst I enjoy the concept of having variety, nothing particularly stands out or is notable.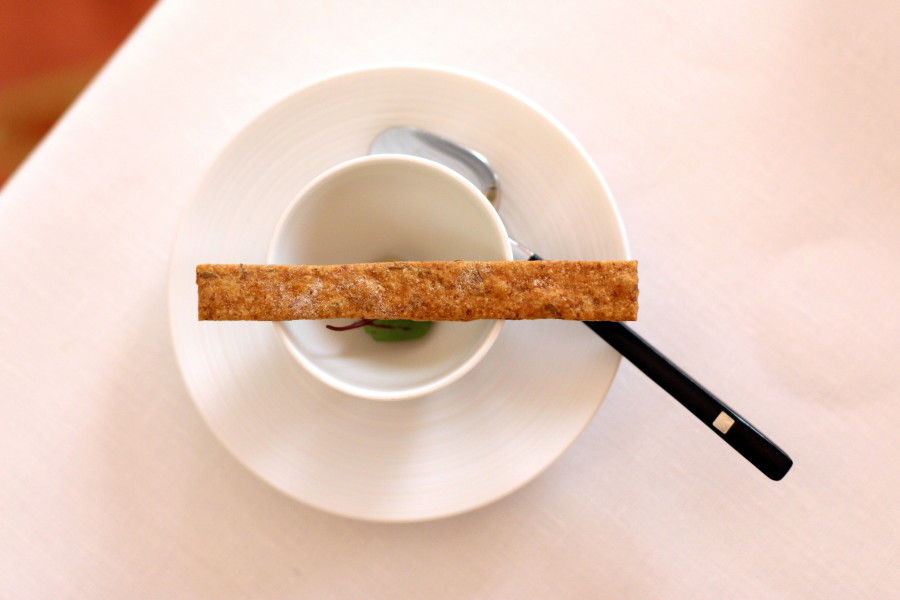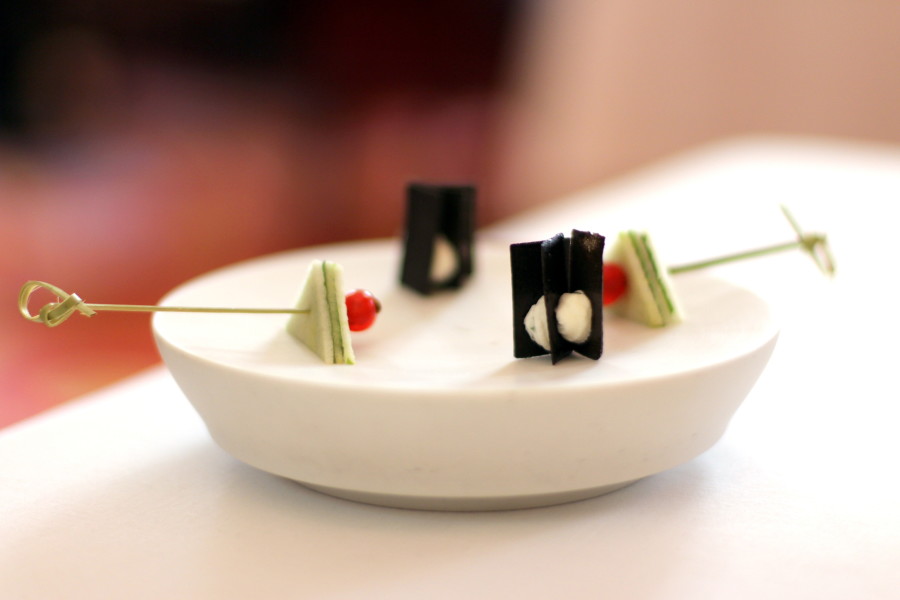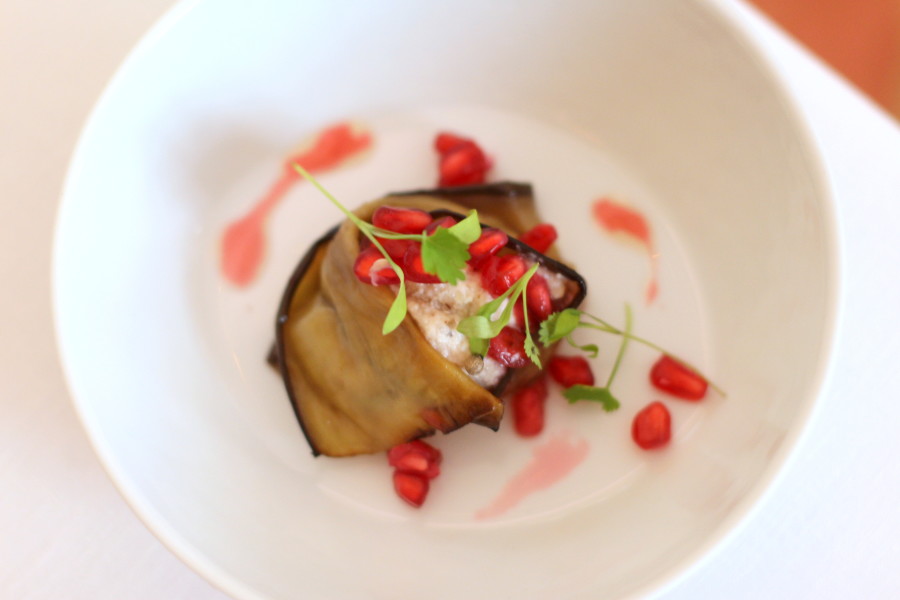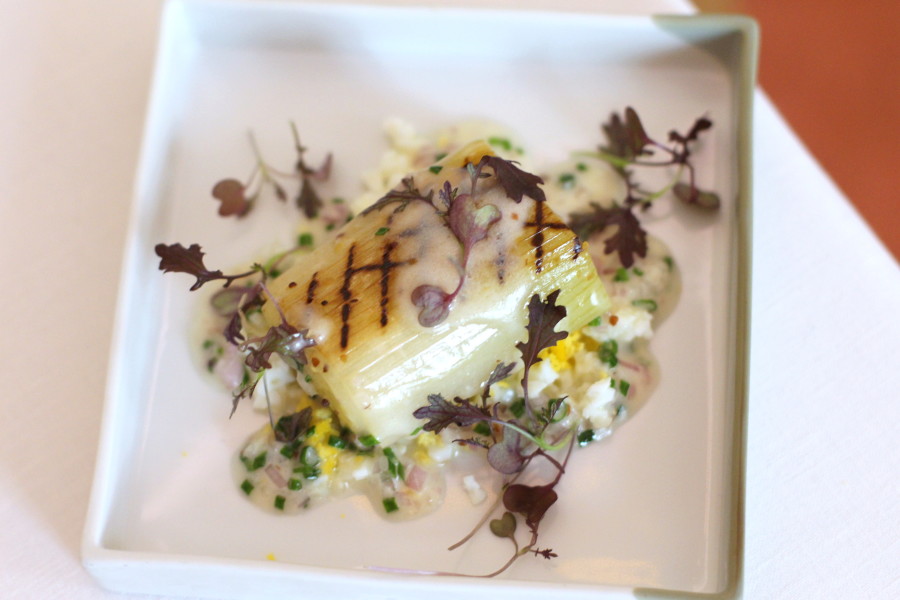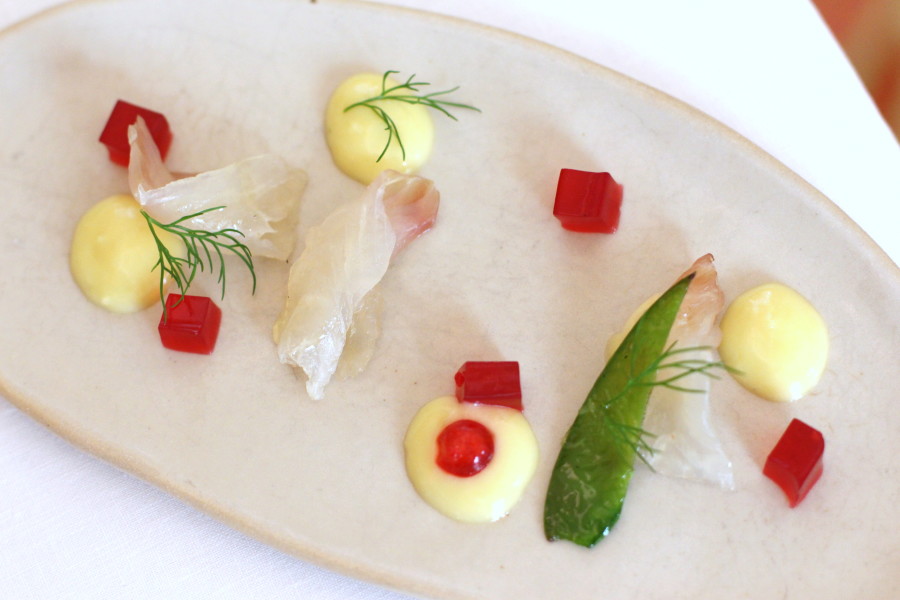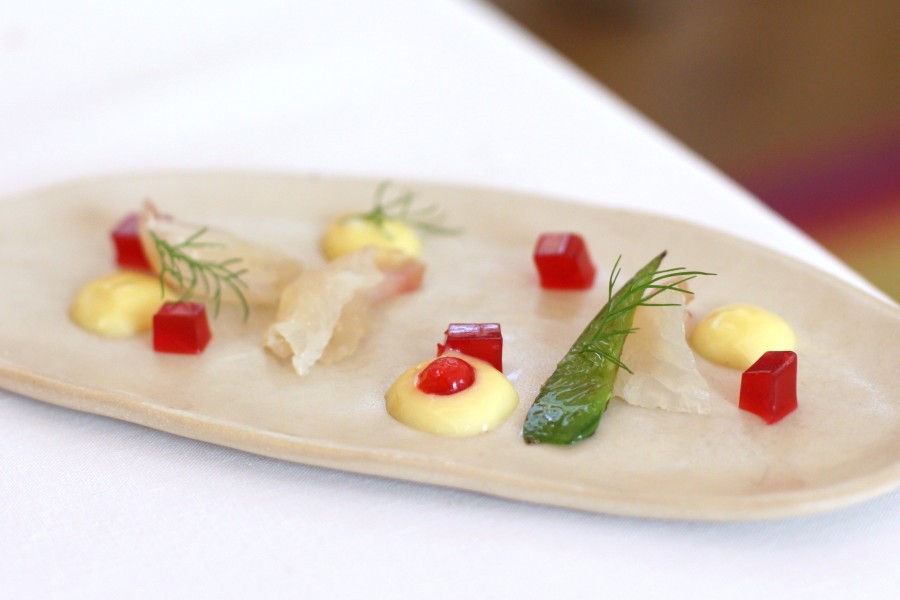 For mains we order Scottish flank steak, which is cooked without asking the customers preference, and brought out rare. The sinewy cut is in dire need of a steak knife, but the tool provided is more used to parting butter than flesh. Moving past this basic error in service, the asian twist to the dish sees the meat sat in a bowl of bouillon spiced with turmeric and made plump with bok choy and shiitake. The combination of flavours is unusual, but in this instance they work well together.
A second main sees a fillet of braised halibut glazed with a marmalady orange reduction, with the very strong kick of aniseed from fennel. In places the flavour seems a little too robust, but on the whole the dish is well judged.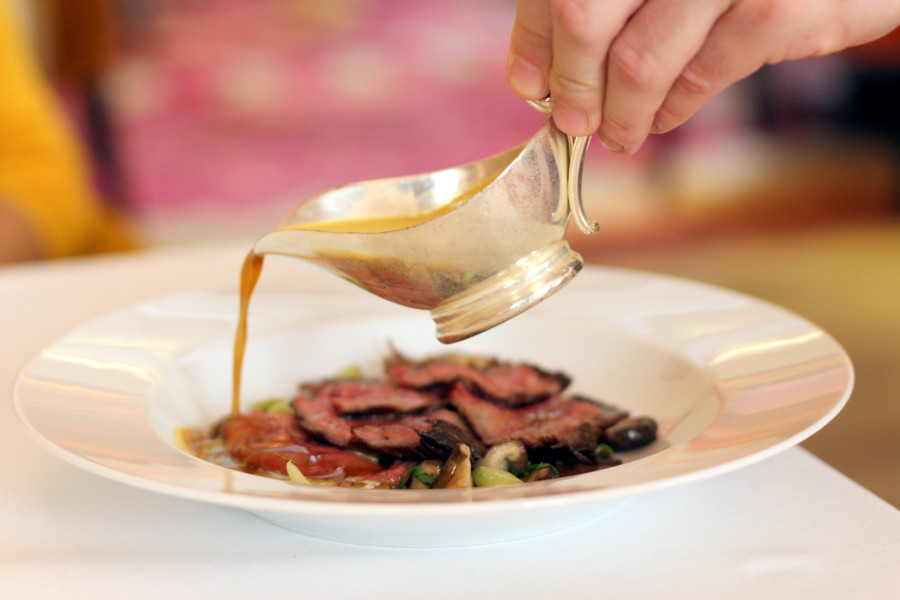 Everyone ordering the set lunch menu is given the same trio of' 'Pierre Gagnaire' desserts, however the wait between mains being cleared and desserts arriving is overly long, a situation which is hard to understand given that all the desserts are probably prepared prior to service. They are made up of a collection of mousses, foams – it's all very wet and I yearn for something proper; something with body and mass and texture. Instead of a sorbet in a martini glass, give me a single soufflé, done impeccably well, as a dessert.
So – to end a very long blog post I'll just say this: if you are at all curious to know about what goes on at Sketch, the Bookatable Star Deal is the most cost effective way of doing that. The Bookatable Star Deal includes three courses, amuse bouche, petite fours and coffee for £40, and is available to book here.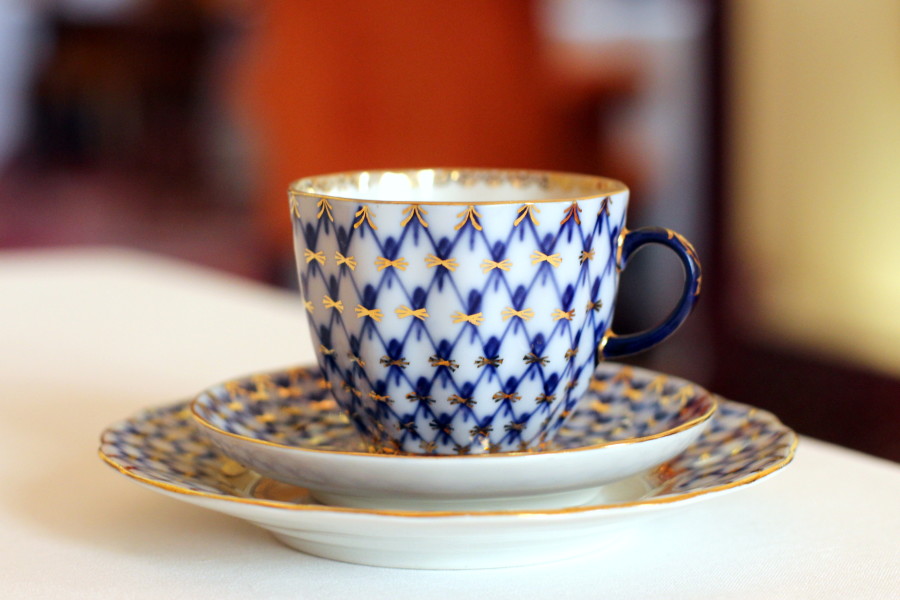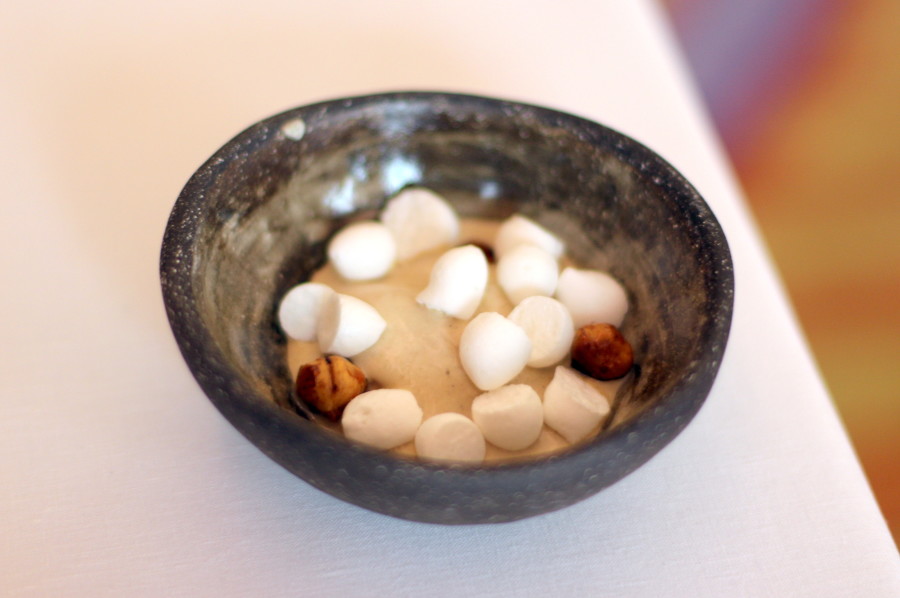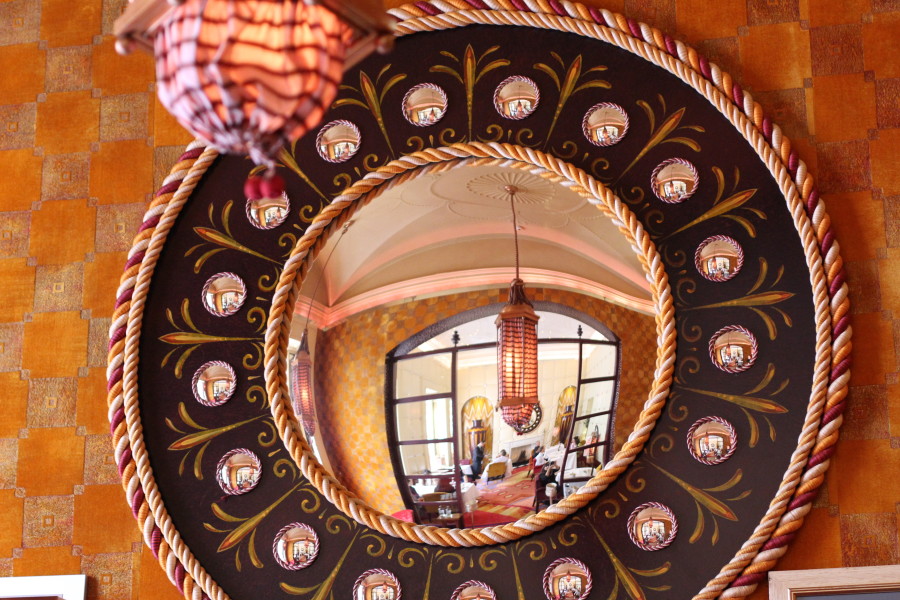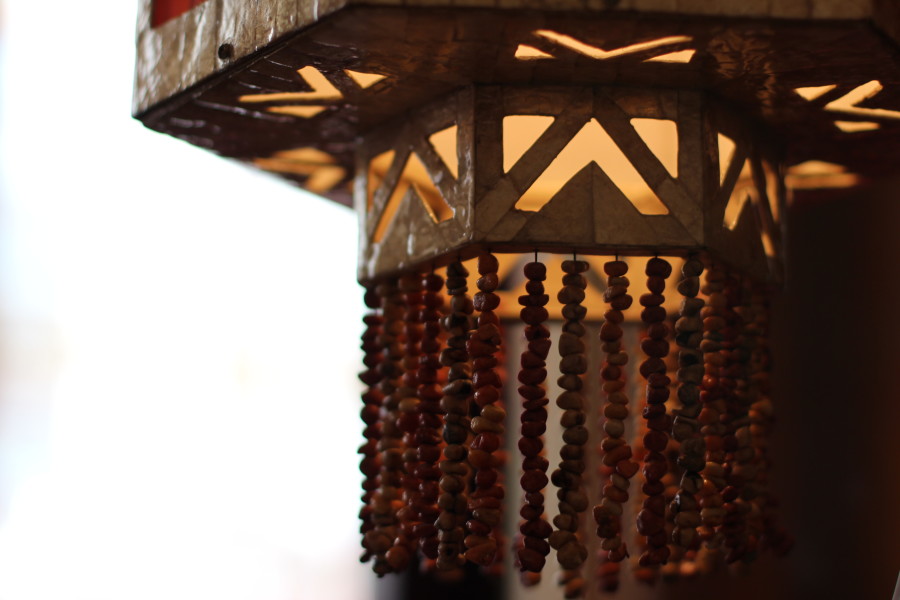 Tube: Oxford Circus
Address: 9 conduit street, London W1S 2XG
Tel: 020 7659 4500‎
With thanks to Bookatable for inviting me to review their set menu deal
Sketch Website‎
Bookatable Website‎ – Star Deals