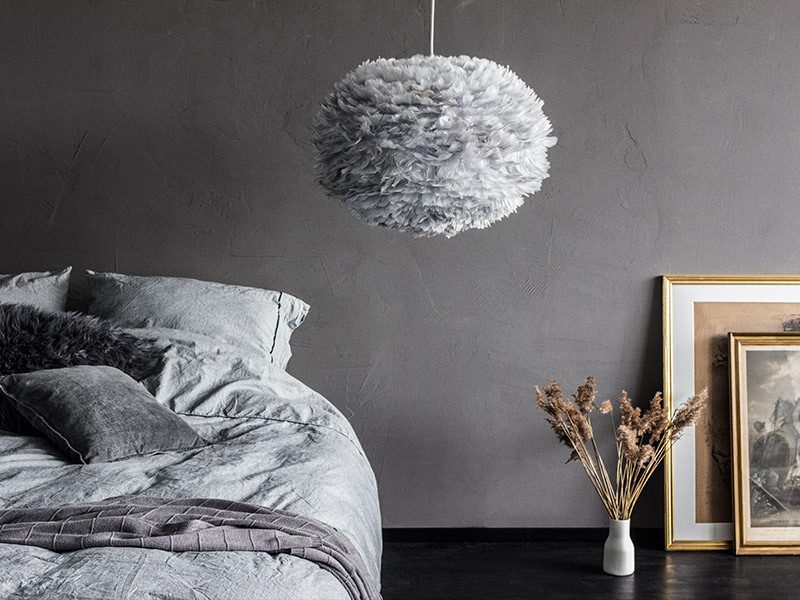 Exploring Vita Copenhagen and the Eos feather lamp
In one form or another, Scandinavian design has always been influential in the way we put our interiors together. With the combination of minimalist, practical and, above all, stylish aesthetic, it's no surprise that more and more of us pick Scandinavian design pieces over the rest. A relatively new company, Vita Copenhagen are proving to be exemplary in the world of Scandinavian design with their striking light solutions.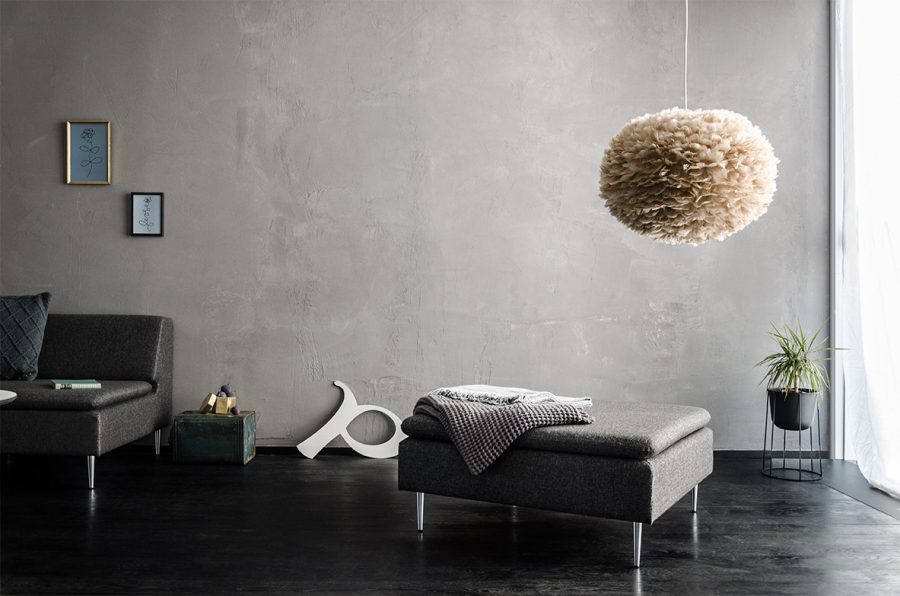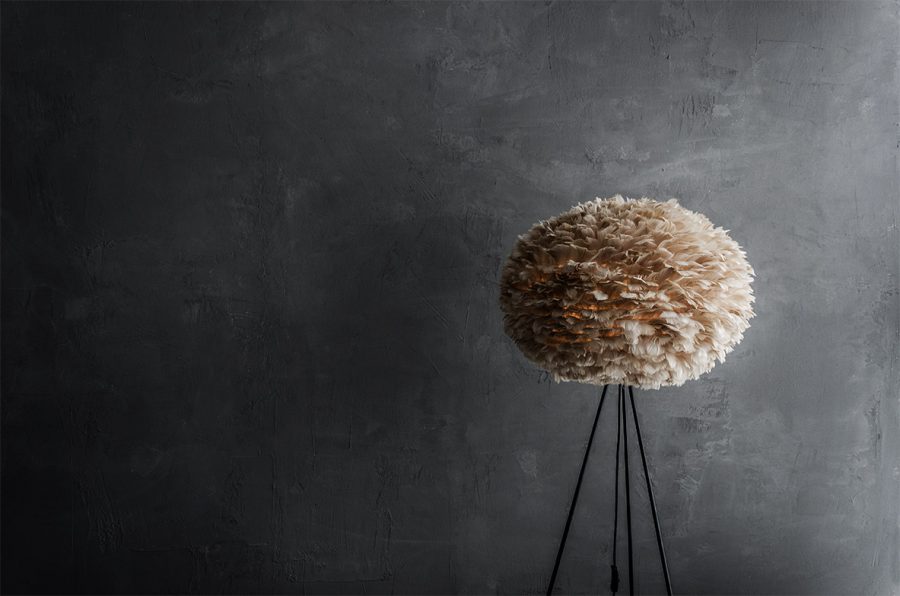 Scrolling through the gorgeous products on the Vita Copenhagen website, we particularly like the handcrafted Eos light shade range. Available in three neutral colours, our favourite has to be the pale grey Vita Eos.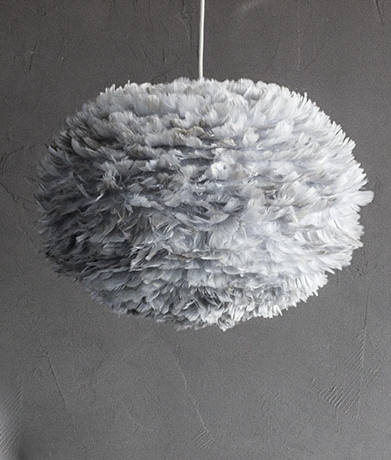 What's in it: the large, grey Vita Eos
Behind it's silvery-soft plume of goose feathers that number in the thousands is an oval-shaped paper shade. As well as being beautiful to look at, with a stroke of design genius the bulb is almost fully sealed inside the shade. This means that you can hang it practically anywhere and not have to worry about people seeing a bulb and cheapening the effect.
This attention to detail isn't surprising considering the founder of Vita Copenhagen, Soren Ravn Christensen, is a former restaurant and bar designer. As such, Christensen has a unique understanding of how to combine usability with a sense of chic. This know-how is evident in his designs, and especially so in the Vita Eos light shade.
Click to read more – 10 Best Prints For Your House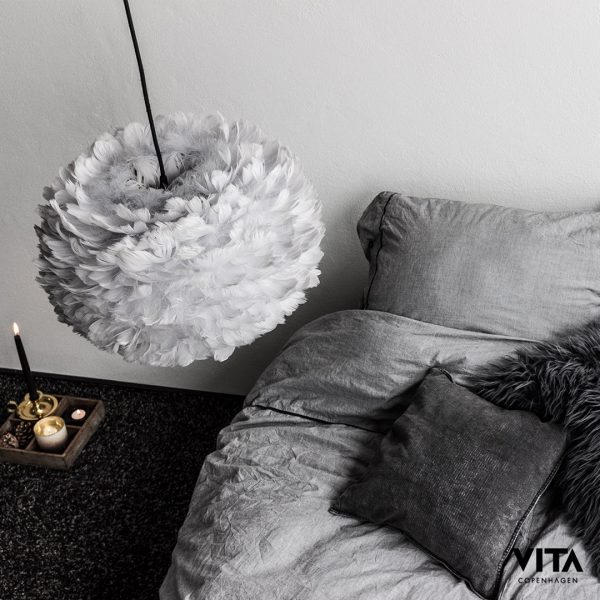 When the lights are off the shade adds texture and an almost sculptural element to a room. When you switch the light on, the shade and feathers help to really diffuse the light, creating a soft glow.
Choosing which Vita Eos for our room…
Whilst the Vita Eos shade is available in a number of dimensions, we pick ours in Large and love the sheer size of it. At 65cm in diameter it is certainly an impressive piece to put in a room, whilst still being light as a feather. A thousand feathers ;)
Once deciding on the colour and size, we put our order through and patiently wait for the fluffyness to arrive…
Finally, the Eos comes after a week of ordering it to our West London home, in a gorgeously solid, matte black package.
Click to read more – 10 Items To Inject Hotel Luxe Into Your Bedroom
Setting up the Vita Eos
Upon opening it we find that the shade is partially folded in on itself, which helps to minimise the ecological impact of packing and shipping.
Putting the shade together is easy enough; we slip it out of its black box, and prise it gently open. As well as the shade there is a second piece that secures it to our ceiling pendant fitting. The fitting in our home ends up being smaller than the fitting on the Eos shade piece, so we have to order a shade reducing ring. No biggie, but it does mean that we have to wait a few more days to fit the shade.
Once the reducing ring comes we are able to hang the shade up, and finally see it together. We love it, and it really brings together the pieces that we already have.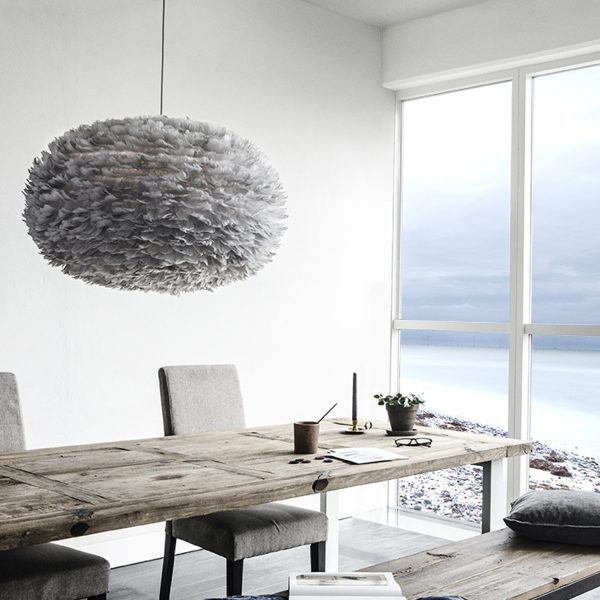 Vita Copenhagen offer brilliant lighting solutions, at very reasonable prices. If you're interested in adding a striking new shade to your room then we would recommend popping over to their site and having a look round. They also offer a number of other unique lighting options as well as the Eos range.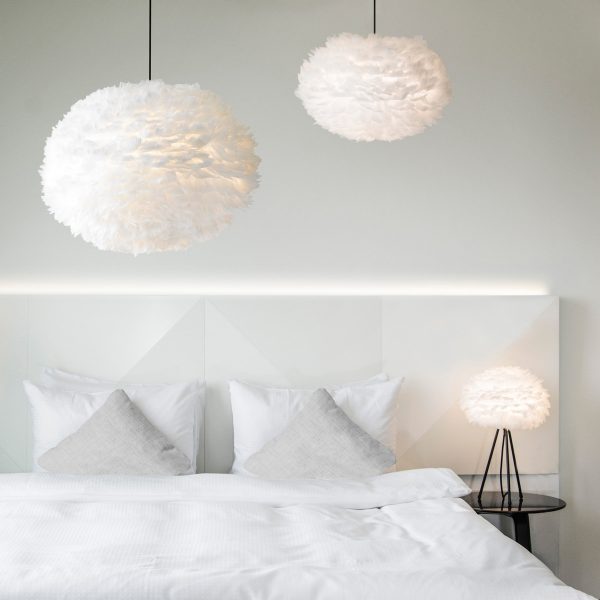 What are your favourite home design trends? We love the combination of luxe and Scandi-cool that the Vita Copenhagen shades are known for. Are there any items you think we should write about next? Drop us a line to let us know your thoughts :)
In the interest of full disclosure please be aware the Vita Eos light was sent to us to try out. We only recommend items that we really love, and we really the Eos lamp!