A review of Ad Astra hotel, Florence…
Surrounded by acres of well-tended formal gardens, Ad Astra has a location that is as prestigious as it's past. 
Ad Astra is in fact located in the largest private garden in Europe, The Torrigiani Gardens. The grounds are steeped in history, and the hotel is inspired by the concept of a Parisian Hotel Particulier. This inspiration stems from the fact that the premises have been under aristocratic ownership since the 17th century. Furthermore, the present Marchese Torrigiani still lives in the ground floor of this ancestral family mansion.
The hotel side of the premises (composed of the first floor and terrace) have been set up by Matteo Perduca and Betty Soldi, who also own the chic Sopr'Arno Suites around the corner.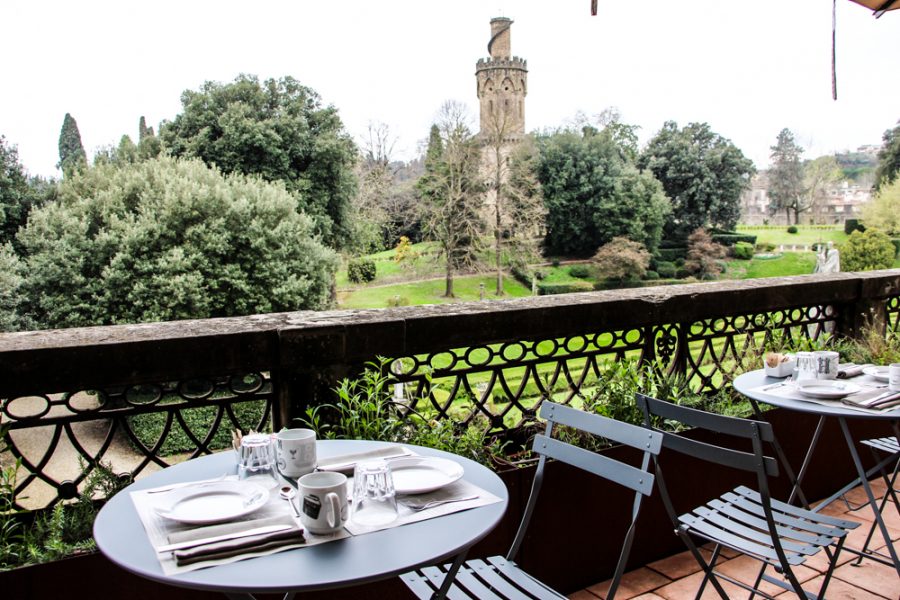 Ad Astra has been beautifully converted from an aristocrats weekend getaway pad to a boutique hotel, and still feels like a (very luxurious) family home.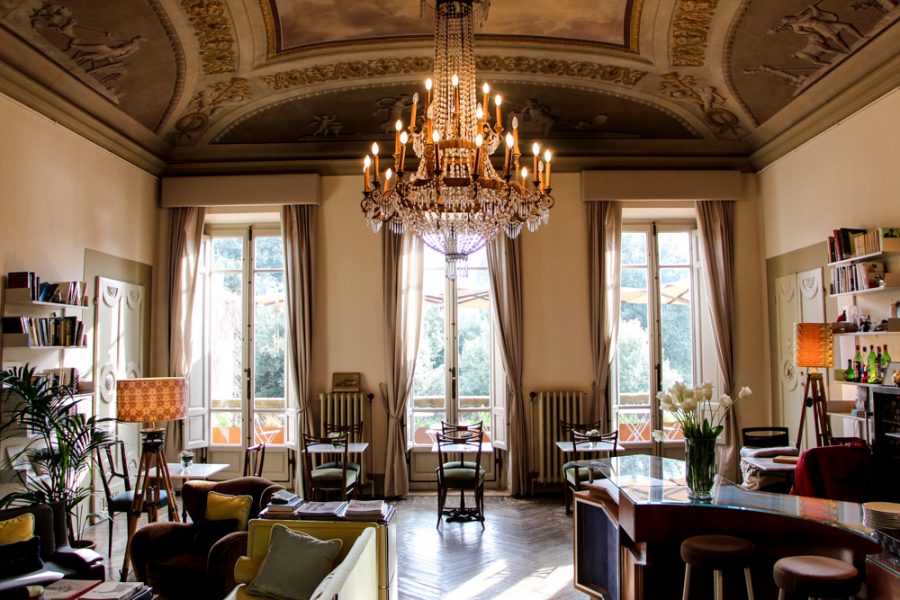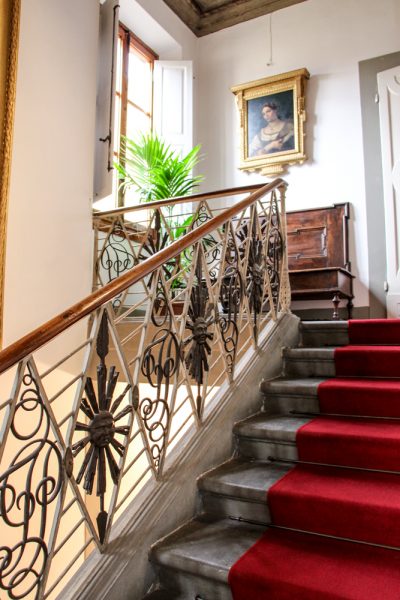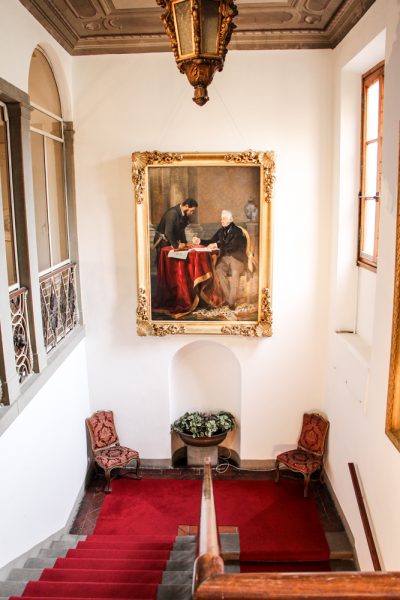 With its beautifully frescoed walls, parquet floors and wraparound garden-facing terrace, the atmosphere is light, chic and romantic.
After climbing the red-carpeted staircase, we find ourselves in the hotel lobby. Walking through the lobby we reach the highly photogenic lounge. The space is dominated by a vast chandelier and fine stucco-work, and furnished with restored vintage pieces and a melee of books and knick knacks.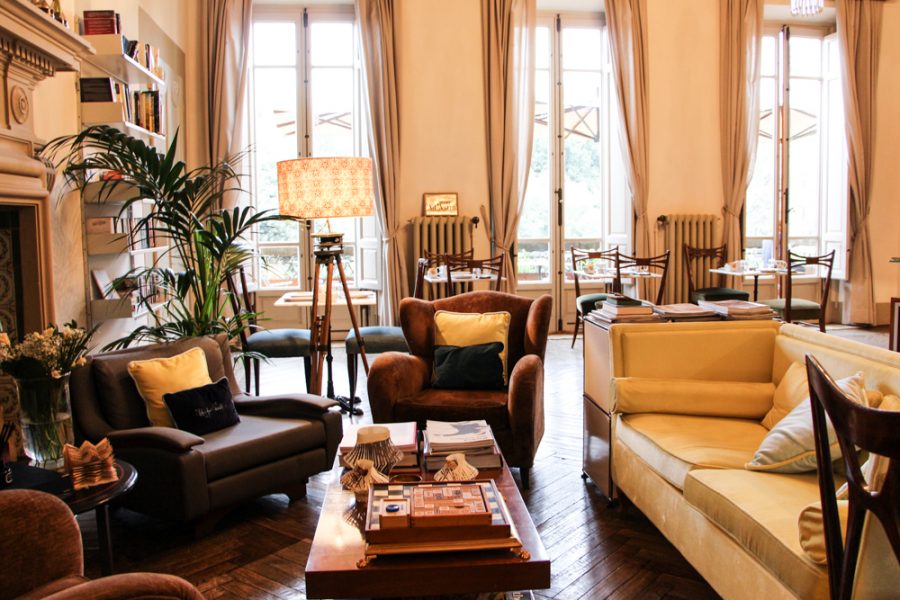 Additionally there are a set of elegant french doors that lead from the lounge and on to the wraparound terrace, which is where we spend most breakfasts.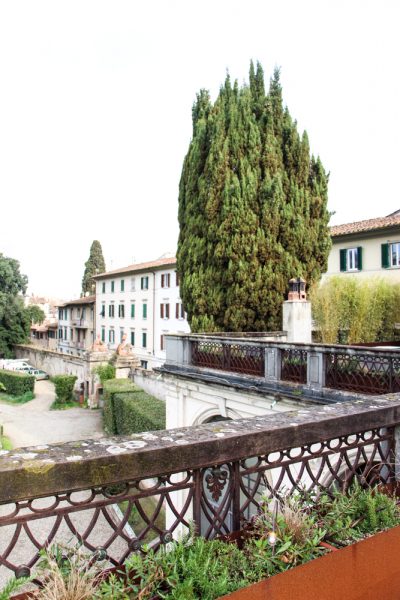 Although the lobby is only manned from 8am-8pm, guests are given a phone number to reach someone 24hours a day.
Location
Ad Astra is located in the very chic Oltrarno neighbourhood on the Via del Campuccio, south of the river. The area is known for its authentic restaurant and independent bar scene.
Additionaly, it's only a 10 minute walk to Ponte Vecchio, and an even shorter stroll to the area of Santo Spirito which is especially renowned for its medley of cool restaurants and bars.
The Room
Ad Astra has a total of 9 different rooms. Of these, 7 are located in the main house and 2 are located in the garden.
Every room has a different look and feel, each personalised in its own way. The furnishings throughout combine original Italian design pieces from the '50s, '60s and '70s with touches of Florentine tradition flavoured with elements from distant travels, lighting and objects produced by local artisans and craftsmen, alongside a sprinkling of Anglo-American pop.
We spend our first night in a 'Premium' garden suite, and our second night in a 'Superior' house room.
About the 'Premium' Garden Suite
In our garden suite we love the sense of isolation and of being immersed in a chic Italian garden.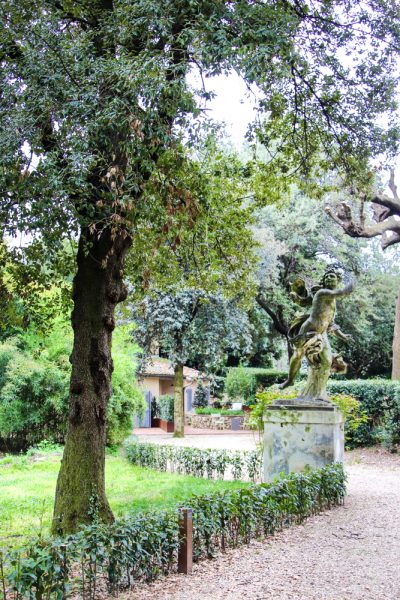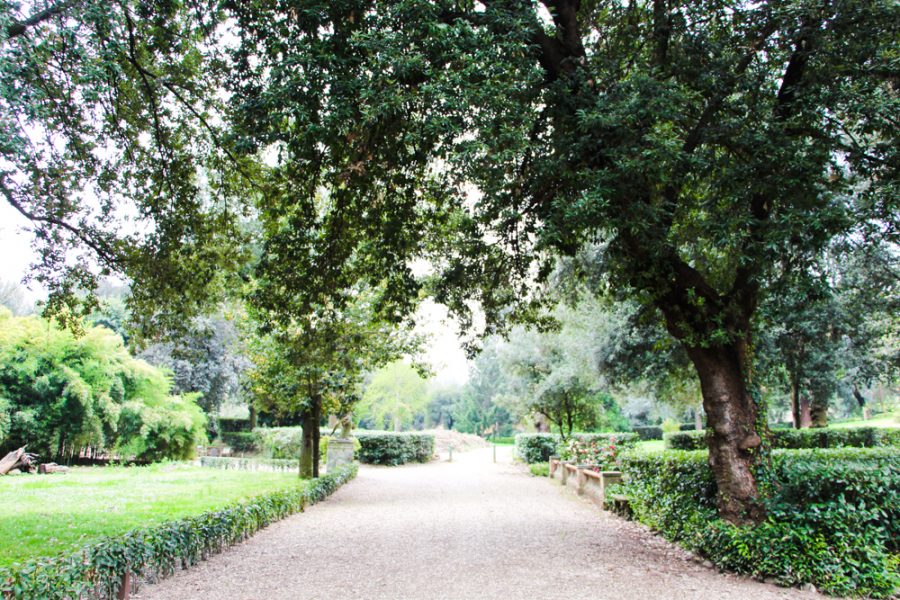 The room is painted in the same greens as the plants that surround it, and also includes an outdoor seating area.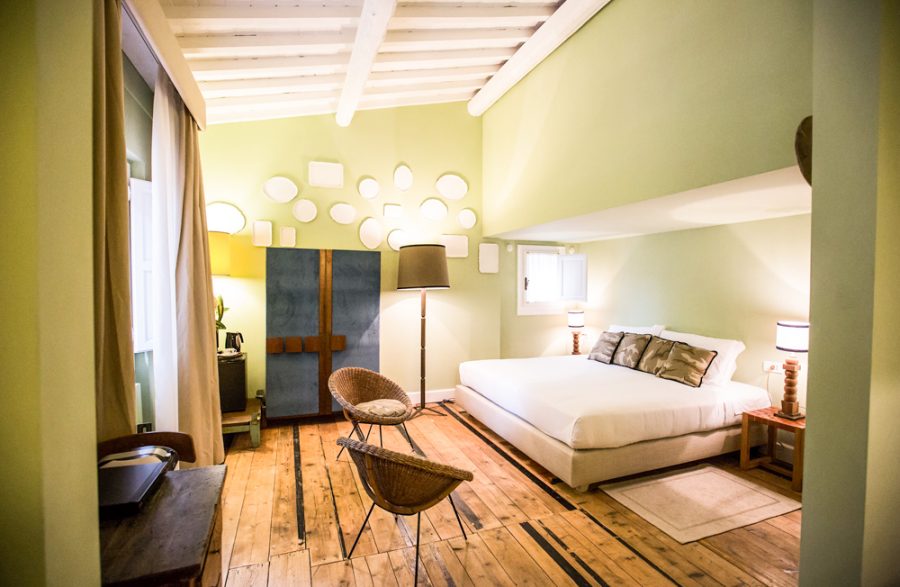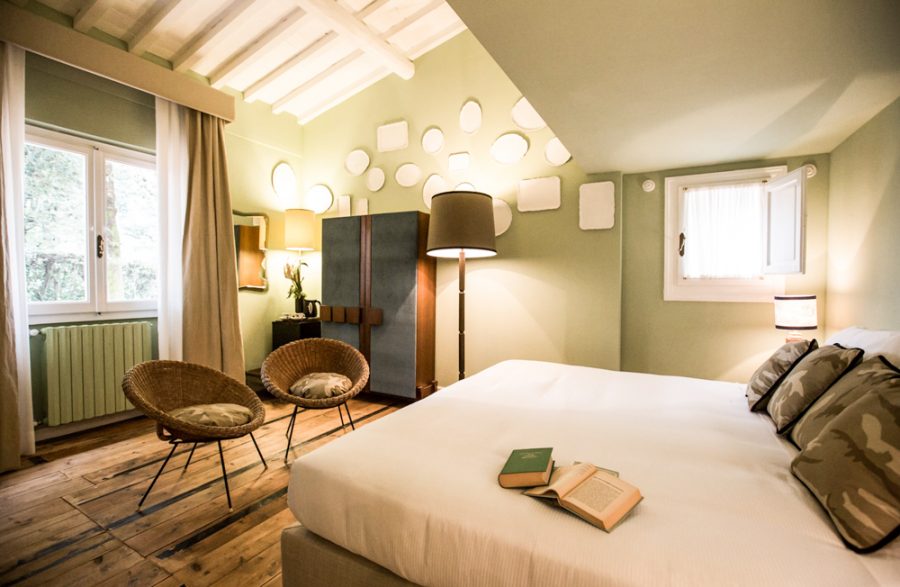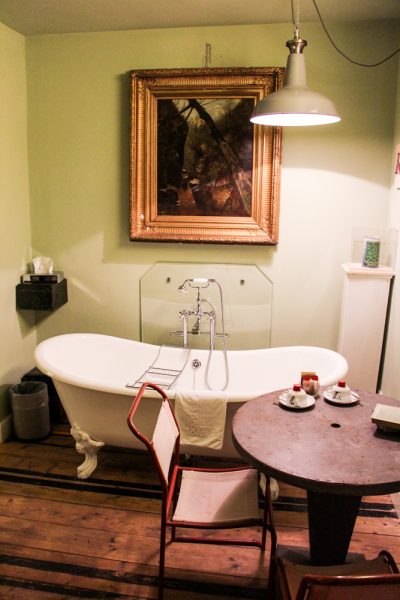 Most of all, we love the roll top bath which we have in both our garden room and house room.
About the 'Superior' House Room
On the second night of our stay at Ad Astra we move into a 'Superior' house room. Inspired by Emilio Pucci scarves from the 1950's, the room is resplendent in pastel blues, aquas and brass fittings.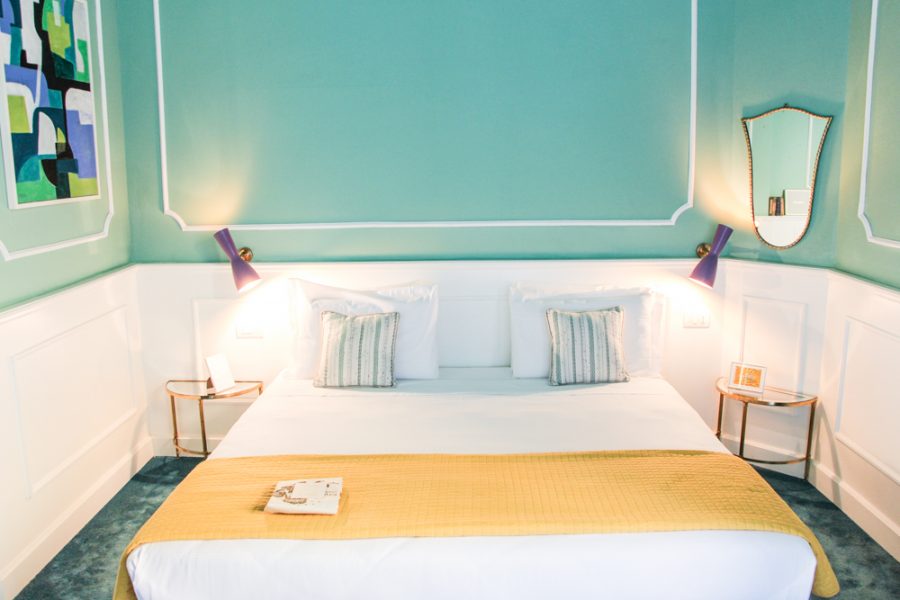 The extra wide bed is deliciously firm, and across the room is a standalone roll top bath that looks out on to via del campuccio. Further down is the private bathroom, which is an enclave of marble and glass. Most importantly, the twin showers have very good water pressure.
Inside the room is a mini-fridge, espresso machine, HD television with satellite connection plus DVD player and wi-fi.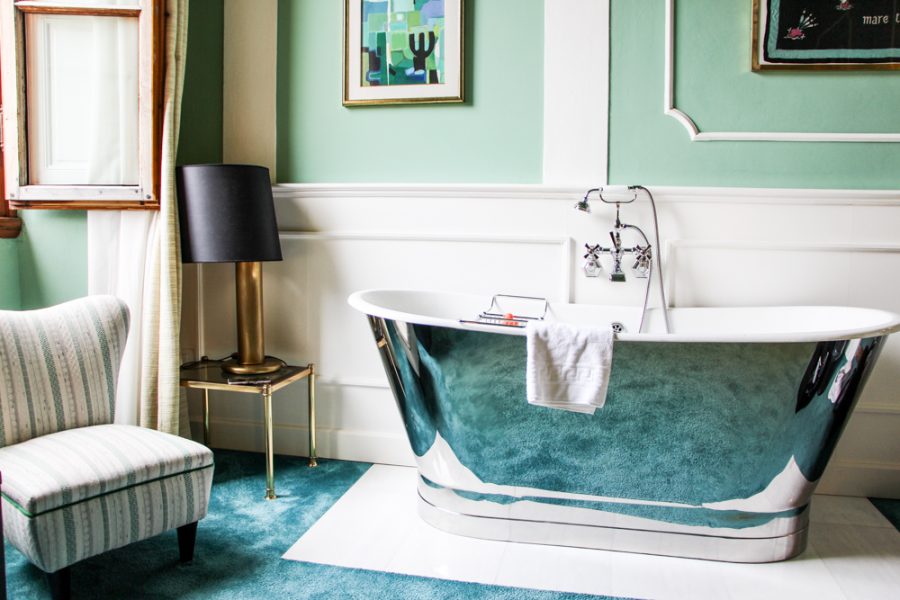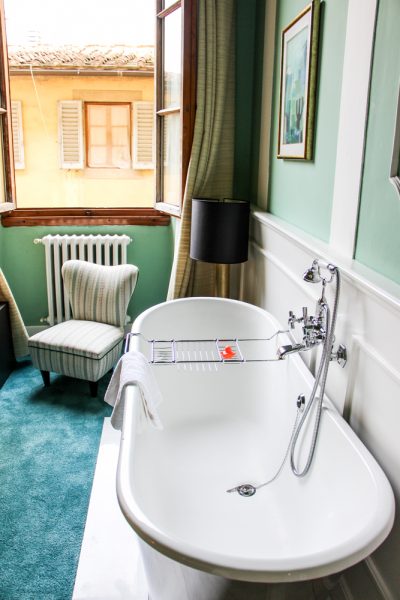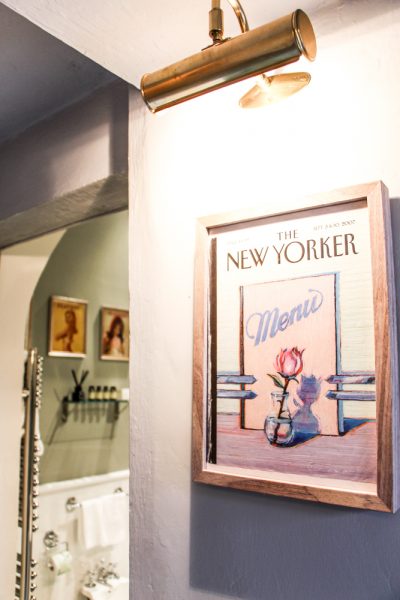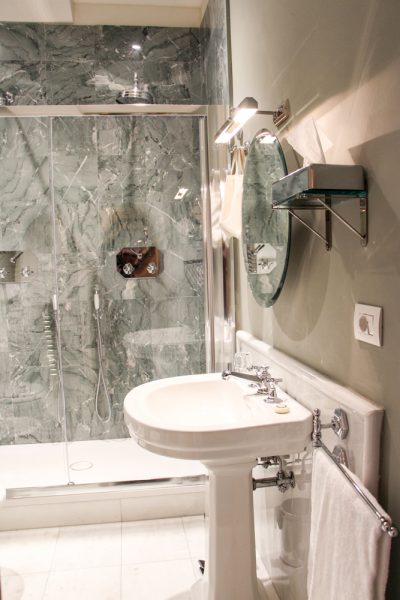 I'd recommend the garden room for a romantic getaway, whilst the main house room is great for its proximity to the common area and terrace.
Food & Drinks at Ad Astra
The common lounge area hosts breakfasts every morning, and also offers complimentary cakes, teas and coffees throughout the rest of the day.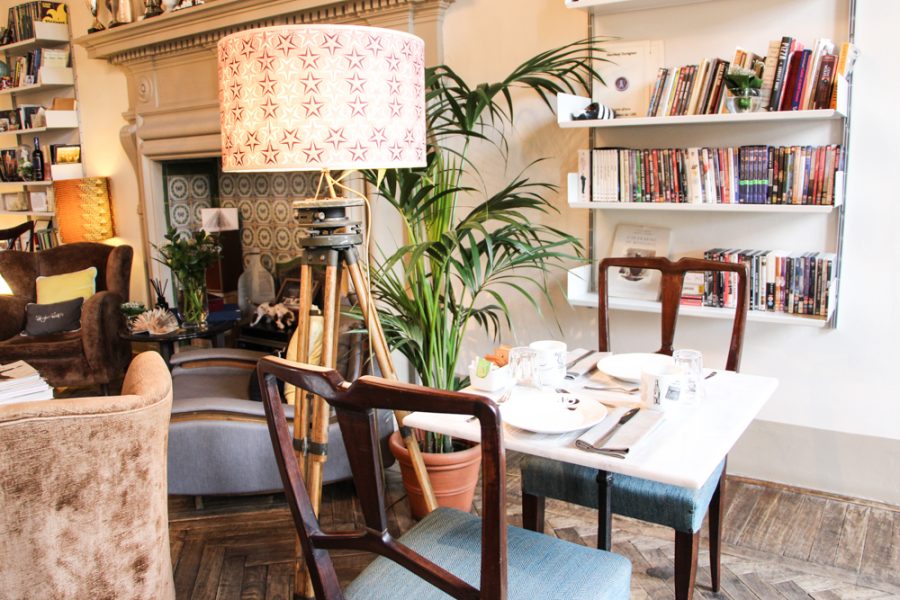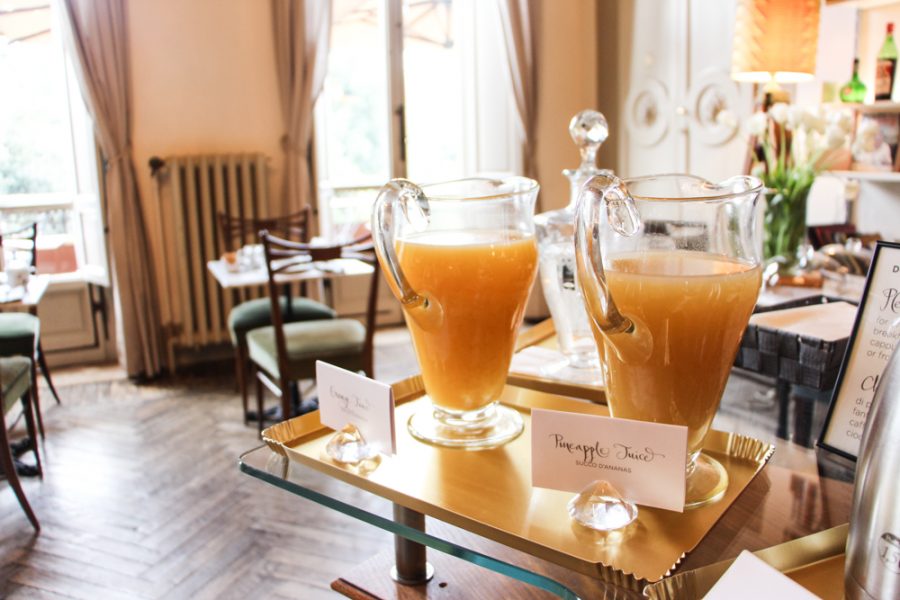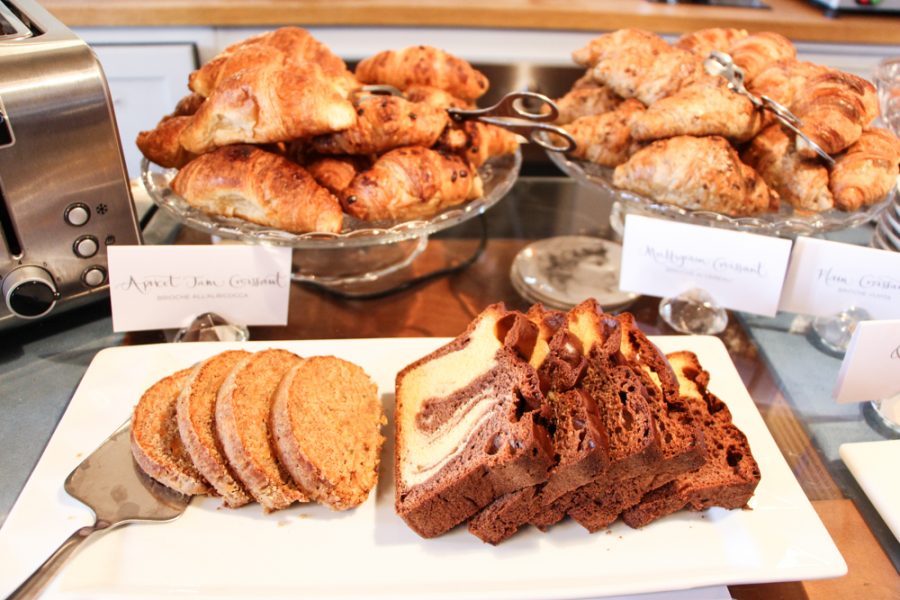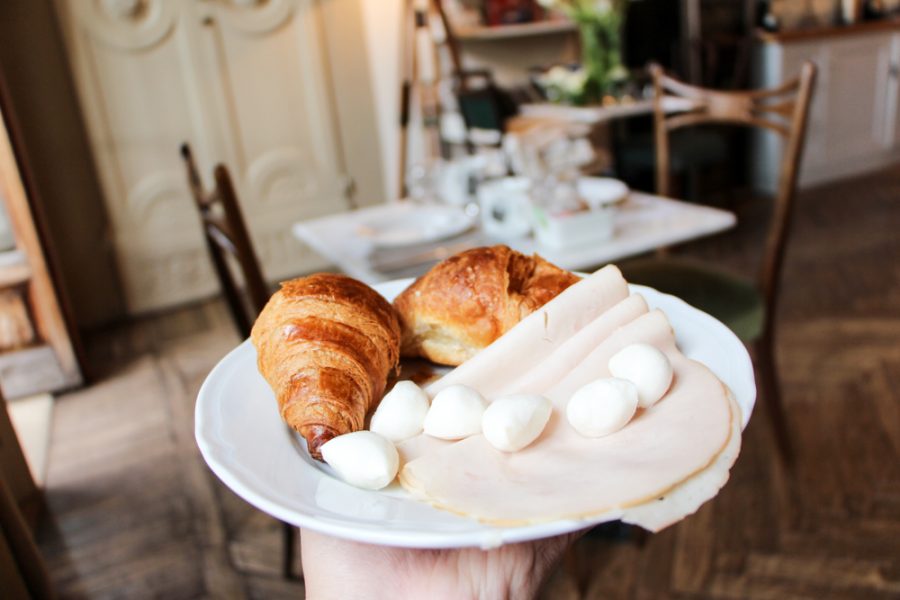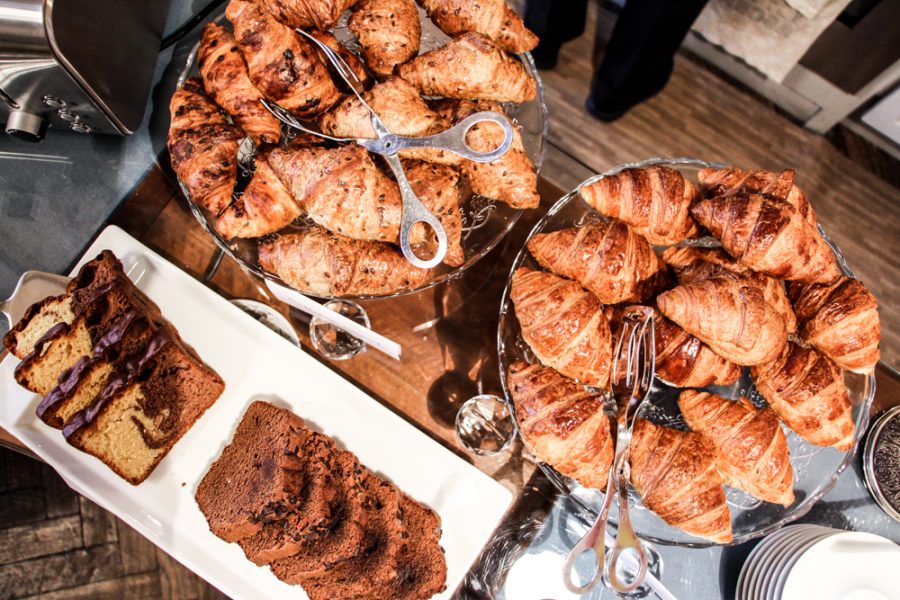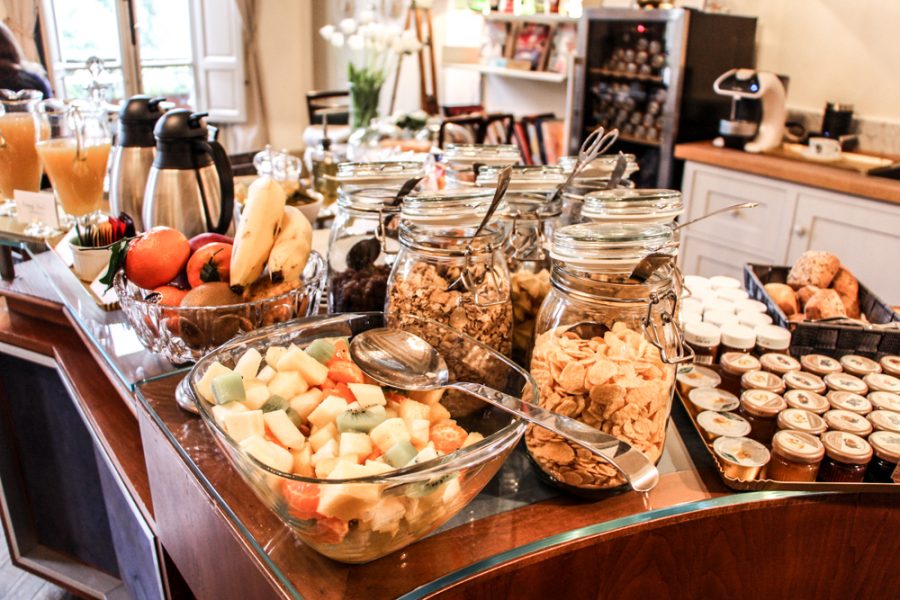 Breakfast includes fresh pastries, croissants, cakes, charcuterie and a cheese selection. There are chilled yoghurts and crusty bread rolls, the sort that go perfectly with a jug of olive oil and a view of the Torrigiani gardens..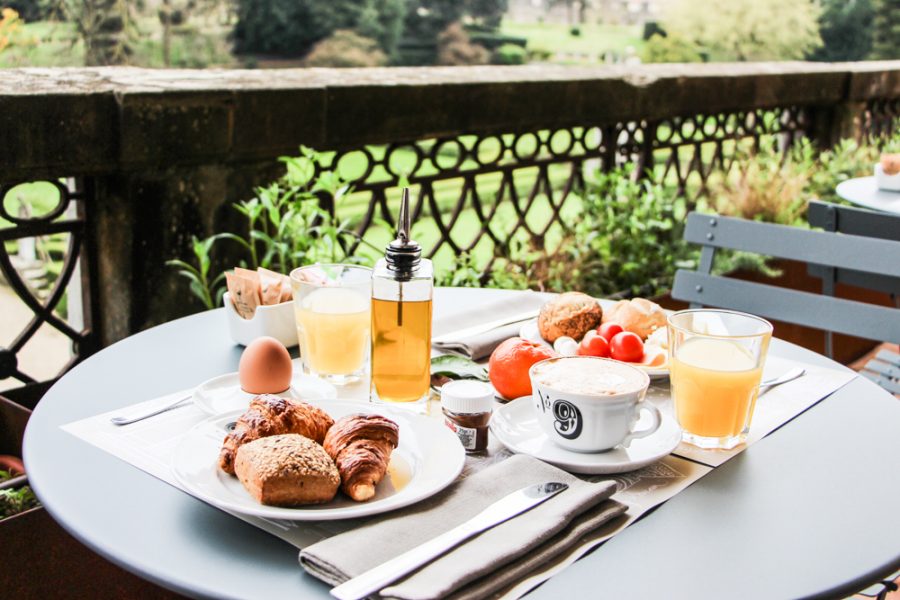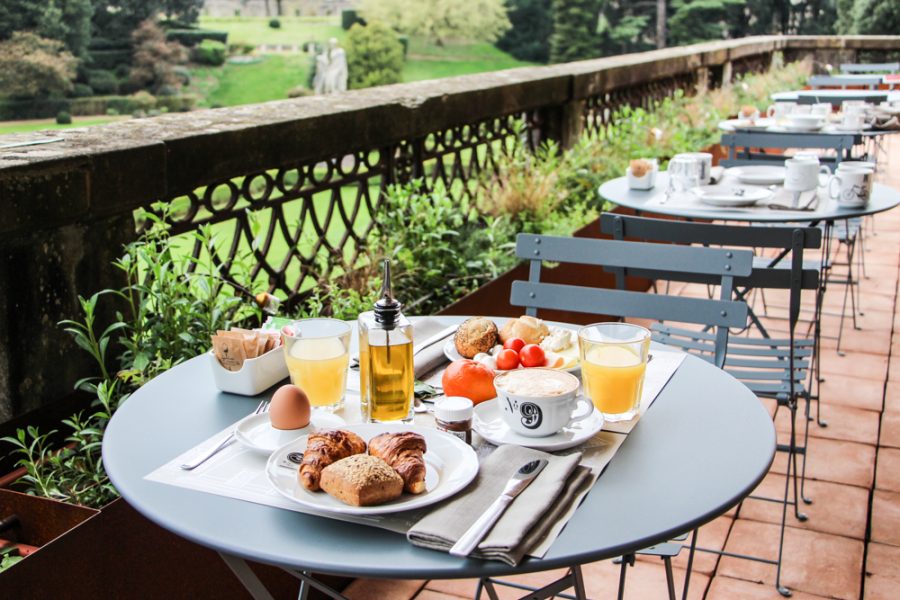 There is also an honesty bar with a range of beverages on offer throughout the day.
A little (bite) extra…
For other meals we ask the Ad Astra staff for some local restaurant recommendations, and they willingly reel off a list that we only manage to make a tiny dent in. Enough of a dent to know that they really know what they're talking about. For your information, here are their favourite local restaurants:
Please find below a list of restaurants in the Oltrarno district that we would recommend…
For good authentic Tuscan food and an informal, easygoing atmosphere (both just down the road from AdAstra):
– Alla Vecchia Bettola, in viale Vasco Pratolini 3
For a restaurant with a fun/quirky decor and atmosphere:
– Tamerò (the speciality is fresh handmade pasta), in Piazza Santo Spirito 11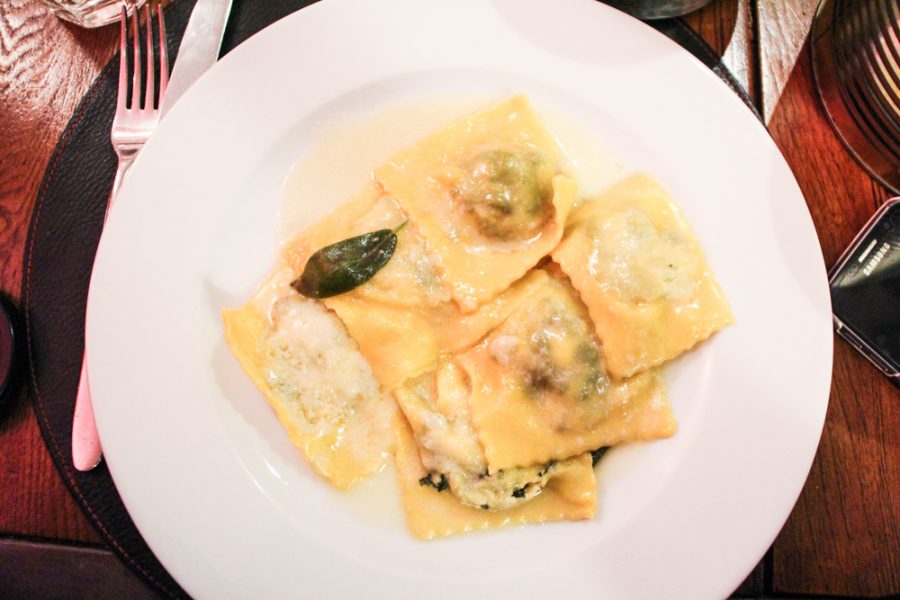 For something with a slightly more upscale/intimate atmosphere:
– Il Santo Bevitore, in Via Santo Spirito 64/66
– Trattoria I 4 Leoni, in Via dei Vellutini 1
Some of our personal favourites:
– I' Raddi, via dell'Ardiglione 47. Really good meat dishes, such as tagliata and beef tartare.
– Napoleone, on the Piazza del Carmine, n.24.
Best time to visit Ad Astra Florence
We went to Ad Astra in March and loved it. The weather was just warming up and the most we needed to ever wear was a cardigan. It showered a little but didn't impair our experience at all. The best times to visit Florence are said to be between March-May, with quite hot weather in summer, and then cooling back down in October.
Have you stayed at Ad Astra before? Where are your favourite spots in Florence? Let me know in the comments section!
Address: Via del Campuccio, 53, 50125 Firenze, Italy
Tel: +39 055 075 0602
Website

In the interest of full disclosure please be advised that the accommodation was provided on a complimentary basis. With thanks to Ad Astra for having us in.