Dessert bar and fine dining in Mayfair
8/10
Praised as one of the pioneers of molecular gastronomy, I find the closure of the restaurant El Bulli vexing. To think that in the year of its closure I was probably polishing off a thesis, when my ministrations might have otherwise secured a booking, is a moment to crease the brow and resort to penning hot, angry words about baser imitations. Today is not that day however, as popular opinion would suggest that Pollen Street Social is not one of those restaurants.
Sired by Jason Atherton, there is potential for Pollen Street Social to offer the kind of culinary flexing that one would expect from an ex elBulli chef. As well as working with Ferran Adrià of elBulli, Atherton has also honed his talents in the kitchens of Pierre Koffman, Marco Pierre White and Gordon Ramsey. With a bit of luck, the stellar success of Pollen Street Social will reflect in our experience.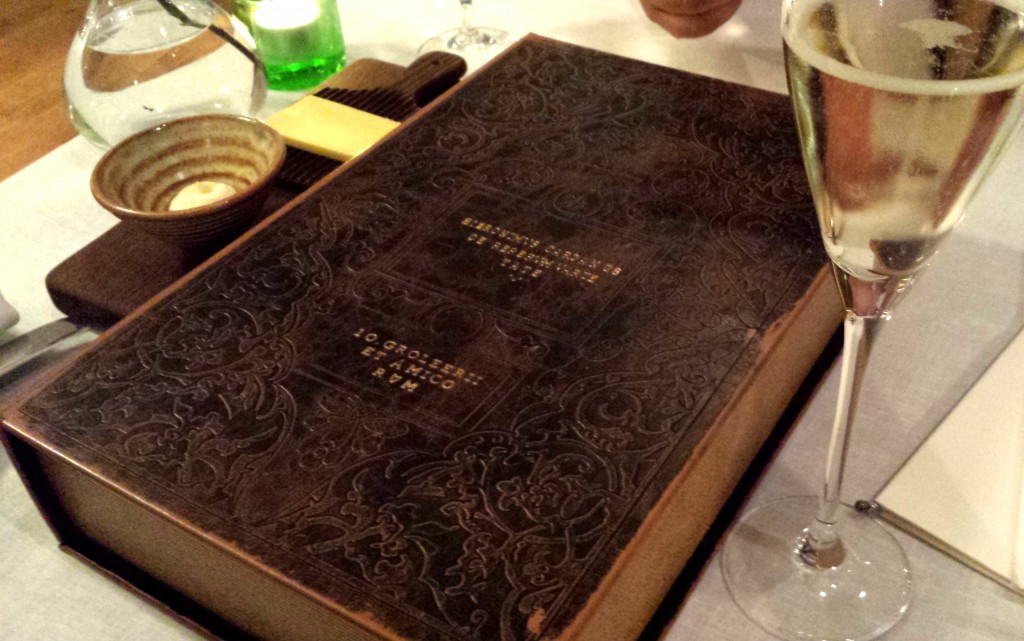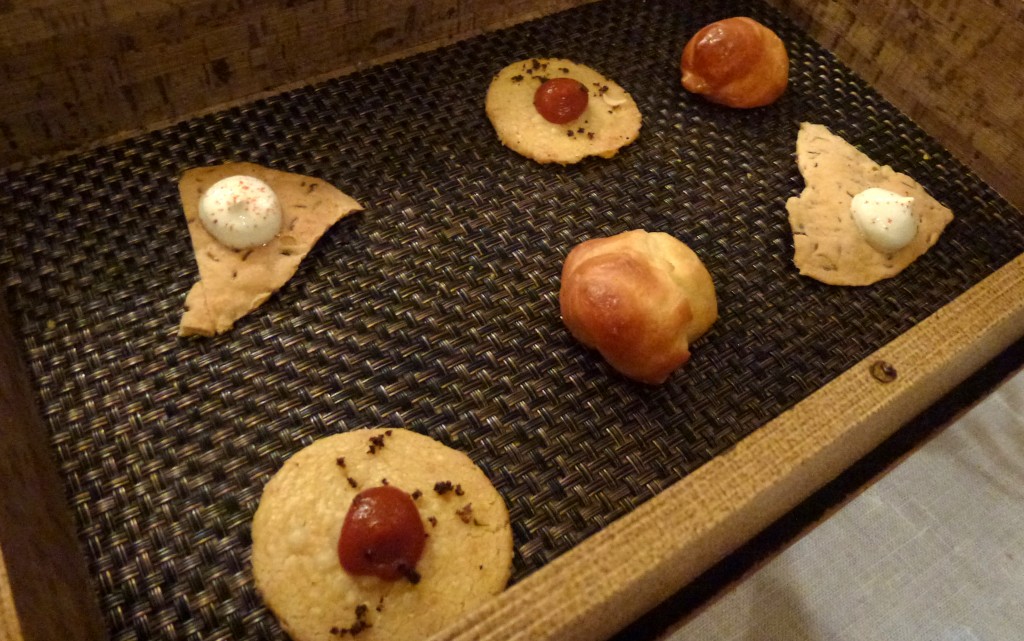 We start the tasting menu proper with a pineapple and coriander variation of cold crab, which surpasses expectation. The once sharp pineapple is softened in intensity to give just the hint of sweetness, ensuring that it does not overpower the gentle crab. Flying fish roe and shiso powder provide surges of flavour.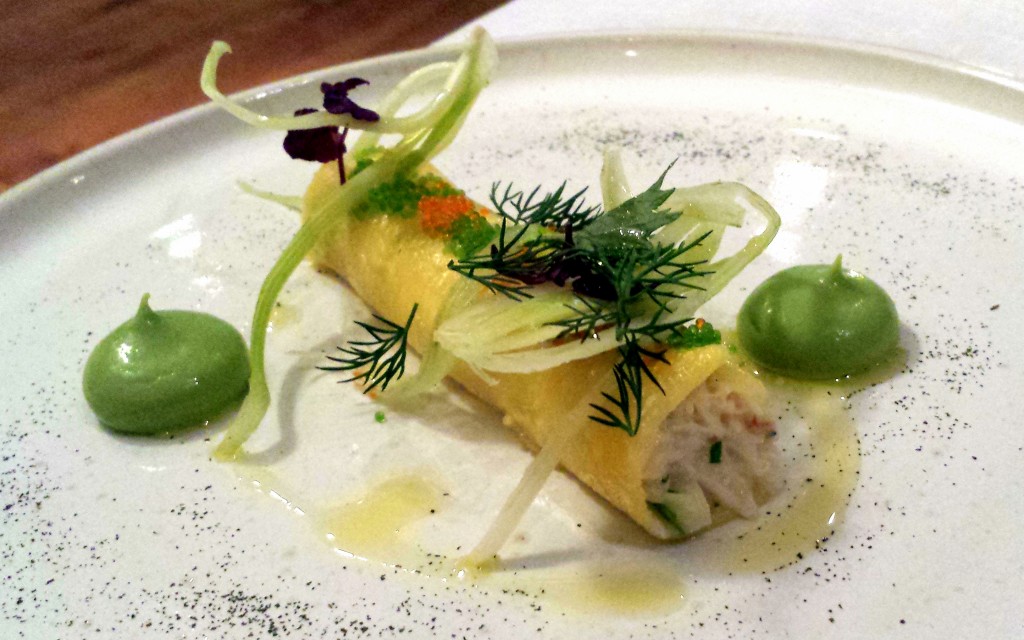 Venison is served two ways, the first being a ruddy circle of loin, and the second a rosemary spiced sausage. These are scattered with honey glazed beetroot, turnip and pickled pear, with inflections of acidity from polka dots of quince puree. The dish is a din of ruby colours and contrasting textures, pleasing to eye and tongue.
The second main of lamb is served three ways. A single rack of lamb is the most obvious, whilst the shoulder is minced and deep fried in a panko crumb. The shank is served on a sweet pumpkin fregola (beads of pasta), salted with parmesan. There is a warmer satisfaction to be had with these dishes, which moderate the pretensions of the area with good taste.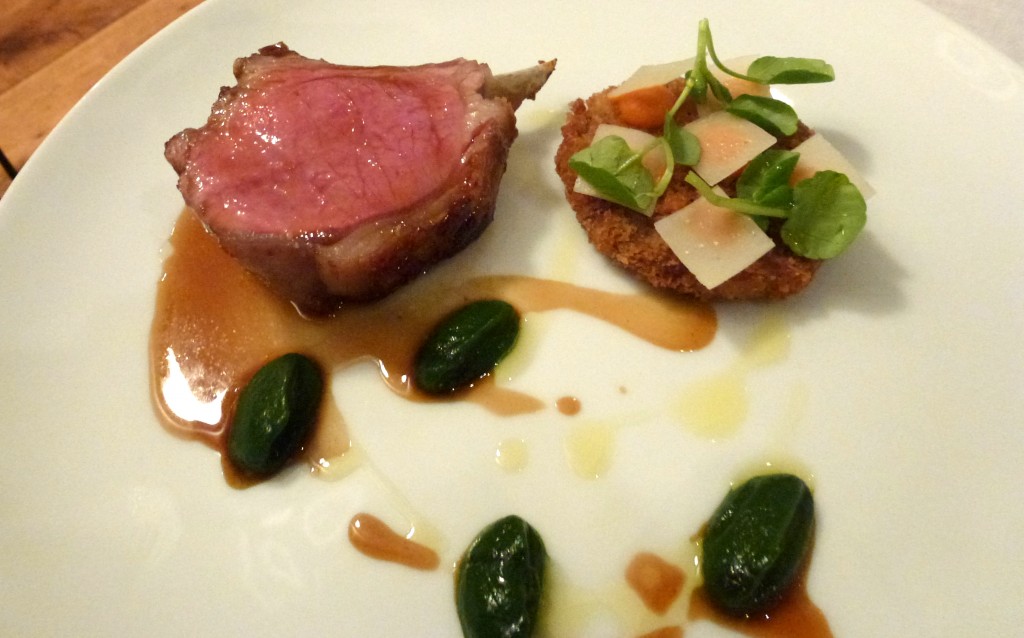 Pollen Street Social has a dedicated dessert bar, behind which pastry chefs go about constructing intricate sweet things. Taking the opportunity to move here for the remainder of the meal is the easiest choice yet. The sweet section of our meal commences with mini ice cream, which turn out to be candy floss flavoured and covered in a 70% chocolate shell. These are propped on miniature cones, full of cherry jam and cream.
The pre-dessert of mandarin sorbet is covered with an ill-judged yogurt foam, lashed with a disproportionally aggressive lime zest. The 8 course tasting menu pre-dessert (which we are treated to) of caramel popcorn, sweetcorn cream and chipped nougatine is a far superior specimen.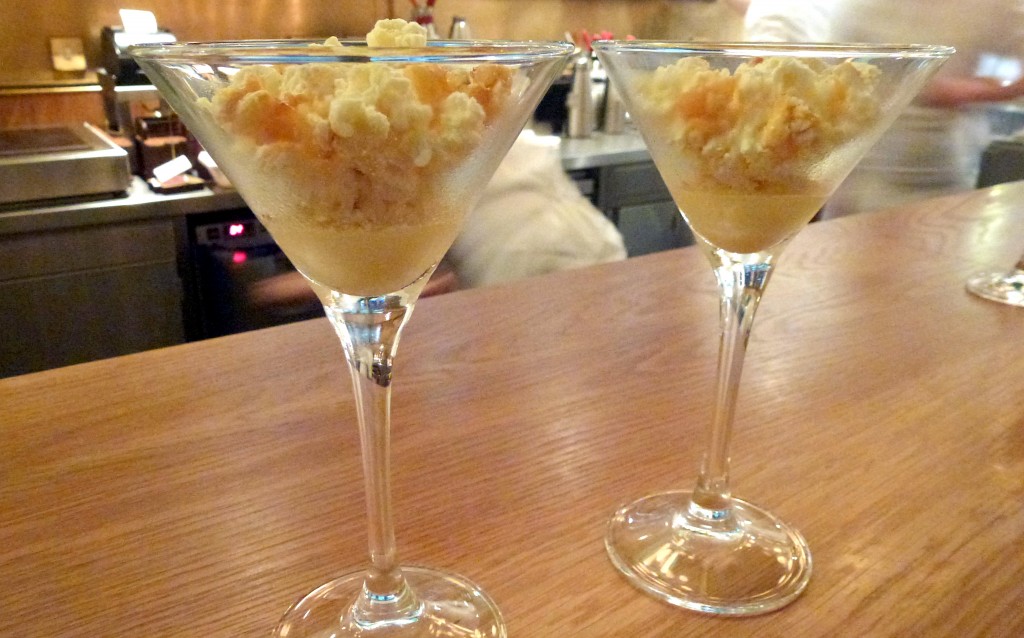 The pastry chefs are more than willing to converse and answer questions, and are kind enough to offer tastes of things as they are prepared. Liquid nitrogen is used heavily to create cryogenically textured components. These include chocolate ganache whipped with banana puree and nitrogen to produce arctic shelves of coral.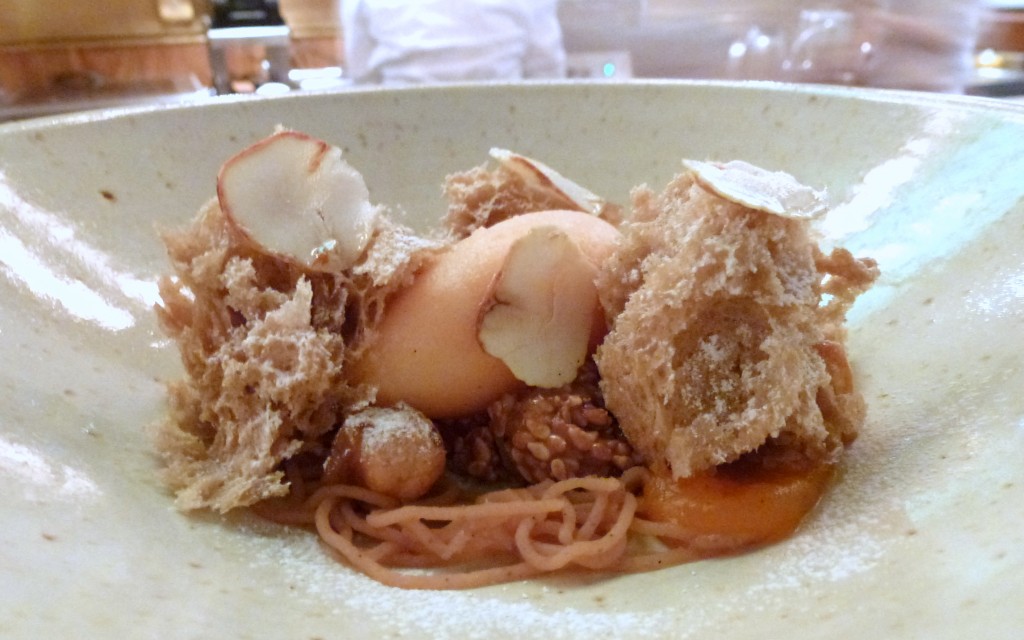 Peanut butter receives the same treatment with Frangelico and nitrogen, and makes up part of the PBJ (peanut butter jelly) dessert. This is teamed with a cleansing quenelle of yuzo cherry sorbet, jelly, and caramel peanut brittle covering a sheet of potato starch. The waiting time between my obsessive picture taking to actual consumption works well here, as the frozen parts of the dish have time to mellow.
The relaxed and open atmosphere in the restaurant is refreshing, and the little touches like providing a bag stool, and ensuring (tap) water glasses are full are exceptionally thoughtful. I do like Pollen Street Social, but would be wary in future when ordering. Prices add up and I can imagine that too many of those dud dishes will start to hurt. Average price per person for the 6 course tasting menu and drinks is £90.
Tube: Oxford Circus