As much as I've loved using Instagram over the years, for the longest time I was stuck in something of an Insta-rut getting barely a handful of likes per picture and even fewer followers per week.
It was during a month long holiday to the Middle East where I did nothing but eat shawarma and watch Gossip Girl that I began experimenting with ways to get further on Instagram, a tool that is especially useful for a blogger.
Blogging successfully is about more than just knowing how to take a good picture and write content, and the most prominent bloggers spend serious time building up a presence on social media.
That being the case, here are my 10 best ways to to get more followers and likes on Instagram
1. Rock your bio section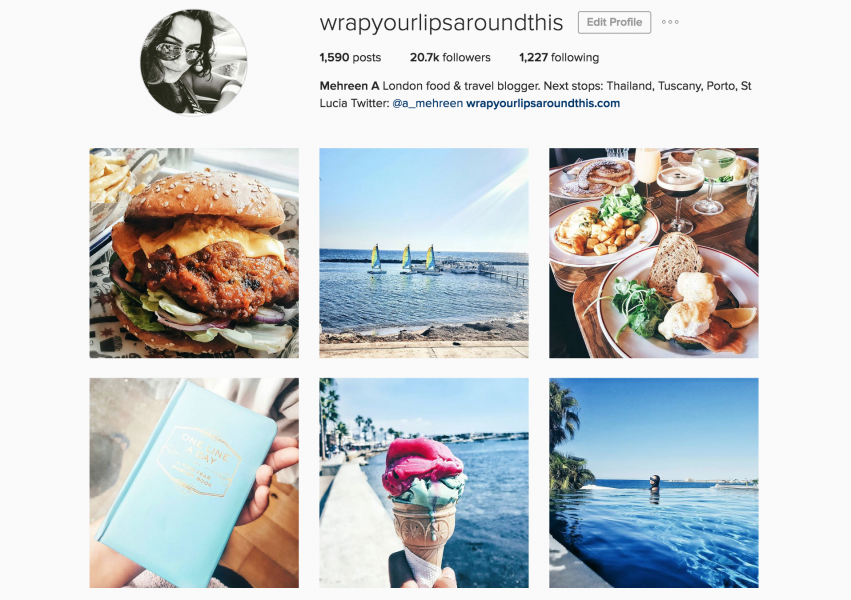 As one of the first things that a user will look at, its important to fill your bio out. Be personable, say who you are and what your Instagram is for. Be quirky if you like and feel free to add relevant hashtags (but don't be spammy). Include a link back to your site and other important social media profiles.
Tips:
You can use this section to establish your own hashtag. Mine is #wrapyourlipsaroundthis, and more and more people are starting to use it to tag their food pictures, which I then re-post on my Instagram feed with a shoutout to the user. This encourages your audience to engage with your brand, and increases your visibility at the same time.
2. Start liking photos
To get engagement, you need to give it. Liking pictures is a great way to introduce your Instagram feed to a wider audience, and to ultimately get more likes and more followers. Use the Explore function to search for the hashtags you normally use to tap into the people who also have the same Insta interests.
Tips:
Its all well and good getting new followers, but also make time for the people already in your Instagram sphere. Scroll through your home feed and engage with the people you already follow and who follow you back. This has to be one of the best ways to build long lasting engagement with the audience you already have, and is likely to lead to more long term Instagram success.
3. Comment on photos
As well as liking, commenting is also golden. If you're going to do it though then make sure you write something more than just 'omg great pic' – take an actual interest and you'll see it reciprocated in no time.
Tip:
Start slowly. It's easy to become overwhelmed in the beginning by all the things that you think you need to do and then to have to write something funny/witty/intelligent as a comment. Just remember that however little you start to do, its still better than nothing at all.
4. Seek out a new Audience
I often use the explore function to browse through Instagram geographically, liking and commenting on photos from users in different countries to introduce my account and blog to a wider demographic. My Instagram is all about Food and Travel, which is going to appeal to a range of people across the globe. Tap into that.
Tips:
Engaging with users in different countries means that you can work different time zones, so see what fits where and work it into your day. Central Africans seem to love using Instagram at around 6pm London time, and most people in the Middle East seem to have the best engagement at around midnight.
5. Geotag your pictures
Geotagging your pictures is just another way of providing a useful indexing system for your feed, and will help bring your local audience to you. If someone uses Instagram to look for pictures at a certain bar, restaurant, hotel or even city, your photo will come up. That's one more way to make your Instagram more visible and searchable.
Tips:
Geotagging your pictures with specific places has the added advantage of making your Insta feed more usable. You audience can click immediately on to where you ate that amazing gooey looking chocolate fondant and maybe pop in themselves. They'll appreciate that you've shown them something and then directed them to where they can have it too.
6. Post regularly and at the right time
I would recommend posting 3-4 images a day. I get the most engagement later in the evening when everyone is done with work and more free, and so I try to post the majority of my pictures after I leave work. For my London-based followers I find that I get the majority of my engagement during rush hour when everyone is stuck on a train and flicking through their phones.
Tips:
Remember that that quality beats quantity. Focus on posting pictures that fit your Instagram account and that your audience is likely to want to see.
7. The Money Shot
Even though my Instagram is all about Food and Travel, some of my most popular photos are often the ones where I am in them too #selfie. Various studies have shown that people tend to be more engaged with images that show a face or a person, so use that to naturally increase your engagement.
Tips:
Don't inundate your feed with selfies. As a rough rule of thumb for every 10 pictures post one or two selfies or action shots with you in them. It often helps to build a lasting rapport with your audience if they have more of a sense of who you are, but make sure that your feed stays true to your theme (see point 9).
8. Use your photo captions playfully…
…and informatively. Ask your followers questions, tell them what your opinion is of the subject matter, have a personality and let people see it.
Tips:
Add more value by geotagging (as above) and tag other accounts where possible. I always try to tag the restaurants/hotels/bars in the picture so that the audience can click through as see more of the place. This also ensures those photos show up in those users' feeds, and makes it more likely they'll share them.
9. Theme your Instagram Feed
And I don't mean just posting photos of one colour, in pastels or monochromatic (although those feeds are totally gorgeous to look at). Let your audience know what to expect whether that be beauty, food, travel, fitness, photography or lifestyle pictures. It will give your feed more structure and your audience will know what to expect when they follow you.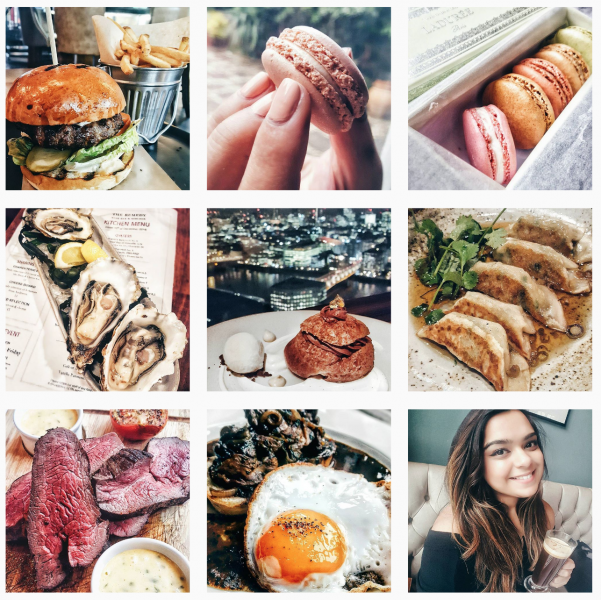 10. Use (smart) hashtags
Instead of weighing your pictures down with generic hashtags like #FF (Follow Friday), #instafollow, #l4l (Like for like), #tagforlikes and #followback, which really don't mean anything at all, tap into the audience that you want to attract by using useful hashtags.
For food pictures I've found that using hashtags that reference well known Instagram food sharing accounts do well in terms of engagement because you're tapping into an audience that is already in the market for pictures of food. Consequently it's more likely that they're liking and following you because they like your content, which means that they'll probably keep engaging with you in future.
The following hashtags work really well at guiding foodies to my Instagram feed:
#foodstagram #eatfamous #instafood #foodporn #eats #eeeeeats
Tips:
Note that Instagram lets you use up to 30 Hashtags on each picture, and when you're starting out its often useful to use all of these up. Try adding the hashtags as a comment to your picture instead of in the caption, as it often just looks a bit cleaner, and remember to add that hashtag comment as soon as you post.
Are you trying to increase your engagement on Instagram?Do you have any tips or tricks that work for you?