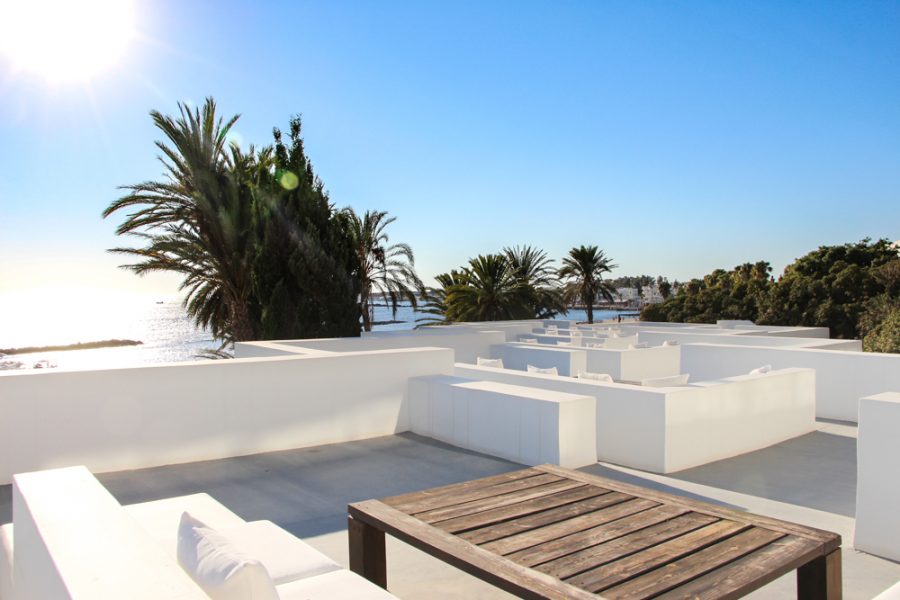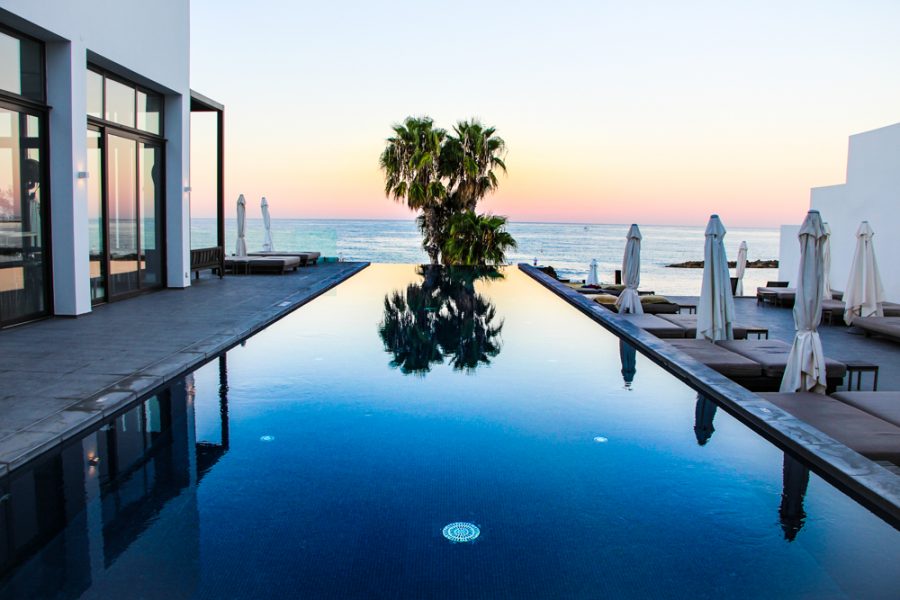 The Hotel
Located in Paphos, a coastal city on the South-West edge of Cyprus, Almyra is one of three 5* luxury hotels that form the Thanos Collection along with the hotels Anassa and Annabelle.
Almyra is unique from its siblings and indeed from many of the hotels in Paphos for its contemporary design features. The colour palette is imbibed with pure whites, greys, and dark, reassuring woods and slates.
My companion and I both reach for the same word when asked to describe Almyra: Zen.
The minute you step out of your taxi you are enveloped in an aesthetic that is calming. We love the gently gurgling pool of water that welcomes you in front of the hotel, through to the chic reception of marble and stone. Furniture is upholstered in soothing cottons and cool leather, and from the ceilings hang chandeliers from which spill rainbows.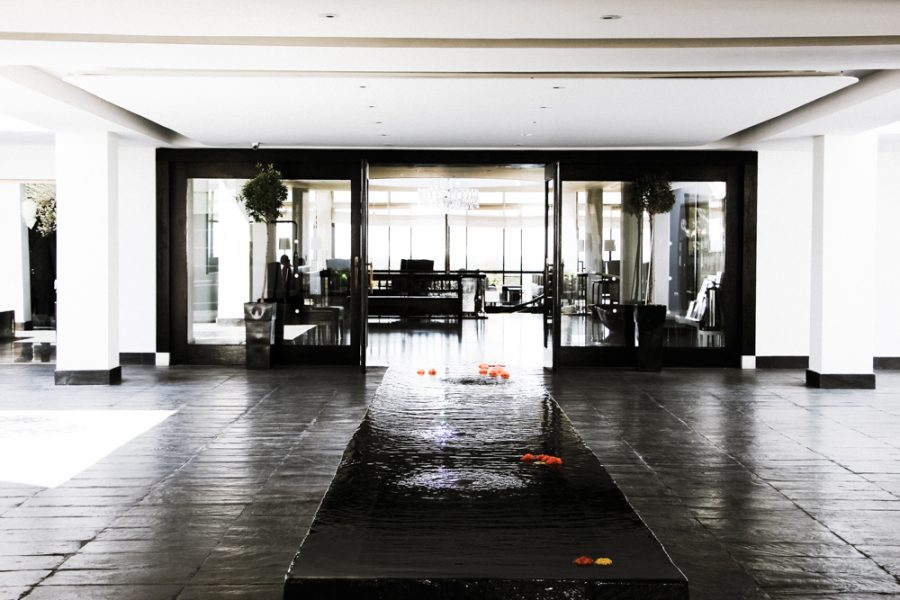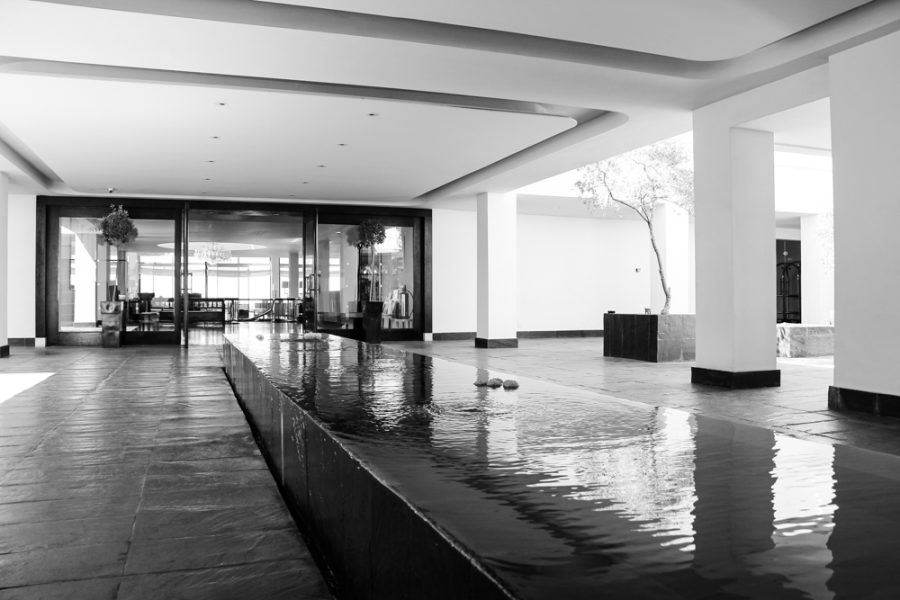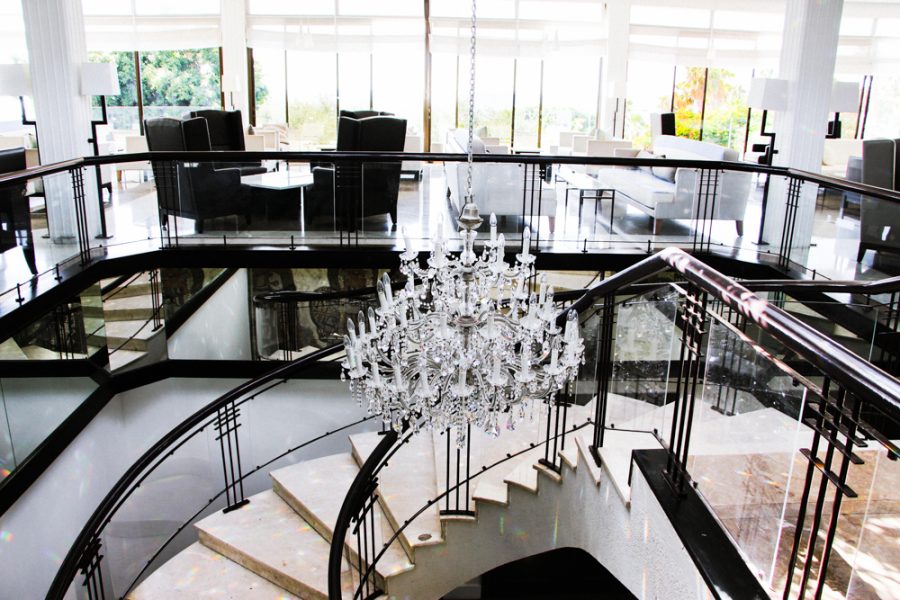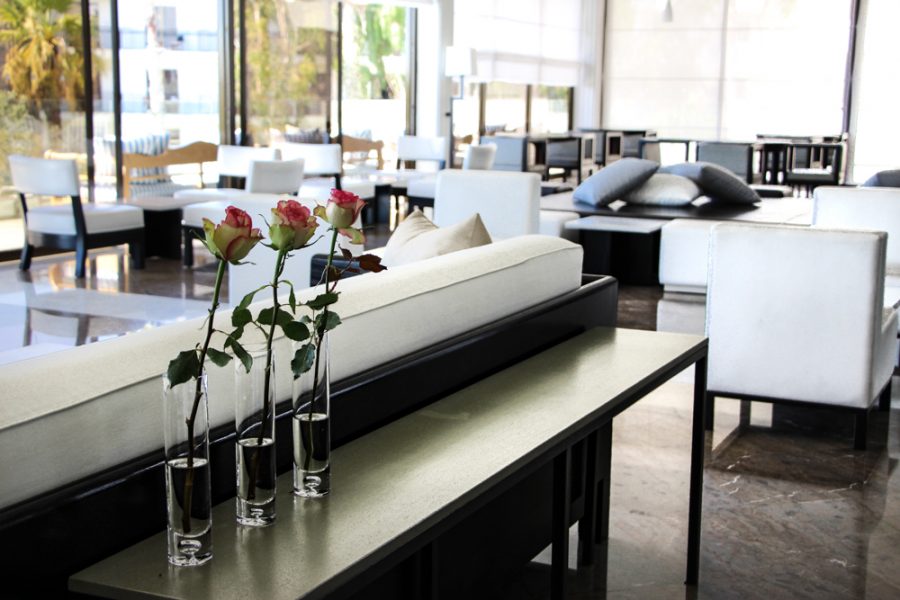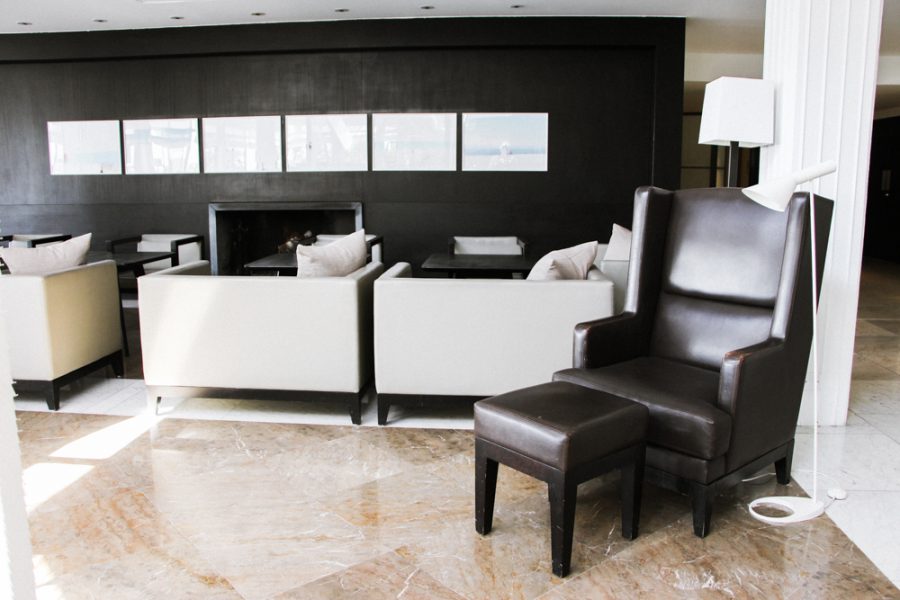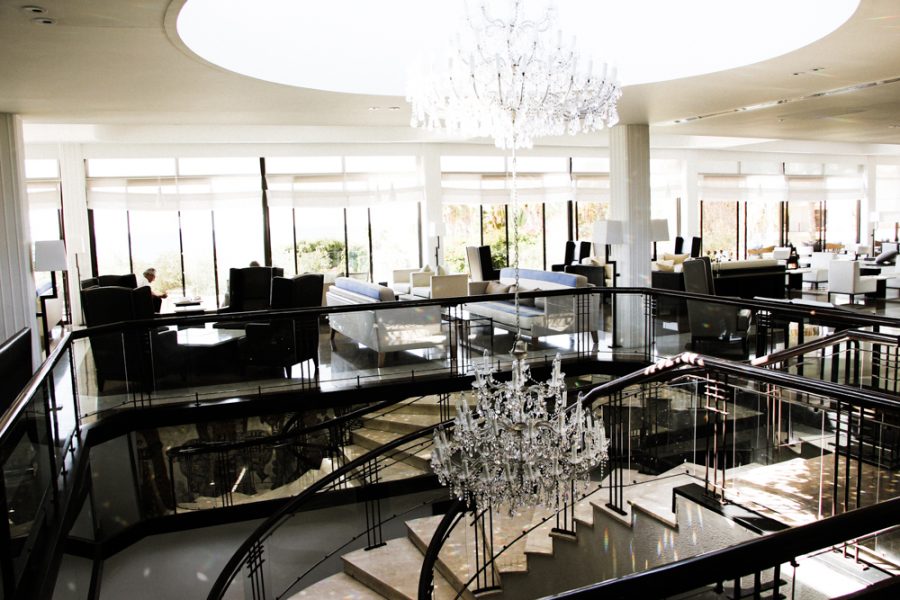 The back wall is floor to ceiling glass windows, many of which are always open to tempt in a sea breeze, and beyond is the slate-lined pool and sea.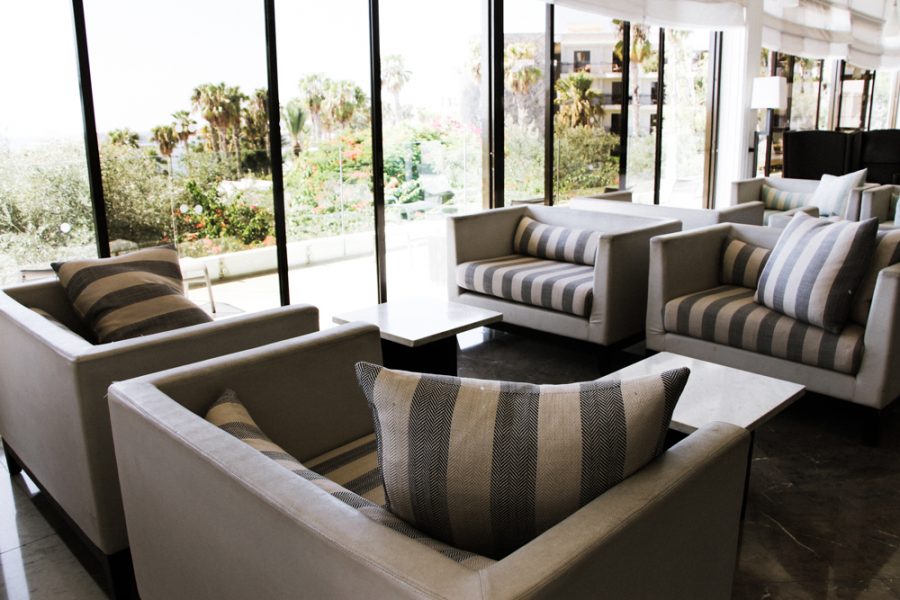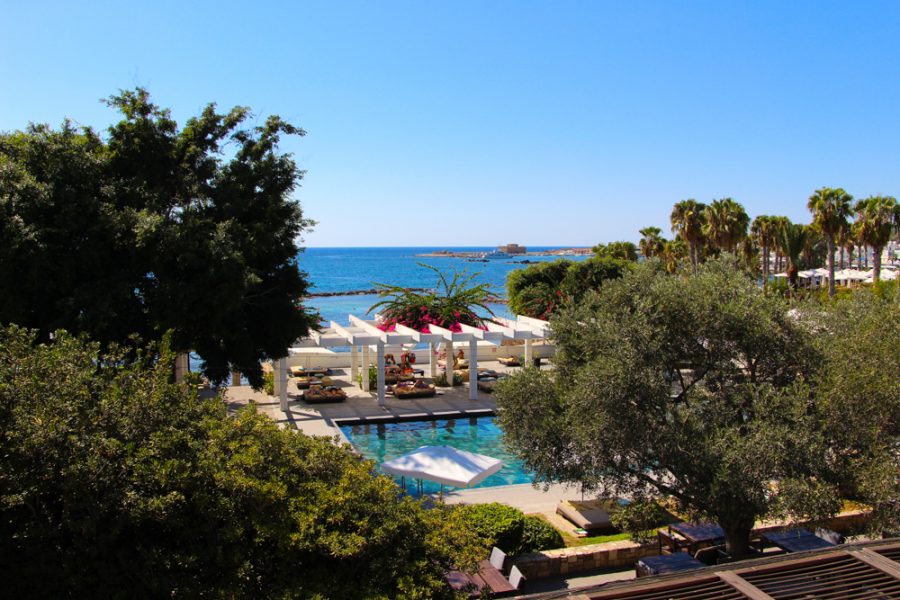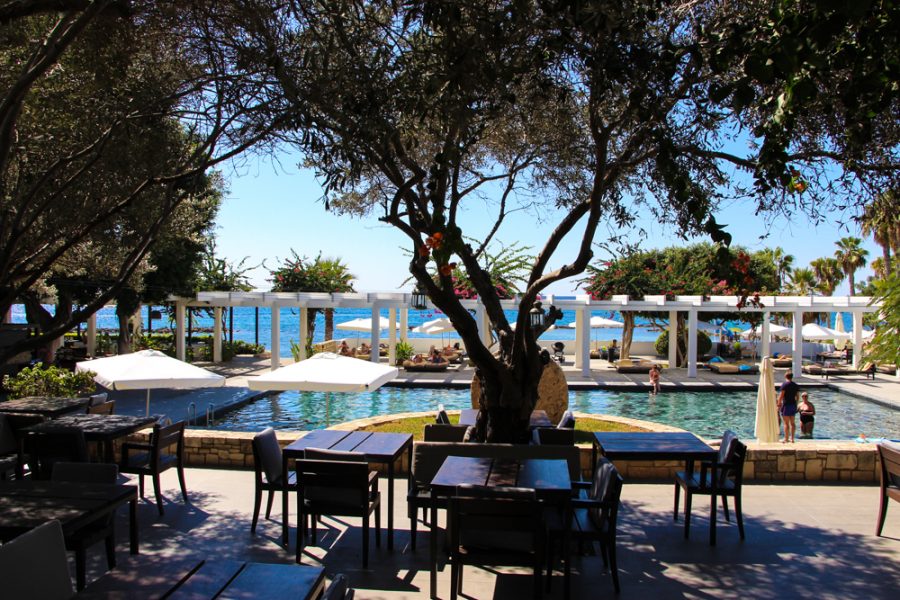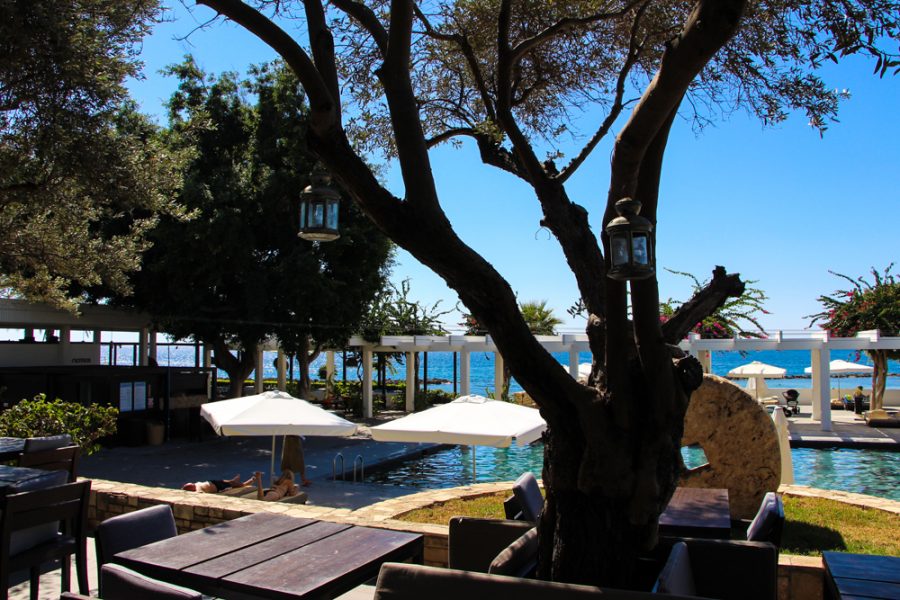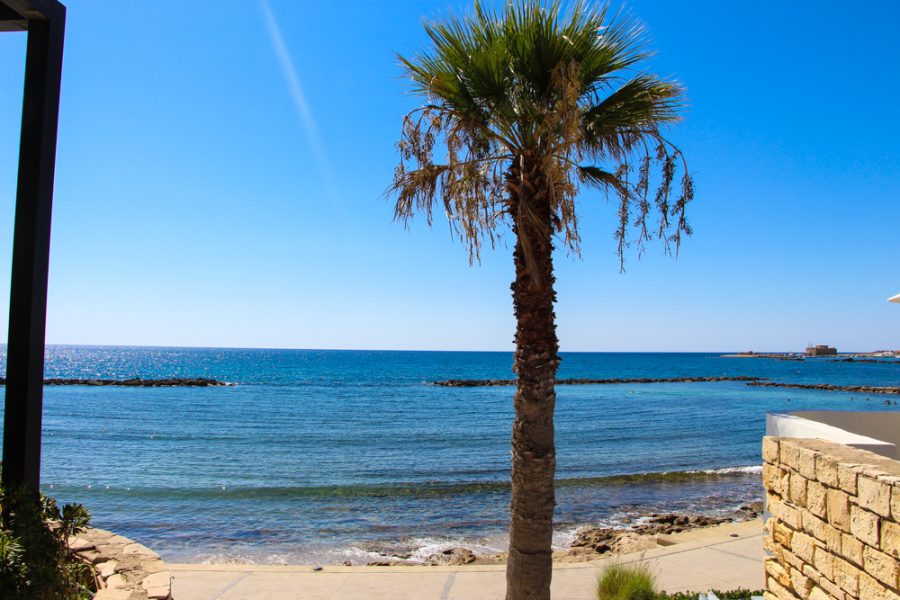 The herb bushes that line the garden release a constant aroma of rosemary and lemon verbena, so much so that you just want to drink the air. Everything is shaped to ease you into a state of peace.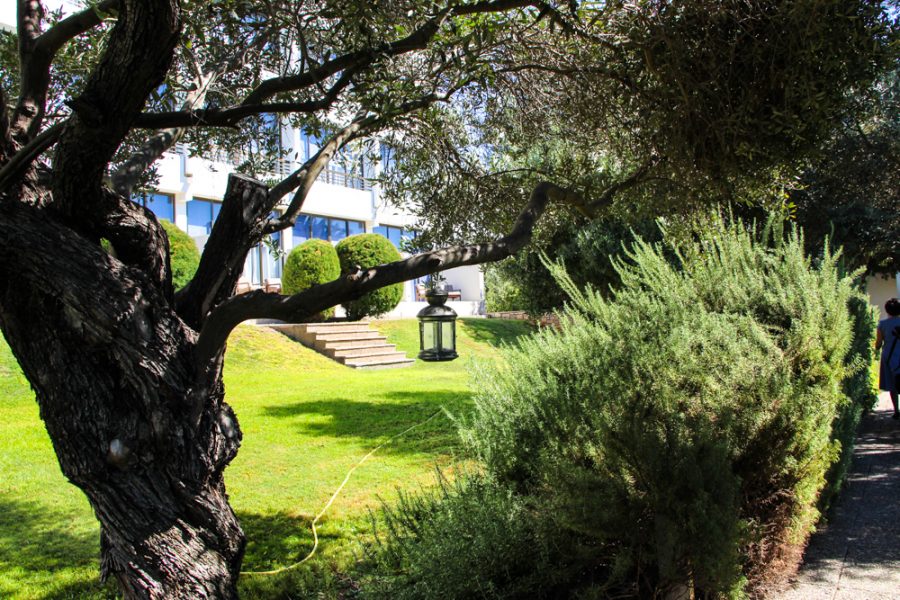 More than that though, the family owned Almyra has a rich history from its beginnings as the first hotel in Paphos – The Paphos Grand – to its current art and design led form. Each month the hotel hosts a different Cypriot artist, this month featuring a beautiful hand threaded 'Cappella' and associated prints by visual artist Yiannis Sakellis.
Working with the vibrant play of light on our Mediterranean shore, the artist also reflects on the lobby as a place of transit, of encounters with strangers, and of the recreation of the self during holiday sojourns – Almyra Hotel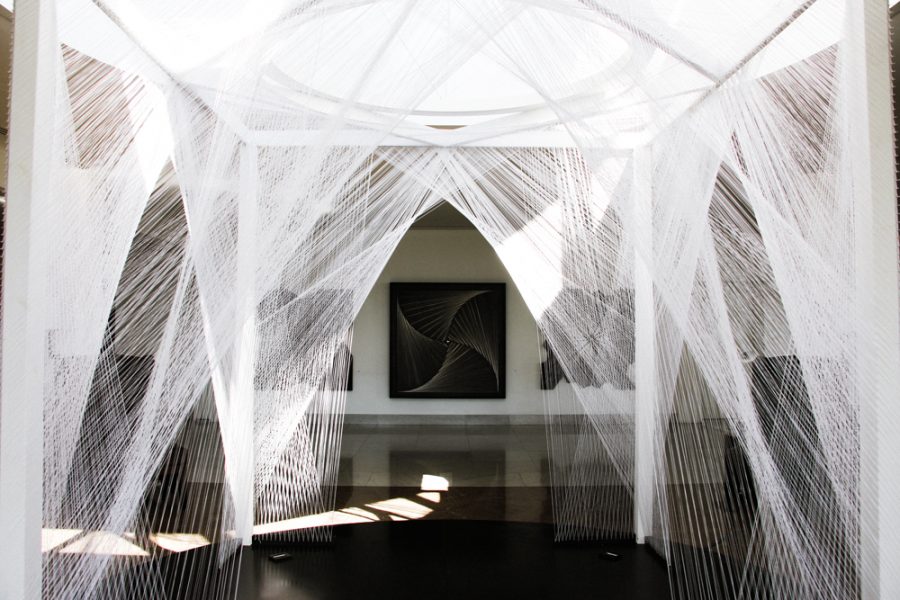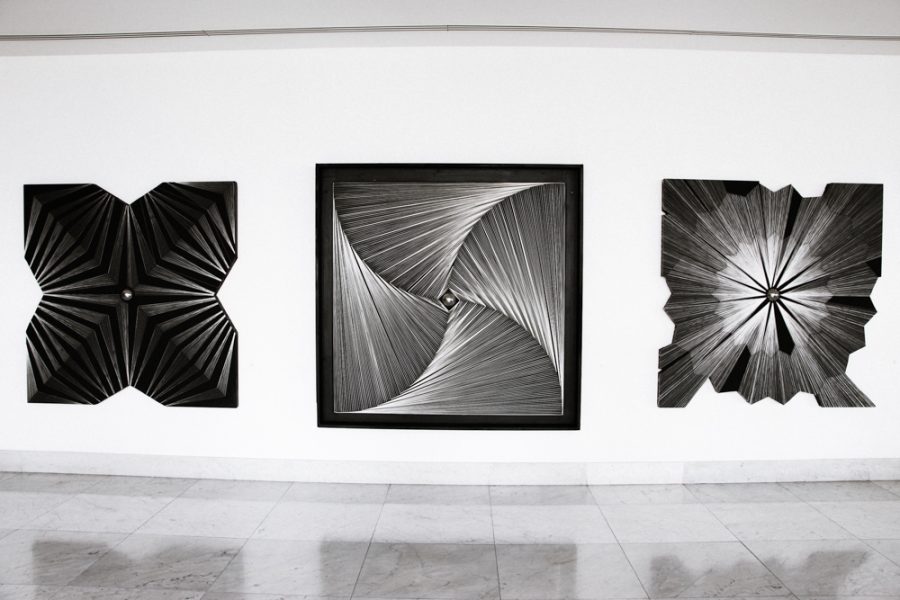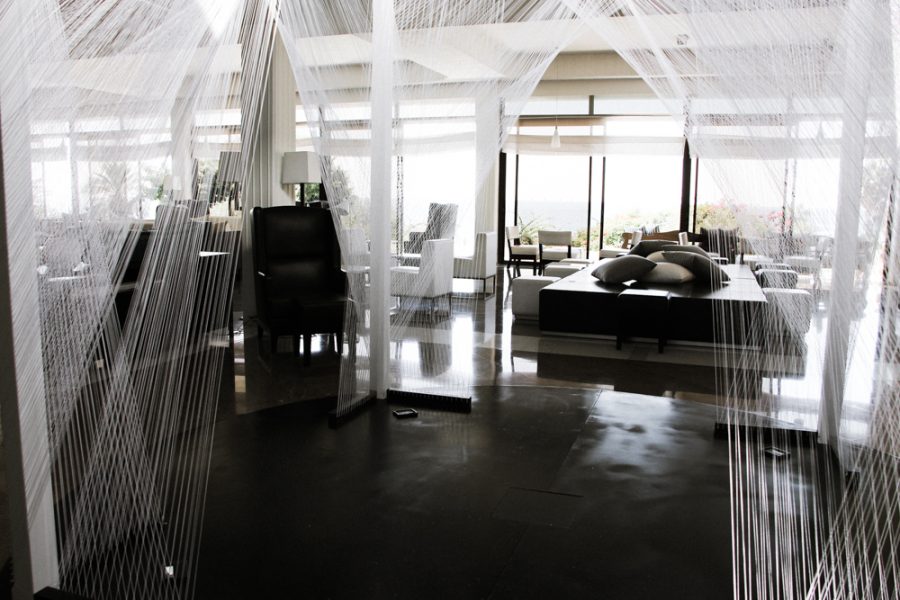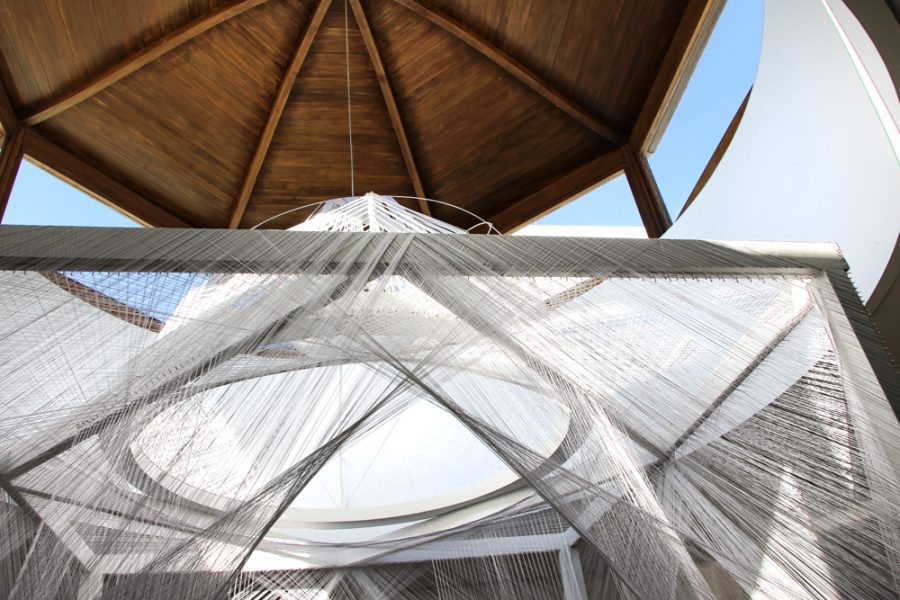 Paphos is set to be the 2017 European Capital of Culture, one of the most prestigious cultural events in the world which has served in the past as a catalyst for cultural tourism. The city is busy preparing and Almyra is an official Gold Sponsor with tickets to the year-round events that will held from all year round in 2017.
Location
Set just a few hundred metres from the Paphos coast, the hotel benefits from being at the foot of the bustling city harbour and the bus station that connects to historical sites and other parts of the island. The main port is also within walking distance, and just opposite the hotel is a smaller port from which you can catch daily boats to visit nearby Lara Bay, with its nesting turtles, or the wild Akamas Peninsula. It takes just a 5-10 minute walk to reach all of these places, and makes navigating the city quite easy.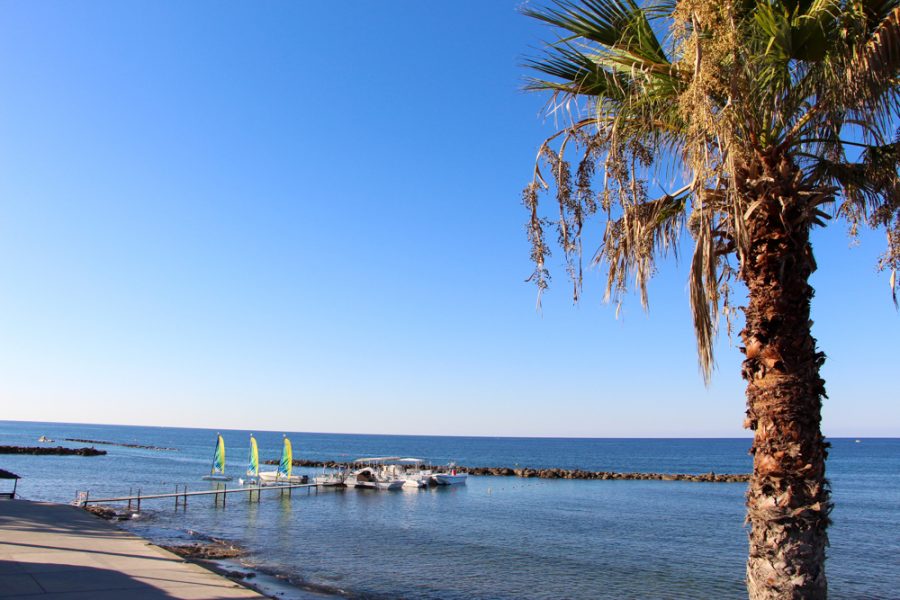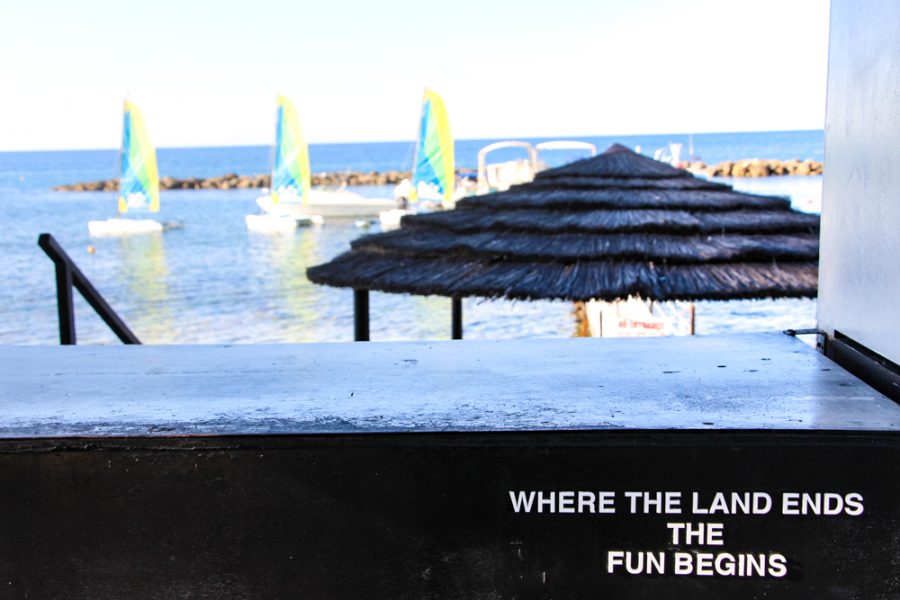 The Room – A Suite with View
There are a total of 189 rooms available, starting from doubles with land views through to garden-facing terraced rooms. There are also interconnecting rooms and one and two bedroom suites. Our stay puts us in the sea-facing Kyma Suites, separated from the main hotel block and offering a more intimate experience.
There are private sun beds and parasols in front of each Kyma Suite, and at night we are lulled to sleep by the pulse-like to and fro of the waves on the lip of the harbour.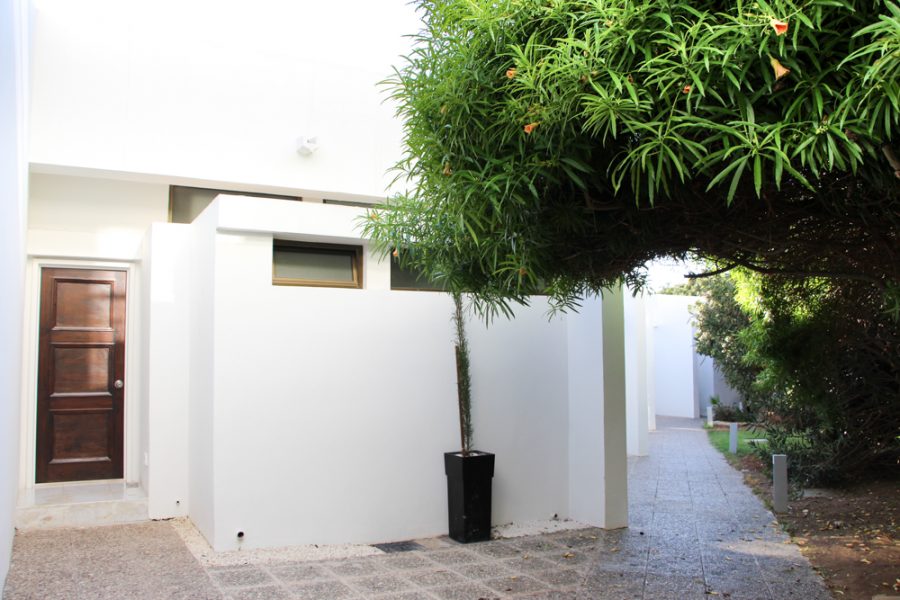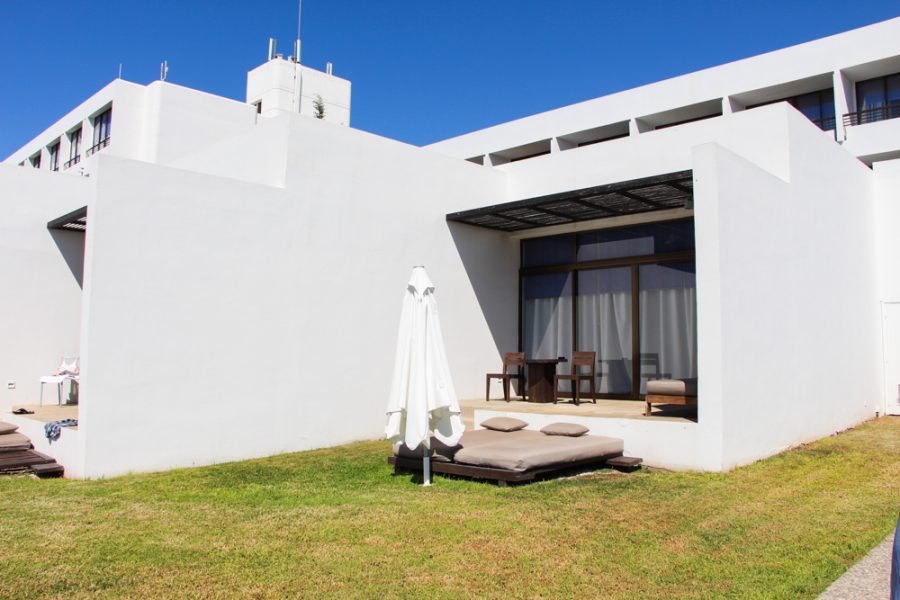 The Kyma Suites clock in at 47m² (plus 13m² terrace) but are nevertheless spacious with an open plan layout, high ceilings, expansive white walls accented with chocolate brown wood, and simple, elegant furnishings.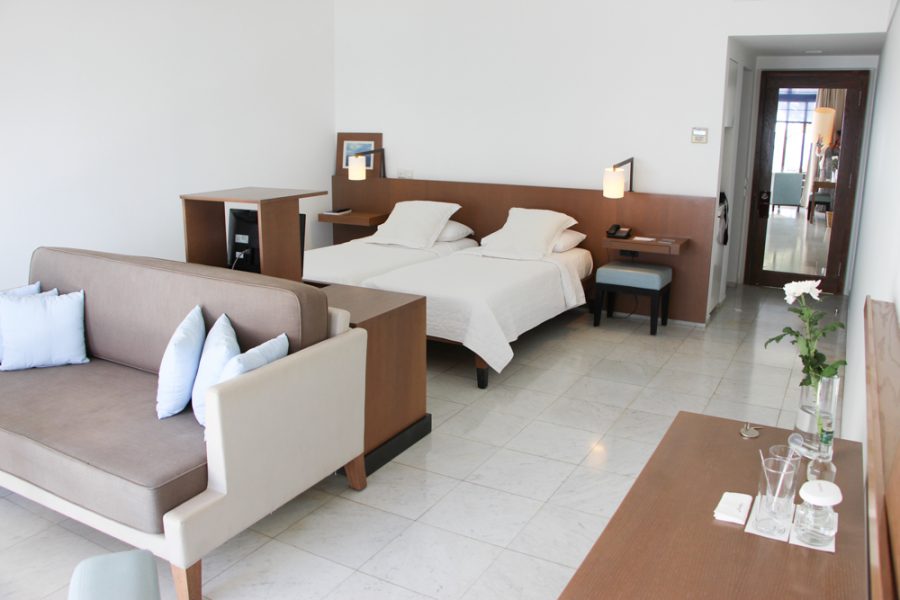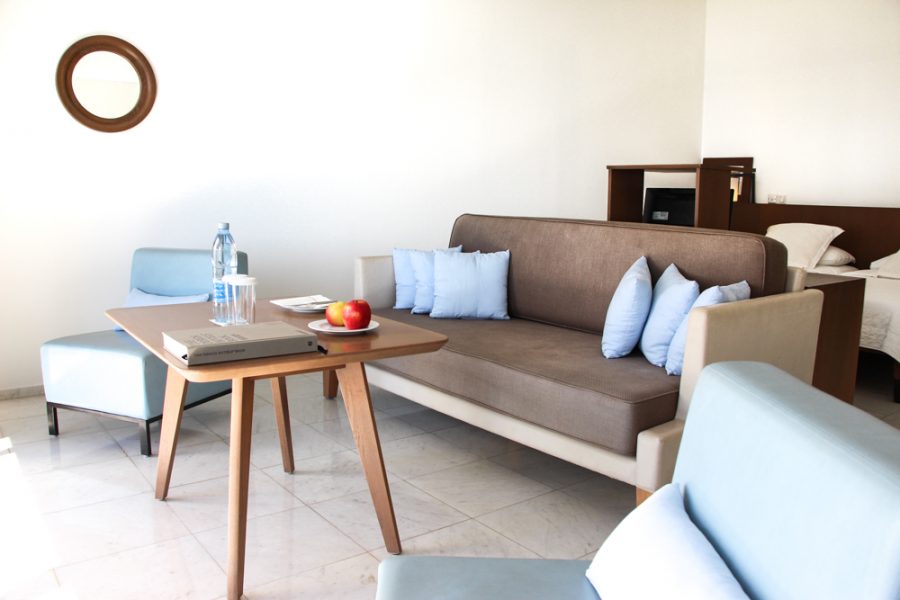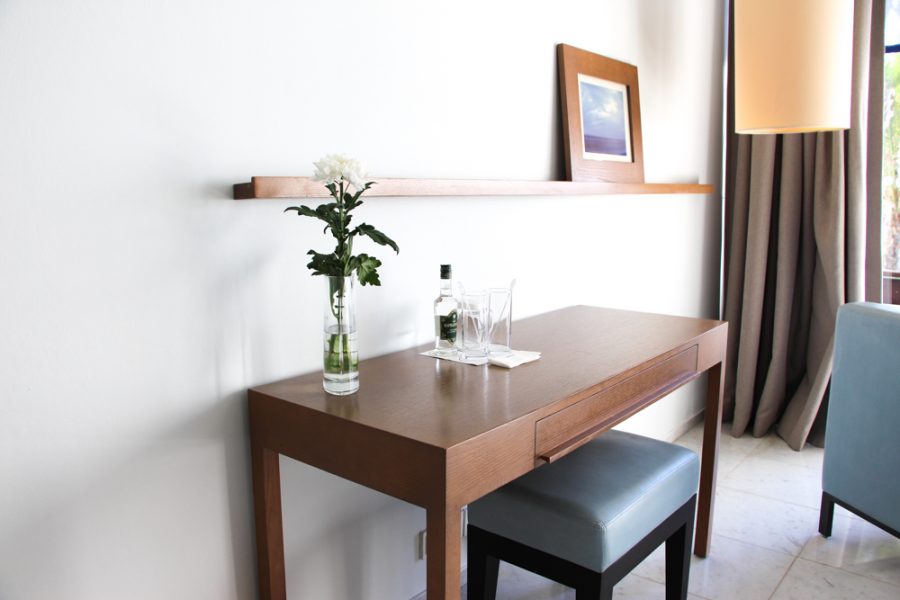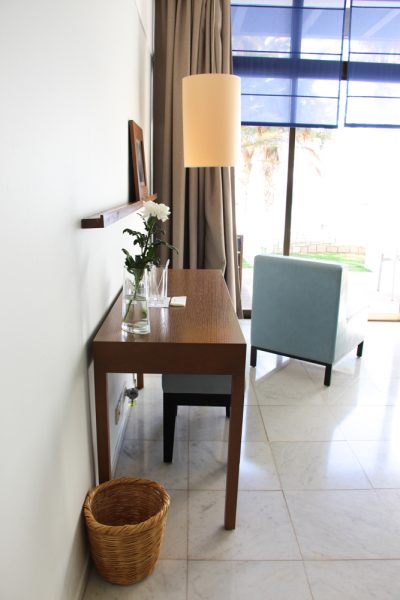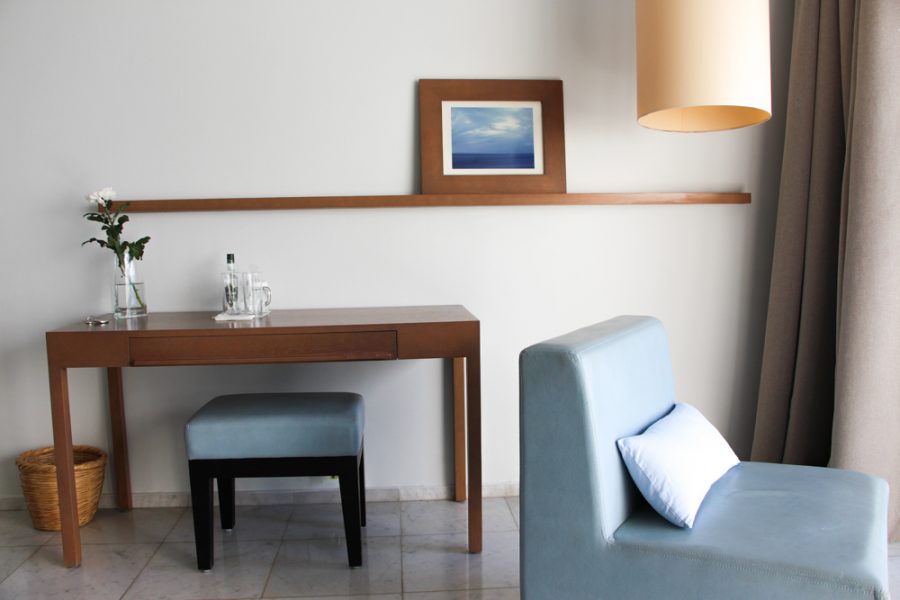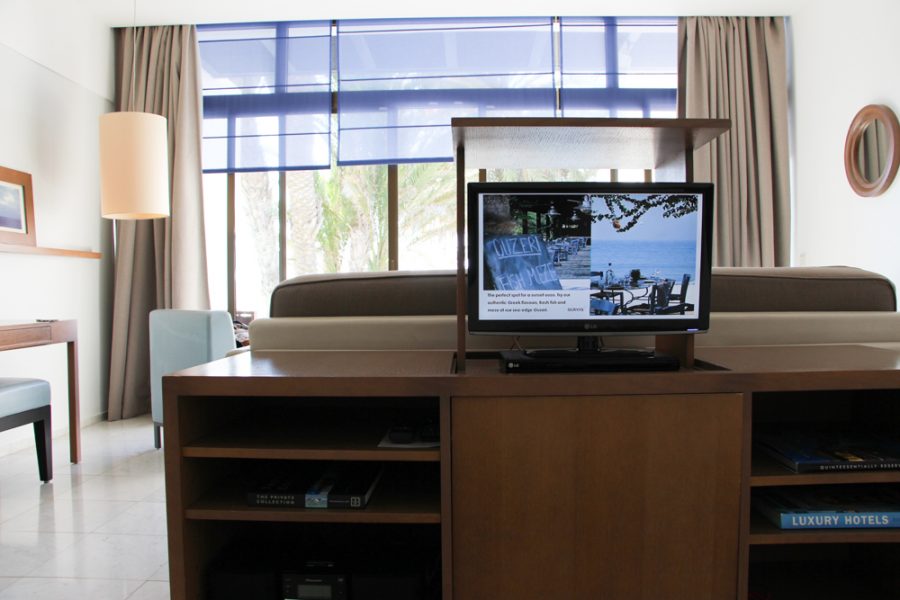 They each have their own private terrace overlooking a shared lawn which is elevated to a comfortable distance above the public harbour path, and beyond is the sea.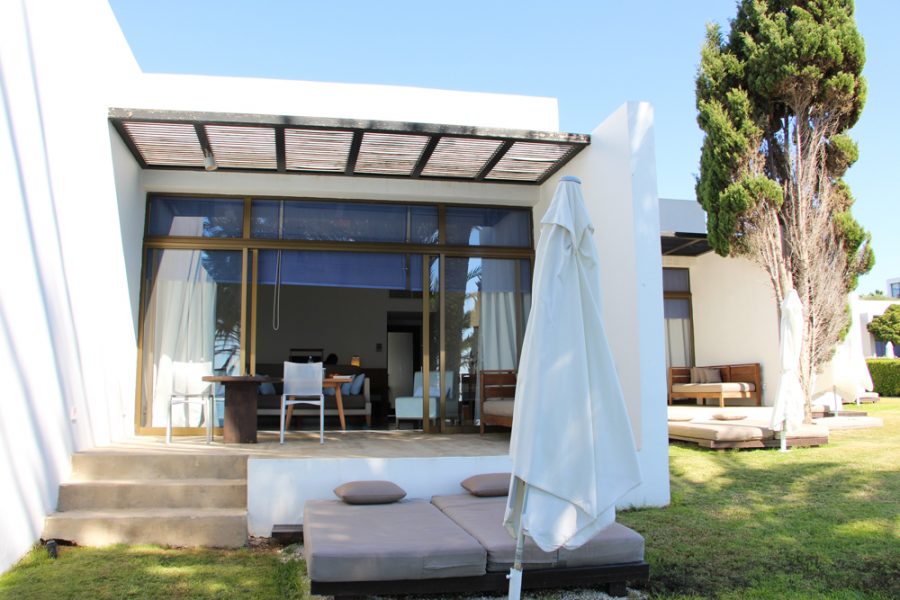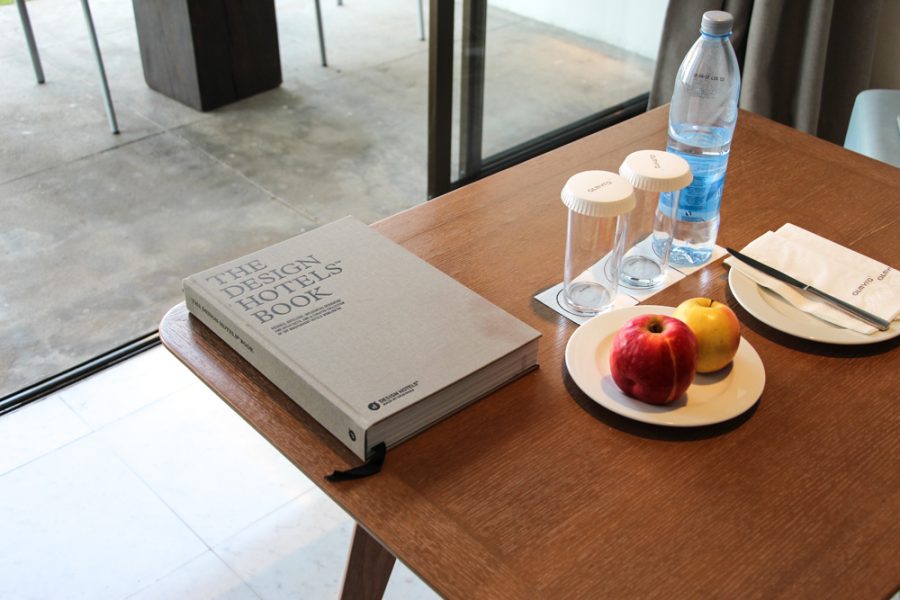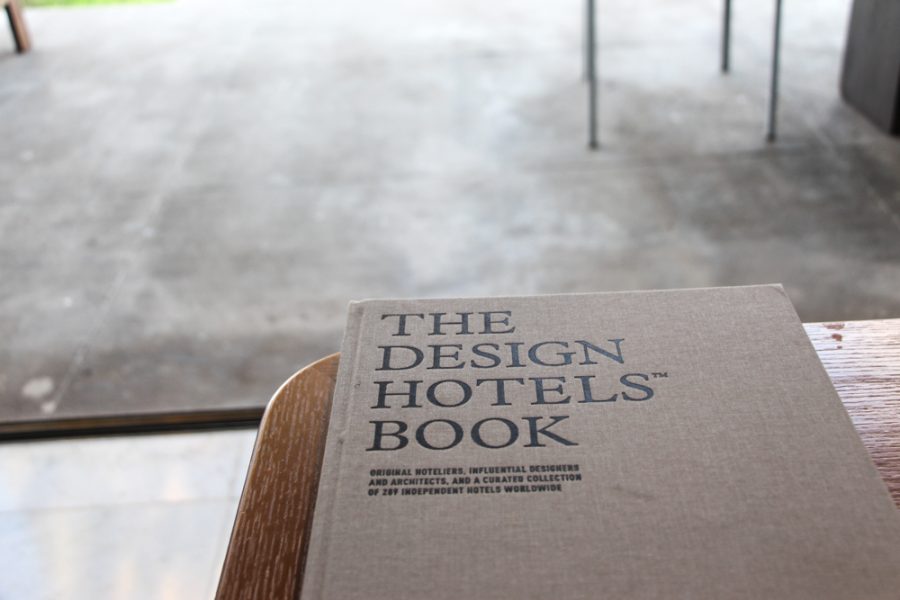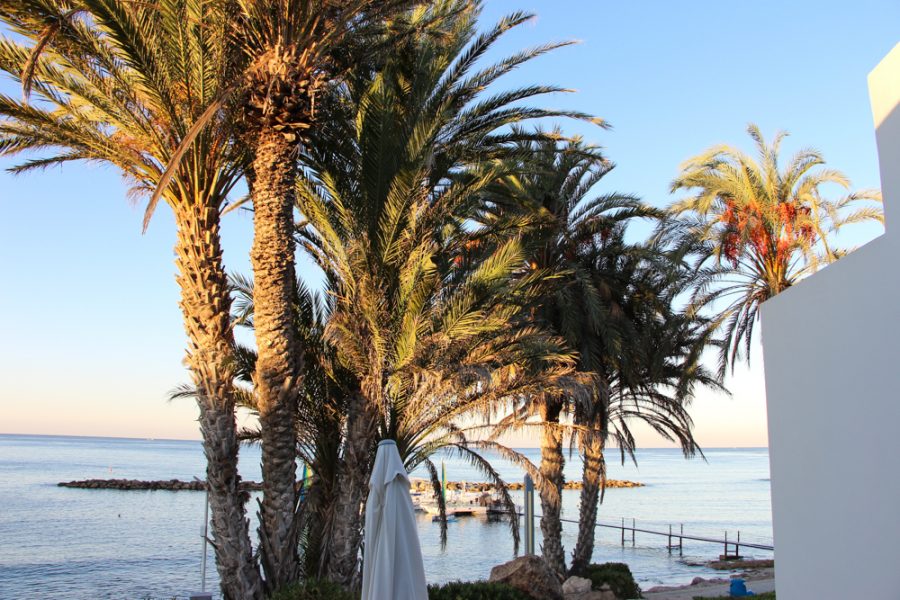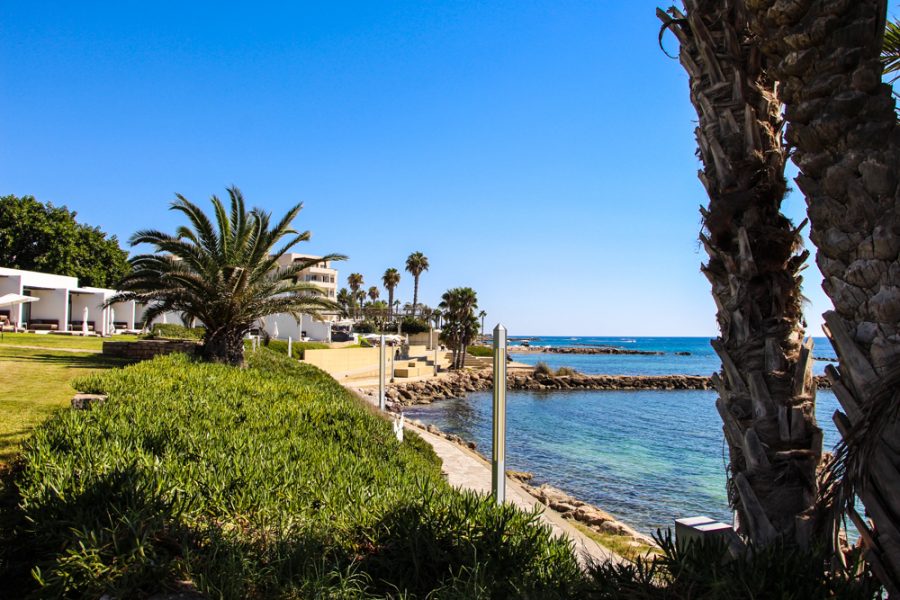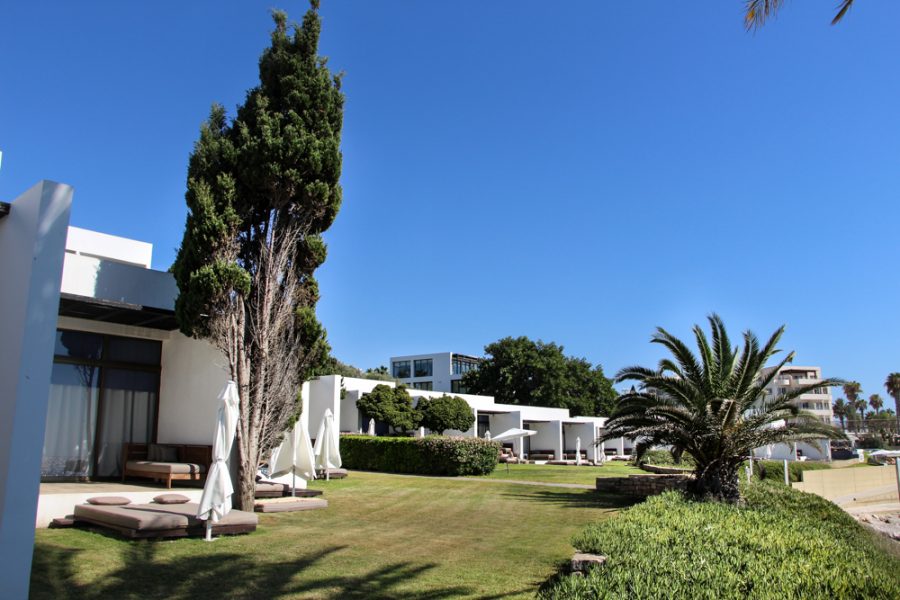 In terms of in-room dining, you can order a private barbecue or select the Japanese Omakase menu from the hotel restaurant Notios to be served on the patio.
The suites also have access to a wonderful roof terrace overlooking the sea, where you can order room service and watch the sun setting behind Paphos castle.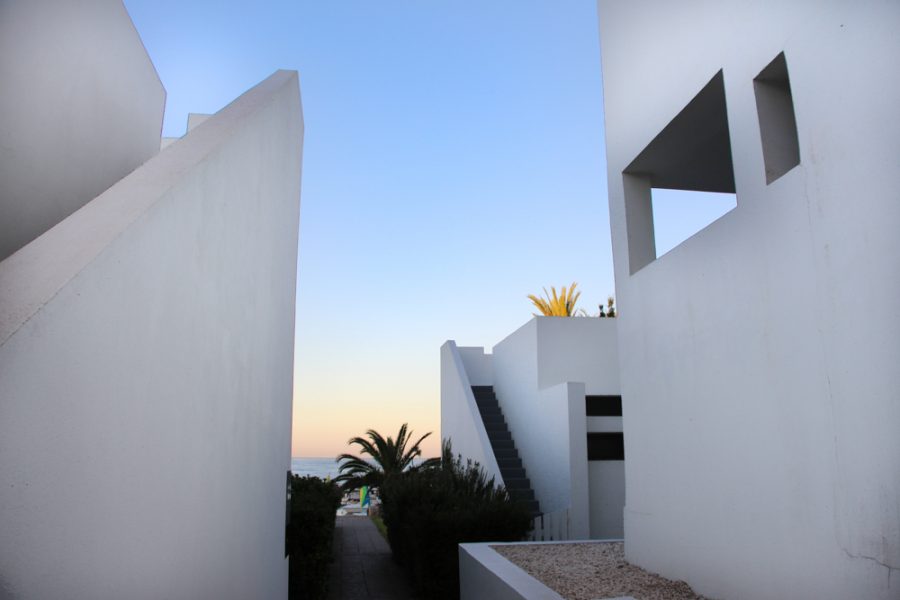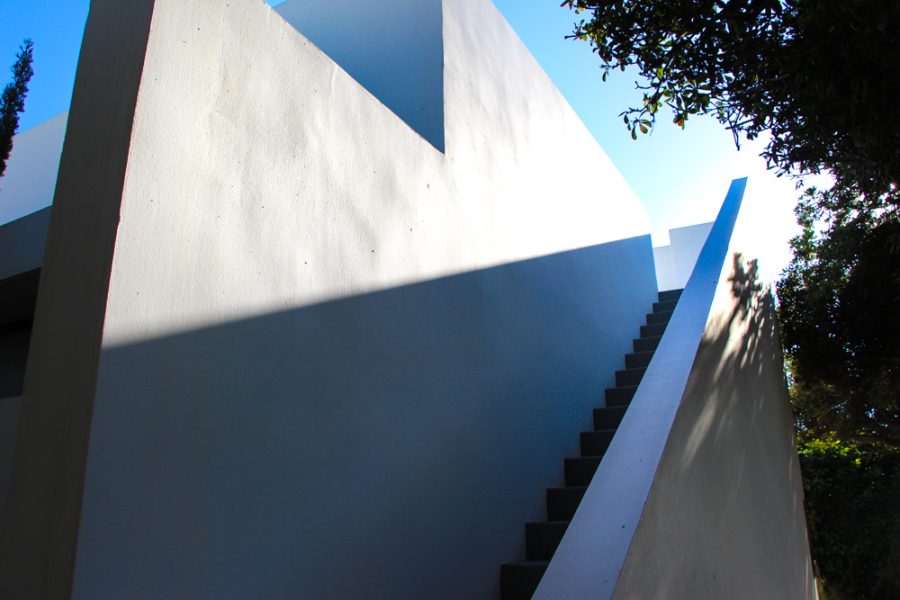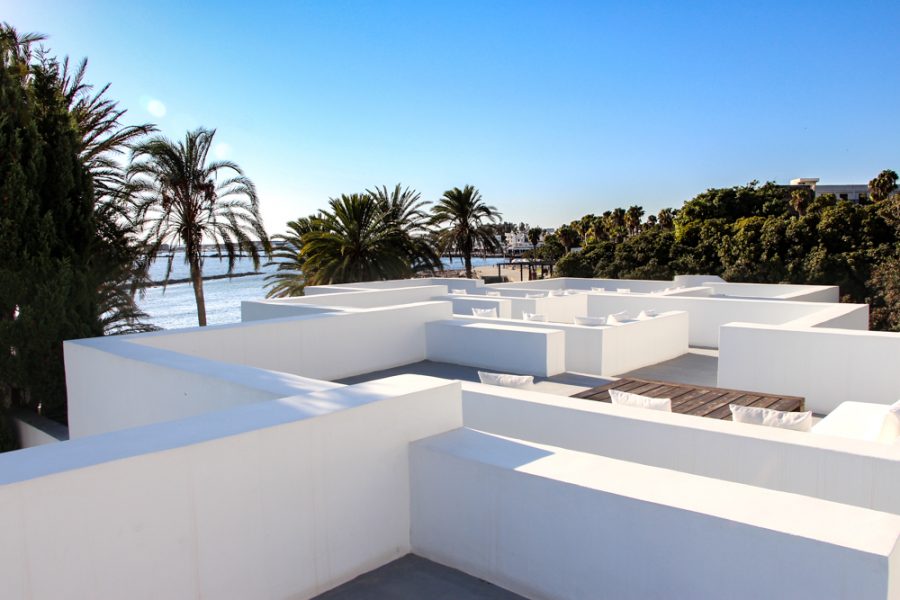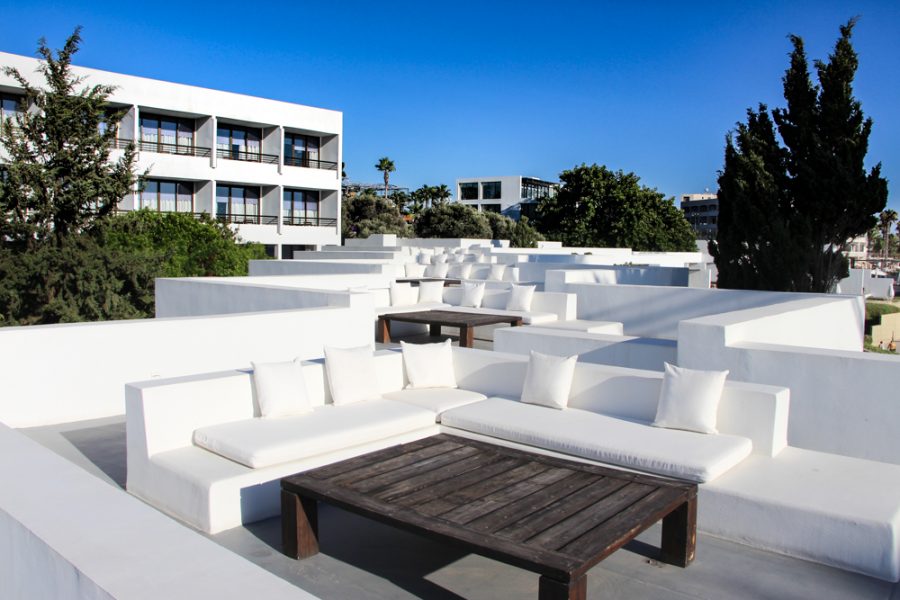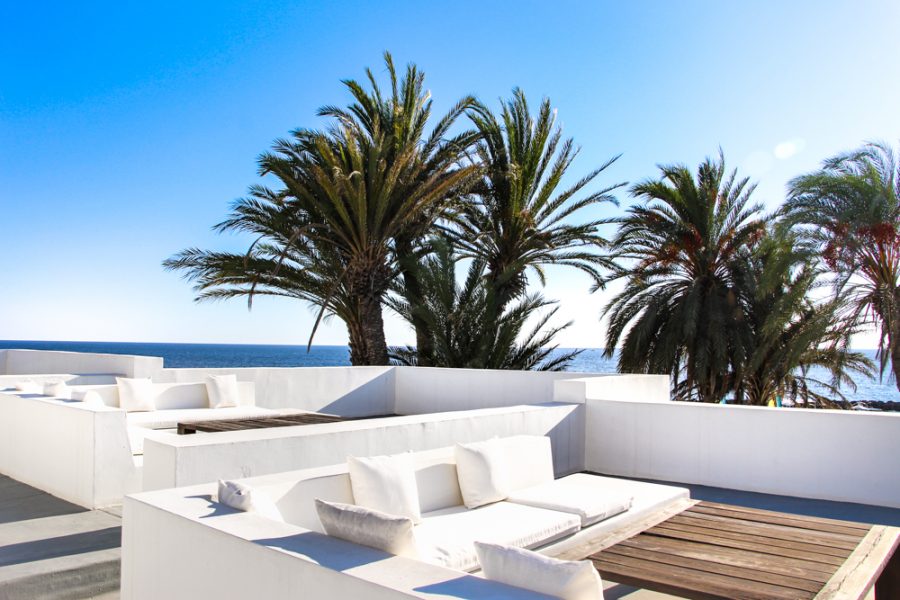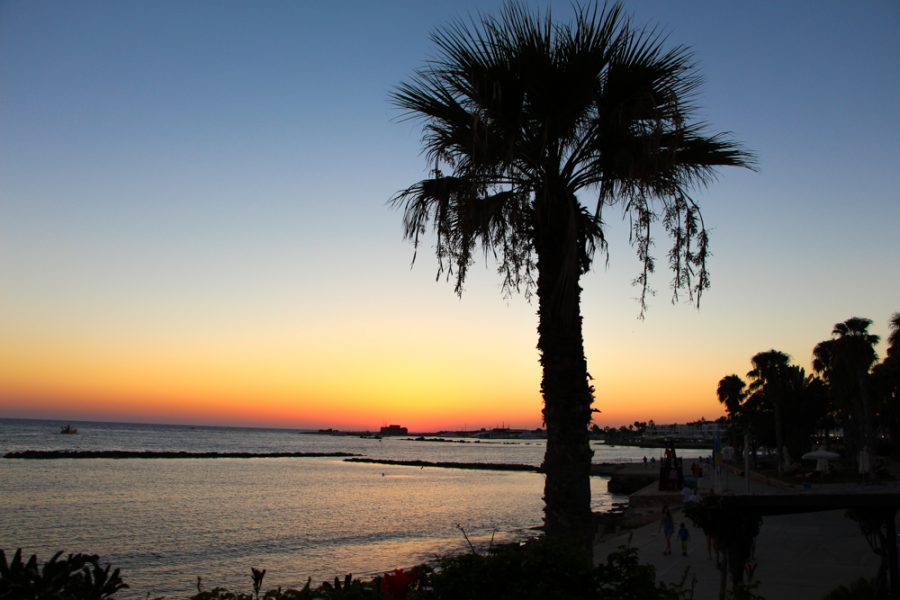 Inside the open plan suite is a comfortable double bed (or twin beds) in front of which is a modest flatscreen TV, beyond which is a seating area with a couch that doubles up as an extra bed. The 70's inspired table is bedecked with design books, and on arrival we are given water, apples, feta, bread and deliciously dried figs to settle in to. All of the above looks out onto the sea through floor to ceiling glass doors.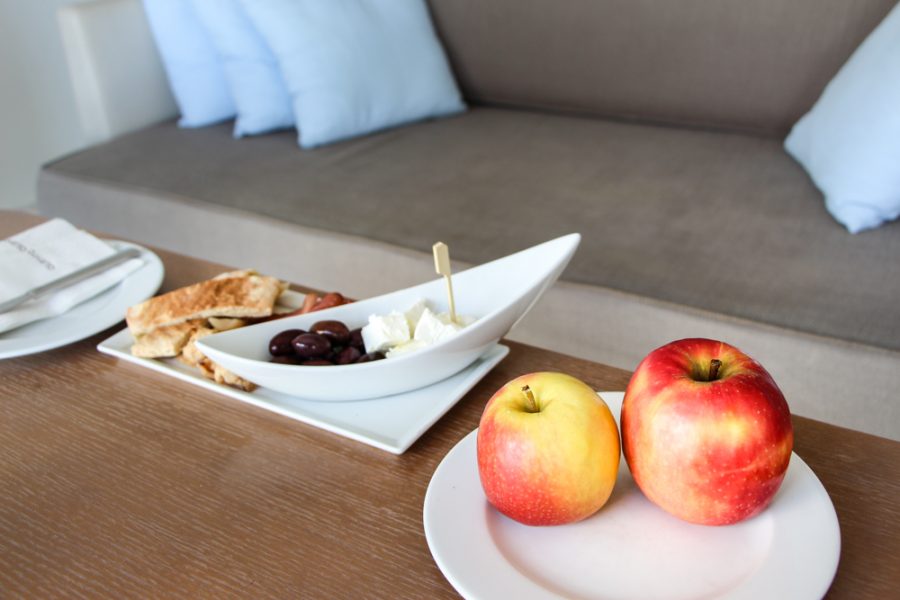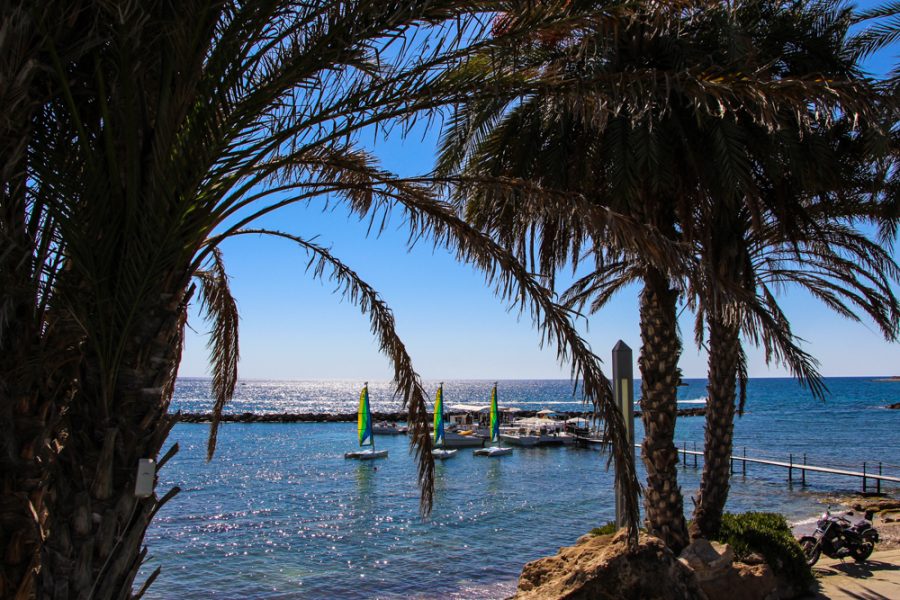 The rooms also feature generous wardrobes, air conditioning, a hair dryer, sound systems, espresso machines, a mini bar and a large safe.
The grey and white marble bathrooms are washed in light from some discretely placed, split level windows, and feature a bathtub and separate rain shower that is deliciously drenching.
We love the little extra touches; Aqcua Di Parma shower gel, shampoo, conditioner and body lotion that is generously replenished twice a day, and a multitude of fluffy white bathrobes, slippers and towels.
The room also has 4 beach towels to get stuck into, which are also replenished daily.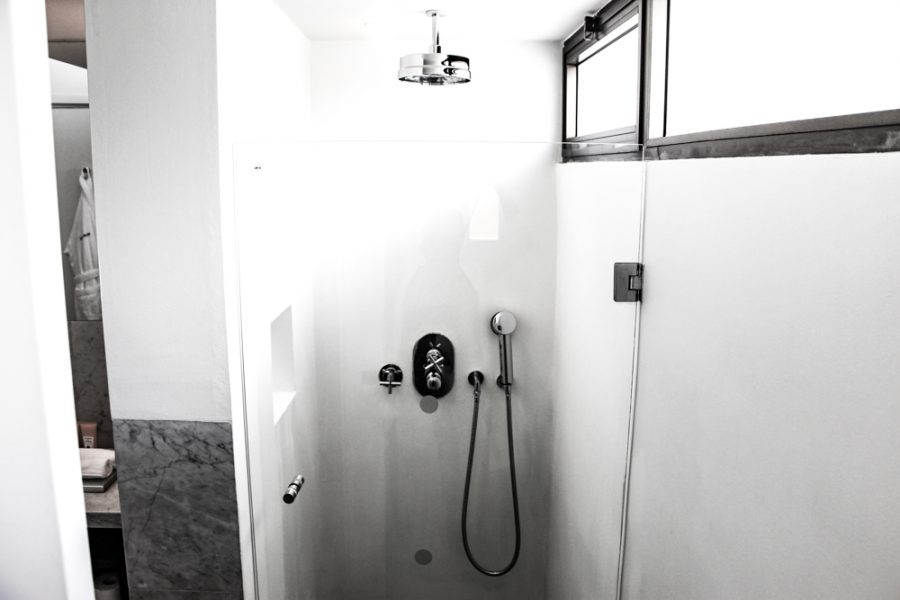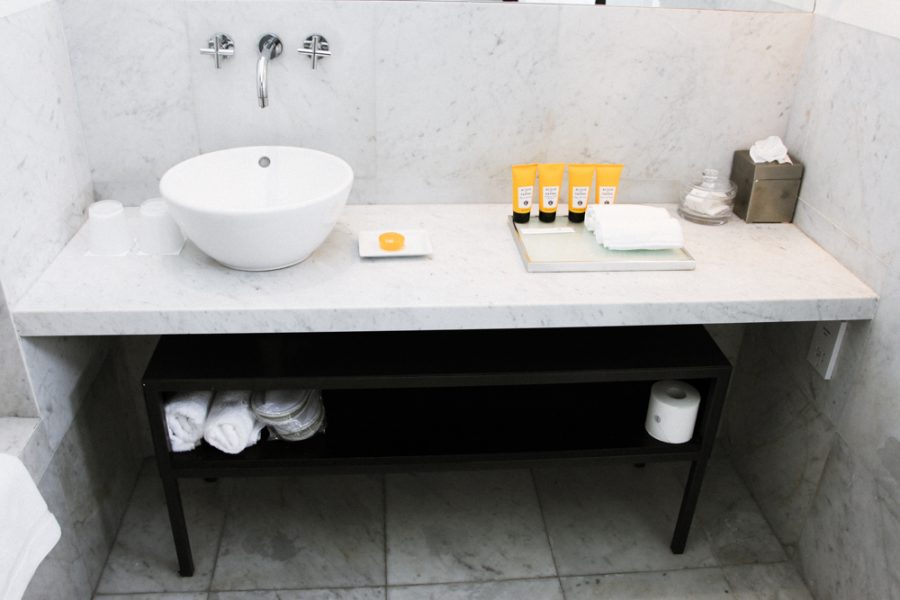 Pool Facilities
There is a family friendly slate-lined shallow pool that is shaded by olive trees and has a retractable, billowing white verandah that is pulled over to provide shade in the hottest summer months. This ensures that the kids are protected from the harshest rays, and during my stay the pool is often peopled with parents and their children.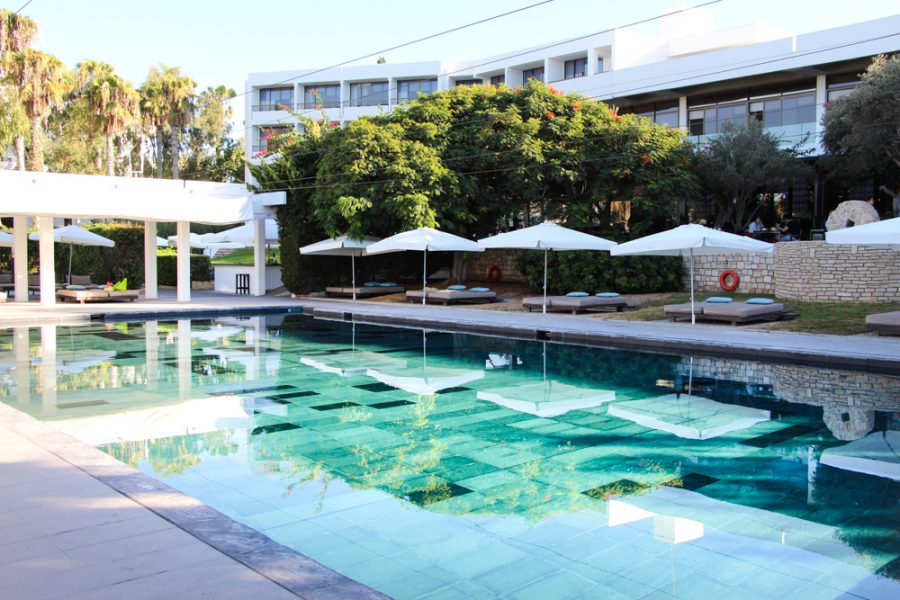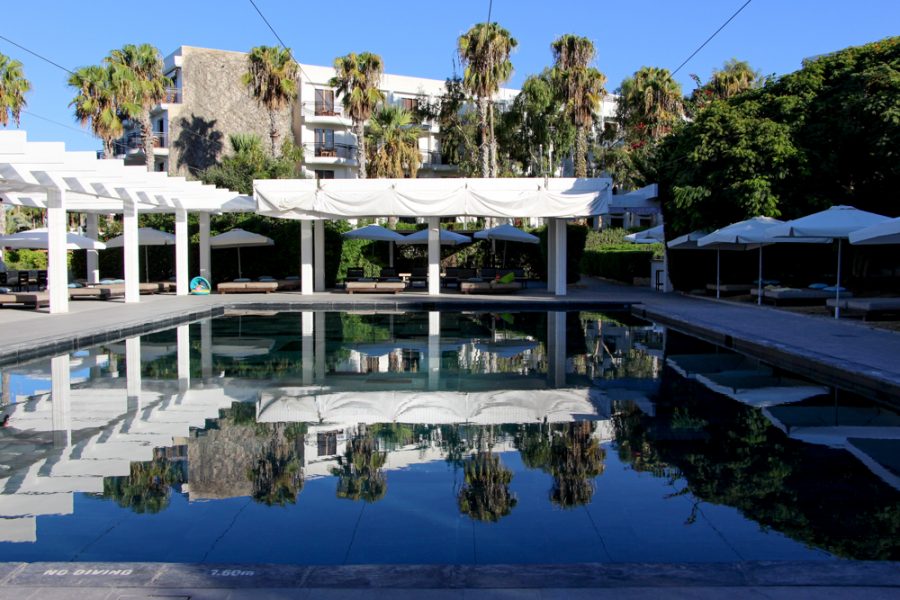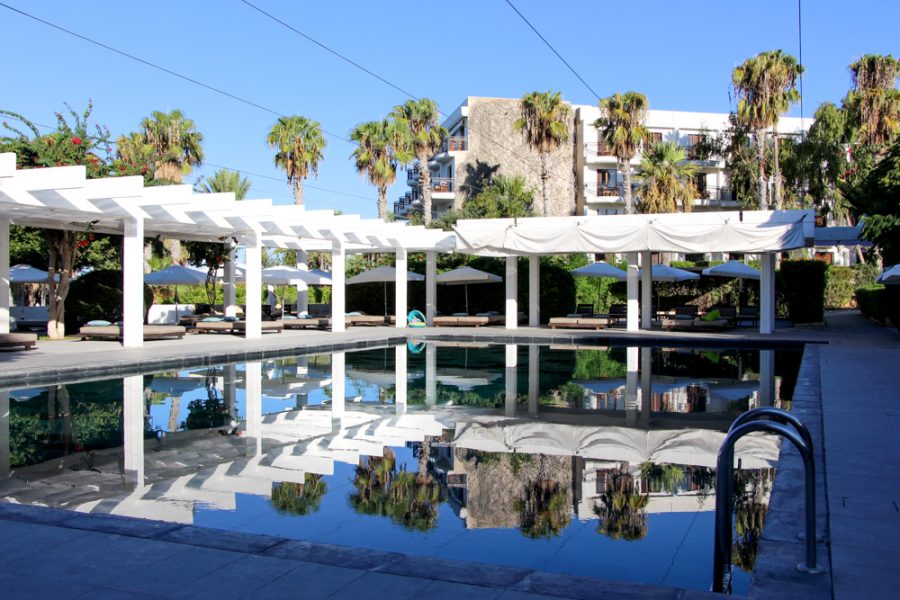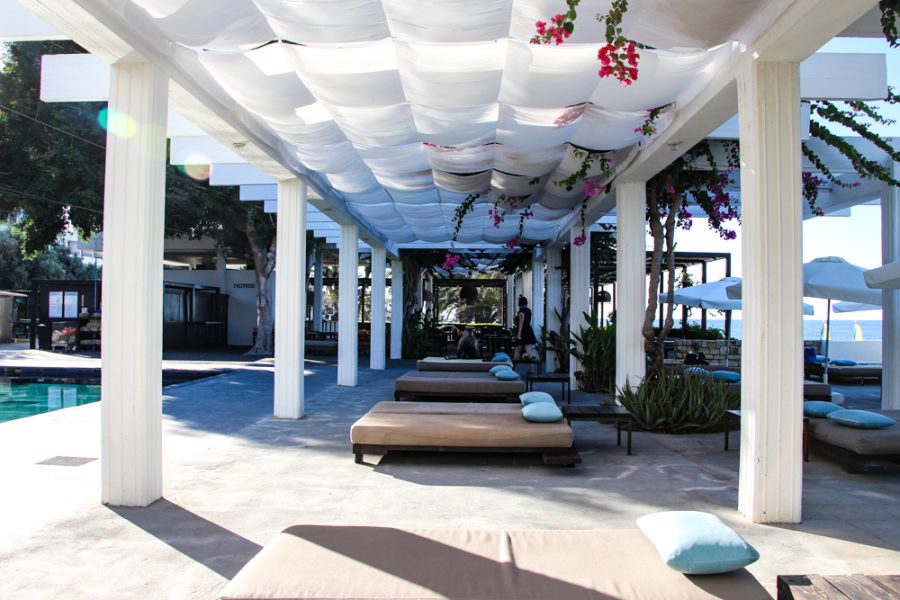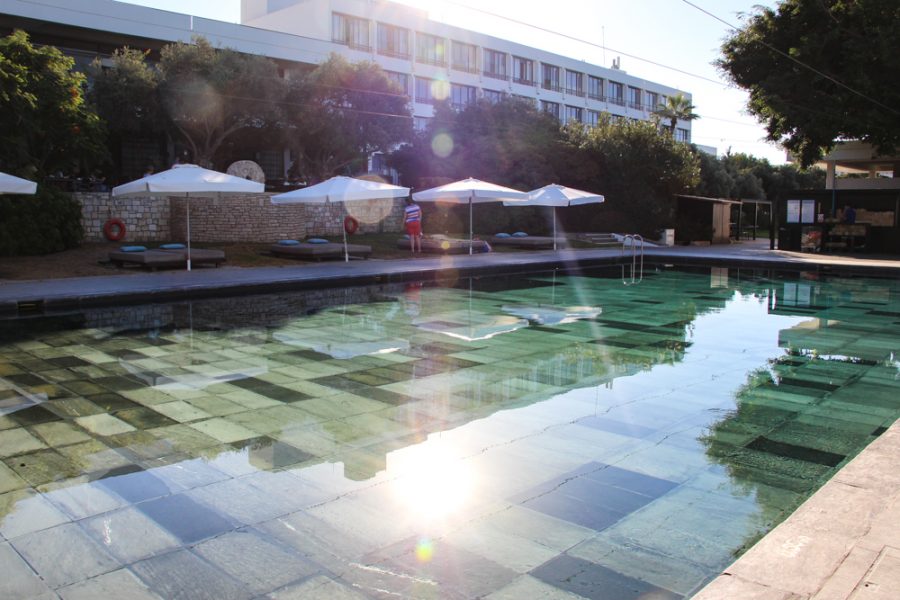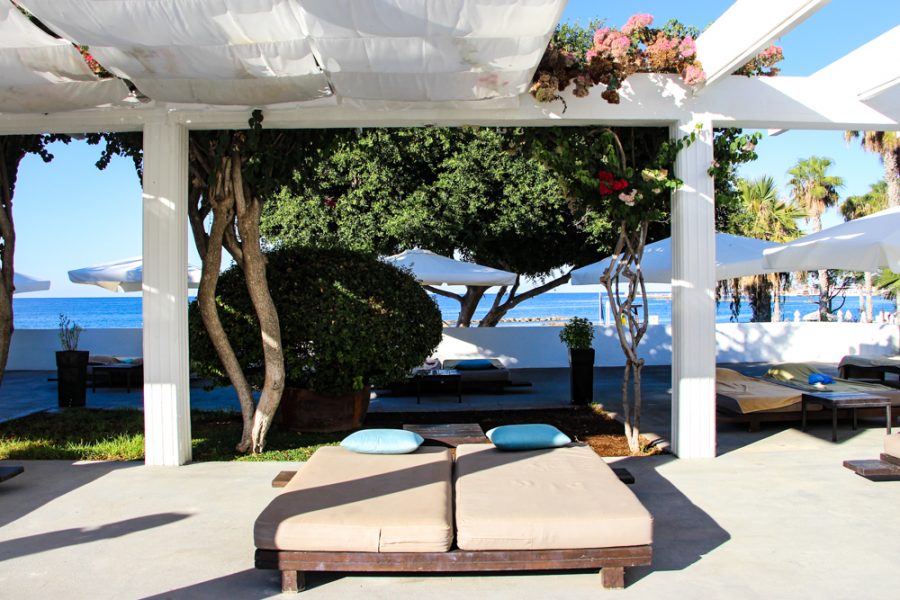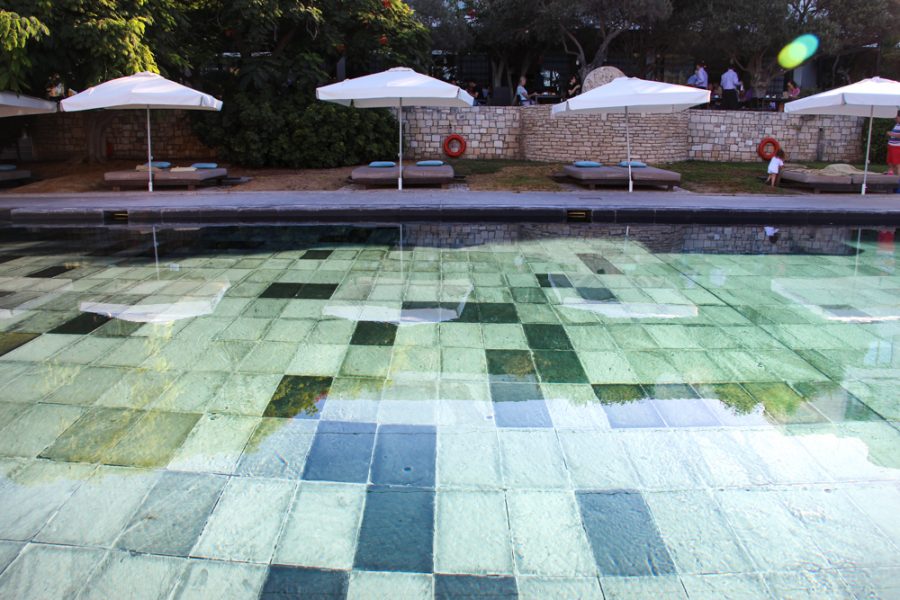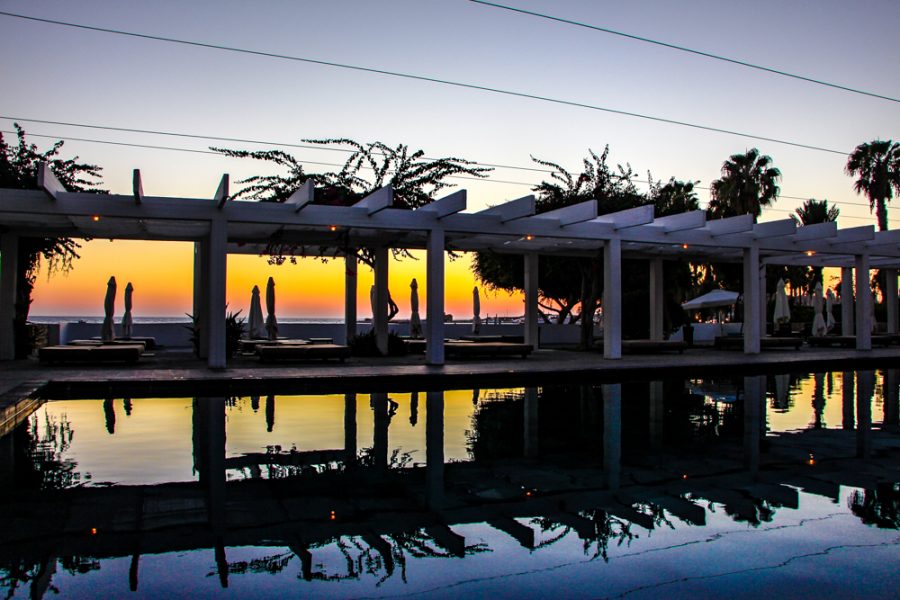 The sophisticated, adult-only spa and infinity pool provide a cool and calm area on the other side of the hotel, next to the Kyma Suites.
The area also has its own breakfast and all-day dining cafe overlooking the infinity pool, and the spa has a heated indoor pool which turns into a movie theatre on some weeks, with people swimming around!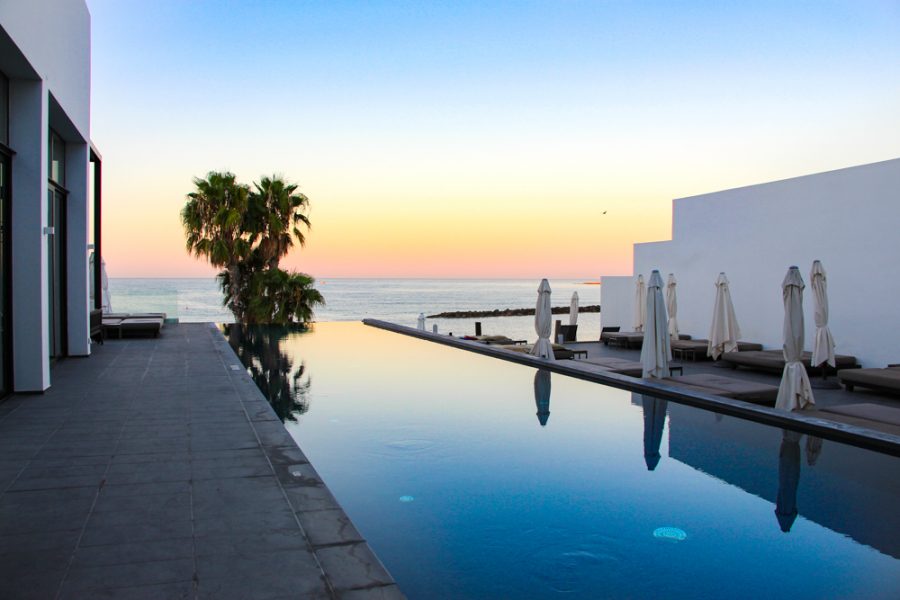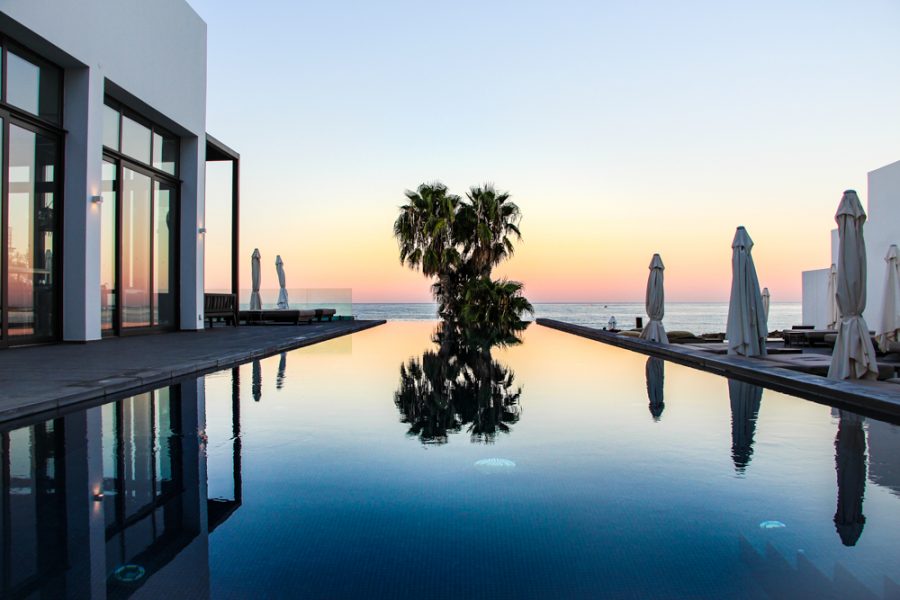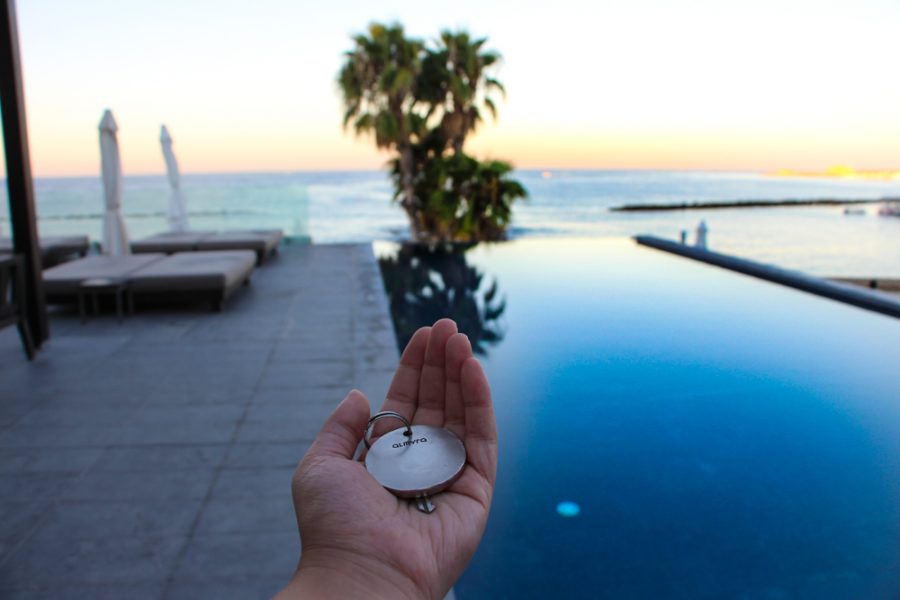 I love that the hotel can host both audiences so well – not a feature that all hotels are able to boast.
Guests of Almyra are also able to use its sister hotel Annabelle's facilities, located next door.
Spa Facilities
The Eauzone Spa at Almyra has suites that offer a range of botanical treatments scented with neroli oil, milk of roses, frangipani and aloe. Try a massage, facial, wrap and scrub, the sauna and steam room, Vichy showers, hair salon or maybe a manicure and pedicure. As well as the heated indoor pool (which children can use with supervision) there is an adult-only outdoor infinity pool.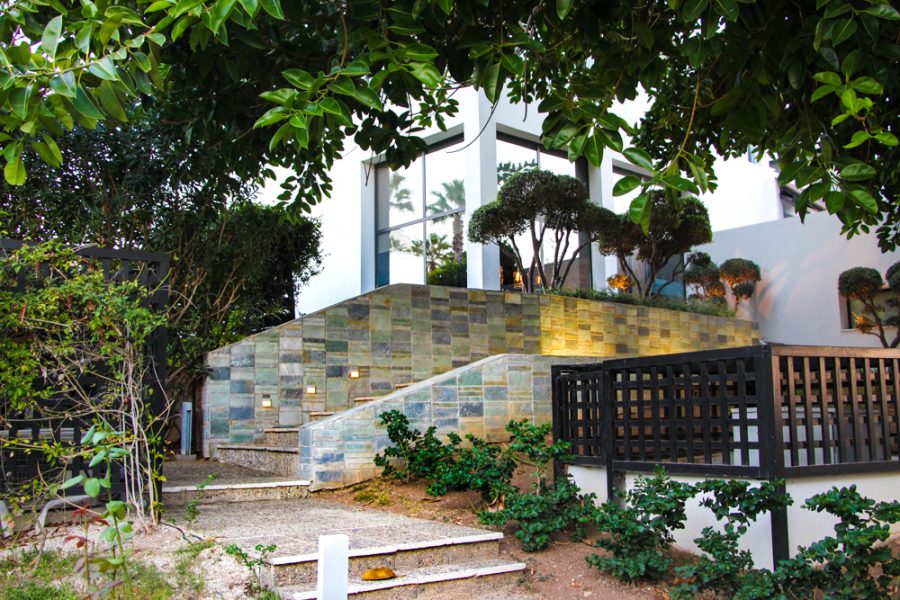 One of the highlights of the spa is the double spa suite, perfect for a couples massage, which has its own private terrace overlooking the infinity pool.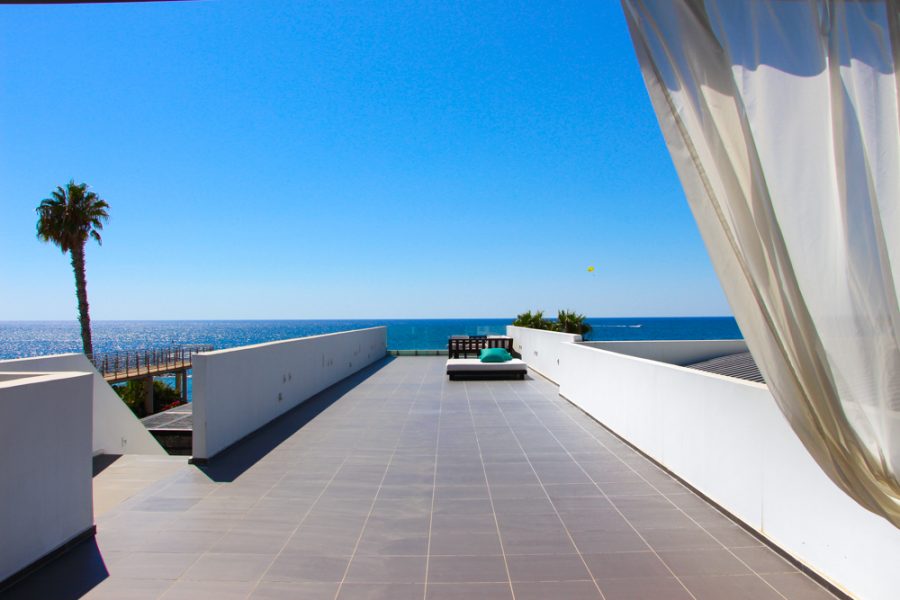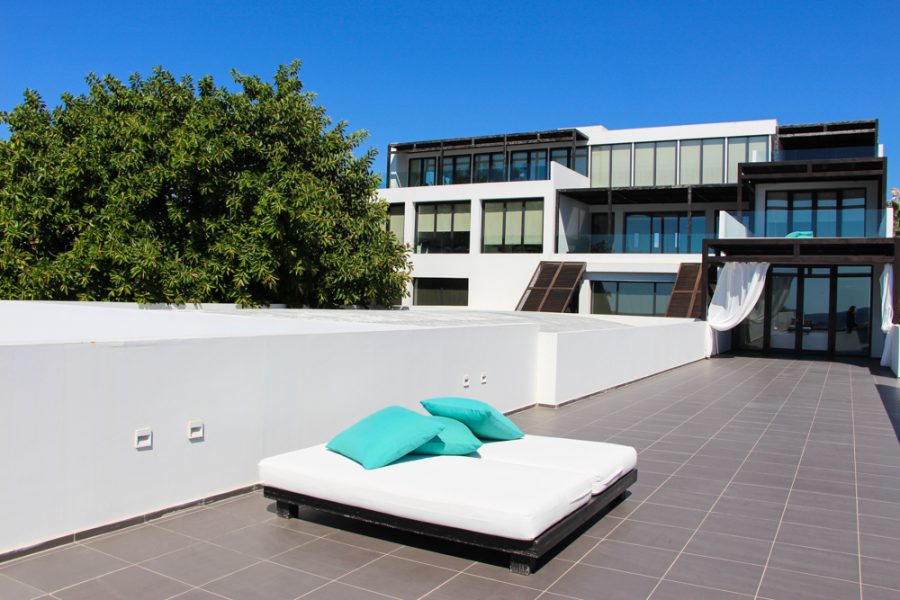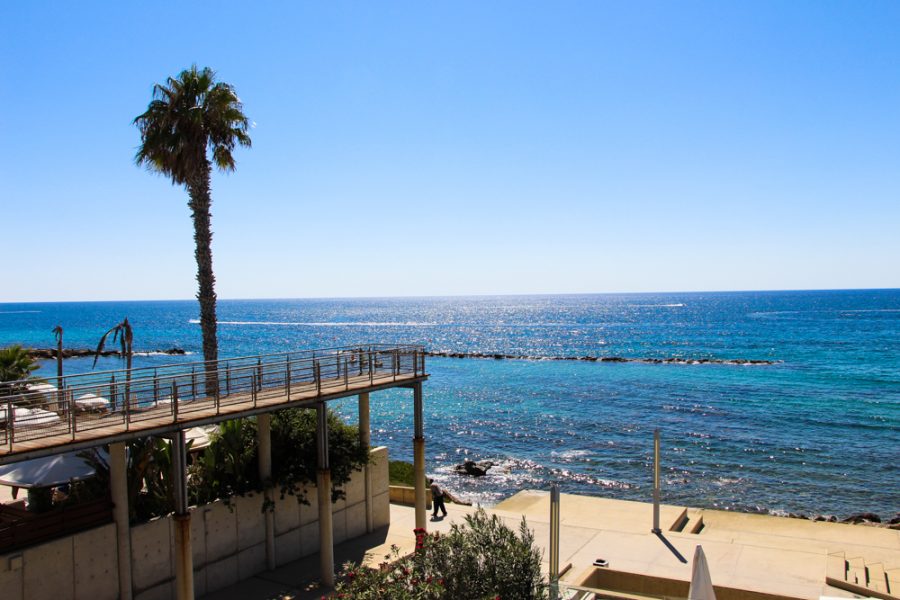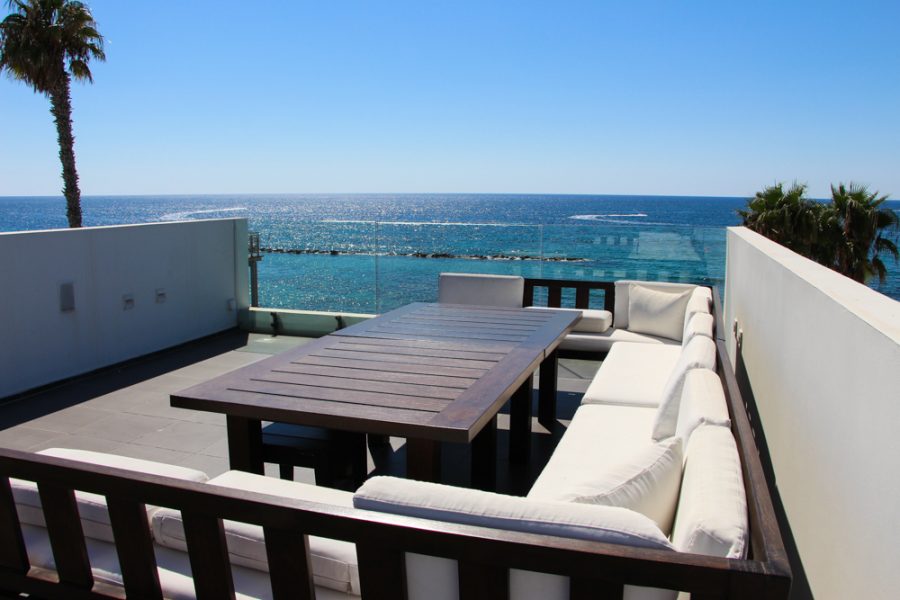 Eating & Drinking
In the reception area of Almyra is the Helios bar, from which we enjoy complimentary water and traditional syrup-coated walnuts at check in.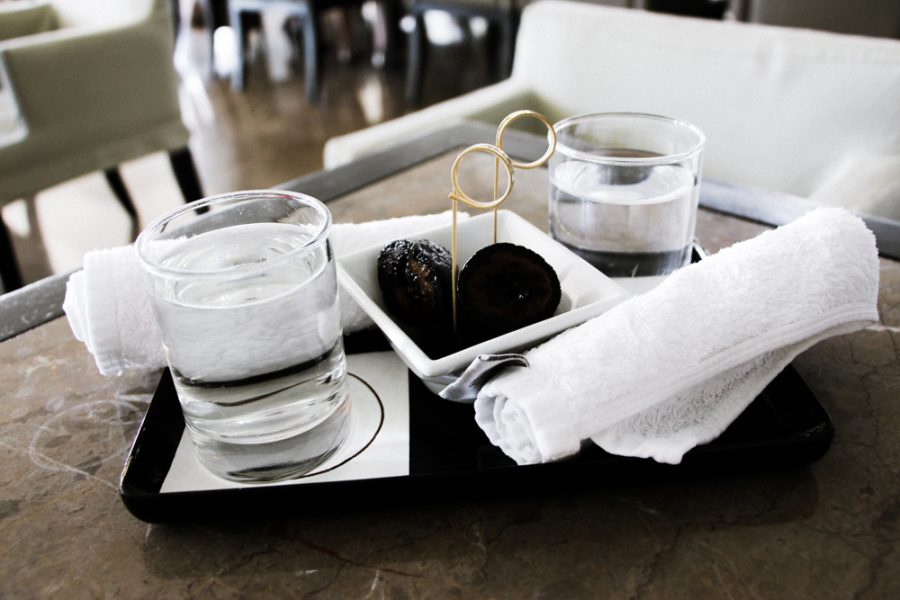 The Ouzeri by the harbour serves traditional Mediterranean food and makes for and excellent spot for both lunch and dinner. We love the moussaka and live music at night, and people watching during the day.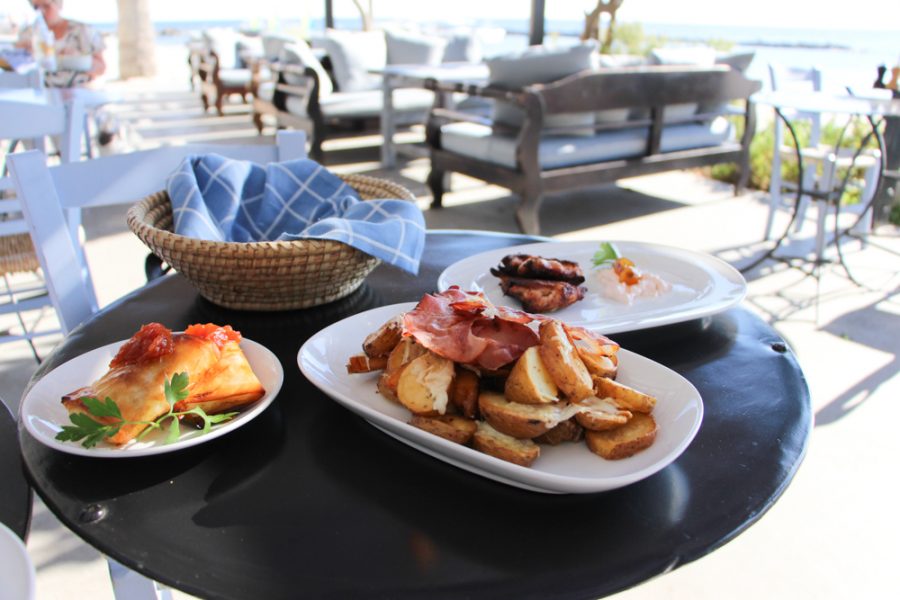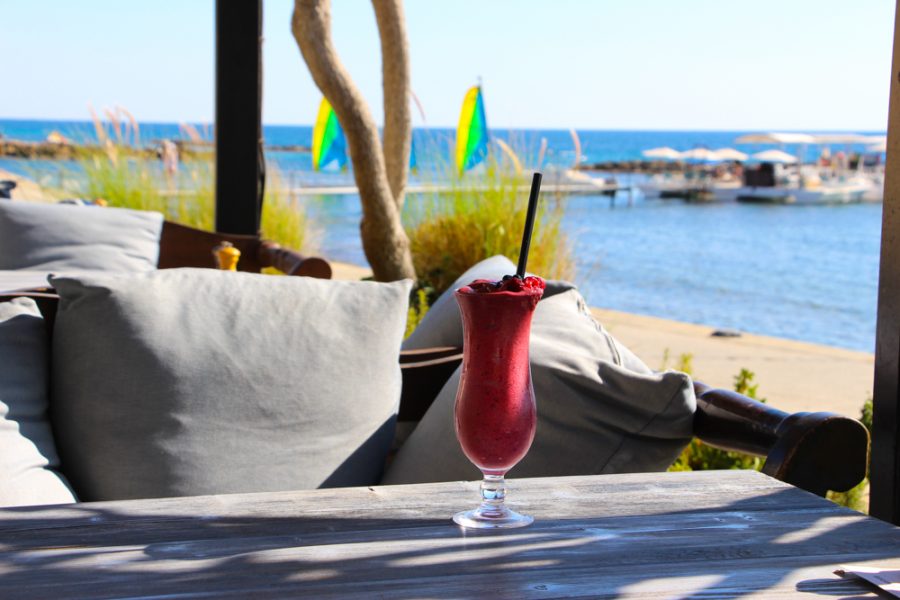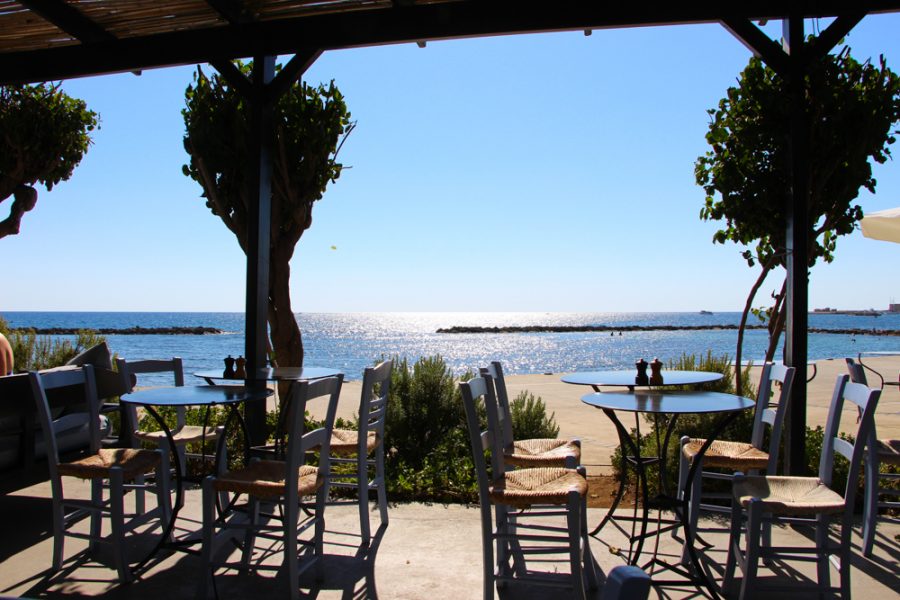 By the pool is the Mediterranean/Japanese fusion restaurant and bar, Notios, which serves Omakase tasting menus alongside sushi menus and a la carte offerings.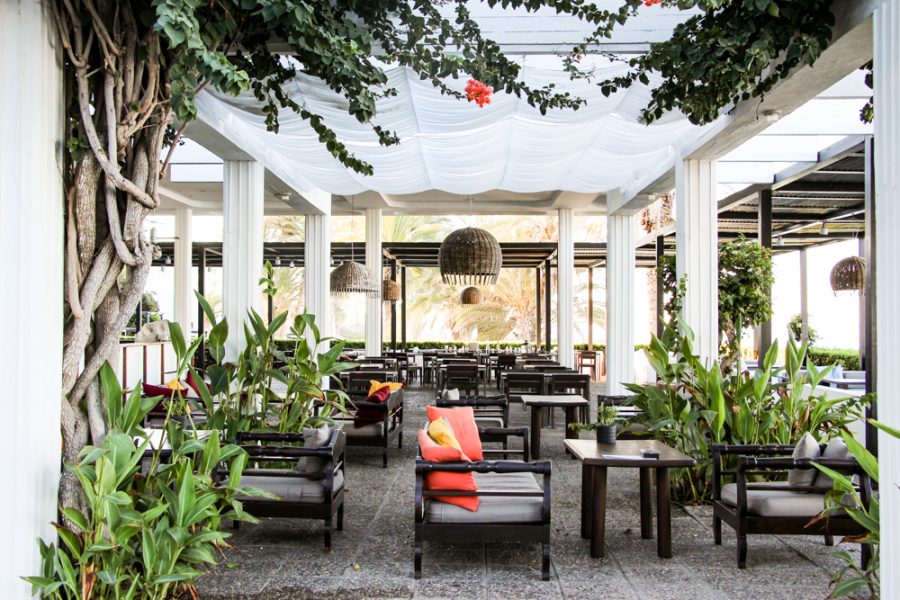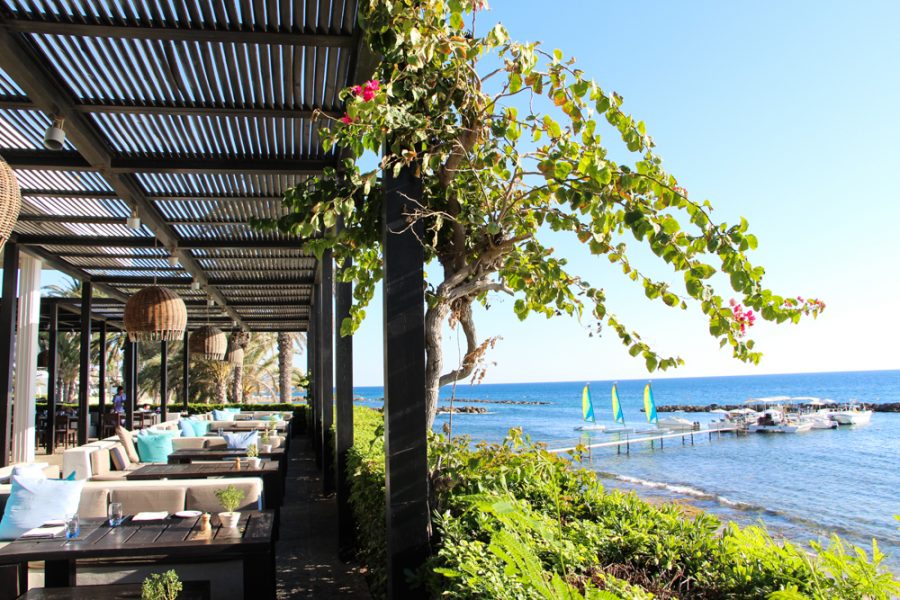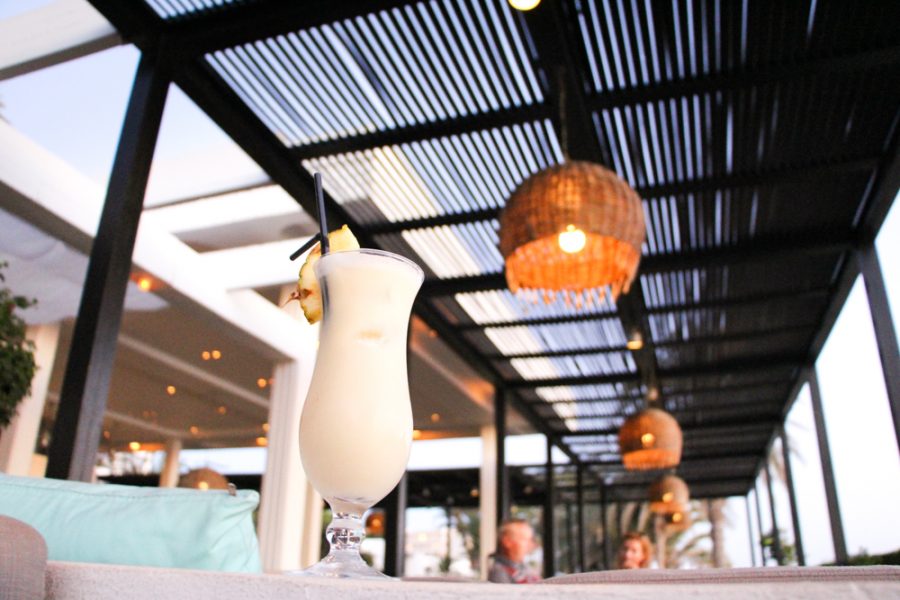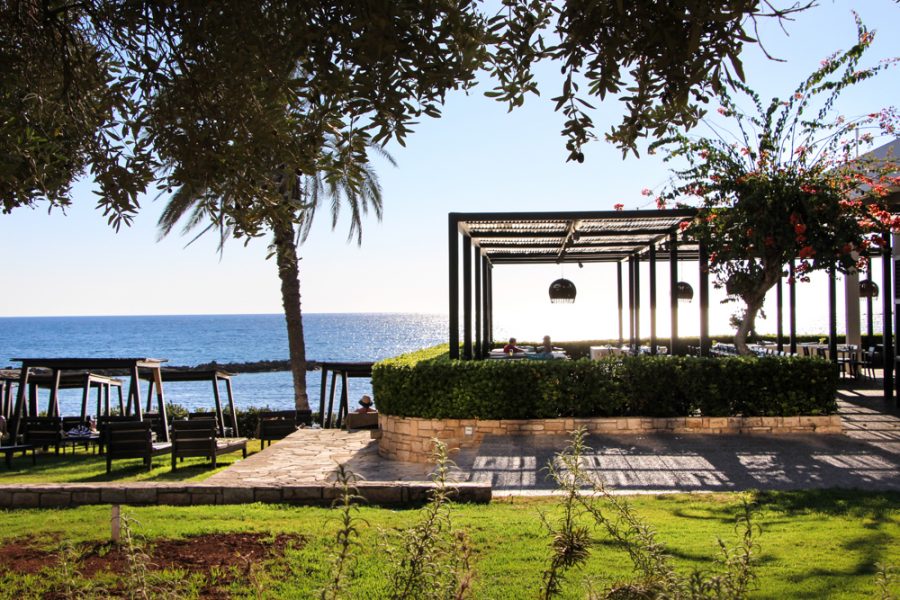 A buffet breakfast is served in Mosaics, where you can enjoy freshly made crepes, waffles, eggs any way, a full English, a cheese selection, breads, croissants and pastries, fresh fruit, various yoghurts and toppings, muesli, nuts and cereals. There is also a range of juice and milk to choose from, and still water flavoured with grapefruit and lime. Milky coffee and tea is offered throughout.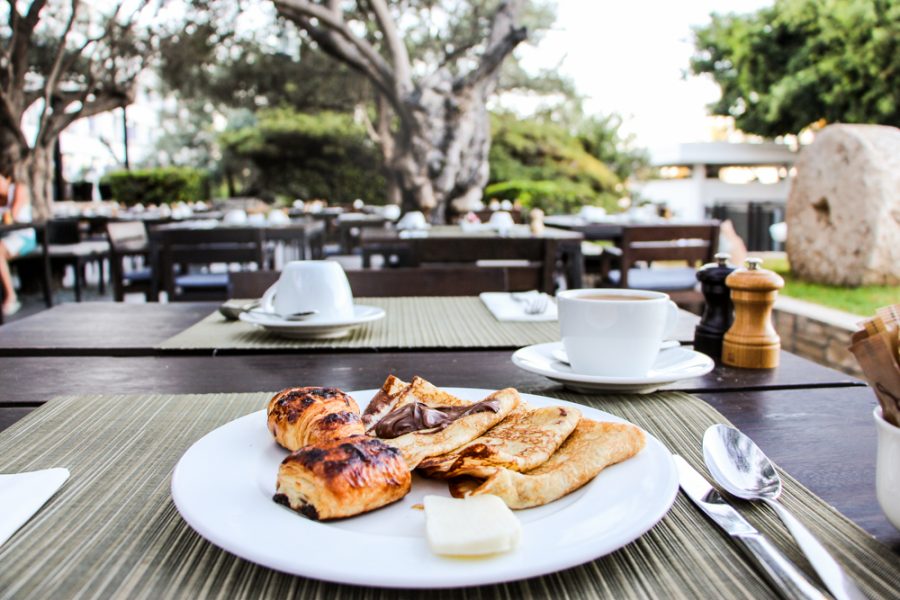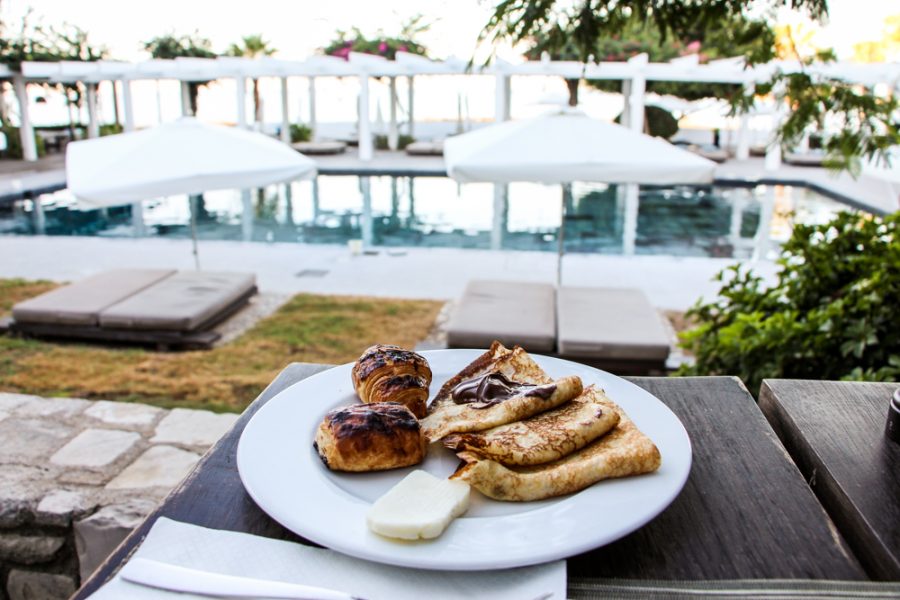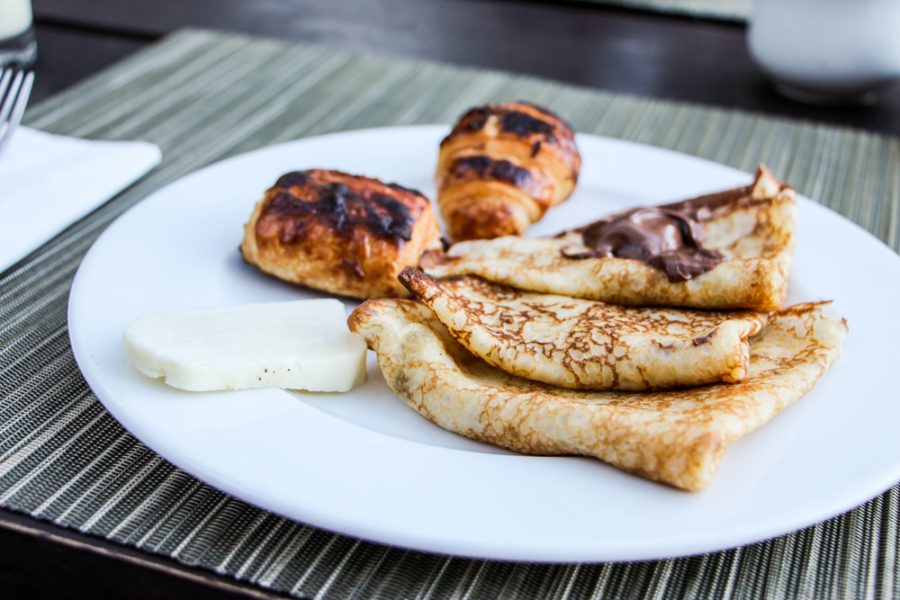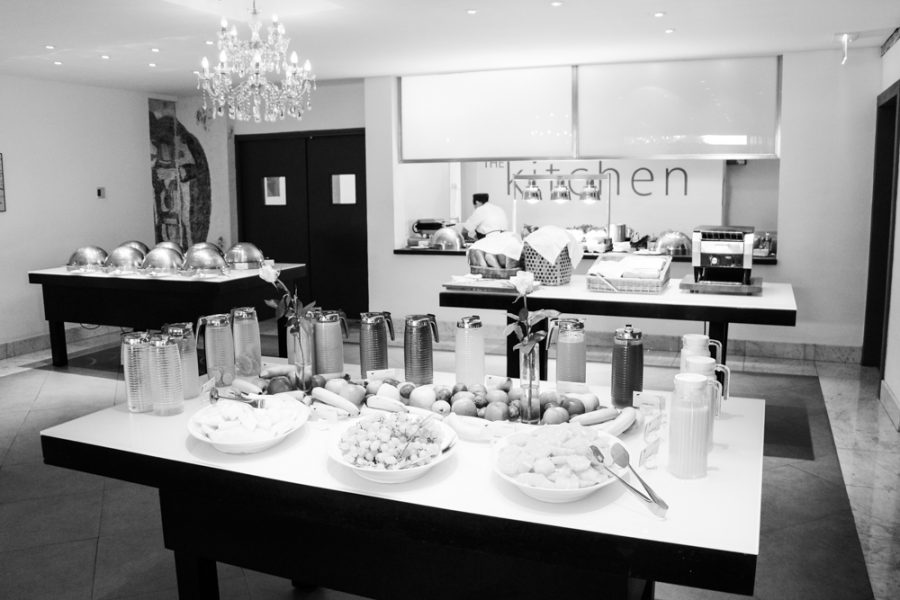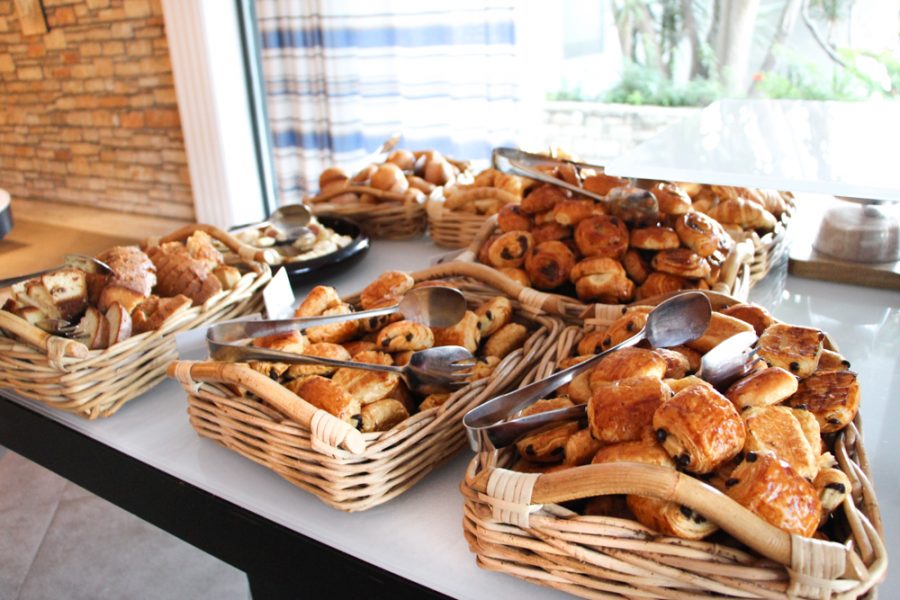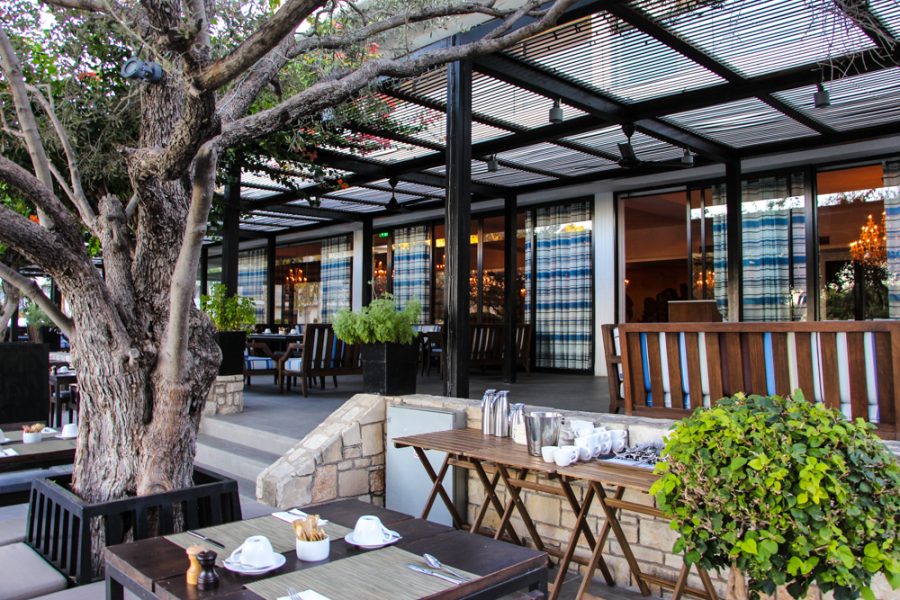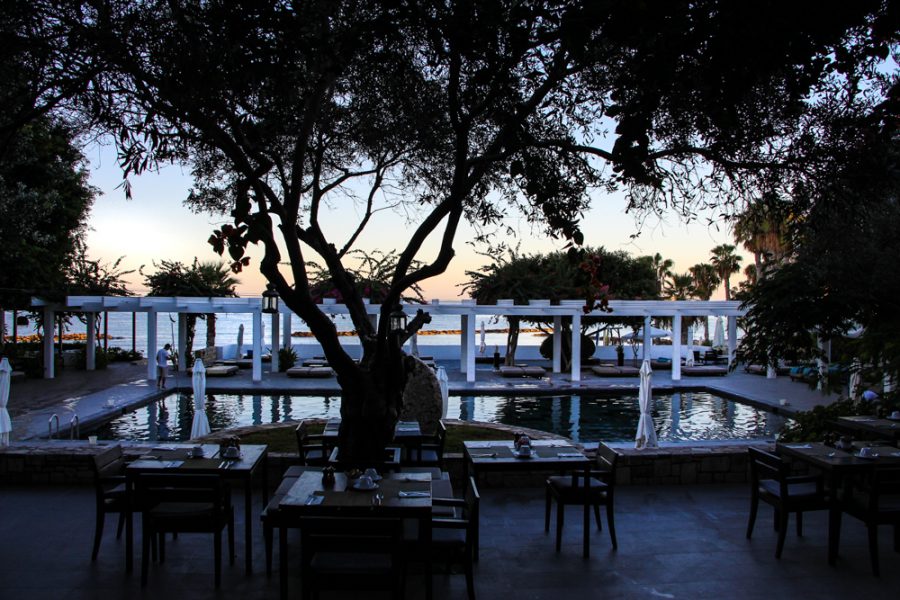 Outside the spa area and overlooking the infinity pool is the cafe/restaurant Eauzone, which offers an alternate reservation-only traditional Cypriot breakfast, all-day snacks and bar with waiter service.
A little bit extra…
Kids and Parents are especially looked after at Almyra with Baby Go-Lightly service where you can request a highly bespoke level of childcare, whose aim is to tailor an experience that is just right for every parent.
How to get there
It takes roughly 4.5 hours to fly from London Gatwick to Paphos, and then a 15 minute taxi ride to Almyra hotel. Be careful to agree the cab fare beforehand as many taxis don't run on a meter. We were asked to pay 48Euros by the taxi at the airport, negotiated down to 35, and then opted for the Almyra taxi transfer on the way back for 28.
Best time to visit
Paphos has the longest open season of all the Mediterranean islands, with the weather staying on point for much of the year, and Almyra stays open all year round. Summer can be very hot, with temperatures grazing 30C, and will be peak time for families travelling, whilst Spring and Autumn enjoy slightly cooler temperatures and a more adult tourist demographic, and December rarely dips below 20C.
Please see the hotel website for available rooms and rates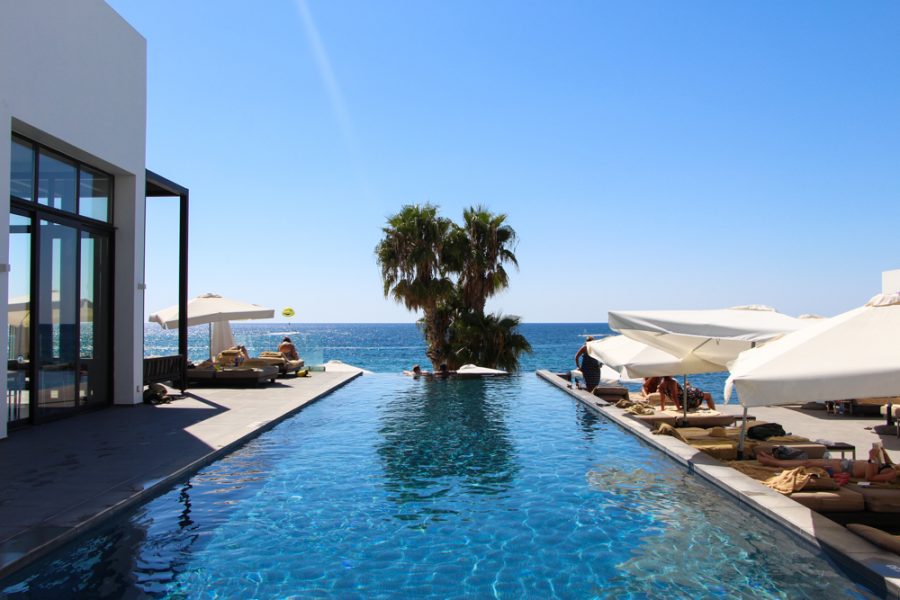 Address: 12, Poseidonos Avenue, Paphos, Cyprus
Tel: +357 26 888 700
Email: almyra@thanoshotels.com
Website
The accommodation was complimentary. All views are my own and as ever I aim to provide useful and honest feedback.